O
nly Watch, a watch auction that supports research into Duchenne muscular dystrophy, consistently gathers the exceptional in terms of brands and unique creations. For its first participation, Bulgari is upholding this tradition with the Octo Finissimo Perpetual Calendar Tantalum.
This one-of-a-kind model reflects the characteristics of its predecessors. A manufacture movement offering the most magical complication of all: the Perpetual Calendar, embodying mastery of all the calendar-related facets of time until February 2100. Launched in 2021, this seventh world record has so far been housed in a titanium case as well as a platinum case measuring 5.8mm thick.
For Only Watch, however, Bulgari has chosen one of the rarest metals endowed with special and unique properties: tantalum. Highly resistant to corrosion and totally biocompatible, it is used in medical engineering, the nuclear industry and electronics. Its density is 16.6 g/cm2, making it twice as heavy as steel. The material used by Bulgari for the Only Watch is of absolute purity, verging on 100%.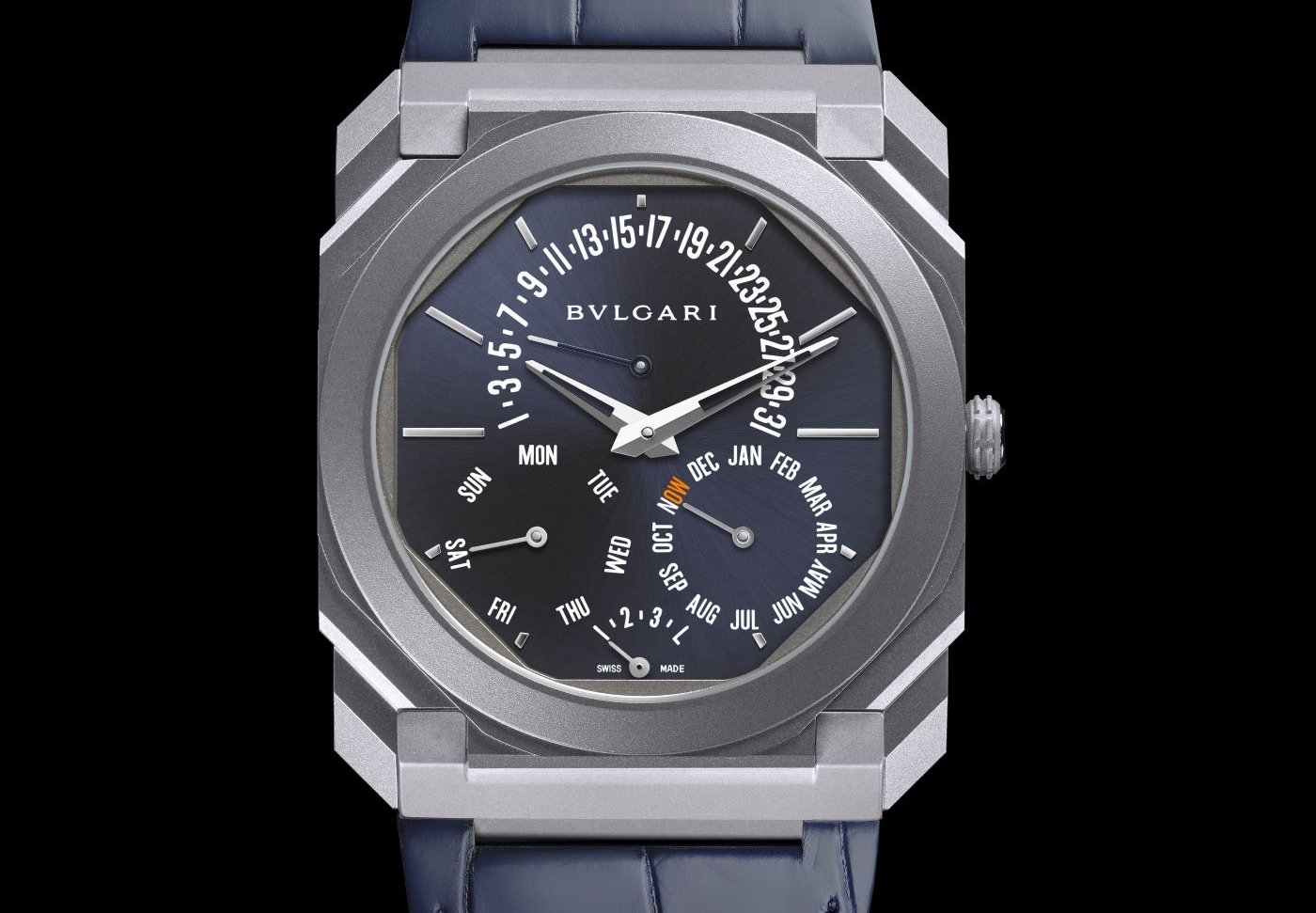 Tantalum, which was discovered in 1802 by the Swedish chemist Anders Gustaf Ekeberg, draws its name from Greek mythology. Tantalus was a king of Lydia, son of Zeus and the nymph Plouto. Having displeased the gods, he was condemned by them to suffer an eternal form of martyrdom: the Torment of Tantalus, which involved enduring endless frustration.
While twice as hard as titanium, tantalum is still tough to machine, although bearing no resemblance to the eponymous ordeal! In other words, the machining of tantalum must take into account the programming of the machine, the instruments to be used as well as the rotation speed of the milling tools. By way of comparison, a tantalum case takes four times longer to produce than a gold case.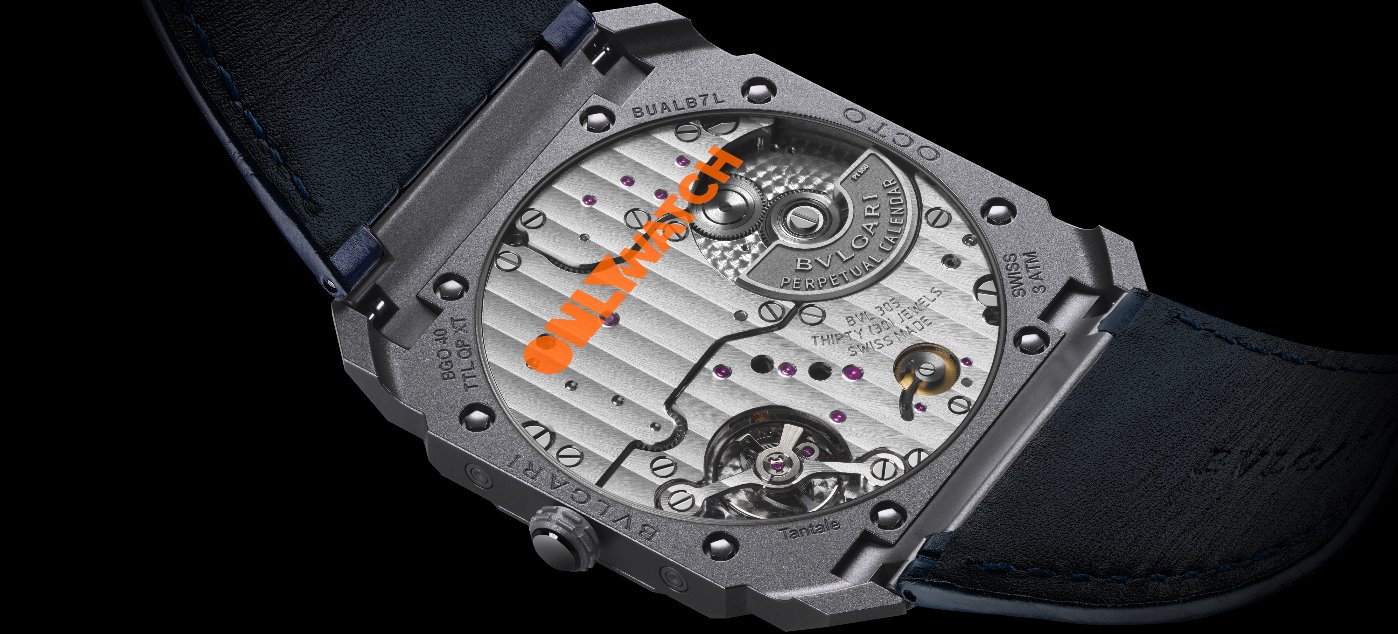 At its heart beats a 2.75 mm calibre testifying to miniaturisation genius. It drives the hour and minute hands as well as all the perpetual calendar functions: retrograde date display, retrograde day, month and leap-year indication. These are set by means of three correctors: one for the date at 2 o'clock, another for the month at 4 o'clock and a third for the day between 8 and 9 o'clock.
The Octo Finissimo Perpetual Calendar Tantalum for Only Watch features a deep blue dial echoing the colour of the metal. In a nod to the objective of this one-off creation, the graphic design of the month of November recalls the Only Watch abbreviation in a symbolic shade of colour.
Tantalum watches are thus extremely rare and highly sought-after. And when it comes to a unique complication, which is a world record, the 'torment' will be to see it sold… but for the noblest of causes!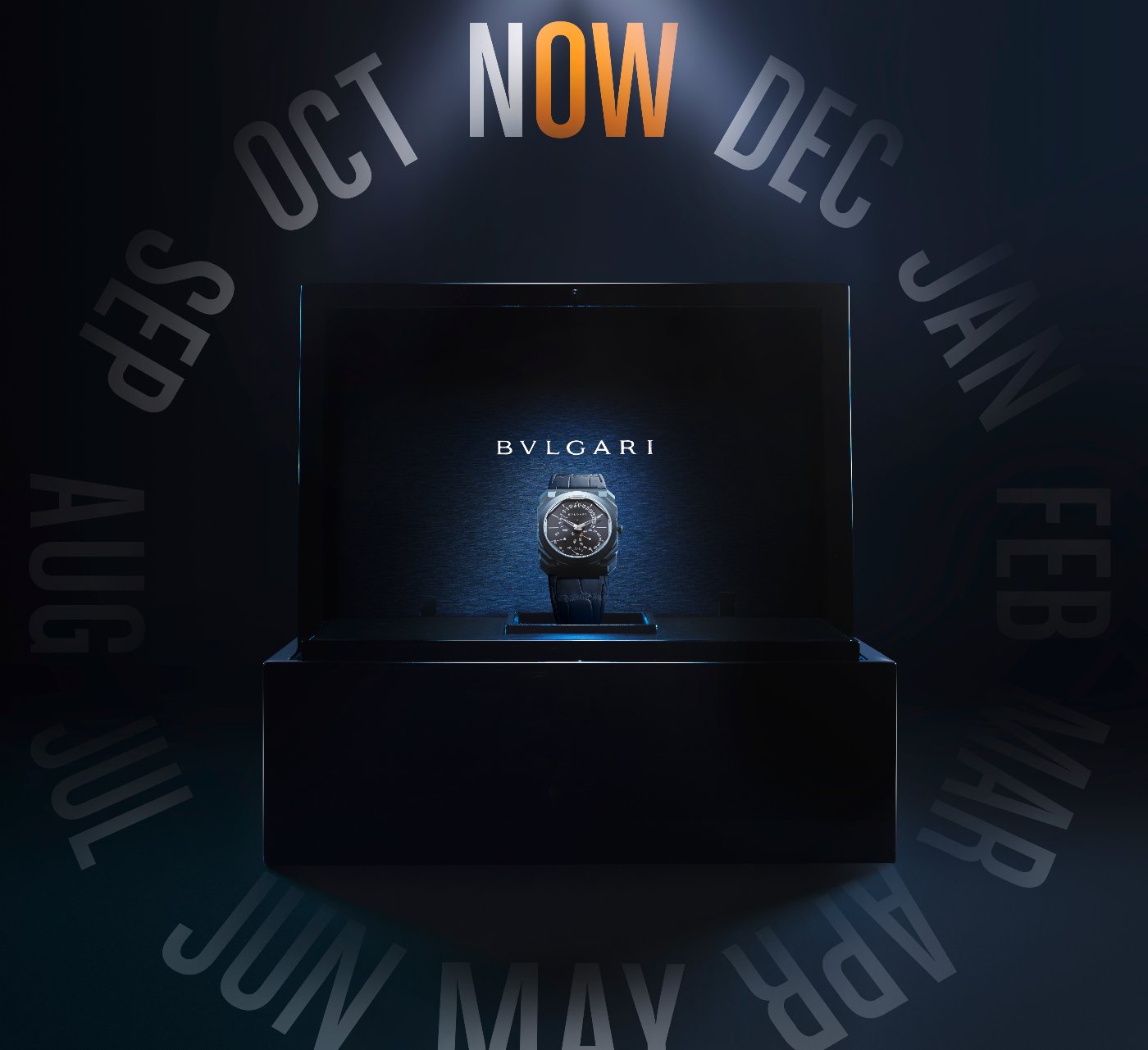 TECHNICAL SPECIFICATIONS
Movement Mechanical self-winding movement, Manufacture BVL Calibre 305 measuring only 2.75mm thick, driving indications of the hours and minutes, retrograde date, day, month and retrograde leap year; 60-hour power reserve.
Case and dial Tantalum case, 40mm diameter, 5.80mm thick, tantalum crown, transparent back; water-resistant to 30m. Blue-lacquered dial.
Strap Alligator leather with tantalum pin fastener clasp.