L
egendary chronograph of the first 600 pilots of the German Air Force (1954–1963 / "Bundeswehr"), the 417 ES chronograph has enjoyed phenomenal success since its reissue in 2020, often with waiting lists, demand exceeding supply: it has become the best-selling Hanhart chronograph of all time, and many new retailers have also expanded distribution over the past two years.
One of the elements of success was the leather aviator bracelet with sub-bracelet: the famous "Bund" strap, with the name coming from the German army, "Bund" meaning Federal, like Federal Republic of Germany. A piece of leather that protected against vibrations in the cockpit of fighter planes, against wrist injuries during accidents, and against sweating of course.
To play an airplane pilot in one of his films, a legendary star fell in love with the 417 ES Hanhart chrono in the 1960s, then wore it in his private life in front of many renowned photographers, at home or at the wheel of his his motorcycles: the legend was then in motion…
Taking the feedback from countless fans to heart, Hanhart has developed a beautiful stainless steel bracelet for its famous 417 ES 1954 39mm and 42mm models. Here is the 417 ES all-terrain chrono, "toolwatch" par excellence, for everyday urban life, when in a hurry, under stress or during free-time: a whole lifestyle!
With an integrated quick-change mechanism, the new Hanhart stainless steel bracelet can be easily changed without tools. An ideal bracelet also to make the most of a modern life that mixes sport and chic.
The practical folding clasp with the historic Hanhart logo has an integrated extension and fine adjustment for maximum comfort - in case the wrist circumference changes slightly. The links are satin-brushed to match the lugs of the 417 ES.
Iconic, this 417 ES chrono is gaining in strength and modernity: no one would say it is 70 years old. And yet, it was created in 1953 and celebrates its 70th anniversary in 2023. Like the Rolex Submariner.
The strap is available in 20 mm and 21 mm to adapt to all 417 ES models of 42 mm and 39 mm in diameter.

Faithful to its more than century-old Hanhart values, this well-designed and superbly reissued 417 ES chronograph on a steel bracelet remains very affordable in terms of price. From €2,140, ​​which is rare for a hand-wound, versatile chronograph with a steel bracelet. Undoubtedly one of the most affordable chronographs on the market. The legend is included!
The steel bracelet is immediately available as a stand-alone accessory for the many current customers who already own a 417 ES chronograph. To purchase it with the Hanhart chronograph, it is recommended to reserve it with an authorized Hanhart retailer: it will be available from March 2023.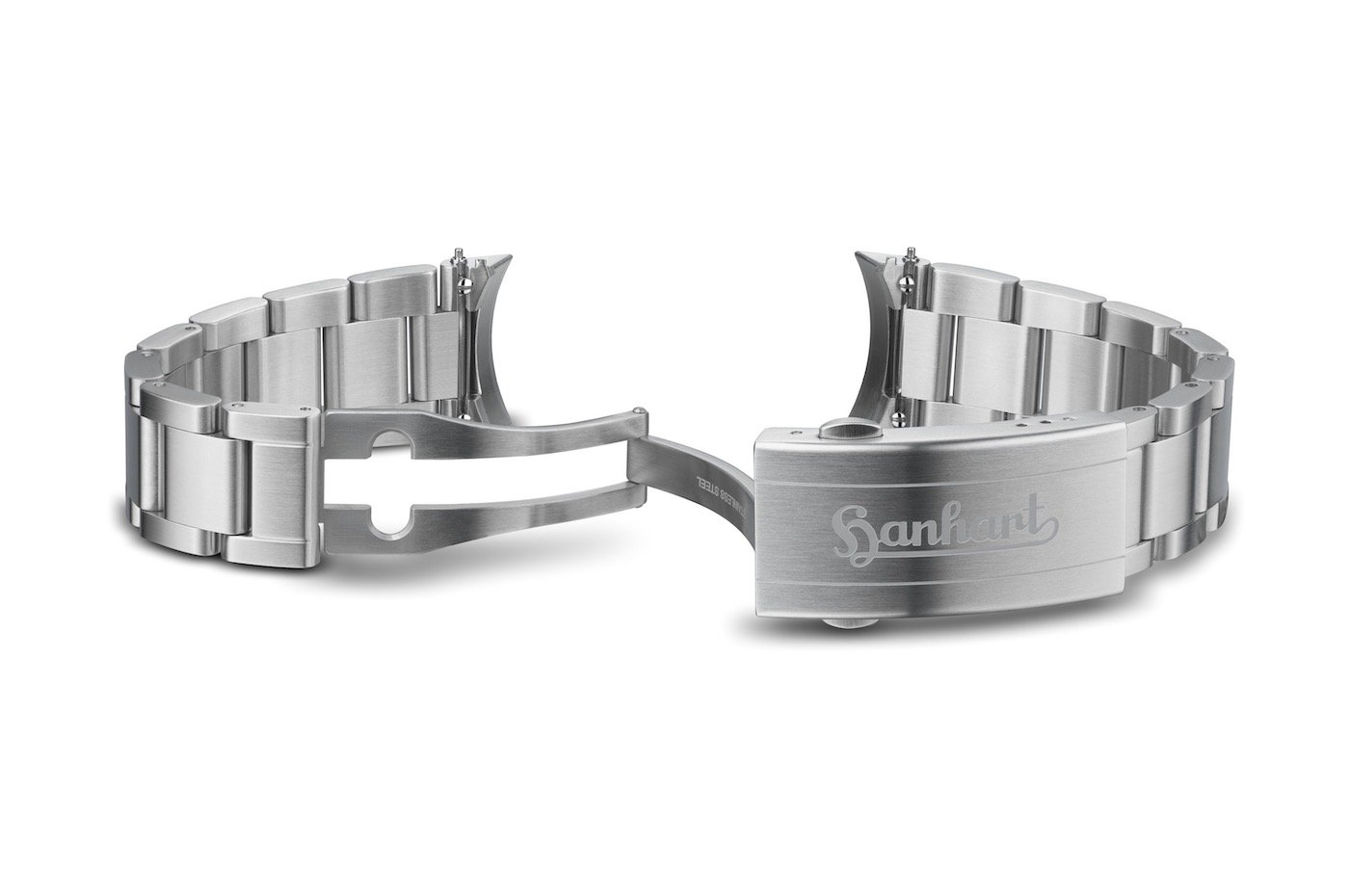 PRICE SPECIFICATIONS
417 ES 1954 39 mm with steel strap: H701.210-6428 – Retail price: €2,290 - available from March
417 ES 42 mm with steel strap: H721.210-6428 – Retail price: €2,140 - available from March