I
n 2020, Maurice Lacroix was named the Official Timekeeper of Mahindra Racing, a founding team in the ABB FIA Formula E World Championship. It's a dynamic sport, continuously changing as technology evolves. Today, the all-electric single seater cars race at speeds touching 320 km/h and are capable of accelerating from 0-100 km/h in sub 3 seconds.
While Maurice Lacroix admires Mahindra Racing for its success on the track, manifest with 23 podiums and 5 wins to date, it also applauds the team's environmental stance. Indeed, the race team actively promotes EV technology as a means of making the skies cleaner and addressing the impact of climate change. Mahindra Racing's values resonate with Maurice Lacroix and this was the primary reason that led to both firms forging a long-term partnership.
Last year, the Swiss watch brand unveiled its inaugural Aikon Tide model, made from ocean-bound upcycled plastic. It takes 17 plastic bottles to make one Aikon Tide and its user-friendly packaging, which means 17 fewer bottles polluting the ocean. The Aikon Tide shares the same attributes as other members of the Aikon family, namely Swiss quality, precision timekeeping, urban styling and high perceived value. By recovering plastic bottles from the ocean, Maurice Lacroix has made the world a little cleaner and a little better for everyone.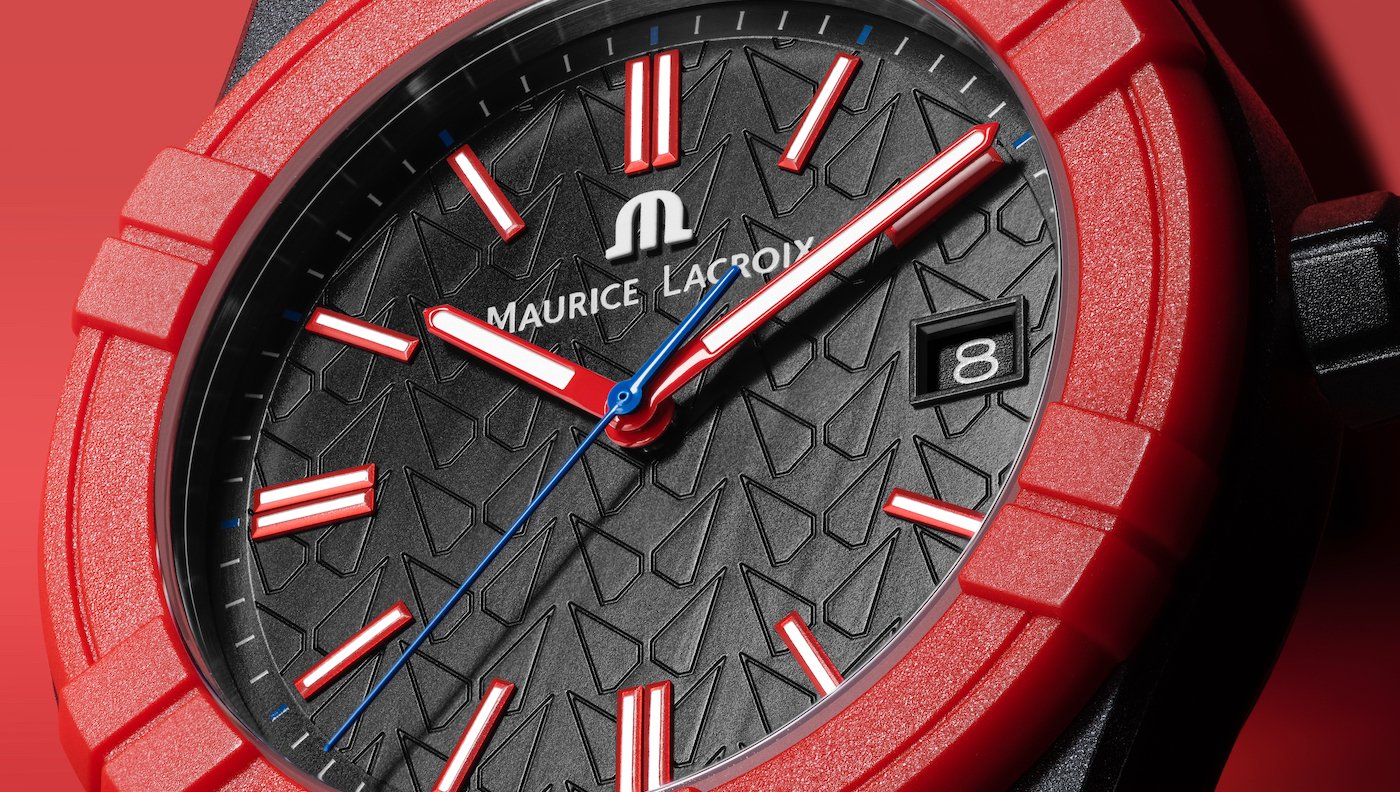 Now, the two environmentally-aware firms have joined forces, culminating in the release of a new watch, the Aikon Tide Mahindra, dressed in the race team's colours and featuring a dial adorned with the team logo. Perpetuating the #tide story, this new model is again made from ocean-bound upcycled plastic. It features a black dial with a matching 40mm case. The bezel is executed in red and the black rubber strap sports Maurice Lacroix's 'M' logo, also in a vibrant shade of red. In addition, the watch is supplied with a second strap, this time in red rubber with black accents. Equipped with the Maison's Easy Strap Exchange system, it is simple to switch one strap for another without the need for tools.
Stéphane Waser, Managing Director of Maurice Lacroix, remarks: "The Aikon Tide Mahindra is a further demonstration of our shared commitment to the environment. Like Mahindra Racing, we tour the globe, operating in urban settings. Both brands strive for success, whether that's competing on race tracks in various cities or making urban watches for competitive souls, but most important of all, we both believe in innovating for a brighter, greener future."
Fred Bertrand, CEO of Mahindra Racing said of the partnership: "We are delighted to be partnered with Maurice Lacroix once again on the development of their new Aikon Tide watch. They have developed the watch with recycled materials with the aim of really targeting a younger audience. We love working with brands that share our same values and goals of working towards a more sustainable future, so I'm pleased to welcome Maurice Lacroix on board for Season 9. I can't wait to wear the watch with pride in 2023."