D
istinguished from its predecessors by its refined, streamlined aesthetic, the Chapter 4.7 Onyx Tourbillon C. Lémanic was born of recurring market demand, amplified by the launch this summer of the Chapter 4.6 GMT Tourbillon 1920 Limited Edition (virtually sold out). It also echoes a growing trend towards a certain rediscovered classicism. A timeless, elegant timepiece that, thanks to its 40mm diameter, will suit everyone. Thomas Baillod, the brand's founder, explains: "The covid period had cut us off a little from elegance. Many designers are reintroducing classics, and that's what we've done with BA111OD by completing the existing line". Conceived by the brand's senior designer, Liliane Murenzi, the Chapter 4.7 Onyx Tourbillon C. Lémanic is an aesthetic and technical feat of apparent simplicity.
This new model may be classic in its design, but it is certainly modern in its conception: it has a 40mm steel case, with the crown still positioned at 4 o'clock. The dial is in deep black onyx stone, with a cut-out at 7 o'clock to reveal the tourbillon. The skeletonised hand-wound mechanical movement that drives it, with a 105-hour power reserve, was developed by the brilliant watch designer Olivier Mory, and has a caseback that allows its details to be admired. The back of the dial even has a mirror film to reflect the upper face of the movement. Finally, a crocodile-style leather strap (for ethical reasons) with folding clasp and fitted with 2 NFC chips completes this timeless timepiece.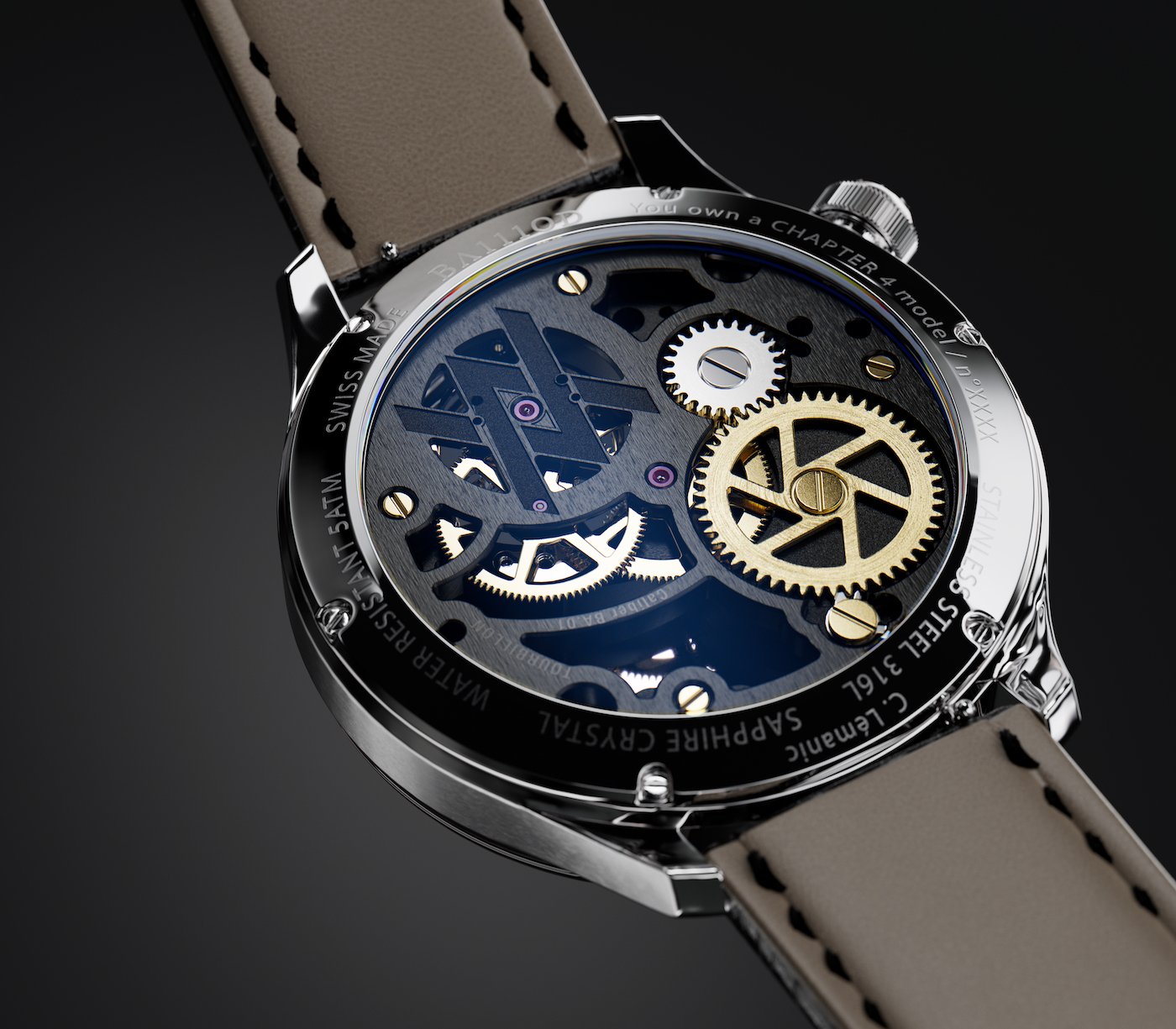 Based on an organic growth model, Thomas Baillod decided at the end of 2022 to move up a gear and test a call for private investors on LinkedIn. He explains: "Rather than approaching banks or traditional investors, the aim was to deliberately turn to consumers to help us finance Ba111od's growth. In addition to an attractive return, these people will sponsor future Chapters. They will enjoy a unique immersion experience with the team, from the design of the model with the senior designer to the launch of the model". The name of this Chapter, "C. Lémanic" is in honour of the Clinic Lémanic in Lausanne, whose owners are the sponsors of this new timepiece.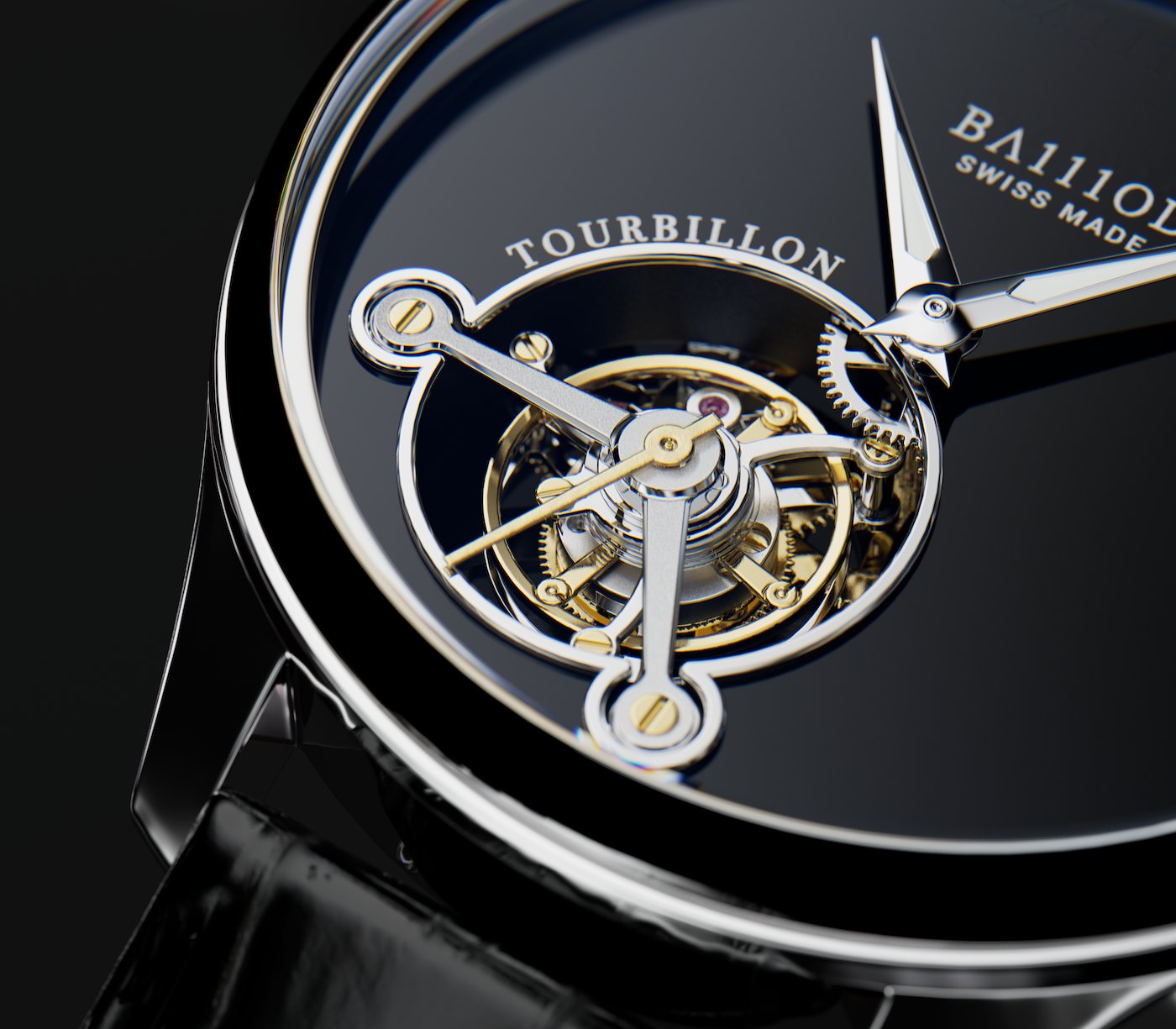 Founded in 2019, the brand is innovating not only in its models, but also in the way it markets them. The initiator of we-commerce, Thomas Baillod, explains: "We-commerce is about acknowledging that we have moved into the digital model, but bringing back emotion and human contact. The transaction takes place online, but the experience takes place in real life, between people driven by the same passion for fine watchmaking". Each launch, orchestrated via the LinkedIn platform and private events, is eagerly awaited by the growing and committed community of Afluendors (a contraction of "Ambassadors, inFLUENcers and venDORS"). Each time, the recipe is the same: the presentation of watches with powerful DNA and design, clearly positioned and at a price unmatched on the market.
The Chapter 4.7 Onyx Tourbillon C. Lémanic Tourbillon with a deep black onyx stone dial is now available for preorder at the special introductory price of CHF 4,950 for the initial 10 pieces and will be delivered before Xmas 2023.

TECHNICAL SPECIFICATIONS
Chapter 4.7 Onyx Tourbillon C. Lémanic
Case
40mm, stainless steel
Glass
Domed sapphire crystal with double anti-reflective coating
Dial
Deep black onyx stone, with a cut-out at 7 o'clock
Movement
BA.01 hand-wound mechanical movement (based on BCP Tourbillon), 21,600 vib/h (3hz), variable inertia balance, 19 jewels. GMT function at 1 o'clock, tourbillon at 7 o'clock.
Functions
Hour-Minute-Second
Power reserve
105 hours (>4 days)
Strap
Crocodile-style leather strap (for ethical reasons) with folding clasp and fitted with 2 NFC chips
Water resistance
50m
Magnetic resistance
2000 Gauss
Shock resistance
5000G
Warranty
2 years