R
ado's True Square Thinline Les CouleursTM Le Corbusier collection is a festival of timeless colours, extraordinary design, and remarkable materials. Watchmaking's self-proclaimed 'Master of Materials', Rado has compellingly blended features from its popular True Square and True Thinline families and the results are striking. Three new references, limited to 999 pieces each, celebrate the ability of colour to raise spirits and evoke emotions. Of course, the square cases reflect an essential part of Rado's design history. And the materials? Pure Rado: high-tech ceramic and sapphire crystal.
Le Corbusier was one of the most inspiring of all modern architects and designers. His work is considered groundbreaking, innovative, and highly influential in the fields of architecture, design, and urban planning. Born in the heart of Swiss watchmaking country in 1887, he was a visionary architect who played a crucial role in shaping the modernist movement in the 20th century. But he is also fondly remembered for his transcendent theory of colour which, in time, led to the development of an enduring Architectural Polychromy. Le Corbusier created a palette of 63 shades introduced in 1931 and extended in 1959. The great designer identified them as "architectural, naturally harmonious and able to be combined in any way." And nearly 90 years after he first introduced the colours, they are as relevant as they have ever been. Today, Les Couleurs Suisse SA has the exclusive responsibility, under the auspices of the Fondation Le Corbusier, to license the colours.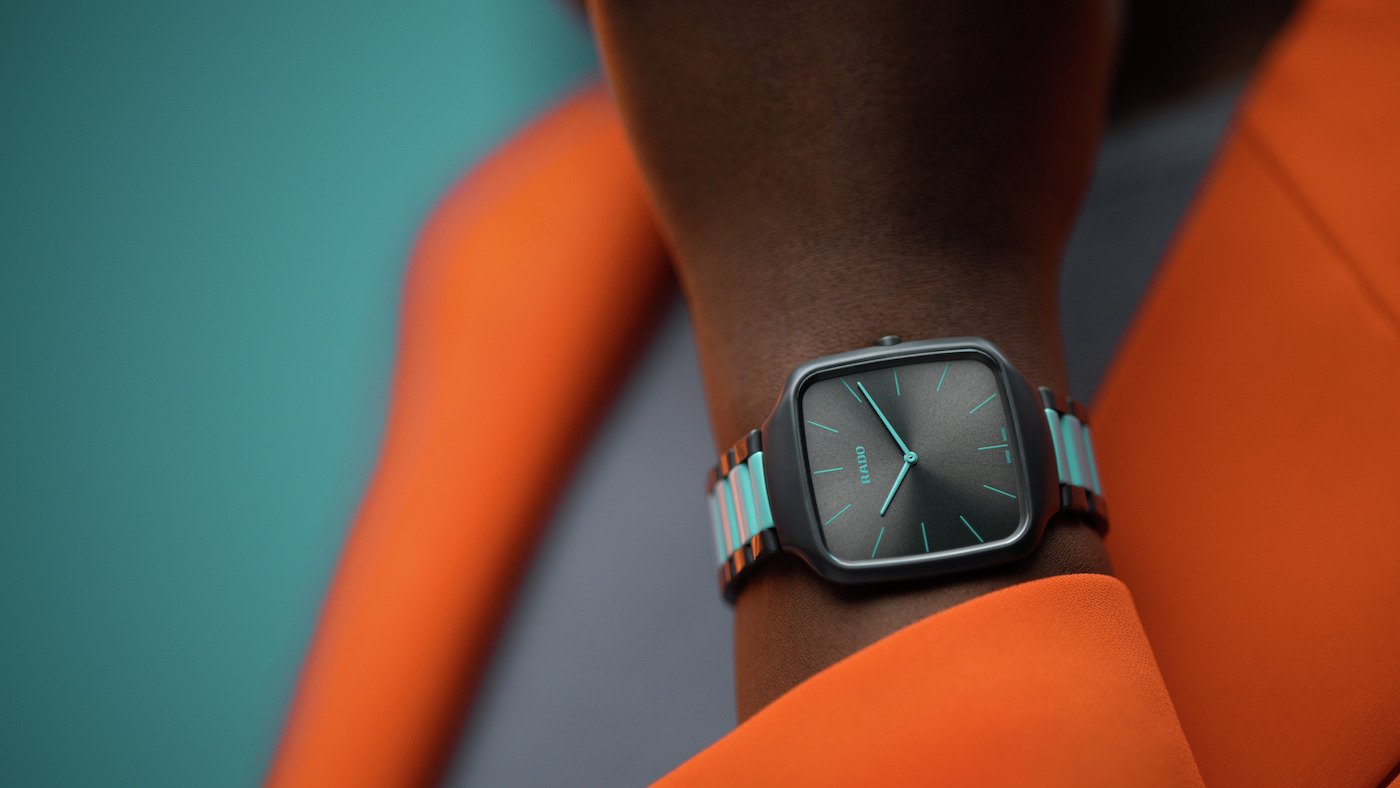 But what does all of this have to do with Rado and its watches? First of all, it means that Les Couleurs Suisse SA has assigned the license to the Lengnau-based watch brand to introduce the colours in its ceramics, a challenging process that the Master of Materials took on enthusiastically.
After all, colour is at the heart of what we're talking about here. Think about it: what's the first thing that catches your eye when you look at a watch? Most people, regardless of their own connections to watches, will start with "the colour". It makes sense. Le Corbusier himself said, "Colour is an incredibly effective triggering tool. It is a factor of our existence."
And it is these colours, along with future-forward design, cutting-edge materials, and world-class watchmaking finesse, that define the watches in the Rado True Square Thinline Les CouleursTM Le Corbusier line. It also marks the first time Rado has combined colourful ceramic elements in a single timepiece. Let's meet your next watch.
There are three eye-catching interpretations in the new line. Each one offers the quality and performance that defines every Rado watch. And as you would expect, the brand lives up to its reputation as Master of Materials. What sets these watches apart from all others is their bold but subtle combination of seductive, understated colours.
One is presented with an iron grey matt high-tech ceramic monobloc case and crown. On display through its sapphire crystal is an iron grey sun-brushed dial with slightly greyed English green printed indexes and hands, along with the Rado logo. It is presented on an iron grey matt high-tech ceramic bracelet with mid-links in slightly greyed English green ceramic and a PVD-coated titanium threefold clasp.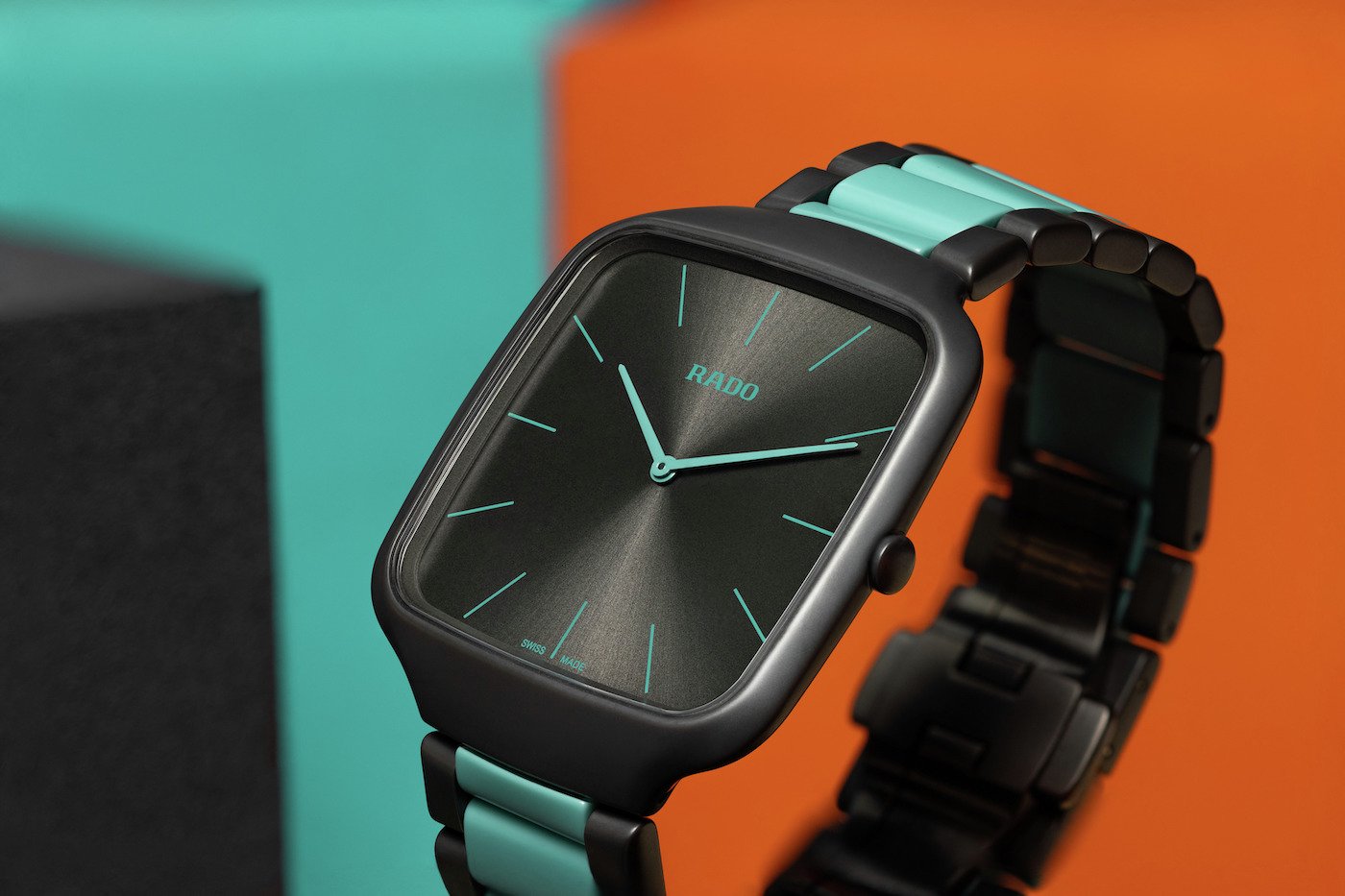 With a grey brown natural umber matt high-tech monobloc ceramic case, the second reference makes a calm but compelling colour statement. The grey brown natural umber sun-brushed dial perfectly complements the case, as does the grey brown natural umber and cream white matt high-tech ceramic bracelet with a PVD-coated titanium threefold clasp.
The third member of the True Square Thinline Les CouleursTM Le Corbusier line is a bold expression of watchmaking's classic colour. It has an ivory black matt high-tech monobloc ceramic case and crown and a tone-on-tone sun-brushed black dial. Its ivory black high-tech ceramic bracelet perfectly matches the case, and ivory black printed indexes and the Rado logo round out the presentation.
The cases for each of the models measure a discreet 37.0 x 43.3 mm and are only 5.0 mm thick. These dimensions, along with the full high-tech ceramic construction, offer remarkable wearer comfort. The casebacks also deserve special mention: digitally printed on the sapphire crystal are the iconic Le Corbusier colours strips along with the words LE CORBUSIER signature POLYCHROMIE ARCHITECTURALE and LIMITED EDITION ONE OF 999, a confirmation of the series size.
And for true aficionados, Rado has created something very special indeed: a striking Collector's Box featuring a new True Square Thinline Les CouleursTM Le Corbusier timepiece in classic black, presented in the joyful company of eight round Thinline Les CouleursTM Le Corbusier models from the current collection. This explosive blend of colour, extraordinary design and high-tech materials is limited to 99 pieces. If you're just starting your collection, you'll be happy to know that each of these watches is available individually.
Inspired by the uniquely chromatic vision of one of the world's great designers, the new Rado True Square Thinline Les CouleursTM Le Corbusier watches are sublime expressions of the prowess of a watch brand – truly, the Master of Materials – that never stops pushing its own boundaries. But Rado is looking forward to passing the ultimate test: your reaction when you experience one on your own wrist.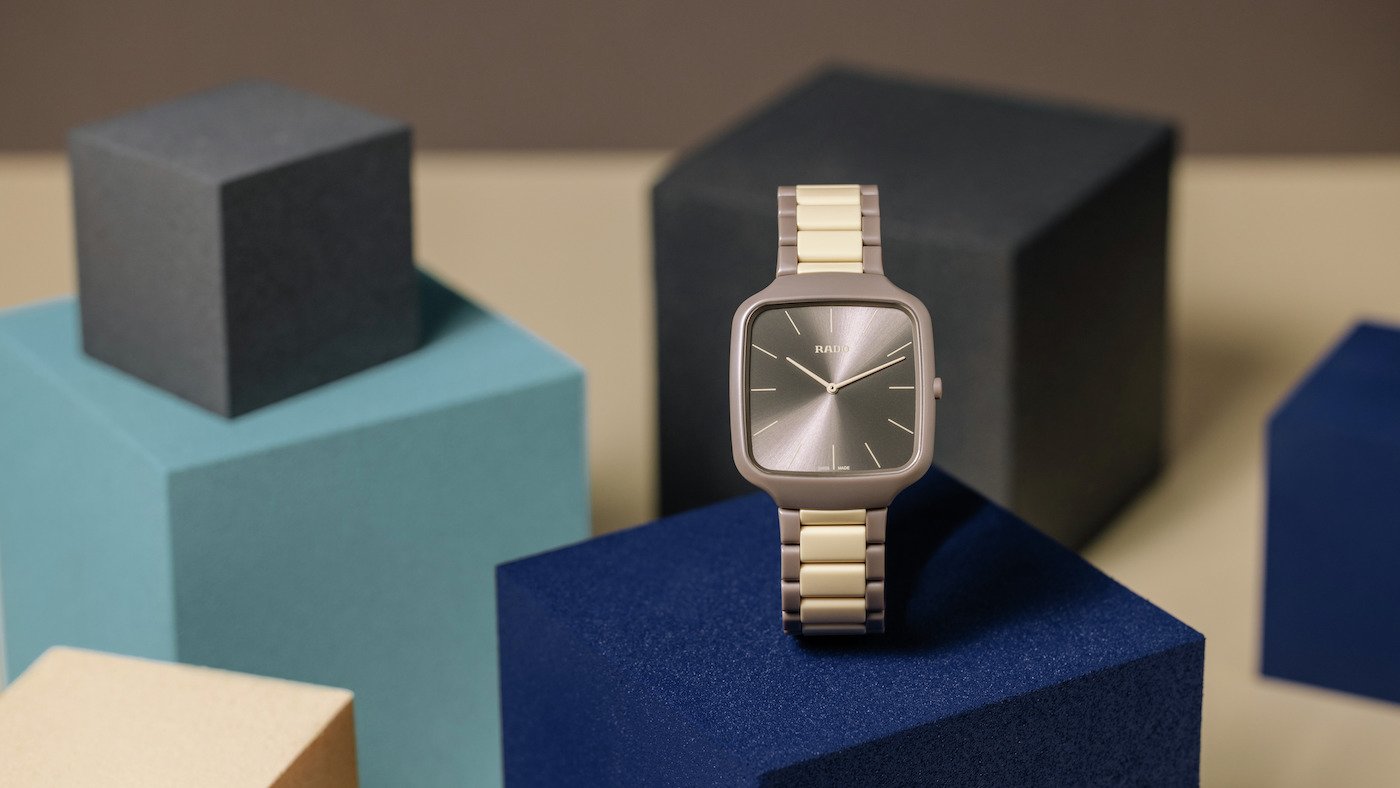 TECHNICAL SPECIFICATIONS
Movement
Rado True Square Thinline Les CouleursTM Le Corbusier
Case
Flat sapphire crystal
Titanium case back with digital printing on sapphire crystal: Le Corbusier colour stripe, Le Corbusier POLYCHROMIE ARCHITECTURALE and LIMITED EDITION ONE OUT OF 999
Water-resistant to 3 bar (30m)
Matt high-tech ceramic case and crown, monobloc construction
Dial
Sun brushed tone-on-tone with the case, indexes and Rado logo printed in the colour of the bracelet middle links
Hands
Colour of the bracelet middle links
Bracelet
Matt high-tech ceramic
PVD coated titanium 3-fold clasp
Dimensions
37.0 x 43.3 x 5.0 (WxLxH in mm)