Right now, it's the rare watch brand that sells its products on the Internet. Accepted theory is that lower priced watches can be sold on the Internet without a problem, some brands have been doing it for years, while luxury goods cannot. In fact, only a select few high-end brands currently sell on the Internet.
That theory stands for now, but the Internet marketplace is growing every single day. The Internet is a convenient place where people buy all kinds of goods - books, electronics, DVDs, sporting goods and, yes, watches - and the predictions are that it will continue to grow. The steadfast refusal of the big Swiss brands to sell on the Internet will have to be revisited in the not-too-distant future.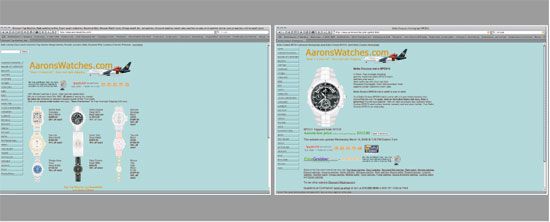 www.aaronswatches.com


The current marketplace
With high-end Swiss brands not authorizing sales on the web, that leaves the unauthorized dealers, grey marketers and counterfeiters with the entire market to themselves. This can't be a good thing, but it's the way it is right now.
"There is more purchasing of high-end watches on the Internet all the time," says Marc Rabinowitz, President, Mark Time (AaronsWatches.com). "The first reason is that people like saving money and very often they can find the watch for a lower price on the Internet. The more expensive the watch, the better their chance to save money. If they are buying a US$200 watch, they can save US$50. If they are buying a watch that costs US$5,000, they can save a lot more. Not being able to touch and feel the watch bothers some people, but most people are OK with it these days. Buying things on the Internet has become a way of life for many people. When people buy on the Internet with a credit card, they feel more secure because they feel they have recourse with their credit card.
"Most of the watches we sell come to us from authorized dealers in the United States or from overseas,"he continues."For most of the brands that we sell, we are not authorized dealers. It matters to some people that we aren't an authorized dealer, but it's only about 10 – 20 percent of the people. The reality is that it's the same watch, whether they buy it from the store on the corner, a department store or a reputable dealer. Sometimes, manufacturers won't honour the warranty, so we have our own on-site service centre. We warranty most watches for three years, some for five, and because we have our own on-site service, we can provide better and faster service. We can turnaround the watches quickly, in ten days, rather than the eight weeks that many Swiss companies do. We are there to help them if they do have a problem."
The Internet can be credited in large part with the watch renaissance we are all enjoying today. "The Internet has helped educate the consumer and has made watch collecting a passion in many people's lives," says an unauthorized on-line retailer who wishes to remain anonymous. "Now, consumers don't have to go to the store and do their research. They bring more money into the industry. I know that there are pretty big wholesalers who are purchasing straight from the manufactures. These are current goods and that's the most dangerous stuff to be trading on the Internet - I am worried that I am selling to someone who is a secret shopper for the brands, someone who is buying just to trace it back. Then you have the close outs and then the used goods. We aren't breaking any rules by selling these watches on the Internet.
"Instead of fighting the Internet, the brands should be thanking us and learning from those of us who are on the web,"he continues. The brands are not doing a good job with their websites. I've had plenty of consumers call me up and tell me that they have been on the manufacture's website and they can't find anything. They come to my website and they can navigate it easily. I have had people come to my website, do the research and find the watch they want, complete with reference number, then go buy the watch at an authorized retailer."
As an example, he offers this: "Today, there was a major brand watch that a customer was looking for. He called his local auth-orized dealer, who called the brand's USA headquarters to try to get the watch, which had a retail price of US$51,000. They couldn't even get him the watch. I know who has the watch and I can get it - I have 15 sources for Franck Muller - and I'll get the guy 32 percent off."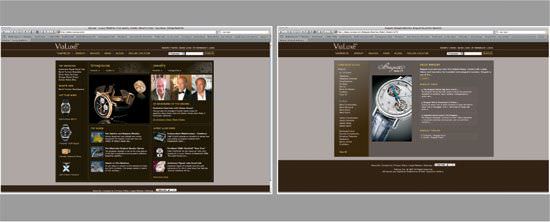 www.vialuxe.com


Finding another way
Vialuxe recently debuted, in November of 2007, and their stated goal is to help brands bridge the gap between brick and mortar and the Internet.
"We were early start up guys at Yahoo and I have had a love for timepieces since I was nine years old," says Lawrence Kosick, CEO and President of ViaLuxe. "From my days at Yahoo, I knew that there wasn't a lot of authorized information on line. When I was trying to make a purchase, I'd go on line and do a search for brands and the information I was receiving wasn't authorized. I am a consumer, someone who loves watches, and I can't find safe and reliable information online.
"My partner, Med Taylor, and I decided to do something aligned with timepieces on the Internet,"he continues."I realized that the same way the American consumer 10 years ago was looking for travel information on line, or books, or software, people would be looking for information, resources and luxury goods."
Vialuxe is an informational site right now, not a selling site, because it is committed to being consistent with the brands' on-line selling policies. "Most brands do not let their authorized retailers sell on-line," Kosick explains. "We are going to have to work with them and wait until they are ready. For some brands, it will be sooner than later. We think the critical mass will happen in 2008. Some brands like Bulgari, HermÈs and a few others are allowing sales on their own sites, selling direct. By and large, in the United States, the retail network is not allowed to sell via e-commerce."
According to the data Vialuxe has compiled, the American consumer starts their research and the purchase process on line. The demand is starting to be there. A site like Amazon.com, for example, has seen its sales of watches and jewellery increase more than 100 percent year-over-year. "The US consumer is already buying on line," Kosick insists. "The challenge is that because of the fact that the brands have no effective Internet sales policy, the people who are selling on line are the secondary or grey market sellers. The authorized retail network and the brands have to have a stronger presence in the gateways on-line where people are doing their research, so people can have a safe place to do that research and buy on line.
"Amazon is a great company and a great business,"he con-tinues."In the mind of the American consumer, Amazon is the e-commerce and on-line buying standard, so when a consumer hears that Amazon is a grey market seller that catches a lot of people by surprise. The challenge for the authorized retailer is to convince the consumer that buying authorized is the right thing to do. We have to work with the brands to convince them that they have to be available and present and positioned when the consumers come on line."
According to Kosick, when people do a search today, 70 percent of the information is grey market, counterfeit or replica. Kosick likens it to a stage with a microphone on it - with the absence of the brands in the marketplace, the grey market guys are doing the talking.
"The brands can take that back by letting retailers sell on line," Kosick says. "The problem of geographic exclusivity has been a very difficult one to solve. The Internet shifts the power to the consumer. The consumer can shop from any geographical location and has the tools and the ability to price shop and compare 100 retailers. If you look at other consumer categories - books, music, travel and so forth, they have undergone incredible changes because of the Internet. The price points are higher and it has taken time to build the confidence to buy luxury items, but the American consumer is looking for a safe place to research and buy luxury items on line and they haven't been able to find one.
"The longer that we wait to address the problem and get in the game, the more the consumer will be taught to shop by price and get comfortable with companies like Amazon.com for luxury,"he continues."Shame on us if we wait too long and let it become a commodity business. I have an enormous love for watches and it would be tragic to allow this to happen to this wonderful industry. As more consumers research and buy on line, you have to look at it as another way to talk to consumers. People are voting with their mouse. We can try and make them walk into the store, but the upper end luxury folks often don't want to leave their office or their home, and we need to supply both on-line and brick and mortar retailers."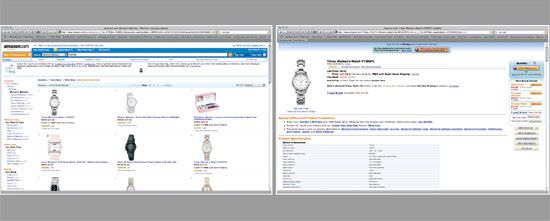 www.amazon.com


The need for a strategy
As we move through 2008 and beyond, it is clear that watch brands need to have a strategy regarding Internet sales. This strategy of no Internet sales is not really working, but it hasn't been much of a problem, yet. Most brands, however, realize they have to do something, whether it's to sell their watches themselves, on-line, at full price, or allow their retailers to do the same.
Something has to be done.
Brands and retailers need to come together and decide together how to deal with the challenge, and the opportunity, of the Internet.


Source: Europa Star April-May 2008 Magazine Issue