O
n a visit to Monaco, which sees more than its fair share of world-class events (Formula 1, tennis and, of course, Only Watch!), there's a rather special shop that deserves a visit: Art in Time. This concept store is located in the prestigious new commercial and residential development One Monte Carlo, close by the casino. The small contemporary space with its high ceilings opened in 2019. It offers a selection of watches by some of the world's best independent watchmakers, from Ressence to Akrivia, Laurent Ferrier to Greubel Forsey.
Imposing clocks by Swiss designer Florian Schlumpf look down on visitors, along with arty photographs of the Monaco Grand Prix. On the ceiling is an XXL reproduction of the inside of an L.U.C movement. Yes, Karl-Friedrich Scheufele, the environmentally conscious owner of family firm Chopard, the 21st-century Renaissance man who is equally at home discussing watchmaking, fine wine and motor cars, is the man behind this unique concept showcasing the art of watchmaking through the creators of some of the most original, creative and rare watches of our time.
Karl-Friedrich Scheufele
Careful curation
It's not every day that a watch brand CEO chooses to showcase brands that are not his own. But, at the end of the day, the revival of the name of Ferdinand Berthoud was another project that wasn't all plain sailing. And, as store manager Yohann Martinez explains, that's where everything started. "Mr Scheufele wanted to showcase Chronométrie Ferdinand Berthoud in a unique way, but the idea of a large store representing big groups as well as independent brands didn't really allow for that. That's what gave him the idea of a boutique dedicated to independent creators."
In fact, he is not alone in dealing with this problem. Other small brands that produce rare and complex timepieces often feel like they're at a considerable disadvantage compared with models that are more well-known, made in larger quantities, that practically sell themselves to less well-informed customers.
Karl-Friedrich Scheufele quickly realised that other brands would join him in his new adventure. After some discussion about opening a second Chopard boutique in Monte Carlo, an opportunity arose. The entrepreneur discreetly polished his project before presenting it to the family. At the end of February 2019, the Art in Time boutique, and the entire One Monte Carlo complex, opened their doors. A little like Ferdinand Berthoud itself, the boutique operates like a start-up inside Chopard, with its own team. It also stocks a selection of the brand's L.U.C models. By the end of that year, a small outpost of the concept store was opened in Courchevel, right next to the new Chopard boutique.
In March 2020 the pandemic struck. But the concept had already had a year to prove itself. Independents were enjoying growing demand. Art in Time thus became a nexus for the best of rare, independent fine watchmaking, attracting an ever-growing selection of brands: Trilobe joined the boutique's selection, along with Moritz Grossmann in the autumn.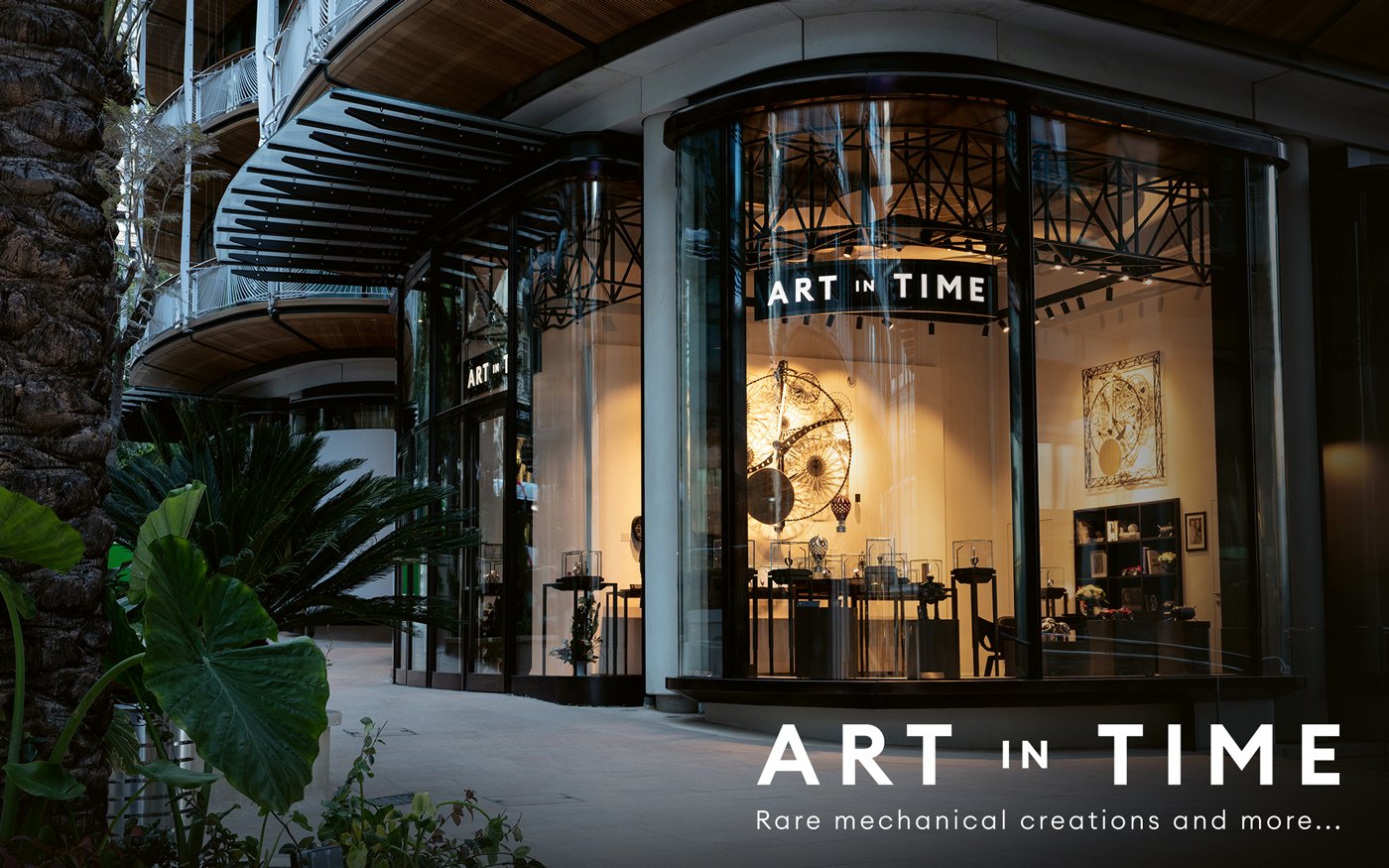 Recently returned from Watches and Wonders, where he accompanied a group of some 20 VIP clients, Yohann Martinez noted that demand was strong, both from clients, and from brands wishing to join the concept store. But the the criteria for entry are very strict: brands with an independent spirit, which means no groups. "The idea is to help them with their creative and commercial development and to nurture collectors, while being able to offer the entirety of a brand's catalogue. That wouldn't be possible with bigger brands."
These days, independent watchmakers also have lengthy waiting lists. But Yohann Martinez makes it a point of honour to "keep a varied and representative offer of models in stock, at different price points, up to the most grand complications."

Similarly, he refuses to make clients buy models they don't want, before they're given access to the models they do want – a common approach in watch retail these days. "In a way, we're building brands and collectors. We give them the opportunity to purchase rare pieces, sometimes by suggesting models ourselves, given that we know their tastes."
The average price at Art in Time, which also develops its own special editions whose profits are donated to the Prince Albert II of Monaco Foundation, is around 60,000 euros. Given how popular the concept is, would it be possible to export it? "We do have plans, particularly for London, but they were put on hold by the pandemic. What might give us pause is if our brands are already well represented in a given location. We don't want to go head-to-head with local retailers. And our goals are not purely commercial." The concept is about promoting a certain culture of watchmaking – one in which watch connoisseurs can have interesting conversations about fascinating watches.