Ralph Lauren and Johann Rupert, the Executive Chairman of the Richemont Group have both invested much time and money, to create the Ralph Lauren Watch Collection.
The launch of the Ralph Lauren watch brand took place last year at the SIHH when the economic recession was at it's most debilitating and far from ideal because retailers around the world were cutting back on stocks of even their best-selling lines. However, both men have the acumen to know that business works best with a carefully developed plan, which Ralph Lauren explained last year as, "I am investing in a long-term watch company."
So the obvious question this year was, how did this new kid on the horological block fare?
The answer is succinct: Ralph Lauren watches are now available in more than ten countries where you can see the entire collection in over 20 points of sale: the U.K. where the very first watch was sold, Italy, France, Switzerland, Japan, USA, Middle East and Far East. And in the soon to be inaugurated St. Germain flagship in Paris there will be a Watch Salon.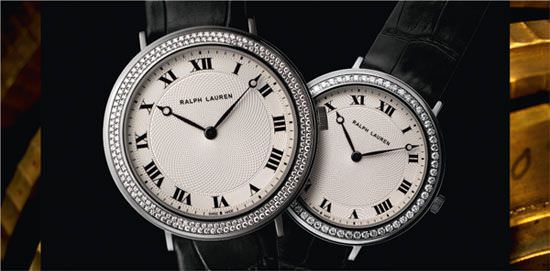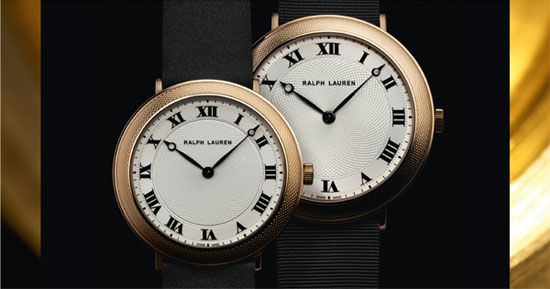 SLIM CLASSIQUE COLLECTION


Long-term planning
Last year in an interview with him, Ralph Lauren made it very clear that his strategy was not merely a short-term foray into watches.
"Ralph Lauren is not a fashion brand. I'm a fan of watches; I've been collecting them for years, now I want my watches to make their own statement. I want them to be contemporary, have punch, but I want them to have that element of timelessness.
"I'm now in the watch business, it's not a licence but a fifty-fifty partnership with the Richemont group and my aim is to create a watch company with legitimate products that have their own aesthetic. I simply want to make the best watches, watches that I love and that I will wear."
There are three very different collections: the Stirrup Collection, the Slim Classique Collection and the Sporting Collection (see Europa Star 2/2009). They have their own DNA, they comply to the Ralph Lauren philosophy of integrity in design and just as his clothing has that déjà vu aspect, so the watches have been designed to offer the wearer the feel that although the watch may have just been taken out of it's presentation case, it has the appearance of a timepiece that has already been around for years and will continue to be seen on wrists for decades to come. Like anything Ralph Lauren has created, be it clothing or home furnishings, his watches have that lasting appearance, an integral element that will become a part of the wearer's lifestyle.
Ralph Lauren says that fashion is about establishing an image that consumers can adapt to their own individuality. And it's an image that can change, that can evolve. It doesn't reinvent itself every two years.
"There is a way of living that has a certain grace and beauty. It is not a constant race for what is next, rather, an appreciation of that which has come before. There is a depth and quality of experience that is lived and felt, a recognition of what is truly meaningful. These are the feelings I would like my work to inspire. This is the quality of life that I believe in."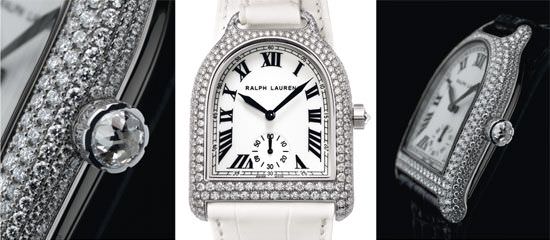 STIRRUP MEDIUM FULL PAVE





STIRRUP COLLECTION


Craftsmanship and elegance
Those are the sentiments that Ralph Lauren has brought to his watches. Their main characteristic, over and beyond the superb movements supplied by Jaeger-LeCoultre, Piaget and IWC, is timeless elegance. They are designed to offer the wearer a refinement and beauty that will blend into their sartorial appearance whether it is classical elegance or casual attire. Unbelievably delicate hand-decorated guilloché on both the dial and bezel of the Slim Classique watches underline the importance attached to the craftsmanship of the brand's timepieces. In particular, notice the spiral 'barleycorn' pattern with its 80 waves gently curling towards the centre, the Roman numerals delineated on a subtly applied guilloché track and a repetition of the 'barleycorn' pattern on the bezel, an especially demanding execution, as the master guillocheur must follow a surface with a complex convex curve. In addition, details such as specially chosen hands, polished precious metals and beautiful diamond settings give the watches that much desired 'lived-in' Ralph Lauren appearance. As the man himself explains, "To design without fashion in mind, to design something legend-ary that has a sense of timelessness, a foreverness that still excites us, is what I aspire to do.







The art of guilloché, executed by master craftsmen for Ralph Lauren on the brand's unique timepieces.


This year, the new watches in the Ralph Lauren collections are logical extensions of the models introduced last year: the addition of single and double rows of full-cut diamonds or the full-pavé watch cases in the Slim Classique and the Stirrup Collections, smaller sizes in the Slim Classique and Sporting Chronographs, polished steel in addition to the matt appearance in the Sporting Collection, a bright red or blue alligator strap or eye-catching python. Simple additions to the original forms, but a rational evolution of the carefully planned details that go to make up the collections. Ralph Lauren explains it so: "In any environment, it's the personal details that become the truest form of self-expression."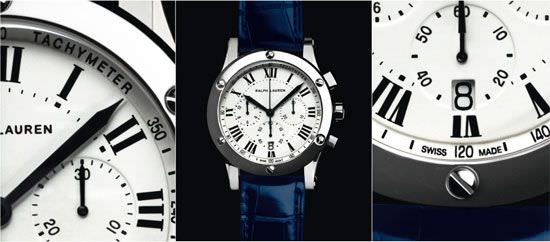 RALPH LAUREN SPORTING CHRONOGRAPH in new 39mm size and with polished steel


In his large format 480 page book, published three years ago in celebration of Polo Ralph Lauren's 40th anniversary, he states, "My vision continues to be as it was in the beginning. It hasn't changed. I don't want what I created in 1967 to be old, or what I created in 2007 to be new."
When Ralph Lauren received the Lifetime Achievement Award from the Council of Fashion Designers of America in 1992, Audrey Hepburn said, "It's tough to pin down Ralph Lauren. There is no one adjective – or ten adjectives, for that matter – to properly describe all he represents. He's not only created a total concept in fashion and style, but his consistency and integrity, protected it, always reminding us of the best things in life."
For more information related to Ralph Lauren click www.ralphlaurenwatches.com

Source: Europa Star February-March 2010 Magazine Issue