The image of Baume & Mercier has been, for a number of years, relatively confused. Founded in 1830, the brand has operated without interruption since its creation. Although it enjoys an excellent reputation around the world for the quality of its products and has a solid distribution network, Baume & Mercier has nonetheless had some difficulties asserting its true and own identity. In the mind of the public, the venerable company is most known for the spectacular 1997 launch of its successful and trendsetting Catwalk timepiece.
This watch set a new style in the horological landscape, yet it did not engender a line of descendants. During the years that followed, the brand gave the impression that it wavered between moving upmarket, which would have allowed it to join its stable mates in Richemont's notable line-up of fine products, and moving into the fashion sector. This hesitation waltz can undoubtedly be explained by the fact that Baume & Mercier has had several owners over the last decades. Purchased in 1964 by Piaget from the family whose name it bears, it was re-sold at the same time as its owner to Cartier in 1988. (Had it still been independent, it is unlikely that Cartier would have acquired it.) In 1993, this time in the company of Piaget and Cartier, Baume & Mercier joined the Vendôme Group which later became the Richemont Group and where it has had a somewhat hard time finding its niche.
Michel Nieto was named as General Manager of the brand in November 2002, replacing Bernard Fornas, who was assigned to get Cartier back on its feet. Fornas' strategy was to take the brand upmarket in terms of image and products, but as he headed up the brand for only a few months, his strategy couldn't be developed. Nieto, on the other hand, wanted to reverse this direction. His idea, rapidly accepted by the group's management, meaning Johann Rupert and, in respect to watch brand strategies, Franco Cologni, was to refocus on the essence of the brand. What exactly was this "essenceı"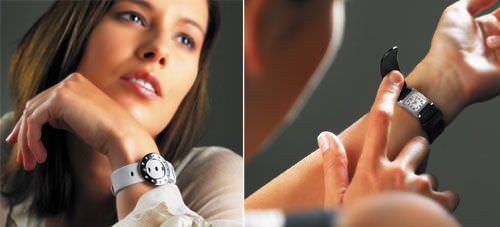 The fundamentals of the brand
Michel Nieto explains: "Above all, Baume & Mercier represents quality, a quality that is still irreproachable with an excellent price/quality ratio. Another of the brand's fundamentals is its creativity - the originality of its styling. If I had to sum up its market position, I would say that we aim to be the studio design of luxury watchmaking."
To support his words, Michel Nieto talks about some of Baume & Mercier's historic models such as the 'Marquise' launched in 1950, which started the vogue for 'slave' bracelet watches; or the 'Galaxie', a precious and asymmetrical watch dating back to 1973, which showcased the brand's creativity.
"I had the safe opened," explains Michel Nieto, "and brought out more than 400 old models that were simply sleeping. I put them on a table and, for three days, I 'locked' our designers in the room. These pieces represented, in a way, our treasure, a treasure that needed to be fully re-evaluated."

The Classima and Riviera examples
A typical example of the results of this re-evaluation is the recent introduction of the Classima Executives collection. "The Classima model has been in our catalogues for more than 20 years, but it was only offered in a normal size in gold with a leather bracelet. Our design studio refreshed its look, slightly modernizing it, and increased the size to an XL made in steel, giving it a whole new life. Today, this classic, fine and elegant watch, drawn directly from our heritage, has become a very trendy timepiece. At the same time, it is proving that it is timeless. Available with a quartz movement that allows great refinement, or a double time zone automatic calibre, the affordable Classima represents the perfect minimalist chic styling for today."
Another example is the re-launch of the legendary Riviera. "The question we asked ourselves is how to re-live the past without falling, even for a moment, into nostalgia," says Nieto. "Born in 1973, the Riviera, whose name evokes the nostalgic fashion of the French Riviera, was immensely successful during its time. Thanks to a very detailed facelift, especially on the dial, we were able to conserve its basic styling and original distinctiveness, while bringing it up to modern and contemporary standards, thus giving it a veritable second life."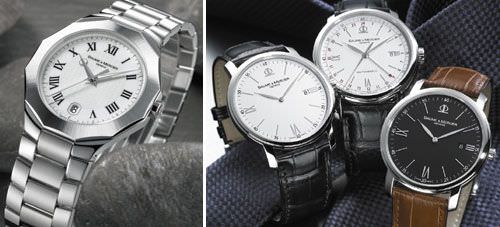 RIVIERA and CALSSIMA XL


And Vice-Versa…
But we mustn't think that the new strategy of Baume & Mercier only involves looking into and transforming the brand's heritage. The spirit of creativity, such as has been expressed in the past, is also renewing itself with its strong and innovative propositions. One only needs to look at the surprising Vice-Versa collection.
We have already seen a reversible watch and a watch hidden behind a cover, yet we have not seen a watch concealed behind its bracelet.
To innovate in the area of reading the time is, at best, difficult. It needed a dose of courage, therefore, for Baume & Mercier to introduce its innovative piece, a watch that supports its goal of being the "design studio of luxury watchmaking."
The idea is simple, elegant and ingenious, drawing from its slogan: "You have better things to do with your time than to watch it." The Vice-Versa watch has a curved round buckle set with one, four or twelve diamonds around the bezel. It is a piece of jewellery in itself, and seemingly takes the place of the watch. However, a turn of the wrist reveals the real watch concealed under the end of a white nizza or black calf leather strap. You can lift the strap to see a small square, minimalist, steel watch with a white dial and black Arabic numerals. What could be more discreet, elegant and yet readable at a glance! "The girls who tested this watch said that they forgot about the time," says Nieto with a smile. "This is exactly what we wanted. With the Vice-Versa, time loses its importance. It becomes a secret, something intimate, something for yourself. The Vice-Versa is perfect with our credo, our new ad slogan, Time is Mine." The philosophy of Baume & Mercier is clearly here - "We don't arrogantly speak of only ourselves, as do most global brands. No, 'we speak of you,' we say to our consumers."
With this watch and its delicate gesture of turning the wrist to have a discreet glance at the time, Baume & Mercier is speaking directly to those who will wear it, and certainly to those who want to play with it.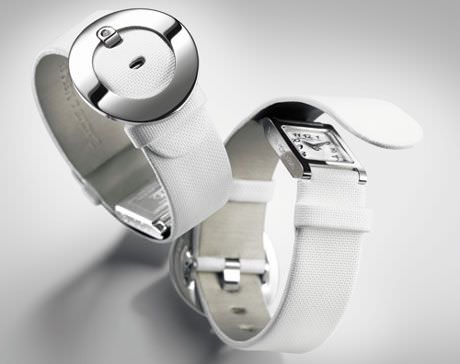 VICE-VERSA


A global launch
Launched around the world in quantities numbering several tens of thousands of watches, the Vice-Versa has met with great enthusiasm from retailers in the brand's vast network of thousands of sales points in 75 countries. The results of the sell-out will allow the brand to analyze and understand the effects of this innovative timekeeper from both a market point of view as well as the effect this model will have on the perception of the brand itself. (The retail price, without taxes, of the Vice-Versa is about 600 euros with one diamond, 800 euros with four diamonds and 1250 euros for twelve diamonds.)
But, whatever the results, the Vice-Versa may very possibly reposition Baume & Mercier in the feminine market, a market that it essentially abandoned when it withdrew the Catwalk (based on a managerial decision taken four years earlier).
There can be no doubt that the Vice-Versa has been noticed and that it has generated a lot of media attention.
The image of Baume & Mercier varies somewhat according to the market you are looking at. In its largest market, the USA (in an enviable 7th position in spontaneous notoriety according to Nieto), the brand has an excellent reputation, and enjoys a hig-her status than in Europe. With a growth rate of more than 15 percent a year for the last three years, the USA market is central to the brand's strategies. The second and third markets, Italy and France, are among the company's most historical markets.
In France, Baume & Mercier is considered classic, especially with the success of the Hampton collection. Assuredly, the Vice-Versa will contribute to softly changing this perception, as it will in Italy, where the brand has had a continuous presence and a network of large retailers. On the Italian peninsula, the Baume & Mercier timepiece symbolizes "the luxury Swiss watch that is offered for life's special occasions."

Indispensable service
This image of quality and stability is essential, says Michel Nieto who affirms with conviction that high quality service is a "primordial" element. "Offering great service is what anchors our brand in the luxury sector. It is indispensable. We pay a lot of attention to it, especially with our after-sales service that is very efficient, rapid and very well organized everywhere."
Enthusiastically, Nieto picks up a few special requests from a pile of letters on his desk. "For some time now, I have been receiving more and more requests for expertise involving ancient pieces as well as demands for restoring and repairing them. Each time I read one of these letters, I am struck by one thing - the intimate relationship a person has with his watch, a watch that often passes from one generation to another. This makes me declare that we are totally right in affirming 'Time is Mine.' This message is also part of, in its own way, our fundamental values of quality, permanence, and innovation."



Click here to subscribe to Europa Star Magazine.