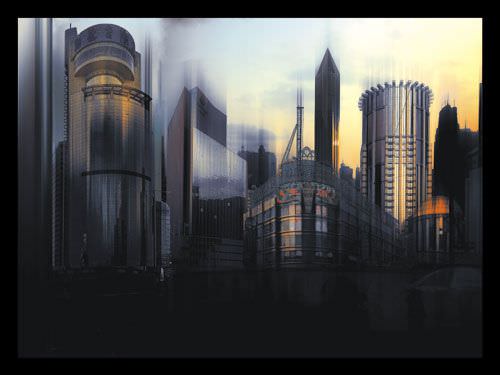 Market characteristics
Watch sales in Shanghai amount to Rmb 550 million (55 million euros) a year and 1.5 million watches are sold in the city annually. In terms of sales value, 45% are imported.
Although Shanghai produces around 2 million low-end watches and clocks mainly for export, the demanding local consumers look for imported watches.
In Shanghai, watches are no longer merely time machines, but are fashion accessories and status symbols and price and functions are no longer the major consideration when purchasing. Shanghai consumers are more concerned about brand image and style.
In the high-end watch segment, Omega is the most popular watch with high-income earners and professionals in the city. In the mid-range, Longines, Titoni and Oris lead the field above Rmb 5,000, (500 euros) whilst below that figure, Longines and Enicar are the most popular brands where professionals and white-collar workers are the major buyers. These two groups tend to purchase watches as a fashion accessory and have several imported watches.
In the low-end market style and appearance are the main factors and the average price paid is between Rmb 200 and 500 (20-50 euros). Domestic brands and Casio and Swatch are the most popular purchases.
In Shanghai, in both sales volume and value, Enicar and Omega are the most popular brands with Enicar accounting for 10% of imported watch sales and Omega accounting for 20%.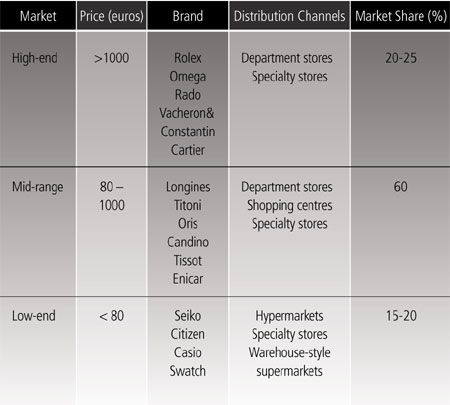 Distribution
Department stores are traditionally the most popular distribution channels in Shanghai, although in recent years some mid- to high-end companies have opened their own stores. However, the main outlets are hypermarkets, specialty stores and warehouse-style supermarkets. Mail order and TV direct sales are also new channels but focus mainly on low- to mid-range models. Department and specialty stores remain the major outlets for high-end models.
Large department stores target the middle- to high-income customers and 96% of the watches sold are classical foreign brands. In the small- and medium-sized stores around 70% of sales are domestic brands.
The average price of an imported watch in Shanghai is Rmb 1,400, (140 euros) whilst the average price of a watch in a specialty or department store is Rmb 2,500 and Rmb 1,200 respectively. (250 and 120 euros)
Department stores and hypermarkets generally source products directly and individual watch shops rely more on importers and distributors. Many watch and clock suppliers have already established agency networks on the Mainland.
Source: Federation of Hong Kong Watch Trades & Industries



Illustration: from Cyril Kobler. "Shanghai recomposé" (Shanghai recomposed) collection created in 2004.


TO BE CONTINUED...
In the forthcoming days, the rest of this lenghty survey will be added to our europastar website.

1. Getting established in China
Understanding the numbers in the Chinese watch market
Growth in China will depend on consumer products

2. Shanghai watch market

3. What the Swatch Group produces in China
Raymond Weil's penetration of the China market
Roamer: An example in the mid-range

4. Richemont: "Ambassadors of savoir-faire"

5. Philippe Pascal (LVMH): Investing for the long term

6. The lessons - and recommendations - of Titoni


Click here to subscribe to Europa Star Magazine.