Spectator/Enthusiast
There is a separate class of sports watches that are designed for the fans to show allegiance, if you will. For example, Tissot has several of these watches, including a MotoGP watch, a hockey watch, a NASCAR watch and more. These watches don't have any related functions to the sports that appear on their dials, they just help define the wearer. The golf watches from deLaCour and Charriol, for example, are designed to be worn by enthusiasts rather than while on the course. Charriol's Ironwatch actually looks like the head of a golf club.






Automate Miniature Automatic by DeLacour, Teslar by Philip Stein and Ironwatch by Charriol


Heart rate monitors
One of the segments of watches that is a true, dedicated sports watch designed to be used hard is the heart rate monitor. There are a number of players in this market, including Polar, Timex, Suunto, Nike and others. These are exclusively quartz watches, as no mechanical watch can receive and display a person's heartbeat.
In this same vein, Philip Stein Teslar offers a watch that features copper elements that some people claim allow them to sleep better, be pain free and perform better at work and in sports. These watches have been tested in many scientific laboratories and they seem to help some people, while others report no ill effects, at least. Because the watches have to be worn 24 hours a day, they have to be rugged enough to do just about anything the wearer does.

In today's increasingly casual world, sports watches of all varieties are incredibly popular, tremendously versatile and useful and exceptionally comfortable and attractive.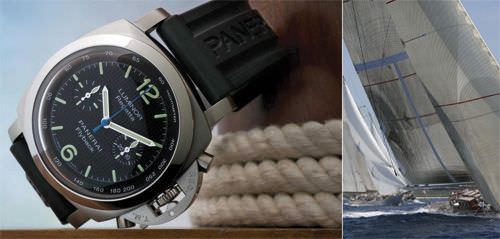 Panerai Classic Yacht Races
Panerai is the title sponsor and the official timer of the Classic Yachts Challenge, a series which kicked off in April in Antigua, West Indies. As the sponsor, Panerai awards their Luminor 1950 Flyback Regatta Special Editions to the winning boats.
Antigua, former home to Admiral Nelson and the might of the British Navy, is the perfect place to hold these races and Panerai is a good match as the sponsor and timer. Long renowned for its connection to diving through the Italian Navy, Panerai has the nautical background to be involved with these races, and Panerai is no newcomer to fine watches, so it really fits into the 'classic' theme of this event.
"We are involved because Panerai comes from the sea," says Angelo Bonati, CEO, Panerai. "In my opinion, being involved with the classic yachts is better than other ocean sports because the regatta is not extreme, it's classic and it's about art as much as it is about speed. Like watches, these boats are appreciated for their lines and you need passion to own and operate them.
"There is a positive image for Panerai through our relationship with the classic regatta,"Bonati continues."The regatta is about respect for tradition, respect for style and performance and it's a gentleman's sport, which makes it perfect for Panerai."
Panerai certainly chose the right venue to be involved with and to showcase their watches. The brand will be sponsoring classic yacht regattas in Europe and North America throughout the coming season.

For more information, please visit www.panerai.com



TO BE CONTINUED...
In the forthcoming days, the rest of this lenghty survey will be added to our europastar website.

Part 1
Part 2
Part 3
Part 4
Part 5


Source: Europa Star June-July 2006 Magazine Issue