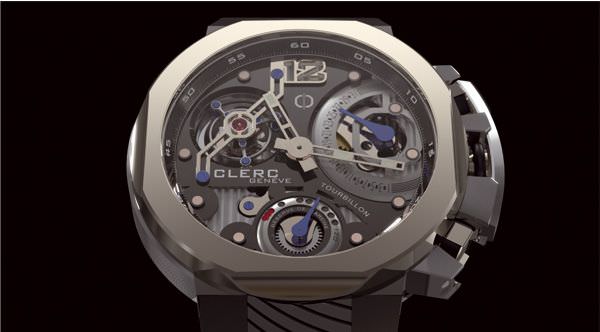 GÉrald Clerc descends from a long line of jewel-lers and watchmakers dating back to 1874. A few years ago, he began designing and distributing a line of his own watches.
Timekeeping is nothing new for his family, which has always created watches, in association with Rolex, Vacheron Constantin, and Jaeger-LeCoultre until the end of the 1970s, and after that, independently. But GÉrald Clerc, himself, had new ambitions. He wanted to create a true watch collection under the name Clerc. From the beginning, his offer was essentially based on a unique case. It was a striking model, a sort of bold octagon, but with rounded angles and softened lines.
Concentrating mainly on the challenging American market, Clerc was able to make significant inroads, opening up over 40 high-end stores. Today, Clerc has returned to Switzerland where he is reorganizing his activities and focusing on the international market with more complicated models.







Moving upmarket
Clerc's return to Swiss soil, during a period of creative effervescence, has given a decisive impetus to his watchmaking.
Drawing inspiration from his fetish case, whose lines have been reworked, he is now proposing more complex, more sumptuous, and more innovative models—delving even further into the art of timekeeping.
One particular example is his new Odyssey watch. He brings a very contemporary, even 'trendy' approach, of the watch-object to his piece while offering a finish that is worthy of the highest tradition of haute horlogerie.
The famous case is even more intricate than before. It mixes materials such as brushed black titanium and its grade-5 mirror-polished titanium bezel with elements in steel or other compounds, including white ceramic, pink gold, and 950 palladium. The ensemble is mounted on a rubber strap, a black ti-tanium and steel bracelet or a pink gold and steel bracelet.
Another striking feature of the Odyssey timepiece is the protruding (and patented) protection for the crown. It slides with a small push, alternately liberating one of three pushbuttons: crown, interior rotating bezel, and retrograde date. On the reverse side is a screw-in case-back and sapphire crystal that is protected by a sort of 'grill' in the shape of the Clerc logo.
The delicate finishing evokes a great deal of care: chamfered bridges, blued screws, black PVD rotor, and lovely circular CÔtes de GenÈve decoration.
The openwork design of the dial allows a few of the 'entrails' of the watch to be seen, notably, through the hollowed out and raised number '12', as well as the display of a retrograde date and power reserve (120 hours).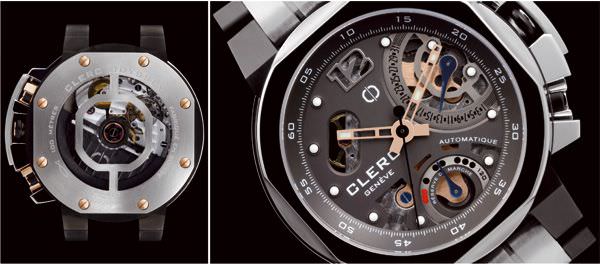 The concern of a couturier
Another new remarkable collection is the sophisticated Icon 8. Pure, eminently chic, well proportioned, and exuding a very contemporary elegance, this model is available with or without various complications: power reserve indicator, large date, large date and second time zone, and an oversized vertical-bridge tourbillon.
It is also presented in a very lovely skeleton version (also very contemporary) or in a limited edition with hand painted ceramic dials. Like a couturier, Clerc carefully chooses the colours of his dials, in order to obtain the greatest degree of refinement and delicacy.
The renewal of the brand does not stop with these products. The CXX Diamonds line demonstrates that the Clerc case lends itself easily to all types of stone setting. The introduction of the CXX Plongeur, expected to be very sporty and 'raw', is planned for 2008. A new feminine line is also in the works, which will be mechanical but not overly technical.

The beginning of the odyssey
Clerc has announced that it will produce 4,000 to 5,000 pieces per year. But this volume is not expected to rise dramatically since the average price of the collections is going to increase. The Odyssey, for example, will begin at around CHF 14,000.
Because of the brand's move upmarket, Clerc has decided that distribution will be more selective. Besides the United States, the Caribbean and Switzerland, the brand is present in Asia, most notably Japan where it is very well positioned and is drawing a great deal of interest from the trade press. Clerc timepieces are currently being introduced in the Middle East and they will soon launch in Russia and Italy.
It is the beginning of something that could very well become a true Odyssey.


Source: Europa Star December-Januar 2008 Magazine Issue