UNISEXY

There are unisex perfumes, unisex bags, unisex sunglasses, why not unisex watches? The unisex trend started around ten years ago when fashion's gender boundaries started to become less defined. Men have been encouraged to explore their softer side with men's beauty products, accessories and diamonds on their watches, while women have become more assertive and have been using men's fashion as a subtle statement of power.
Over recent years many women have been buying men's watches for themselves, enjoying the size and importance that a man's watch brings them, although they have unfortunately been missing out on some of the feminine details that make women's watches so stunning – diamonds, precious stones, mother-of-pearl dials, feminine shapes and so forth. Many watch brands have been following this trend and have decided to fill the void by creating unisex watches that keep the size and style of the men's collections, but add a feminine touch, either with the addition of precious materials or daring colours. These unisex watches are interesting in that they appeal to women who want to make a statement, but they are also increasingly popular with men who are becoming more adventurous with their accessories.

Concord's C1 for everyone
A perfect example is Concord's C1 Pure whose sales are split 60 percent for men and 40 percent for women. At 44 mm, this is a large watch for a woman, but its oversized case shouts confidence on a women's wrist. "The C1 Chronograph is a strong, bold watch, which is a favourite with gentle-men," shares Alex Grinberg, President Concord. "However, modern ladies also appreciate these products. Ladies have loved to borrow their man's/boyfriend's watch for some time now, but more and more want to own their own statement watch." The C1 Pure comes in stainless steel with a white rubber strap, a scattering of diamonds and a COSC-certified movement. The feminine elements are subtle enough not to distract from the masculine styling of the lines of the watch and make it a striking timepiece for both men and women.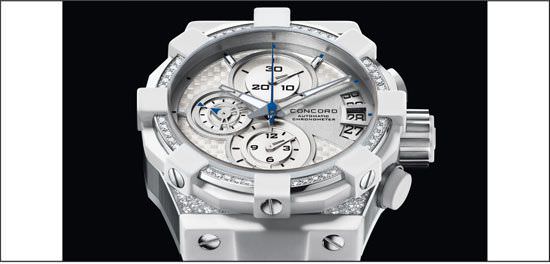 C1 PURE by Concord


Louis Vuitton's bespoke tourbillon
The Tambour MystÉrieuse by Louis Vuitton is equally appealing to men and women as each customer can decorate his or her watch to make it as feminine or as masculine as they like. It is the same principal as Louis Vuitton's Tambour Tourbillon that was launched in 2008. For the price of Euro 275,000, the customer can add as many, or as few, diamonds or precious stones as desired. What is magic, or mysterious, about this new collection is that the mechanism is completely concealed, thanks to a system of ingenious sapph-ire crystal discs that are undetectable to the eye. Three models have been conceived – the first, a minimalist version with clean lines (photographed here), a second in classic colours of brown or grey and a third more feminine jewellery version. The size is still large for a woman at 42.55 mm, but the personalization option allows each female customer the possibility to make her timepiece as feminine as she wishes. A truly unisex concept.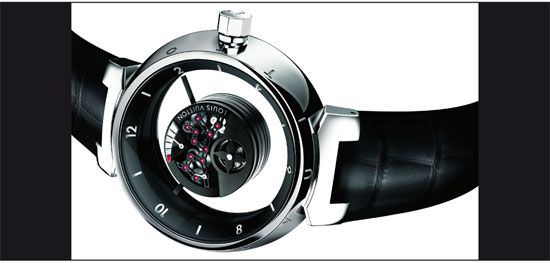 TAMBOUR MYSTERIEUSE by Louis Vuitton


Armin Strom's elements
When we think of Armin Strom we immediately think of skeleton movements. However this year the second label of the company, Armin by Armin Strom presented a brand new collection of what the company has baptized 'Regulators' that are young, bold and unisex. The Regulators are equipped with an 'in-house' modular structure that controls the retrograde date display, hours, minutes and seconds. Don't worry though, the signature skeletonizing is still present next to the small seconds. The timepiece is manual winding, has a 46-hour power reserve and sapphire crystals front and back. There are four versions – Earth, Air, Water and Fire, which are all available in titanium. The Earth, Water and Fire models are more masculine in their colouring, but the Air version, in white and blue, is definitely unisex and would look great on any female wrist especially in its diamond rendering.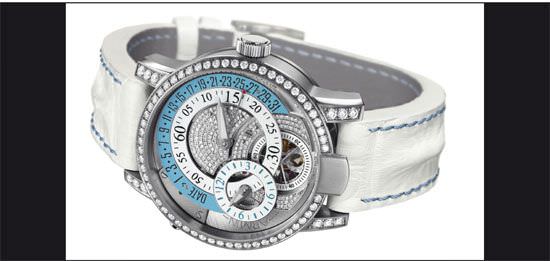 AIR REGULATOR by Armin Strom


Unisex watches in the world of women's mechanicals: Part 2
Unisex watches in the world of women's mechanicals: Part 3


Source: Europa Star August-September 2009 Magazine Issue