Broadway has its Off-Broadway shows and now Geneva has its Off-SIHH shows. There are many independent brands—some well-established, emerging, new or revitalized—that are seeking to prosper in the shade of the prestigious Salon International de la Haute Horlogerie (SIHH).
This is fair enough, since all major events tend to incite various annex events, held on the outskirts. The difference this year, however, is the number of these independent brands—not all— that have left their salons in the various lakeside hotels to come together in a new show called the Geneva Time Exhibition (GTE).
Organized by Florence Noël and Paola Orlando, founders of Luxeco, this new show brings together 35 exhibitors, coming from all over. You might even say that it resembles a mini-BaselWorld. There are as many brands working in the highest tradition of timekeeping as there are those seeking to break with tradition in order to find new expressive avenues. Precious in-house movements share the stage with pieces intended for a much larger market. Some companies take pride in their historic origins—in some cases dating back to the 17th century—while others were born hardly a few months ago.
GTE is a mixture of watchmakers, jewellers, artisans, lone wolves and jet setters. It is a world that, in its own way and in defiance of the current economic crisis, showcases the fabulous diversity of the watchmaking microcosmos and its continuing richness. The following is a short overview of some of the brands at the GTE, but in no particular order. It is not entirely complete because some of the members had not yet produced their first pieces as Europa Star went to press.

A matter of rollers
Three brands, at least, present displays on wheels or on rollers. One is Cabestan, whose Winch Tourbillon Vertical can already be considered one of the 'ancestors' of watches using roller displays. Jean-François Ruchonnet, a tireless breaker of new ground, designed this vertical tourbillon on rotating drums driven by a 'rocket chain', in 2004. It was called Sea and was to be the second element in a trilogy (with Earth giving rise to the V4 of TAG Heuer), which resulted in the Winch Tourbillon Vertical, while a third piece, Air is still in the making. Thanks to Andreas Stricker, who invested in this venture, Cabestan now has its own small independent manufacture in the Vallée de Joux.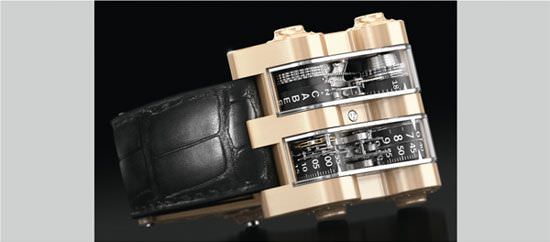 WINCH TOURBILLON VERTICAL by Cabestan


Another independent watchmaker working on roller displays is Antoine Preziuso. With his Time Tube, he solidifies his position as a watchmaking maverick, playing freely with forms, displays and materials. Often a forerunner, we owe him the first rusty watches (well before Romain JérÔme), as well as timepieces carved from meteorites, the tourbillon 3 Volution and more recently the B-Side. The very rock 'n roll Time Tube is, as its name implies, a tube (carved in a material chosen by the client but created in a limited number of 28 per material) into which an automatic movement is vertically inserted, which drives a digital display for hours and minutes, while the seconds are shown on the side of the tube. The winding is carried out by a toothed wheel on the side. Hats off to this amazing piece!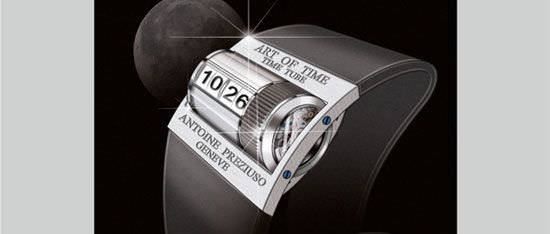 TIME TUBE by Antoine Preziuso


Fabrice Gonet, one of three people behind the HD3 (the two others are JÖrg Hysek and Valérie Ursenbacher) is presenting the Bi-Axial Black Pearl. Inspired by the world of pirates, and designed "in a steam punk retro futurist style", this bi-axial tourbillon drives an hour display on a wheel located at 9 o'clock and a minute display on a disc at 12 o'clock. On the side of the case at 9 o'clock, we find a hatch decorated with the skull and swords of the pirate, Jack Rakham that can be opened to admire the profile of the tourbillon movement.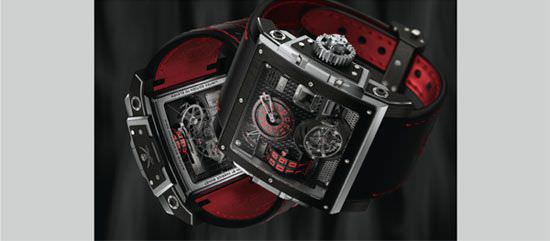 BI-AXIAL BLACK PEARL by HD3


Breaking with traditions
Other designers and brands have also broken with the most classic codes of timekeeping. Among them are Ladoire and MCT, which we have already presented on our pages in recent editions. These two brands, created nearly at the same time, had to get through the crisis, like so many others, during their formative years. Despite the turbulences, however, they are still here, and are certainly worth the detour to go and see.
Another recent brand, Rebellion, founded in 2007 by Steve Clerici, is undergoing a sort of re-launch this year. After coming into the market with much fanfare—too ambitious for their style—Rebellion has joined forces with the famous designer, Eric Giroud, and the constructor, Laurent Besse, who bring it the substance it was lacking. Giroud redesigned a powerful case, to say the least, constructed like a very large sandwich (46mm x 56.7mm x 19.6mm) that Besse equipped with a simple chronograph or a flyback chronograph, a regulator or a tourbillon. The new REB-7 Regulator is without a doubt the most emblematic piece of the new Rebellion. Its open architecture, devoid of a dial, offers a spectacular view of the double date disc, whose numbers are laser-cut from black gold. At the centre, a strong vertical bridge in the form of a scale supports the regulator display of the hours on an open sub-dial at 12 o'clock, while the minutes and seconds are shown at the centre.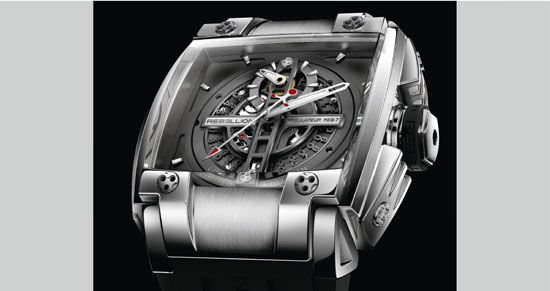 REB-7 Regulator by Rebellion


Another brand, but this time targeting a larger clientele, also works with openings and architectural structures. Marvin, that our readers know quite well, moves away from its revisited classicism with the new M114 collection. This timekeeper mixes up the codes in a rectangular case, whose carbon covered dial is open at 12 o'clock over its Sellita SW 200 automatic movement. The seconds are shown on an arc that goes from 3 o'clock to 9 o'clock, but it is not a retrograde seconds indicator. No, the trick here is a double seconds hand, red on one side and silvered on the other, that alternately displays the seconds from 0 to 30 and then 30 to 60.





M114 by Marvin


Non-conformist classicism
More measured and more in conformance with classic canons in appearance, the watchmaking of Louis Moinet is nonetheless remarkably innovative. Re-launched in 2000 by Jean-Marie Schaller (who earlier had re-launched the Perrelet brand), the company offers some very beautiful pieces that combine high quality artisanal finishing (for example, the very lovely CÔtes du Jura invented by the brand) and complex cases that are very well balanced with refined movements displaying relevant advances.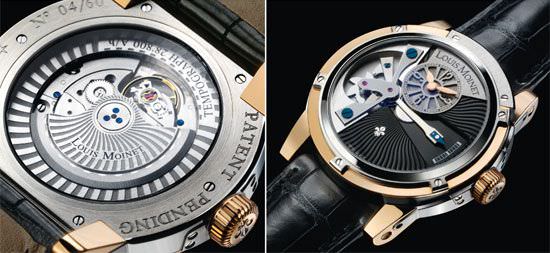 TEMPOGRAPH by Louis Moinet


One of Louis Moinet's latest pieces pays particular honour to the GTE, the Tempograph. The unique feature of this timekeeper is a retrograde ten-seconds indication. Visible on the partially open dial, a six-toothed star-shaped cam makes one rotation per minute. Every ten seconds, it frees a lever (made of titanium and grey gold) that indicates a ten seconds unit on a small scale located at 3 o'clock. This small effect—even a complication—is quite original and subtly spectacular.
Badollet, another brand launched recently—in 2007—is betting on the rarity of products in the very haut de gamme, with its entry price of CHF 250,000. Since starting at the worst possible economic moment, the brand has seen some major setbacks that have caused it to change direction. A new CEO has just been named—Philippe Dubois, former commercial director at Concord. While he has renounced the ambitious concept of ultra-personalized customer service called Ishango Lodge (this called for, among other things, the availability of a replacement watch while the original watch was being serviced), Dubois does not intend to change the brand's strategy. There is a good reason behind this decision—all the components necessary for the fabrication of the announced models have already been ordered and are being assembled. Badollet plans to sell them in small quantities. The watches are lovely, like its Observatoire 1872 Répétition Minutes, equipped with a flying tourbillon and set with 72 diamonds and 12 sapphires. It is a highly prestigious piece—adaptable and personalizable—reminiscent of pocket watches whose carefully decorated movement is largely visible, thus combining classicism with modernity.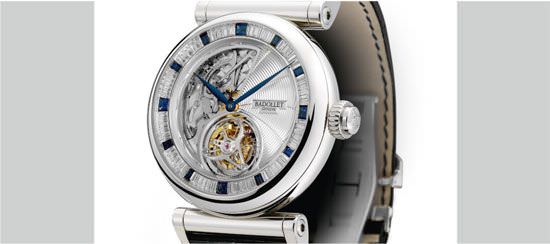 OBSERVATOIRE 1872 RÉPÉTITION MINUTES by Badollet


Artists and soloists
GTE is also made up of a handful of brands and artisans with expertise in the various skills of watchmaking, some of which come straight from the world of jewellery.
Among these brands, Robert & Fils 1630, is without a doubt the oldest since its leader, Gilles Robert, can claim a direct-line watchmaking heritage dating back, uninterrupted, to 1630. Himself representing the 11th generation of Roberts, Gilles Robert fashions his timekeepers around old movements from the family company. One of his ancestors, Jacob Robert, was the creator of the oldest movement manufacturer in the world. It remained in family hands until 1981, when it was acquired by what has now become the ETA factory in Fontainemelon.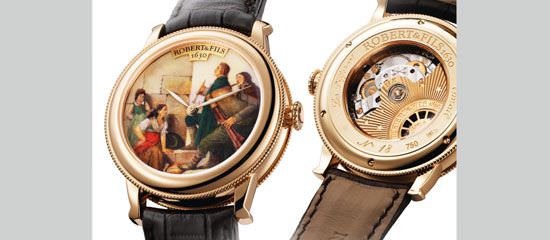 PIFFERARI by Robert & Fils


Now, Gilles Robert equips his collection of very classic watches with hand-restored original Robert movements with 22 carat gold oscillating weights. The timepieces themselves are either hand-engraved or hand-enamelled. One of the masterpieces is Pifferari, whose grand feu enamelled dial faithfully reproduces a painting of the same name created in 1825 by another famous family member, the artist Léopold Robert. One of this painter's works is on display at the Robert & Fils stand where an artisan creating enamel pieces can also be seen at work.
The genealogy of Michael Bittel is quite different but, as far back as he can remember, Bittel, from a community of travellers, has always seen his grandfather repairing clocks and watches in front of his caravan. A jack of all trades, incredibly creative and fascinated by micro-mechanics, Michael Bittel stepped into the world of watchmaking and is now creating pieces that are surprising, inventive and unlike any others. One example is his Eclipse, a timekeeper with a simple or double diaphragm taken from old cameras. Having thus two or three dials made of detachable strips, adaptable in a round or oval shape, Michael Bittel can use his decorative talents in totally original ways. His watches have several faces and open as a last resort onto the skeletonised movement or onto a tourbillon.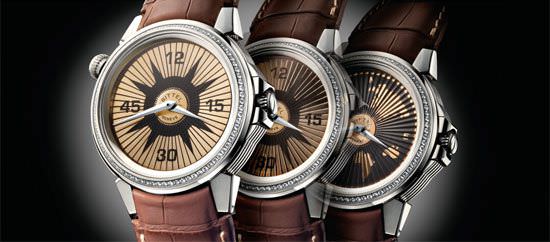 ECLIPSE by Michael Bittel


The Magnums of Saint-Honoré
The French brand, Saint Honoré, presents two 'Magnum' interpretations of its Monceau and Haussmann models—two powerful watches with highly architectural dials, in keeping with the trend of openings on the dial that reveal the internal workings of the piece. Featuring a skeletonised PVD titanium case with yellow appliqués, technical reliefs, protruding screws on the hour markers and open-worked hands, the Monceau Magnum Automatic, an XXL sculpture, is driven by an ETA 2824 movement. The Hausmann Magnum Automatic features a bezel integrated into the sapphire crystal with six bold screws, a view of the skeletonised dial, a cut-out of strong numbers on several levels, large date disc and an ETA 2824 movement whose oscillating weight is visible at the back and plated with black gold.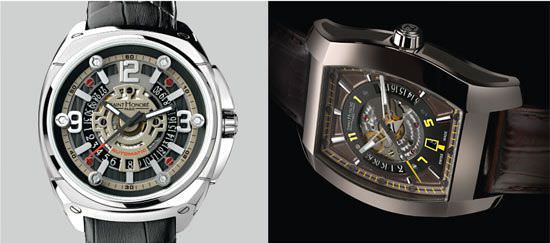 Linde Werdelin – no longer just an instrument
The most recent surprise for Linde Werdelin, who this year is showing at the Geneva Time Exhibition (GTE) during the SIHH show period, is that people are buying their watches for...their watches.
"Before, it was the watches and the instruments as one thing," says Managing Director and co-founder Jorn Werdelin. "Over the last year, we have focused on the watches, because, in the end, a watch is a watch, no matter whether it has an instrument on it. We are getting younger customers, who are interested in the watch first, and they see the instrument as the icing on the cake. They buy the watch for a sports watch, then if they want to go diving, or skiing, they buy the appropriate instrument. Now, 60 – 70 per cent of the people buy the watch and not the instrument, because they appreciate the watch on its own merits."
Business is pretty good for Linde Werdelin. "The last quarter was our best ever," Werdelin says, quickly pointing out that they haven't been around very long. "The second half of 2008 and the first quarter of 2009 were disastrous. What we have been living off is the customer who wants our product, not the retailer. The retailer is overfed with watches and under-supplied with cash. All retailers around the world have too many watches in stock and they owe too much money to the big brands. This leaves smaller watch brands like us in a tough position – we don't want to give retailers watches on consignment. The whole distribution channel is rebalancing and if small brands are not selling directly, then I think they have a problem. If we would have been selling solely through retailers, we would have been dead. Precisely because customers want our watches, we have continued to thrive. We will, however, get back into the wholesale channel in 2010."
This year, customers will see the redesigned and finished Octopus, the diving watch, one in titanium with a black DLC bezel and one is DLC steel, and a new Spyderlite, which uses a high grade movement and a special complication. "We are working on two different complications, but I'm not sure which one we are going to show in January," Werdelin says. "We are working on another complication for the Spyderlite as well. As for the GTE, two years ago, we were in Geneva and we had a couple of suites in the Richemont Hotel and we were a little too isolated. Last year, we did BaselWorld, which was good for us, but it was really expensive. It doesn't make sense for us to spend a huge amount of money to be in BaselWorld. Shows should help us, not cripple us with expenses. We are trying to get out of this cycle and do our own thing, and we see the GTE as a great opportunity." (KS)
See Special Linde Werdelin Spotlight on www.europastar.com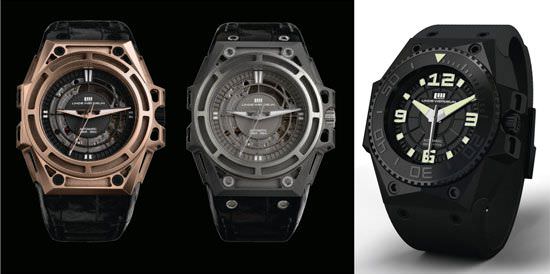 New talent lurking at the bottom of the ocean
There is nothing we love more at Europa Star than a new watch brand. This year has been a down year for all things new, for obvious reasons. So it was with great excitement that we discovered that master engraver Dick Steenman was planning to launch something rather exceptional during the Geneva Time Exhibition.
Steenman is director of Dimajo, a specialist workshop of watchmaking crafts that covers everything from hand engraving on enamel to mother-of-pearl marquetry and high-end gem setting to unique case construction. With his extensive experience working with precious stones and engraving, along with his team of talented artists and impressive workshop (that includes a full five-axis CNC machine set-up) Steenman can make just about anything from A-Z, and does. The company has more than a dozen clients – all famous names in the watch industry – and even though we are not allowed to reveal their identities – you will have seen Dimajo's work endless times without even knowing it.
However, like many talented artists, there comes a time when working for others isn't quite enough. The creative spirit becomes trapped and the desire to do something for oneself becomes too strong to suppress. This is the case with Steenman, whose energy and enthusiasm is contagious.
During the GTE exhibition, Steenman will be presenting two collections. First is the Bayonet, photographed here, with a beautiful engraving of the horse-god Pegasus. No ordinary timepiece, the whole case can be twisted out of the bezel, allowing its owner to have different straps and bezels for different occasions. Personalised, engraved dials are also an option so each client can design his or her watch in a variety of ways to create a totally unique piece.
However, for those who are looking for something that takes engraving to a whole new level, there will also be the presentation of a trilogy of timepieces entitled the Abyssal. Far from the wildlife motifs of many artistic dials, Steenman has chosen the bottom of the sea as a theme to present his remarkable savoir-faire, with dials showing curious coral formations, marine plant life and even the monster-like fish that live in the murky depths of the ocean. "The idea is to go beyond engraving and create actual sculptures on the dial," explains Steenman. These fantastic dials require a new approach to the watch with the dial becoming the focal point. "I want to turn the pyramid upside down", he continues, "Most often, everything has to fit around the movement, but the dial is what we see first, so I am showcasing the dial like a piece of art with a bezel that is barely visible."
Unfortunately no photos of this collection were available at the time of going to press, but if you have time to visit the GTE, don't leave without visiting the Steenman stand. (SF)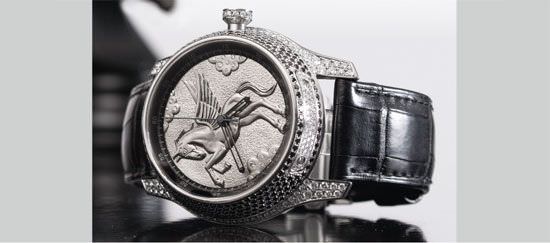 Peter Tanisman, the freedom of the jeweller
Another emancipated designer is Peter Tanisman. A jeweller of Armenian origin having earned his stripes in his father's workshop in Istanbul's Grand Bazaar, Peter Tanisman, now in Geneva, has become a creator of jewellery and watch cases, all designed and produced in-house, and recognized by the leading brands in the domain.
A meeting with Alain Cao, a watch professional who is thoroughly versed in the industry, proved to be serendipitous. Together, they launched the watch brand Tanisman in 2008. With the freedom to let his imagination run wild, Peter Tanisman created a number of models that ignored the usual design codes. Innovating stylistically and often surprising by their liberty, these pieces played with the hands making them resemble a spider, thus earning this model the name, Spider, in a square or triangular case. Another piece, nominated for the Grand Prix d'Horlogerie in Geneva, is the rectangular Carrousel, featuring playful and precious cases with their cut sides or their decorative rollers with a matching mobile cylinder. Set with 552 diamonds, it is equipped with an automatic movement and date.
See Special Peter Tanisman Spotlight on www.europastar.com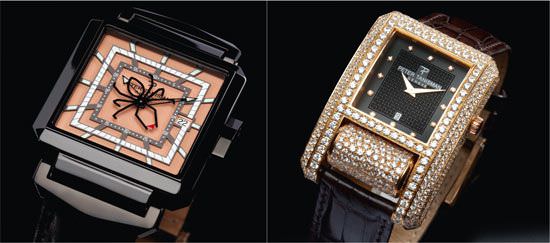 B.R.M.
Present at the GTE, the innovative French brand, B.R.M. with its very structural models such as the V14-44 in black titanium, dial in carbon and white with red hands. Equipped with a Valjoux movement, this chronograph is produced in a limited series of ten pieces, with proceeds going to an association for cancer research.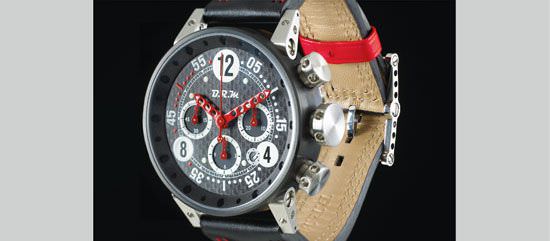 Volna
Crafted in the ultra-resistant Grade 5 titanium, the Typhoon Siberia, created by Volna in two limited series of 125 pieces, is a cross between two quite different universes: the Soviet naval submarine forces and Swiss watchmaking traditions. Equipped with a high-frequency mechanical movement, mobile Incabloc shock absorber, Glucydur escapement, safety indicator and screw-in double crown for water resistance.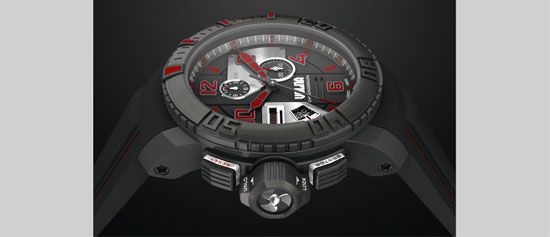 Source: Europa Star December-January 2010 Magazine Issue