At Zenith, the time has come to return to basics, to concentrate on the manufacture and the El Primero movement.
Starting with the arrival of a new CEO on June 1, 2009, Jean-Frédéric Dufour, former production head at Chopard, orchestrated the brand's 180 degree turnaround. Gone was the glitter, farewell to the flashy, out with the showy exuberance. Everyone was asked to return to the workbenches.
But to carry out this about-face transform-ation—favoured or perhaps even forced by the prevailing economic situation (which has not fundamentally changed today, even if the watch industry's global numbers have risen)—Dufour did not rush into anything. Compelled, unwillingly, at the start of the re-organization to lay off a number of people in order to slim down the operation (70 layoffs were announced at the end of June 2009 out of a total work force of 250), he then set about trying to wake up the sleeping patrimony of the brand.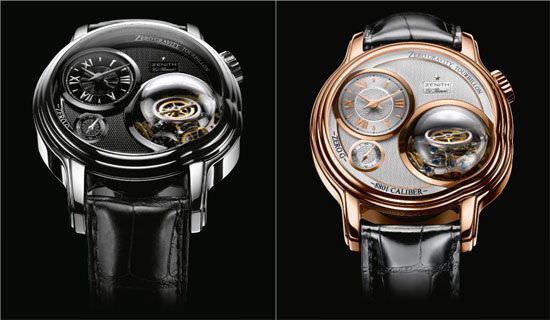 ACADEMY G ZERO


Understanding the value of the past
"I had to begin by understanding the value of our past," explains Jean-Frédéric Dufour, "and then exhaustively take stock of our patrimony that encompasses not less than 2,500 different watches, without even counting the inestimable treasure of the tools that have been conserved or even saved from destruction during the 1980s by a former employee."
Using this precious inventory, Dufour sought out the best means to revive the knowledge acquired by the brand. The first step was to do a major clean out of the existing collections. Divided into 16 main collections, without even counting the sub-collections, Zenith had about 800 models. Today, only 150 are left. That is quite some cleaning out. "I conserved those that sold the best and were in tune with our new image. I also added new collections at the base of the pyramid," he adds, "which now includes an entry-level manufacture-made watch with an Elite movement selling at around 3,300 CHF. At the top of the pyramid is the El Primero tourbillon priced at less than 50,000 CHF. I especially wanted and still want to fully revive our historic movement, the El Primero that will, from now on, systematically equip all our complicated watches."
Moreover, Jean-Frédéric Dufour has revisited the brand's communication, marketing and after-sales service. "The world of fashion, the top models, the exotic destinations—all that has disappeared in favour of the product. The entire accent is now on our identity as an authentic manufacture with a rich and fabulous past. It is now on our revived patrimony."
And, his plan seems to be working. At the end of the Geneva (SIHH) watch week during which Zenith held its own private and well-at-tended show, Dufour affirms to have "doubled his projected budget."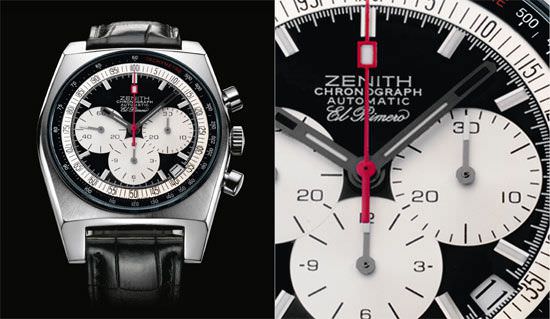 NEW VINTAGE 1969


Four collections
In concrete terms, Zenith 2010 has four well-tiered collections: Academy, which includes high complications; El Primero, available in Chronomaster and Class; Defy, the sporty line; and Elite, the entry-level watches. In all, 30 new models are joining the Zenith family.
As we know, the El Primero movement, with its 36,000 vibrations per hour, is capable of measuring tenths of a second. A new, simple, and intuitive way to read this time, using a red hand that makes a complete rotation of the dial in ten seconds, has been patented and added to one of the models, selling for 11,800 CHF in steel. Already, the El Primero is being used in a steel chronograph with a new case mounted on a crocodile strap, selling at 7,900 CHF. For fun, this calibre is also found in the El Primero Retrotimer, priced at 6,900 CHF, that includes 8 minutes in red in its small counter. Why 8 minutes in red? Dufour answers with a smile: "It is because I love Italian cuisine and the al dente pasta cooks for 8 minutes." For 14,000 CHF, you can buy a flyback El Primero with a large date. Clearly, the prices are quite competitive for this level of quality.
Among the new models drawing on the brand's heritage are three lines. The Captain was designed in homage to the nautical dashboard instruments fabricated by Zenith in the past. They are equipped with an El Primero movement and sell for 6,500 CHF in steel or 14,900 CHF in pink gold, or with an Elite movement that is priced at 4,450 CHF for a steel model or 11,900 CHF for the pink gold version. Another model drawing on the brand's past is the New Vintage 1969, available in a round case with an El Primero movement, priced at 9,400 CHF, or the New Vintage 1965, in a square case with an Elite movement, offered at 4,650 CHF. The third line, the new and remarkable ultra-thin model, is also equipped with an Elite movement and sells for 3,950 CHF in steel or for 10,800 CHF in pink gold.
While it is generally not our habit to quote so many prices, we do it here because this offer seems emblematic of the turning point that Swiss timekeeping finds itself at.


Source: Europa Star April - May 2010 Magazine Issue