O
ver the last few months there have been rumours, reports and one or two scathing articles concerning the health of TechnoMarine. For some reason known only to those who participate in this questionable pastime, the brand has been singled out for unqualified criticism as if they were responsible for all the problems within the watch industry. Okay, TechnoMarine's watch sales and, therefore, profits were down in 2003 compared to its previous boom years, but then that was a fact of life for many watch manufacturers.
So let's set the record straight: TechnoMarine sold 180,000 watches and made a net profit of US$ 10 million in 2003. The brand didn't break any sales world records last year, but TechnoMarine is alive and well!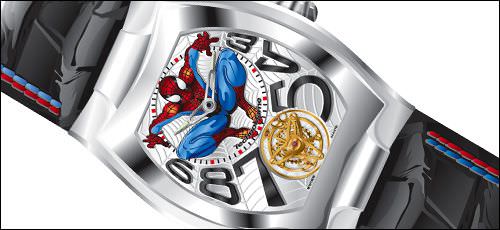 SPIDERMAN TOURBILLON
18 carat white gold case equipped with a Swiss STT tourbillon movement. Hour and minute functions, silver dial, sapphire crystal, alligator strap with butterfly buckle, water-resistant to 50 metres.


Going ethnic
Last year, TechnoMarine introduced its Maori Collection at BaselWorld. As is often the case when a successful company makes a creative change of direction, doubts were raised as to the wisdom of the move, but Franck Dubarry sought to innovate, to distance his brand from the dozens, make that hundreds, of watch manufacturers around the world who had jumped onto the rolling bandwagon that was steel and diamond sports watches.
"We wanted to come up with a product that had an emotional value," Dubarry explains. "I wanted to move away from the TechnoDiamond copycats. I wanted to find something new, move further afield to avoid them.
"So I asked myself, what do I knowı And the answer was the oceans. Through my years of surfing and photography I had already discovered and learned that the South Sea people had a Maori culture. The Maori tattoos suddenly became trendy, but most people don't know their origin. So I felt that the concept justified making our move to develop a Maori Collection. The result is that the watches are avant-garde and original. We also make it our business to explain the origins of the designs and the culture."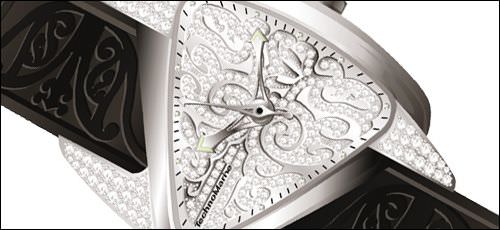 TECHNO MAORI JUNIOR
Stainless steel watch set with diamonds. Swiss ETA 956.102 movement, hours, minutes and seconds functions, sapphire crystal, rubber strap, water-resistant to 30 metres.


Being different
"The company has modified itself from TechnoDiamonds to new styles and we have invested in our reorganization. However, people expect us to do something different, something unexpected. This year we had six different tourbillons at Baselworld using crazy designs and we sold them in the first two days – because they were something different. However, if you look at our various collections, there is a consistency and coherency in all our designs," Dubarry underlines.
"We have the potential to grow and we are consolidating our position as an established brand. TechnoMarine has a great future because we are still learning from our evolution.
"In terms of branching out in sports watches, we have different models at different price levels, we have an identity and we are now in a new environment – that of mechanical watches. One could ask if there is justification for us to go mechanical. Well, we created six tourbillons and they sold. So the answer must be 'Yes, so long as there is price with consistency.'
"Clearly we have developed in terms of design and craftsmanship - all our watches are now Swiss made. We have the distribution network, we're selling high-end products and customers are buying them because they understand what we are trying to do."

Final assessment
A last word on the supposed 'health problems' of TechnoMarine. If you look at the short but remarkable history of the brand, it has been at the forefront of some design trends. Stainless steel, plastic and diamonds took an extraordinary blend of imagination and courage at a time when the inexpensive Swatch seemed to be the in-word. But if you look at the various collections created between the first models in 1998 and today, it is obvious that Franck Dubarry and TechnoMarine did not sit back and simply reap the rewards of just one idea. There has been a constant research into style, form and finish, an evolution that includes not only the brand's designs, but also workmanship, marketing and distribution.
In an interview nearly three year ago, Franck Dubarry told Europa Star of his in-tentions. I quote:
"One of the problems that we face today is that too many companies are now using diamonds in their watches. So we have to find other solutions, unusual concepts and designs. We are in the transition of moving into the luxury business, but the symbol of luxury is the opposite of mass distribution. Luxury means a happy few can have your product, more means lowering the luxury concept. So to reinforce our image we are going to limit the production and distribution of our watches - with, of course, just a touch of craziness. It's important that we maintain that aspect of 'fun' in everything we do."
Clearly, the change in the brand's creative strategy was not because it was having problems, but because there was a planned, innovative evolution … with that delightful touch of 'craziness'.
So where's the problemı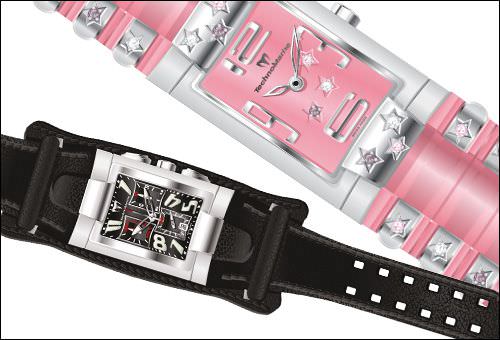 MAGNUM MILITARY
Stainless steel case ( 34.5 x 47 mm) equipped with a Swiss ETA 251.272 movement. Hours, minutes, seconds, chronograph, date, sapphire crystal, leather strap with double buckle, water-resistant to 100 metres.

XS LADY STAR
Stainless steel case (24 x 38 mm) equipped with a Swiss ETA 902.002 movement. Sapphire crystal, rubber straps (galuchat or alligator optional) with metal inserts and semi-precious stones, water-resistant to 100 metres.