Two numbers reflect the exceptional road this company has travelled in some eight years. In 1997, 19 people worked at Ulysse Nardin; today there are 170 employees spread out between La Chaux-de-Fonds (fabrication) and Le Locle (administration and atelier for haute horlogerie).
Everything began with the launch of the Trilogy, a trio, as its name indicates, of exceptional pieces conceived by Ludwig Oechslin. At that time, however, all the brand's production was subcontracted out. The development leading to its independence and verticalization was a measured and gradual process: first, building the brand and its image (its clearly obvious vocation was the quality mechanical watch); then applying for patents and demonstrating the ability to develop new ideas; followed by the establishment of a technical department; and finally, creating an autonomous production pole.
In all, this program required an investment of 25 million Swiss francs, financed solely by the brand's profits that were essentially reinvested in development. "There was no other way," says Pierre Gygax, "except to lose one's independence by getting taken over by a large group, or by selling one's soul for capital from outside investors."

Setting the process in motion
"Two pieces have really set the process in motion," continues Gygax, "the Perpetual GMT and the Perpetual Calendar developed by Ludwig Oechslin. These two products had no competition in the marketplace. They were unique in their category, which allowed us to sell them at the upper end of the price scale, with high value added (between 32,000 and 45,000 Swiss francs). Their sales, in fact, set off a snowball effect. One other decisive turning point was the creation of our subsidiary in the United States in 1999. Starting from scratch in this region, we have registered very strong growth, which has helped, even more, the snowball effect that I mentioned. So, from 1997 to 2004, we went from a production of 3,000 watches a year to 13,000, while increasing the average price of these timepieces. In the same vein, in 1997, 40 percent of our turnover was realized with Ulysse Nardin patented products, products that other brands are not able to offer. Today, 80 percent of our products are unique and original, with the remaining 20 percent being chronographs equipped with ETA 2892 or Dubois Dépraz calibres."






Research & Development & Production – Lucas Humair, From concept to detailed drawings, Prototypes making and testing.





Programming-milling-drilling & profile-turning, Wire erosion cutting, Profile turning, Gear cutting.





Milling & drilling, Burnishing, Printing, Stock & Preparation of kits.





Reactor, QC checking during production and final checking, Diamond wheel.


Verticalisation in stages
"Between 1995 and 2002," adds Gygax, "We witnessed a large wave of companies buying out the subcontractors. It has thus become indispensable to reach the adult stage in order to become the master of our own destiny. To do this, we have been developing in gradual stages, both in human and in technical terms. For example, you hire a setter, who can operate three automatic lathes. Then, you hire a second one, so that you can pass to six machines. Each time, you reach a new critical threshold. Today, we have built a production tool that allows us to master all the operations for own products, and especially to master the quality. However, we don't control the entire process, and we still subcontract about 50 percent of the assembly. In fact, we keep the crème de la crème of our work in-house, if I might add, with highly trained, competent, and motivated watchmakers. In case of dire necessity, we are able to re-integrate in-house a part of the work that we contract out without difficulty. We have grown stronger without alienating our subcontractors or suppliers because, not only are we careful not to leave them only crumbs, but we also, at the same time, have increased our production, allowing positive continuity with our collaborations. I'll give you an example. We have not yet started our verticalization in the domain of cases. It is a question of priority. To do this, we have strong bonds, which are true partnerships with the makers of cases, bracelets, and dials. In a few words, I would say that we are certainly ambitious, and even combative, but not megalomaniac. We are building a solid base, one step at a time."

Advanced innovations
The great strength, even genius, of the concepts developed by Ludwig Oechslin for Ulysse Nardin is the realization of grand complications with simple mechanical solutions. This advantage has allowed the brand to develop a truly original strategy of research and development, which, starting with the ideas, has gradually improved in terms of materials and processes.
Concentrating all the activities for designing new calibres, mechanical systems and functions in-house, Ulysse Nardin is developing partnerships with enterprises that are fully qualified in the domain of new production processes as well as in the research of watchmaking applications using new materials that have been developed primarily in the micro-medical or micro-technical areas.






A.The balance wheel swings back and releases W1 B. W1 is released, driving W2 which provides its impulse to the balance wheel. C. The balance wheel runs its free oscillation. W2 is blocked - stopping W1also. D. The balance wheel swings back, releasing W2. W1 is on the point of giving its impulse to the balance wheel.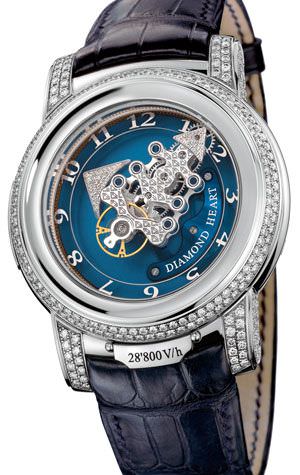 The Freak 28,800 V/h Diamond Heart


Selective photolithography
In this respect, for example, the pioneering use of selective photolithography, a technique originally developed in the area of microtechniques, opens the door to new and heretofore unknown applications in watchmaking.
"The aim of mechanical watchmaking," continues Pierre Gygax, "is to create the simplest component parts, ones that cause the least friction possible. The most difficult mechanical device is the escapement, and those who know how to make the Swiss escapement (Editor's Note: principally Nivarox of the Swatch Group but also recently atokalpa of the Parmigiani-Vaucher group. On this subject, see our article in this issue) have such an advance that it would be difficult to reach their level. Our idea has been, on the other hand, to open a whole new field of exploration in the domain of the escapement. This is what we have done with the Freak Diamond Heart, equipped with a new 'Dual Ulysse' escapement, made of industrial diamonds using a new process. It is perhaps less spectacular than a tourbillon, but it brings much more to the table for the future of mechanical timekeeping. Importantly, it permits a serious increase in the lifetime of the movement, without requiring maintenance."

From silicon to the diamond
In 2000, thanks to the selective photolith-ography technique, Ulyssse Nardin realized its first Dual Direct Escapement made in silicon, ahead of Patek Philippe, which this year presented its escapement wheel in silicon (for a more detailed explanation of the technique employed, see our article on this subject in Europa Star 2.05).
In 2002, Ulysse Nardin succeeded in making the first balance spring and the first escapement in synthetic diamond, using an engraving technique called DRIE, for 'Deep Reactive Ion Etching.' This advanced technology, developed by the GFD enterprise (based in Ulm, Germany), had its first, and spectacular, application in eye surgery. From surgical micro-scalpels to watchmaking devices, three years of research and trials were necessary to succeed in finding a really complete application, which combined a new watch concept (the Freak escapement), a new material (the industrial diamond), and a new process (DRIE), thus giving birth to the Freak 28,800 V/h Diamond Heart.
"We are absolutely certain that these new production processes using selective photo-lithography will see their use increase in the watch industry. They will permit the fabrication of very precise and extremely delicate parts, and a major point is that large quantities will not have to be produced," adds Pierre Gygax.
With its integration now largely accomplished, its human resources in place, many development projects underway (Ulysse Nardin's technical department is now working on projects slated for 2007-2008), the unconditional support of conceptor Ludwig Oechslin, and the commercial strength developed by Rolf Schnyder, the enterprise and the brand can envision the future with a serenity that few independents can dream about today. Ulysse Nardin is now on the verge of joining the few rare vertically integrated and independent manufactures such as Patek Philippe or Girard-Perregaux.


Source: August - September 2005 Issue

Click here to subscribe to Europa Star Magazine.