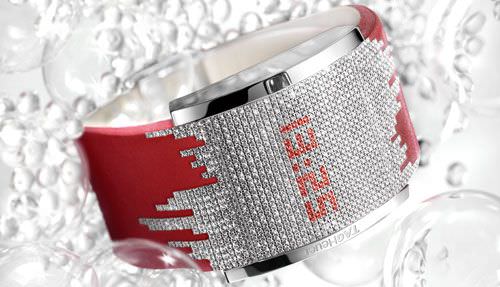 Diamond Fiction


Diamonds, the oft-stated object of women's desire, were discovered in India somewhere between the 8th and 4th century BC. Valued from the outset, the stones were appreciated even more when the diamond cutting industry emerged in Venice in the 13th century and European royalty began to use them in their regalia. Jewellery for the aristocracy soon followed. The stones slowly became more and more sought after, not to mention more expensive, even after they became more abundant in Europe when traders brought large quantities of them east from South America. With the discovery in the 1870s of large diamond deposits in South Africa - where around a million carats a year have been mined since the mid 1950s – leading European jewellers have used diamonds extensively in their creations. Today, diamonds are mined in some twenty-five countries on all the continents except Europe and Antarctica and are renowned for their lustrous beauty and for being '… a girl's best friend'. They have also maintained their mystic and value.
As we all know, diamonds, once facetted, offer an almost indescribable luxurious sparkle to jewellery, and for some time now, to watches. They were used in watches during the Art Deco period of the last century, but only a handful of the leading manufacturers continued to produce diamond-set watches throughout the 1900s, usually set into precious metals. Then, as the 21st century loomed up ahead, diamond-set stainless steel watches suddenly appeared. Within months, everyone from the oldest to the newest watch manufacturer, was getting into the act and included at least one diamond-set stainless steel timepiece. Then they were a trend and watches set with diamonds on the bezel, lugs, dial, crown and bracelet were within reach of the average consumer. The other surprise was that stainless steel was elevated to the rarefied heights normally saved for precious metals.
Within a relatively short time, the exciting new trend had become a standard, a classic in watchmaking, and it's probably true to say that most of us thought we had seen it all as far as the diamond-set watch was concerned. But we weren't counting on the creative ingenuity of TAG Heuer, for, lo and behold, the brand has conceived in its Haute Couture Collection the most original diamond-set watch on the market. And the name of this eye-catching sensation is … Diamond Fiction.

Diamond Fiction
Fiction is an imaginary work … and yet TAG Heuer's Diamond Fiction is not a mythical masterpiece, but an outstanding creation of haute-joaillerie and ground-breaking watchmaking. It is a genuinely stunning square timepiece in stainless steel combined with a red satin bracelet that is literally dripping with 879 full-cut Top Wesselton diamonds (5.8 carats) that uses an innovative avant-garde technology whereby, at the press of a button, 54 of the diamonds (3.8 carats) hide Light Emitting Diodes (LEDs) that display the time through the diamonds in a dazzling red, reminiscent of the watch's elegant strap.
Priced at 100,000 euros, there will be only three of these amazing creations so, as they say in the rap business, if you've got it, flaunt it!

And then there's …
If the Diamond Fiction has a few too many diamonds for certain pockets, there are other TAG Heuer models worthy of the brand's 'Sport and Glamour' catchphrase. Take for example the magnificent Mini Link River of Diamonds from the Prêt-à-Porter Collection. Set with hundreds of Top Wesselton VVS diamonds weighing 4.22 carats and sapphires totalling 0.152 carats, it is as smooth as silk and twice as gorgeous when worn. This spectacular watch is equipped with a high-precision ETA quartz movement and is water-resistant to 100 metres.
The new Aquaracer Lady Pink is also a fine example of how nearly half a carat of diamonds combined with stainless steel and a mother-of-pearl dial bring a genuine sparkle to the wrist. In the Formula 1 Glamour Diamonds collection, a high-tech sports watch is elevated to star status by adding an elegant satin bracelet and dial in black with 120 diamonds, weighing 0,75 carats, on the bezel.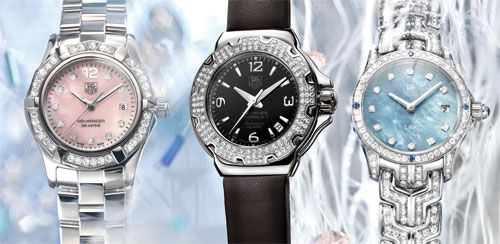 Aquaracer Lady, Formula One and Mini Link River of Diamonds.


… and talking of star status
Finally, to illustrate just how good these ladies' watches look, TAG Heuer has chosen two of the world's leading ladies to model them, stylish Uma Thurman from the silver screen and graceful Maria Sharapova from the tennis courts. Both of these ladies, through strength of character, discipline and hard work have achieved fame within their chosen sphere – an important factor in the brand's choice of Ambassadors.
TAG Heuer's objective of combining trend-setting diamond timepieces with the elegant sophistication of Uma and Maria, clearly underlines their intention to bond prestige with performance. It's use of their iconic collections with two of today's iconic women emphasizes TAG Heuer's maxim: The Perfect Fusion of Sports and Glamour.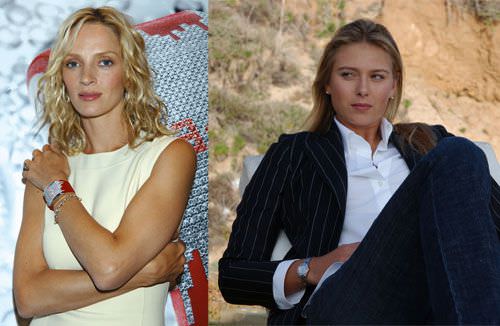 Uma Thurman and Maria Sharapova


Source: October - November 2005 Issue

Click here to subscribe to Europa Star Magazine.