HD3 - Jorg Hysek's design think tank
HD3 is the second brand Jorg Hysek has developed, after the eponymous brand he recently left. Hysek started out as an independent designer for some of the best known watches of all time: the Marine for Breguet, the Kirium for TAG Heuer, Shanta for Ebel, AD 2000 for Dunhill and many more. Then, he started his own brand and designed some incredible watches, including the V-King, the V-King Tourbillon, the X-Ray, the XX-Ray, etc. In February of 2006, Jorg Hysek the designer officially severed ties with Jorg Hysek the brand and promptly began HD3, a watch brand that will create advanced design, complicated and very limited timepieces.
HD3, which stands for High Definition Trilogy, is an outgrowth of Hysek's design house, Team Styling and collaboration between three designers - Hysek, Valerie Ursenbacher and Fabrice Gonet. These three have worked together for 15 years on various projects and Hysek is really pleased to be back in an environment that fuels his creative spirit. According to Hysek, designing a watch is very difficult and working in the right place is vital. "When we start designing, the biggest problem is to come up with something that does not exist," Hysek explains. "You have to try to be free and some days lots of ideas and designs come out and other days nothing comes out. From the sketch, you have to say this is no good, this is good, and you modify to the final product. It doesn't come from technical thinking; it's more like brainstorming. For example, the Idalgo was in development for one and a half years. There is a lot of evolution during the design process."
Hysek, Ursenbacher and Gonet trade ideas back and forth, helping each other out. They also have their own personal projects, one of the key elements of HD3 - all the designers have their own watches in a trilogy of product creation. For the first product cycle, Hysek did the Idalgo, Ursenbacher the Capture and Gonet the Raptor.
"Every year, we will have new product," Hysek explains. "HD3 is a very creative brand - we don't just have one case and keep making the same watch over and over again. We are working on new concept watches right now.
"We can do anything,"Hysek continues."We will not be a big company where we need the money guys. Customers have to pay in advance and we absorb the cost of development. We are only five in the office, so we are running lean. We only go into production when we have an order."






CAPTURE and IDALGO by HD3


Reactor - professional sports watches
The Reactor watch brand, run by its President Jimmy Olmes has become known as an enthusiast's brand, with rugged, good looking watches made to withstand the extremes of sports. Reactor's mission, in fact, is to build best per-formance sports watches, regardless of price.
"With that as the mission, all the decisions we have made to date have been tested against that goal," Olmes explains. Reactor watches get used and used hard, so Olmes has to make sure the watches will stand up to whatever they have to face.
Reactor will also focus on its signature look. "We want to continue to develop styling like no other," Olmes explains. "I don't want to do what other people are doing. The last thing people need is a great watch that looks just like every other watch on the market. One of our objectives is to be different in inspiration and design. We have some common themes - oversize lugs, Allen head screws, thick band links, oversize digits and hands and more. We have very distinctive styling and that really helps us. The retailers and customers like the quality, everybody thinks it's great value, and the styling really strikes a chord with them."
The core of Reactor's product line is from US$150 - US$300, with the specialty line ranging in price from US$500 - US$3,500. Anything over US$1,000 has diamonds on it.
Reactor is definitely a brand on the rise, un-compromising in attention to detail and features that a true performance sports watch needs. Olmes is a little like a mad scientist, putting his watches through torture tests to make sure they will perform on the wrists of his customers. Olmes wants to develop watches that are the most durable and the most feature packed, the best performance sports watches on the market. The good news for watch lovers and buyers is that Olmes won't compromise - the quality of Reactor watches is a testament to that.






PHOTON, FLUX, MC2, FALLOUT and CRITICAL MASS by Reactor


World Chronos: telling world time on the go
Anyone who travels for business or pleasure knows how hard it is to keep track of what time it is in different cities around the world. Keith Herbert, President of Twenty-First Century Watch Corporation, is not a watchmaker, in fact, he wasn't even involved in the watch industry until four years ago. He was simply a man who saw a need not being met.
"I love watches and I thought a serious, easy to use and read world time watch was something people could use," he explains. "I was travelling a lot and I needed a world time watch. I looked through everything on the market, but nothing was intuitive and I had a lot of difficulty understanding how to use and read them. One day, I had just returned from Europe and was reading InSync magazine and I got frustrated with the watches that were out on the market. I started doodling ideas about a world time watch that I thought would work.
"The idea came to me in about 20 minutes, the whole thing popped into my head,"he con-tinues."I knew what I had designed was different. If it wasn't different, I wouldn't even consider doing it."
Herbert tried to go about marketing his idea in the conventional way - he went to Basel with the goal of getting a big watch company to get behind the concept and make their own version of it. He met with resistance, however - people in the watch industry didn't believe that it could work, didn't believe that what Herbert proposed was possible. "I realized then that unless I did it myself, it wouldn't get done," Herbert says. "I started looking for a watchmaker to make my dream a reality and that's how I got hooked up with Miros Bapic."
Bapic is the General Manager of Leschot SA, a small watchmaking business in Neuchâtel, Switzerland. Herbert showed him the idea, Bapic thought it could be done, and away they went.
The World Chronos watch was not easy to design or to make work. The watch uses a re-liable ETA movement as its base, but modifi-cations were made throughout the movement to accomplish what Herbert needed to show on the dial. The World Chronos watch has features that no other watch has: a turning time zone wheel, a new day line, an international date line, displays for two dates and two days, as some cities are on Monday, for example, while other parts of the world are still on Sunday.
"We redesigned everything on the watch," watchmaker Bapic says. "Most of the components didn't exist from ETA so we had to make them ourselves."
The result is a watch that is theoretically foolproof to use. "When you travel from one time zone to another, you don't have to reset the watch, you just have to click the hour hand over to the city you have flown to," Herbert says. "You don't have to know the time because the watch is always right."
www.worldchronos.com






WORLDTIME by World Chronos


Cvstos: mixing hi-tech and luxury
Started in November of 2004 by Sassoun Sirmakes (son of Franck Muller's Vartan Sirmakes), Cvstos is a combination of two very different segments of the watch industry. "I saw that in the market there was a gap in hi-tech and luxury watches," he explains. "There was a demand and there was no other brand. Cvstos is different because of the design, the conception of the mechanism, the look it has, the materials we use. It's a fresh way of doing things and you really can't compare these watches to other traditional watches."
Sirmakes creates his collection with his designer, then listens carefully to his distributors and retailers, fine tuning his offerings. Starting a new brand is never easy, but Sirmakes so far has had a great deal of success.
"To go on the market, you must have new things," Sirmakes points out. "Now, we are doing a partnership with Pagani cars. We do these kinds of partnerships with car companies because it helps us stand out. We are launching a new project, the Concept S, which is like a super watch, with two new calibres made by Franck Muller, and we will show this is in our exhibition in Geneva next year."
www.cvstos.com






CHALLENGE CHRONO by Cvstos


Volna - Russian divers watches
François Candolfi, the CEO of Volna, knew going in that his company had to be different to succeed in today's watch industry. "For us, the way to come out was to have a really new concept, something very different from what others have," he explains. "In my opinion, most of the new brands don't have a real vision or strategy. For us, there are three essential pillars for our brand - to have a good product that is different, to have a distinct image and to give historical legitimacy to the brand."
Candolfi has developed a vision and plan for the next ten years. When he meets distributors and retailers, he first spends time talking about the vision of the brand, then he shows the product. "Having a vision for the future of the brand helps with the retailers," he explains. "When we can get our foot in the door and present the concept, we almost always end up working with those retailers."
Volna is brand new, set to ship its first watches in March of this year, to the United States, Singapore, Asia, Europe and Middle Eastern countries.
"You can no longer just have a good product and good marketing, you really have to have something different," Candolfi says. "In terms of brands, we didn't want to be just another brand with Swiss history, we wanted to focus on Russia, so we chose Soviet divers watches and the idea was to inspire our brand by the most emblematic of these watches."
Volna, though inspired by Russian watches, makes the watches in Switzerland, with a price range from 4,900 CHF to 7,250 CHF.
www.volna.ch






Soviet divers watches by Volna


Voltime: interchangeability
Started in 2003, Voltime immediately capitalized on the novelty of its modular watch design. "My wife and I were working for other companies and we decided to start the company," says Stefan Varak, President, Voltime. We thought it wouldn't be enough for us to start without a patented idea.
"People want novelties and they want new products," he continues. "We got orders immediately and we started working with the best retailers. It was not difficult for us at the very beginning, as the idea was so well received. To reassure that we would regularly bring new models was more important."
The concept of the Voltime watches is easy for customers to understand once they are shown what it is, so Voltime produced a short movie that is given to retailers.
Next up for Voltime is to continue to innovate, introducing new watches within the same concept. "We give Voltime owners the ability to upgrade their watch regularly," Varak continues. "People can purchase different parts at any time. We are a small company, it's vital to have something different. You can't compete with the big brands with the same watches as everyone else. We are bringing something to the market that watch people don't have."
www.voltime.ch






Adriana & Christian Karembeu, Ambassadors of Voltime


Bozeman Watch Company - Montana style
Christopher Wardle, President and CEO of Bozeman Watch Company, a watch collector himself, decided he wanted to make his own watches several years ago. "I thought that a lot of the watches were going away from classical designs," he says. "As a collector, I always appreciated the early timepieces right up until the 1960s and 1970s. Starting Bozeman Watch Company was purely about my appreciation of the art of time and wanting to do something unique."
At one point in time, American companies like Hamilton and Elgin were leaders in the worldwide watch industry, but that point is long past. "I wondered why there weren't any American companies any more and it was sad for me," he says. "I started the company with my partner, Patrick Ayoub, an industrial designer with a passion for watches, in 2003. I realized that I could mix the romance of the American West with the art of time. We advertised our first watch at the end of 2004."
Wardle doesn't see Bozeman as a large producer of watches any time soon. In fact, Bozeman won't even be working with any retailers for the foreseeable future. Wardle sells his watches in his own store, through his 800 number and on the Bozeman Watch Company Internet site. "We want to continue to create and get more unique in our designs, styles and technical aspects," he says. "We don't want to grow any watch line too large. There is value to staying smaller and controlling how our products are presented to the market. We believe that we can handle the volume out of one location, our store, for a while - we may work with some international clients in the future.
"We don't think we are built to spread ourselves out to other retailers right now,"he continues."We are dealing with customers who want to take a little bit of Montana time home with them. It's a lifestyle we are appealing to. It's someone who has an ap-preciation of the American West and wants something unique."
Wardle estimates that Bozeman will make about 500 watches this year. Their plan is to continue making automatic watches, designed in Montana using ETA movements. The watches in Bozeman's collection range in price from US$3,800 - US$7,100, but in 2007 there are already plans to introduce a Limited Edition white gold and rose gold piece called the Stockman, which should retail for around US$19,000.
"We would like to do it all in Montana in the future," Wardle says. "Our hope is to one day be a completely US manufacturer. We prob-ably won't make our own movements from the ground up and we don't see a reason to reinvent the wheel. Right now, we just love what we are doing and don't care about much else."
www.bozemanwatch.com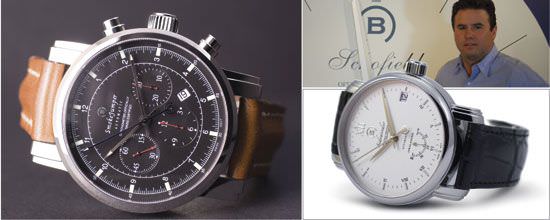 SMOKEJUMPER and SIDEWINDER by Bozeman Watch Company


Nite Watch - uncompromising sports watches, with tritium
Nite International used to distribute Traser watches from Switzerland in the United Kingdom and as a result of that success, the company decided to start its own brand, Nite, focusing on modern designs.
"We wanted to be the masters of our own destiny with our own brand," says Andy Youings, Marketing Manager, Nite Inter-national. "We knew the market, we understood the watches. We try to make the best Tritium watch we can. We use extra thick sapphire glass, extra long pins, durable, strong cases. We want it to be as durable and strong as possible."
When the UK Special Forces chose the MX10, which carries a NATO stock number, it really put Nite on the map. Right now, Nite's biggest market is the UK, but the company has distributors in Japan, Sweden, Germany and Australia/New Zealand.
"We want to expand in the sports and military market," Youings says. "We are doing a lot of direct selling and working with military retailers in the UK. We are making good headway into the outdoor retailers."
The majority of Nite's watches are water resistant to 200 metres and the designs are rugged and good looking. "The design of the watch allows us to stand out," Youings says. "Most of the other brands are very military looking and actually quite similar in design from model to model. We have tried to take the benefits of the Tritium technology but be more design led, to have a wider appeal. People who want this technology are also going to want a good looking watch on their wrist.
"In the UK, we find a lot of people are pretty familiar with the Tritium technology,"Youings continues."Although in Sweden and Japan, people are not so familiar with it. You have to go through the process of educating people about the product, how it works, what the benefits are and more."
With the new collection, to be introduced this year, the company is using Swiss movements, for the improvement of the image of the brand. "The market wants Swiss movements, particularly, so we are providing that now," Youings says.
www.Nitewatches.com






MX10-009 by Nite


Source: Europa Star February-March 2007 Magazine Issue