Two years ago, Ralph Lauren and Johann Rupert created a unique partnership when their organizations, Polo Ralph Lauren and Compagnie FinanciÈre Richemont, formed a joint partnership to design, develop, manufacture and distribute Ralph Lauren watches and jewellery.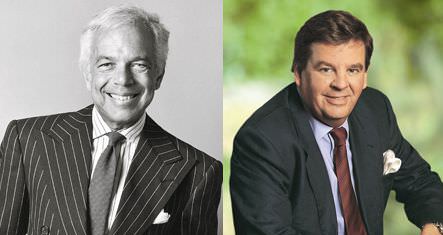 Ralph Lauren - Johann Rupert


Ralph Lauren is the founder of one of the world's most successful clothing and lifestyle companies; Johann Rupert is the Executive Chairman of one of the world's most influential luxury groups that includes a dozen leading names in the watch and jewellery world. The two men officially joined forces in 2007, but that was after two years of preparing the groundwork, lengthy negotiations and product research. However, the collaboration between Polo Ralph Lauren and Richemont represents more than a joint venture between two companies, it is a genuine partnership between two men who share the same passions for attention to detail and quality, an all-important factor in today's demanding luxury watchmaking niche.
And then it was January 2009. Both men slipped quietly into the background as their progeny, the first Ralph Lauren watch collection, was launched at the Salon International de la Haute Horlogerie in Geneva.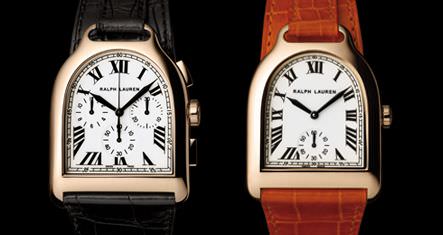 18 carat rose gold Chronograph from the Stirrup Collection - Medium-sized watch in the Stirrup Collection with a red alligator strap


A dynamic duo
In an exclusive interview with the two men in an hotel that strangely resembled one of Ralph Lauren's anglicized salons from his boutiques, both men were erudite, particularly amenable and enthusiastic about the launch of this new watch brand.
Ralph Lauren is a softly spoken New Yorker, an habituÉ of the runways, a man used to the glare of the spotlights and the demands of the press; Johann Rupert, on the other hand, is a towering man with a rugby player's physique, but a very discreet leader who maintains his finger on the pulse of the vast Richemont domain and leaves his individual CEOs to do the talking. Together, the Ralph Lauren/Johann Rupert duo make a powerful argument as to why Ralph Lauren watches will become a successful brand in what is already a crowded and highly competitive luxury watch market.
Ralph Lauren briefly explained how he began working for a private label tie manufacturer before going on to design his own ties in 1967, the 'wide-tie revolution' as it was nicknamed, then just a year later launched a complete Polo menswear collection. His creations are designs for the way people live and their lifestyle, elements that are timeless. As he explains, "That means taking risks, going with what you feel, but never losing sight of your vision and conviction." The rest, as they say, is history – clothing, furniture, accessories and fragrances - success after success.
"When I was kid," Ralph Lauren explains, "I either played basketball or went to the movies where my heroes were people like Cary Grant and Fred Astaire. I loved their elegance and their British style of dress, consequently when I came up with my first collection they and the Duke of Windsor were the people that influenced my designing. My collections have always been about classical styling, clothes that will last and are not dated by a fashion change or a season. People who wear my clothes don't think of them as fashion. That is what I'm trying to achieve with my watch collection.
"I am now investing in a long-term watch company. I'm a fan of watches, I've been collecting them for years and as of now, I want my watches to make their own statement. I want them to be contemporary, have punch, but I want them to have that element of timelessness. The Ralph Lauren brand is not a fashion brand."
At that point, Johann Rupert interjected with: "I'd hate to spend ten thousand francs on a watch and then find it's out of fashion after a year! Ralph's watches are definitely contemporary and they add something to the watch world."
"I'm now in the watch business," Ralph Lauren continued. "It's not a licensing agreement with Richemont, but a fifty-fifty partnership with the group that Johann and I negotiated. My aim is to create a watch company with legitimate products that have their own DNA. I simply want to make the best watches, watches that I like and that I will wear."
"Are you beginning to see what Ralph Lauren is all about?" a smiling Johann Rupert said in his broad South African accent. "Ralph is a purist. He has an eye for detail and we only signed the partnership agreement when he was happy with the prototypes of the watches he had designed and we had made. Later on, when he wasn't satisfied with a tiny detail, back it went until he was happy. He gave us a pretty hard time."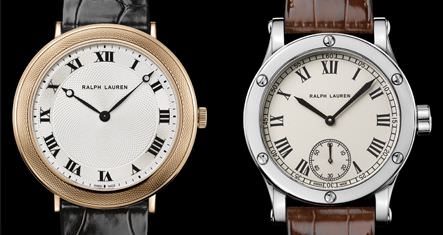 18 carat rose gold watch from the Slim Classique Collection - Stainless steel watch in the Sporting Collection


The watch collections
And so to the watches. There are three collections: the Stirrup Collection, the Slim Classic Collection and the Sporting Collection. Each collection has its own DNA, it's own form, its own life supplied by mechanical movements tried, tested and approved by Richemont's own stable of manufacturers. But above all, each collection and watch complies with the Ralph Lauren philosophy of integrity in design, an element of a lifestyle that will become an integral part of someone's appearance.
The Stirrup Collection, as the name suggests is inspired by equestrian life, so much a part of the Ralph Lauren history. The silhouette is immediately identifiable as quintessential of the designer from its Roman numerals and railroad minute markers on an elegant white lacquered dial to a beautifully cut curved sapphire crystal. Available in 18 carat white or rose gold, or diamond-set, this collection is available in three sizes with a crown that has either an embossed 'RL' or, as in the small pavÉ model, a single diamond. The watches are equipped with a hand-wound or self-winding mechanical Swiss-made movement, come with a calf or alligator strap in red, fuchsia, turquoise or orange.
The platinum chronograph model is available as a limited edition model in a series of 67 pieces and has a white enamel dial, blued hands and a crown inset with a black onyx.
The Slim Classique Collection (42 mm) comes in 18 carat white or rose-coloured gold and platinum and is equipped with an ultra-thin (2.1 mm) mechanical manual winding movement by Piaget. The classical appearance of this timepiece emanates from the superb guil- lochÉ work on the dial and bezel, the Roman numerals with the slightly elongated hour and minute hands.
The Sporting Collection comprises three models: the 'Classic', a stainless steel model equipped with a mechanical manual winding manufacture movement made by IWC for Ralph Lauren; a stainless steel 'Chronograph' equip-ped with a mechanical self-winding manufacture movement made by Jaeger-LeCoultre for Ralph Lauren. It is available with a black or white dial with counters for seconds, minutes and hours. The chronograph function offers a start/stop push button and a reset-to-zero button for precision timekeeping. The watch is available on a brown leather strap or steel bracelet; the 'World Time' (44.8 mm) in 18 carat white or rose gold equipped with a manufacture self-winding movement made by Jaeger-LeCoultre for Ralph Lauren. This timepiece displays the local time and a second time zone, with a city aperture that represents the 24 time zones of the international GMT system - combined with a day/night indicator. The timepiece's case is in white or rose gold with a black or white lacquered dial.
In developing his own watch collection, Ralph Lauren hasn't re-invented the wheel, watches existed before he came onto the horological scene. However, like his clothing empire, he has defined his objectives and has created timepieces that are timeless and will remain so. His innate design skills have brought about refinements that to the casual observer can easily be overlooked, nevertheless, each watch has its own personality and will appeal to people looking for elegant classicism.
As Ralph Lauren reveals, "I like places and objects that transform us, that take us somewhere else for a day, an evening or just a moment. I like the romance of films, cars, Cole Porter tunes and Frank Sinatra songs. They all have one thing in common: they are ageless. They are timeless."





Stainless steel Chronograph from the Sporting Collection - 18 carat rose old World Time watch from the Sporting Collection


Source: Europa Star April-May 2009 Magazine Issue