Shortly after the Silverstone (UK) introduction of the new Caliber 1887 chronograph movement, Jean-Christophe Babin, President and CEO of TAG Heuer, found himself under attack from an unexpected source – the Internet. Bloggers and watch lovers from around the world were questioning the company's claim that the 1887 was designed 100 per cent in house by TAG Heuer. Those in the know on the Internet said that it looked suspiciously like the Seiko Instruments TC78 Chronograph.
Blogs and message board postings were humming and, finally, Babin himself went on the offensive, admitting the source of the movement to indeed be the intellectual property of Seiko Instruments, but clarifying how this all came to be.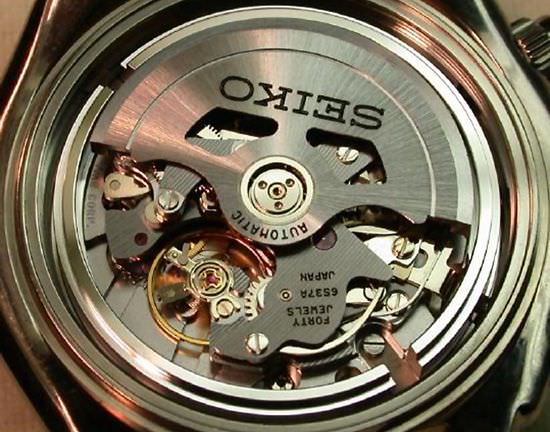 The SEIKO INSTRUMENTS TC78 CHRONOGRAPH


Regretting the marketing-speak of "designed 100 per cent in house," Babin also defended how much work TAG Heuer put into the movement to bring it up to the standards the company demands, and to make it Swiss Made.
"The origin of the patent was not in the original press release we sent out on the 1887, so the first thing we did on Monday was to mention that the intellectual property was from Seiko Instruments (SII), which is the engineering company under the Seiko umbrella," Babin says. "Their prime client in watches is Seiko and in 1997, they developed a patent for a new chronograph. When we decided to launch our own chronograph programme, we looked at all the chronographs on the market and the one from SII was the one that fit our needs the best, especially because it featured an oscillating pinion, an invention by Edouard Heuer in 1887. It was also a perfect match for our existing range of chronographs, between the Dubois Dépraz movement, which was a chronograph module, and the Zenith 36 movement, which is an integrated chronograph."
It made sense for TAG Heuer to find an existing, reliable and well-designed chronograph to adapt, as it saved the company years of development time and costs. In acquiring the intellectual properties of the patent from SII, TAG Heuer made sure it could make changes to the patent, improvements that deviate from the patent and make the movement its own.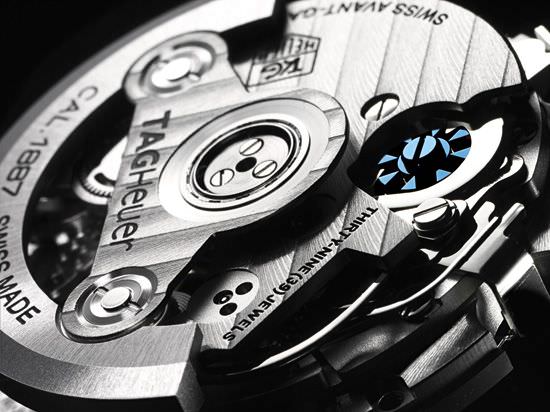 CALIBER 1887 CHRONOGRAPH movement


And this is where the story gets complicated. Babin says that TAG Heuer made so many changes that he considered it a completely new movement, but the essential design of the 1887 chronograph movement still resembled the SII chronograph enough that people got 'talking' on the Internet.
"Rather than getting around the patent, as other companies might have done, we contacted SII, said you have a great patent, which hasn't been used very much, so we acquired the intellectual property and elaborated on it," Babin explains. "We had the broad freedom to develop our own caliber. Caliber 1887 is our own caliber, based on that intellectual property, we have industrialized, which is the toughest part – being capable of producing the high quality standard at reasonable cost, which is really a tough challenge.
"We redesigned the movement, following the patent, leading to a movement with different dimensions," Babin continues. "The plate is bigger (29.3mm) and we have reduced the thickness, and we may add some modules for complications in the future. Maybe one day we will want to add a power reserve, retrograde and so on."
Certainly, Babin regrets that the situation appears that TAG Heuer was trying to deceive the watch loving public, but he says that is not the case. "After the London introduction of the new movement, we got questions from watch experts, so we decided to disclose the patent, something we don't do normally. We had no intention whatsoever to deceive anyone, and we are proud of what we have done, because we did so much work on it.
"We truly believe that it's our movement, because we do the complex parts of it," Babin continues. "We know what we do, we know that we have spent tens of millions of dollars and hired 45 people in Switzerland to develop what we are doing with this movement."

Movement manufacture
To produce the new movement, TAG Heuer has developed its own state-of-the-art manufacturing facility within its headquarters in La Chaux-du-Fonds.
Parts will be manufactured by TAG Heuer and through a network of specialized watch suppliers. The assembly area is dedicated to the 1887 movement and is impressively designed, combining high tech computer-controlled processes for absolute precision and tra-ditional hands-on watchmaking.

Fall out
There is not getting around it, TAG Heuer did get a bit of a black eye from this situation. Intentional or not, the appearance, and general consensus from the Internet watch community, is that the company tried to hide the origins of the 1887 movement.
How will this impact the company going forward?
Not very much, I think, as TAG Heuer is a brand that appeals to the mainstream, who are as unaware of the movements inside these watches as they are about this controversy. With the marketing muscle TAG Heuer has, this little tempest will blow out of its teacup early in 2010.
It was quite a month for TAG Heuer, having to face this issue while at the same time dealing with the downfall of its ambassador Tiger Woods.
The real winner in this situation is Seiko and Seiko Instruments. To have a big player in the Swiss watch industry like TAG Heuer choose a Seiko movement as the basis for a new chronograph line is a feather in Seiko's hat, and underlines its excellence in horology.
"What counts at the end of the day is that TAG produces a caliber that adds differen-tiation," Babin emphasizes. "It allows us to have different movements per price points, like cars in the marketplace. Experts prefer integrated rather than modular, so at this price point we have developed an integrated chronograph. This also provides TAG Heuer with an availability of movements, because we can't get more from ETA, and we are limited by Zenith's manufacturing capacity. In the future, we know that as the world leader in mechanical chronographs, we are going to need more movements. We know how many we can get from our existing suppliers, so that's why we decided to do our own movement. We need to have the flexibility to meet market demand.
"I am proud to be Swiss. Most of the best timepieces come from Switzerland, but Japan has a great culture of watchmaking as well," Babin adds. "As a Swiss CEO, I have respect for all great watches. We did not set out to be deceitful, nor are we disrespectful of Swiss watchmaking just because we acknowledge that Japan is making great watches and movements," he concludes. "Why can't a Swiss company use a patent from other countries, like Germany or Japan? You can't disregard the good things that Japan does, just like you can't disregard what the Saxon watchmaking companies are doing."
It will be interesting to follow the 1887 as it makes its way into the marketplace. Chances are the controversy will stay within the watch industry and never make it into the consciousness of the mainstream.


Source: Europa Star February-March 2010 Magazine Issue