The Middle East Watches, Jewellery & Pens Awards Competition has honoured Blu. Blu-Baguette, the diamond-paved version of the Blu-Planet collection, has just been awarded the prize for the best jewellery watch in Bahrain in November.

The Blu-Planet, one of the first orbiting timepiece collection, has found its prestigious expression. This original platinum/white-gold jewellery watch was crafted by Bernhard Lederer, the horological creator behind Blu, the Swiss watchbrand that explores new ways of expressing time with advanced mechanical solutions.

Both the jury and the public, at the Middle East Watches, Jewellery & Pens Awards, gave the Blu watch their majority vote ahead of the other two finalists in the jewellery-watch sector — Vacheron Constantin's Kalla Duchesse and the Audemars Piguet Lady Royal Oak. More than 300 distinguished guests, including members of the ruling family and ambassadors of European and Middle Eastern nations, attended the awards at a gala dinner in Bahrain's Ritz Carlton Hotel.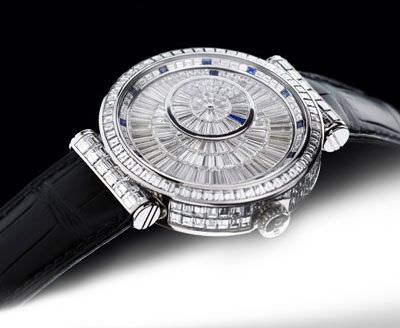 The Blu-Planet Baguette: The 126 diamonds rotating imperceptibly on the two dials and the 201 diamonds on the case are each individually selected, cut and invisibly set.

With more than 27 carats of baguette and calibre-cut VVS1 diamonds, the Blu-Baguette outdazzles the sun. Radiating from the centres of two rotating dials, each diamond is individually tailored to fit the watch in invisible settings. Lines of sapphires tell the hours and minutes, with the rotating 12-hour main dial carrying in orbit the 60-minute dial. The Blu self-winding movement, especially adapted for the rotating dials, is an equal masterpiece of engineering and craftsmanship, finished and assembled at the Blu-Workshop in Canton Neuchatel. Each Blu-Baguette is made to customer order, with dials in exotic hardstones, rare materials or sumptuous gems.

Bernhard Lederer, Blu's creator, described the award as a particular honour for his team of watchmakers. "It shows that Middle East appreciate original and sophisticated Swiss watchmaking as well as the finest gemstones."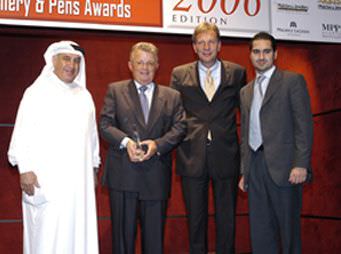 From left: Khalid Al Zayani, chairman of Rolls Royce motors, sponsors of the event; Urs Brugisser, Blu's Middle East representative, who received the prize for Blu; Peter Schoppmann from Rolls Royce and Mr. Jaffar from Asia Jewellers, distributor of Blu watches in the region. 


Source: Blu SA

www.blu.ch
Contact:[email protected]
(Please credit europastar.com)