A
fter several years under the direction of Davide Cerrato, Montblanc watchmaking has a new manager, Laurent Lecamp. He co-founded the watch start-up Cyrus in 2010 before joining the Bucherer group four years later to develop Carl F. Bucherer in a number of markets including Japan.
This dual experience in entrepreneurship and within an established group will certainly stand him in good stead at Montblanc, where his mission will be to strengthen the watchmaking legitimacy of a brand whose origins lie in writing instruments. This is a complex challenge, but one that can be met: in rare cases, outsiders have succeeded in becoming recognised members of the watchmaking establishment, as shown by the examples of Chanel and, more recently, the breakthrough of Bulgari.
To achieve this, Montblanc can count on the vast heritage of Minerva, which was acquired by Richemont in 2006. The 2021 releases are infused with the technical and aesthetic heritage of the Villeret manufacture, notably within the 1858 collection (named after the year Minerva was founded).
The Montblanc 1858 Monopusher Chronograph Origins Limited Edition 100 is a re-edition of a 46 mm military monopusher Minerva chronograph from the 1930s, equipped with the calibre 19-09CH.
This integration naturally gives the brand more than one summit to conquer, between the universality of its origins in writing instruments and the more exclusive technical virtuosity that Minerva embodies, and which currently dominates the Swiss watchmaking landscape.
In concrete terms, this translates at Montblanc into a wide range of proposals, from the Summit connected watch to Exo Tourbillons. As we wait to see how Laurent Lecamp will put his stamp on this particularly wide-ranging portfolio, we asked Nicolas Baretzki, Montblanc's CEO since 2017, about the brand's current priorities in what is still a troubled international context.
Nicolas Baretzki, CEO of Montblanc, introduces the brand's new timepieces.
Europa Star: With the pandemic crisis, many brands are asking questions about their portfolio. You are Richemont's most generalist brand. Has the role of watchmaking within Montblanc been re-evaluated with this crisis?
Nicolas Baretzki: Strategically, our decision to develop watchmaking remains unchanged. We are a generalist brand with four strong pillars: writing instruments, leather goods, watches and new technologies. However, this is not about doing "a little bit of everything", but a conscious decision to enter fully into different fields, with dedicated and distinct teams. Originally, we were only active in the field of writing. We set ourselves the goal of always entering other fields with expertise, in order to become major players, thus internalising the business from top to bottom.
"In our original business, writing instruments, there are proposals ranging from entry-level to very exclusive products. We apply the same philosophy to watches."
In the case of watchmaking, this meant becoming a real manufacture. We started with our first structure in 1997 in Le Locle, before taking advantage of the incredible opportunity of incorporating Minerva from 2006. But certainly, the pandemic has accelerated change and reflection. The main change will be in the way we communicate. On the one hand, we want to accentuate the message about Montblanc as a "great house of tradition", which our different product categories all support. At the same time, we want to better express how the global vision of the house is expressed in these different categories. It is a dialogue that works both ways, and will reinforce the coherence of the brand. The aim is that customers enter one of our boutiques, not necessarily for a specific product, but because of the attraction of our house itself.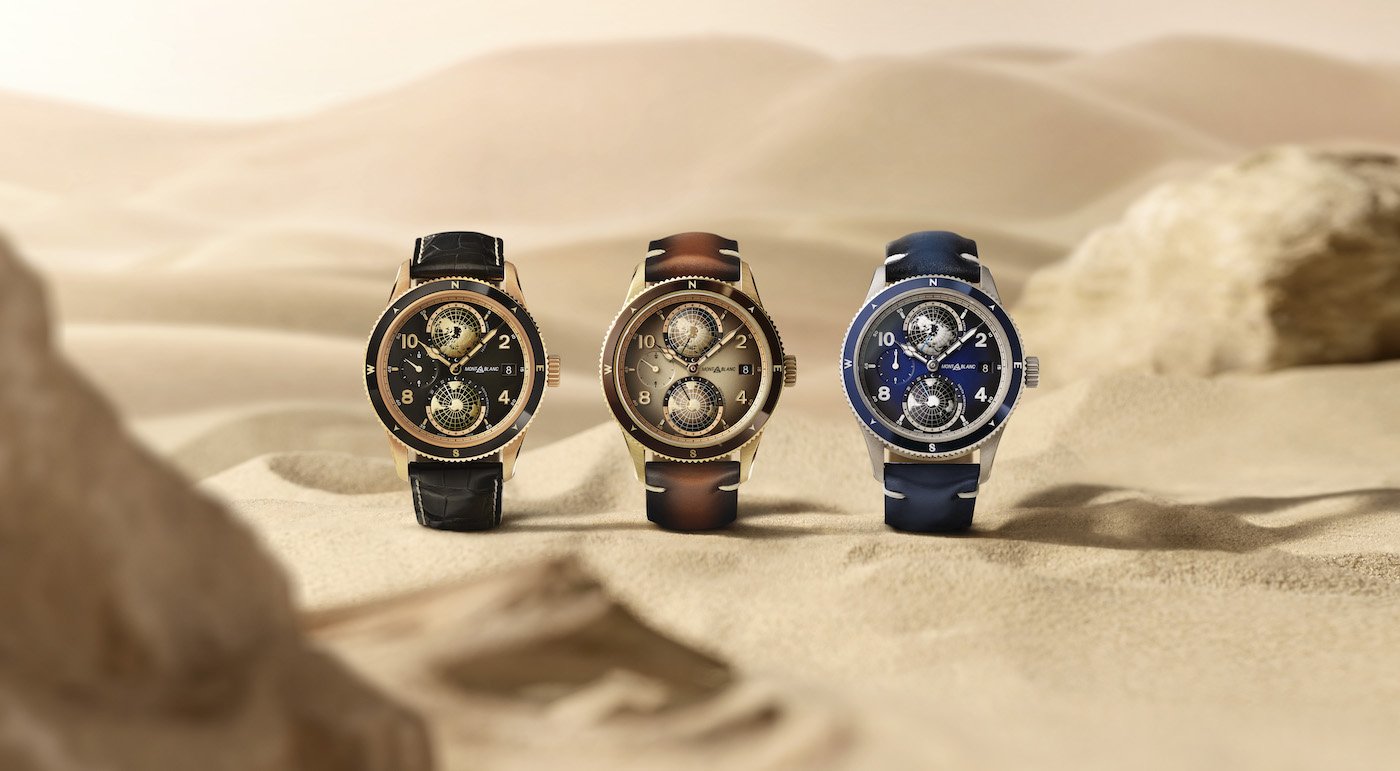 In terms of price segments too, your profile is very generalist, ranging from connected watches at less than 1,000 francs to high mechanical complications. This kind of a stretch can be a weakness as well as a strength...
We have been doing this for a long time. This price structure is quite similar to that of our original business. With writing instruments too, you can find entry-level proposals as well as very exclusive products, limited series or exceptional pieces that can reach two million euros. I see this as a parallel approach that reinforces and legitimises our strategy.
"With the Geosphere, you benefit from an exclusive movement and an absolutely incomparable design – strong perceived value at a price that always surprises many."
The new Montblanc 1858 Geosphere Limited Edition is inspired by the colour palette of the desert and pays tribute to Reinhold Messner and his 2,000 km solo crossing of the Gobi Desert in 2004.
Despite everything, Swiss watchmaking as a whole is trending upmarket. And you're introducing a lot of limited editions this year. Are you also moving towards more exclusivity in watchmaking?
These launches actually reflect two very different realities at Montblanc. This year we have focused on products from the Minerva legacy, which reinforce the legitimacy of our watchmaking division. The limited series presented this year support this approach. But that is only one axis. On the other hand, the Montblanc spirit pushes us to offer the highest perceived value in a price segment that remains competitive, as we do in writing instruments. This is not just about watchmaking: it is the raison d'être of the company.
This spirit is expressed, for example, in the Star Legacy model with a full calendar, which we offer at just over 4,000 francs. It is this maximum perceived value that we are aiming for, whatever the price point. Another example is the Montblanc TimeWalker Pythagore Ultra-Light model. I don't see any competitor at this level of price and finishing... It's the same for the Geosphere: you benefit from an exclusive movement and an absolutely incomparable design, providing a very strong perceived value at a price that always surprises many – that is to say 6,000 francs for this year's versions.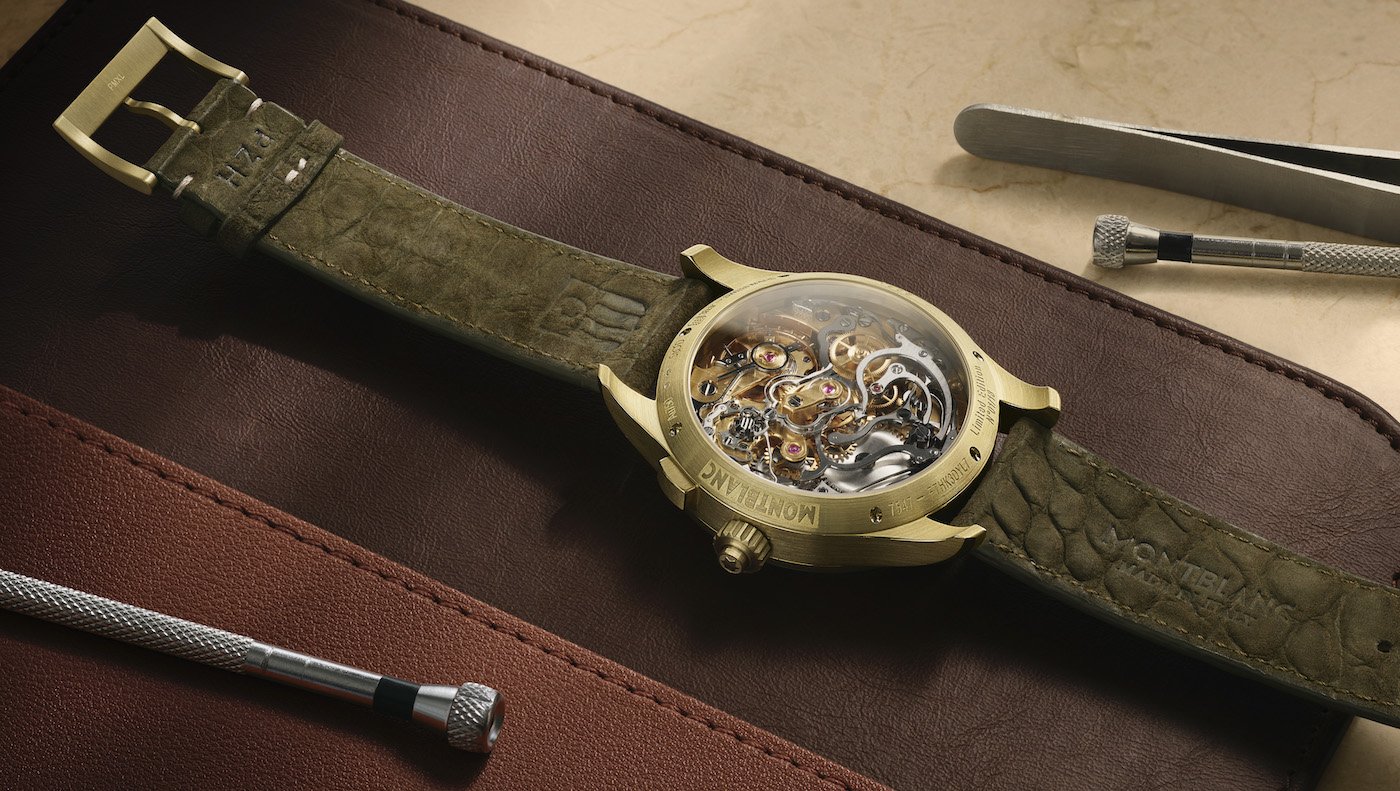 You navigate between a core Montblanc clientele that is interested in watches as well as other products, and watchmaking purists who are familiar with Minerva's heritage. How can you introduce the former to this heritage while convincing the latter to appreciate your contemporary offerings?
With our profile, we have the opportunity to reach almost all luxury buyers. And we operate nearly 300 of our own boutiques worldwide. Through this direct experience in retail, we have internalised a real and strong sensitivity to the notion of the "end customer", which is not necessarily a given in the watch industry. Even if not all our customers are purists, we try to accompany them on their watchmaking journey, since we have our own proposals for all ranges.
With the enthusiasts, there is still work to be done to convince them of our approach. This is one of the major projects of the new director of our watchmaking division, Laurent Lecamp, for the coming years. In particular, we will be developing the existing collections to give them an even more distinctly "Montblanc look". Minerva's contribution is a source of inspiration that we must distil through our own expression. It is now fully integrated, but we still need to communicate it better, because it has not necessarily been fully understood.
"The integration of Minerva is now complete but we still need to communicate it better."
Also inspired by Minerva's heritage, the Montblanc 1858 Split Second Chronograph Limited Edition 18 has been crafted in a gold alloy called "lime gold".
Ensuring that our more well-informed customers understand exactly how much work has been done on the integration of Minerva will also be a major focus in 2021. One of the most imminent changes is a complete overhaul of our website. After all, it is the primary showcase of our company and we have been relatively quiet about Minerva's heritage and our more high-end watch production. This is going to change for both writing instruments and watches: we are going to bring our most exceptional pieces to the fore.