W
hen Marc Aellen took the helm at Certina in July 2020, after more than ten years with Jaquet Droz, he came across a project on hold for a modular watch: in practical terms, the possibility to purchase multiple casebands and straps/bracelets which, combined with a watch head, would transform its look and personality. "I liked the idea," says Aellen, "but it still needed some work for the components to assemble correctly for a quality result."
The concept of interchangeability was making inroads in the watch industry. Some brands were beginning to supply watches with straps or bracelets that could be swapped in and out. But an interchangeable case? That was something else entirely.
The challenge was more technical than logistic. The first company to introduce the idea to watchmaking was French brand Hegid, launched in 2015 (more here), and more recently China's Ciga Design.

The concept is nothing if not disruptive. As we wrote at the time, it challenges the very foundations of how we think about watches, traditionally purchased as a single, immutable whole.
Certina is the first mainstream brand to adopt the idea, and its DS+ collection will no doubt help to make the physical process of swapping components in and out more familiar.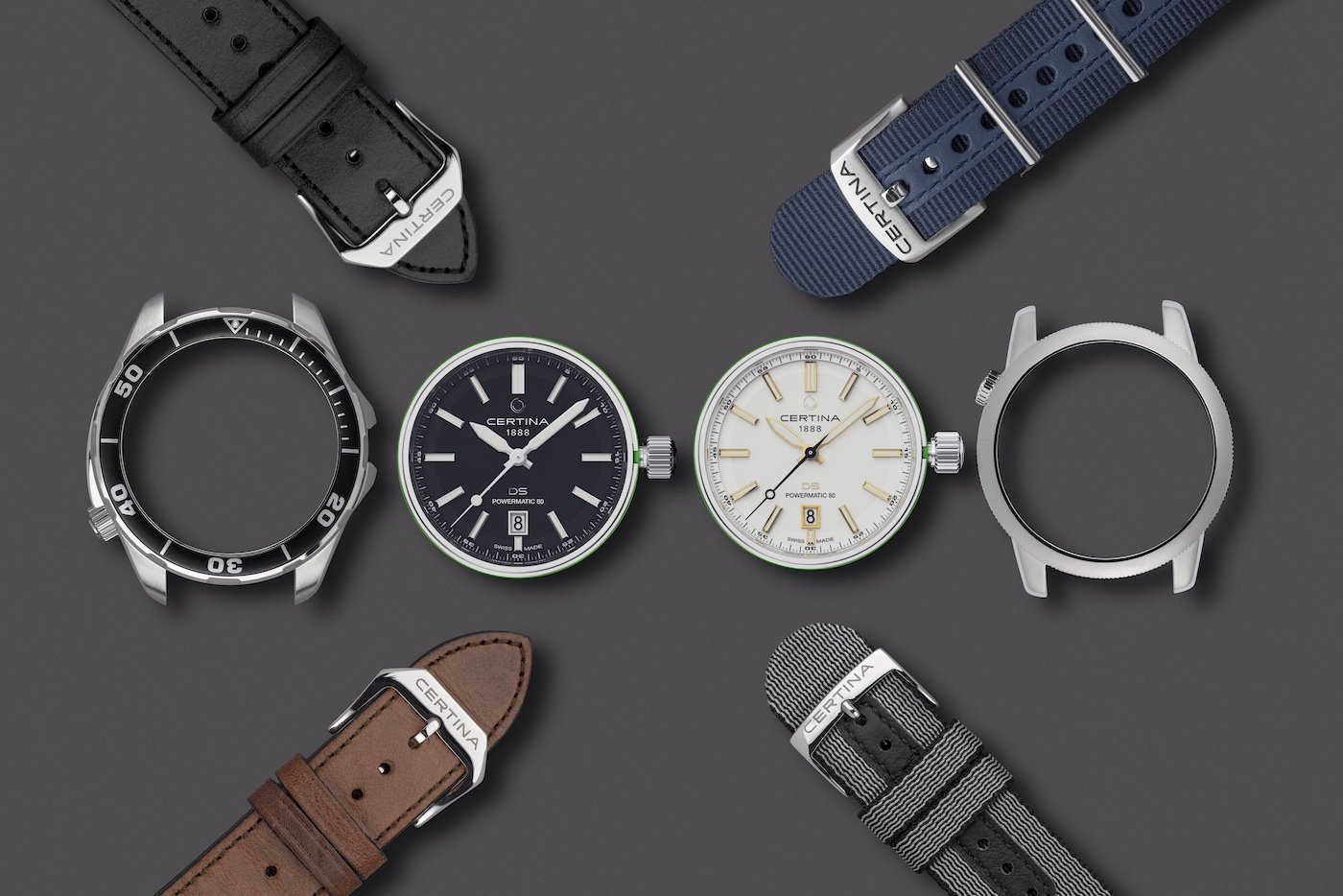 Three kits, multiple possibilities
The brand was able to call on the R&D might of Swatch Group to finalise the interchangeability aspect. Thanks to an ingenious three-part design, watch head, caseband and strap can be mixed and matched to change the look and style of the watch. The whole operation is intuitive and completed in a few simple steps without tools. The initial rollout was in October, with kits priced at just under CHF 1,000.
So what's included? The first three kits (Aqua & Sport, Sport & Urban and Urban & Heritage) are each composed of a watch head housing a Powermatic 80 mechanical movement with a Nivachron™ balance spring, two casebands plus an interchangeable strap and bracelet.
The Aqua & Sport kit includes a watch head with a black sunburst dial, two casebands – one with a black unidirectional bezel and a sports version with elongated flanks and six screws –, a dark grey #tide® textile strap and a triple-link metal bracelet.
The round watch head, which comes with three dial designs, is inserted from underneath into one of six stainless steel casebands and securely screwed into place by a separate crown on the case. An innovative gasket in bio-sourced material ensures a perfect seal.
Straps are easily attached to the lugs, which are part of the caseband, thanks to a quick-release system. The Certina website features an online configuration tool for testing the various combinations. Note that the individual elements can also be purchased separately.
Each kit is supplied in a presentation box in recyclable materials.
What does Marc Aellen want from this launch? Is it simply a "digression" or a fundamental change in strategy? "The market will decide. I'm not necessarily anticipating this to become our main activity but there is clearly opportunity for multiple variants, collaborations and activations based around the concept."
The plan is to regularly add new elements to the DS+ collection, the first of which will be introduced during the second half of 2023.