B
lockchain is on everyone's lips, including in the watch industry. Among the many recent industry announcements on this subject is the partnership between independent brand Louis Erard and qiibee, a Swiss start-up specialising in loyalty programmes using blockchain.
Their joint programme, launched in December through a dedicated app, gives members access to a "digital double" of their watch, with a unique code for their timepiece. It also awards points that can be redeemed against rewards, such as airline miles. But for Manuel Emch, head of Louis Erard, the most exciting thing about this development is that it marks the beginning of a "new interaction with the brand's community of fans."
Manuel Emch heads up operations and strategy at Louis Erard. He sees blockchain as an opportunity to secure the independent brand's future.
In fact, in addition to safeguarding intellectual property, combating forgeries and recording all stages of a watch's lifecycle through a digital duplicate, the blockchain also offers brands the possibility to engage in personalised dialogue with their registered customers. This new horizon brings as many questions as it does promises, at a time when the technology itself is not yet really mature, and multiple parallel solutions exist on the market.
This new horizon brings with it as many questions as promises, while multiple parallel solutions exist on the market.
For Manuel Emch, it's all about imagining the future of interaction with customers (and retailers) without waiting for a single solution to emerge. The starting point is limited editions that will be reserved as a priority for members of the loyalty programme, via the infamous "non-fungible tokens" (NFTs), which have captured the collective imagination since a JPEG image by the artist Beeple, with a unique code in the blockchain, was sold for 69 million dollars.
Studio Raphaël Lutz sold its "Côtes mécaniques" clock on an NFT platform.
In watchmaking, Jean-Claude Biver, never one to shy away from innovation, created a buzz by auctioning off a digital duplicate of a historic Hublot model, the Bigger Bang All Black Tourbillon Chronograph Special, payable in the Ethereum cryptocurrency. Another initiative, "Côtes mécaniques" by Studio Raphaël Lutz, was the first digital wall clock to be sold on an NFT platform. The work consists of a 30-second animation representing the passage of 12 hours, speeded up.
A digital duplicate of this Hublot prototype was sold by Jean-Claude Biver on an NFT platform.
To better understand this development, which could potentially have major consequences for the watch industry, we interviewed Manuel Emch, as well as Francesco Pagano, head of sales at qiibee.
For Manuel Emch, it's all about imagining how interaction with customers (and retailers) could look in the future, without having to wait for a single solution to impose itself.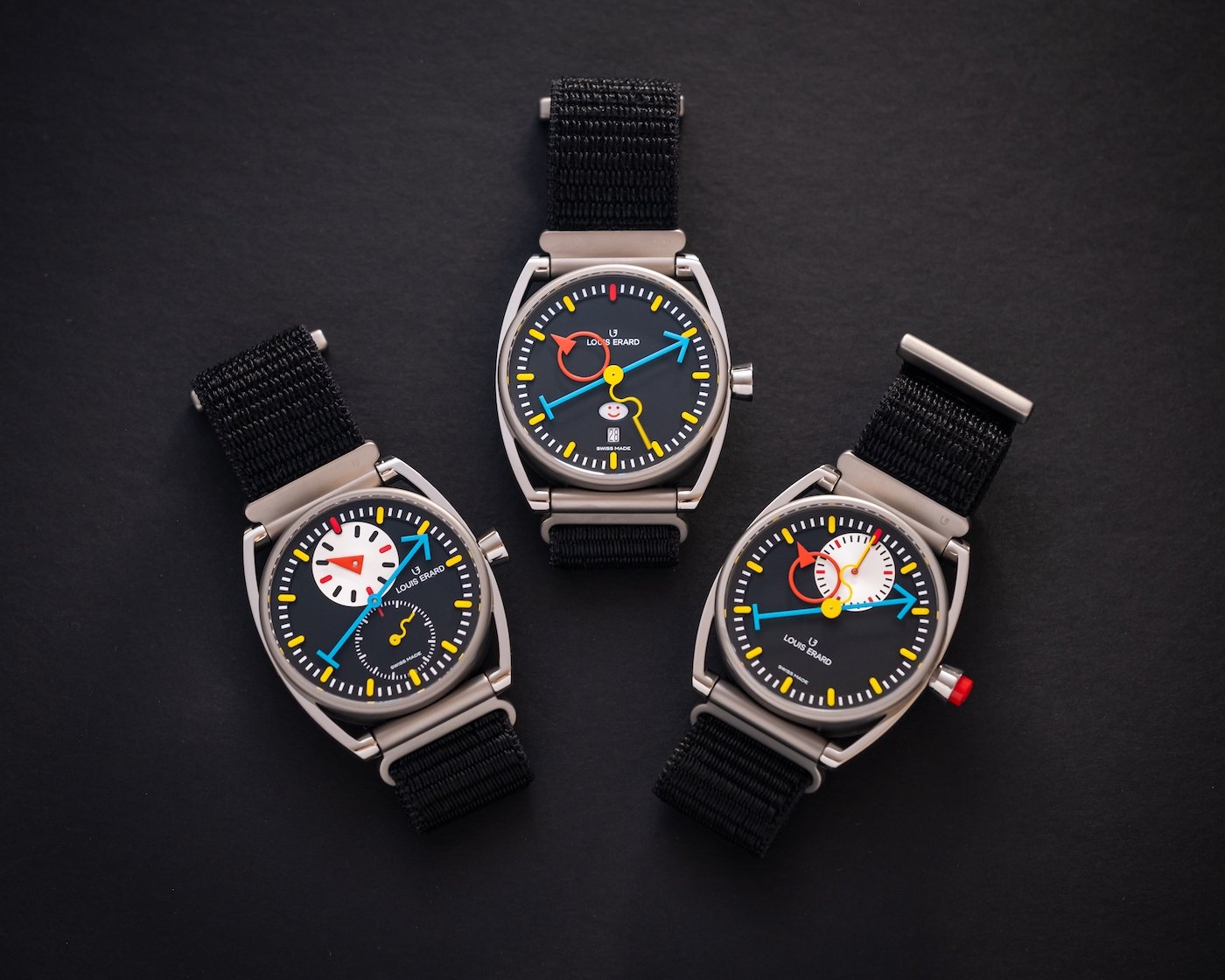 Europa Star: What is your collaboration about?
Francesco Pagano: Our loyalty programme, delivered through a dedicated app, gives access not only to benefits and services, but also to information on the brand and its operations, with the idea of making the customer feel part of the Louis Erard adventure. For those who participate, a digital signature is registered for their watch, which offers protection for the customer. This will allow them to pass the watch on to a future owner with greater security. You can also customise your Louis Erard NFT token with a personal – and therefore "eternal" – message.
Manuel Emch: We started with a relatively small project, but one that allows us to lay the right foundations. The world is undergoing a profound change, and brands have new expectations. Qiibee has a strong capacity for innovation linked to blockchain. There is a lot of talk about it in the industry, but in reality, not much is happening yet. We have decided to launch a loyalty programme via blockchain. This is just a first step. We are moving into a hybrid physical/digital distribution system. In the future, the ideal mix may be a balance between the two channels, perhaps weighted towards the digital side.
"There is a lot of talk about blockchain and NFTs in the watch industry but, in reality, there's not much happening yet."
A new stage in the collaboration between Louis Erard and Alain Silberstein: the launch of a triptych. Each reference was limited to 178 pieces, 78 of which were sold in a presentation box containing all three pieces, plus a digital work signed by the artist.
What do online sales represent today for Louis Erard?
Manuel Emch: We started in March 2020 and we're already generating 30% of our business online. One piece of very good news is that highly specific and limited products, such as our collaborations with Alain Silberstein and Vianney Halter, or our Grand Feu Enamel pieces, also contribute to the growth in sales of other products from our collections. Most of the customers who buy these pieces register for our loyalty programme: this gives us the opportunity to deepen our interactions, especially for future sales.
What is fundamentally changing is that the community is now an integral part of the brand strategy – not just at product launch, but well before. CRM is not enough. You have to give them the opportunity to be active in the relationship, to feel involved in an exchange, and even to take ownership of part of the brand. For Louis Erard, I believe strongly in a combination of special and limited launches alongside the more common collections that create volume for our distributors.
"CRM is not enough. You have to give your customers the opportunity to be active in the relationship, to feel involved in an exchange, and even to take ownership of part of the brand."
Francesco Pagano: Basically, this loyalty programme replaces classic marketing. If you can't afford to run a massive marketing campaign like big brands do, this system allows you to keep track. Over time, you build a community without the need for mass communication.
What about your retailers? Many are probably afraid of becoming obsolete because brands can now reach customers directly. Do you involve them in any way?
Manuel Emch: Yes, we encourage it. If they use our system, this will also minimise the administrative work: in a way, our platform becomes an e-commerce platform for the retailers as well. And we can reward them not only with fixed margins or discounts, but also more dynamically with loyalty for them as well. It has to make sense for the whole ecosystem, as much for our retailers as for our end customers.
"A loyalty programme replaces classic marketing. Over time, you build a community without the need for mass communication."
Do you see any other benefits?
Manual Emch: Today, more and more buyers are acquiring models simply to resell them. This can create frustration for other customers on the waiting list who really appreciate the product. The digital duplicate created in the blockchain, linked to the loyalty programme, also allows us to better "filter" our real community, those who follow us over the long term. This opens up the opportunity for us to better distribute some of the unique pieces we produce, giving access to key products to our loyal customers via purchase rights.
The big problem we've had in the past, like many brands, is that we were never really in sync with demand. This created overproduction. We need to better anticipate the needs of the market, in order to have a better match between supply and demand. This includes good interactions with our customers and our community.
Another collaborative model was launched by Louis Erard with master watchmaker Vianney Halter.
Data is the new gold rush... But what happens if some customers are loyal to you but don't want to join your loyalty programme? Data protection is a sensitive issue.
Manuel Emch: It's up to us to convince them. The main objective is not to share data but to protect data. We are building bridges with our customers, more and more of whom are digital natives, who want to be able to buy online and interact with us.
We will increasingly integrate blockchain into the brand's creations. For example, we launched our new capsule collection with Alain Silberstein, who had been given carte blanche to create an entire line based on our Triptych trio of classic models. It's a limited edition, with the first 78 sets sold in sets of three. To offer something extra special, we also included a digital artwork by Alain Silberstein, available via an NFT, that guarantees its uniqueness. Everything on the blockchain has its own certification.
"For the new limited series with Alain Silberstein, we also included a digital artwork available via an NFT, which guarantees its uniqueness."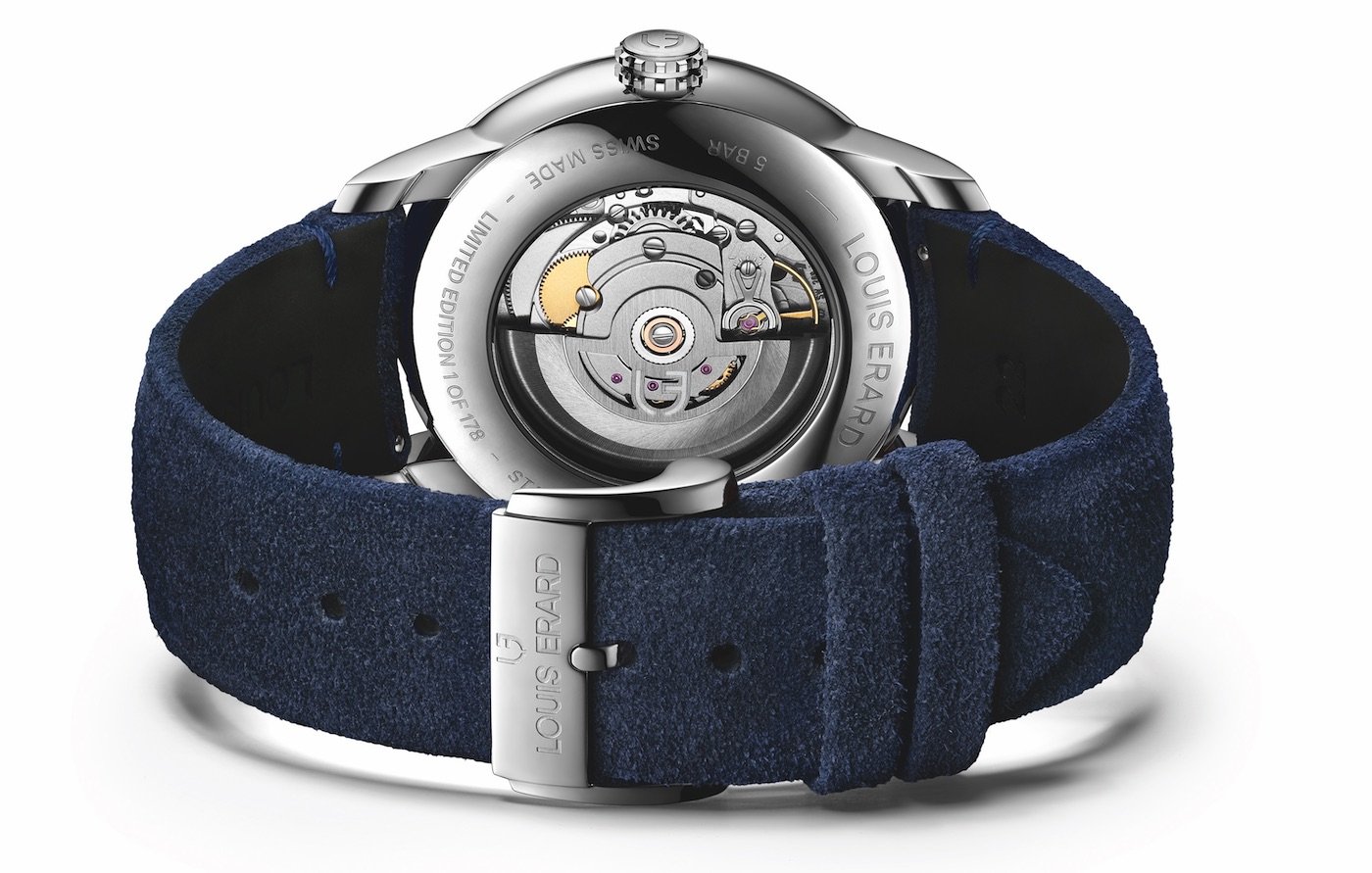 NFTs have been getting a lot of press, ever since a digital artwork sold for more than 60 million dollars! In watchmaking, Jean-Claude Biver got involved, with the sale of a digital duplicate of one of his models...
Manuel Emch: Yes, we can now attribute value to a digital product thanks to this unique token. We will also offer the possibility to "engrave" the NFT with a personal message, to make it even more unique. And who knows, in the long run, thanks to this unique dialogue with our customers, we might be able to give them the possibility to design their own watch... And maybe, eventually, we will also dematerialise the watch. Gucci has just launched its first virtual sneakers. We have all kinds of approaches now, using images and audio, to connect the physical object to the blockchain. But at the end of day, there might even not be an underlying physical object!
Francesco Pagano: Indeed, two approaches are possible when talking about NFTs: associating a unique digital token to a physical product, or staying purely virtual with a digital product that has a unique code.
"We now have all sorts of approaches, using images and audio, to connect the physical object to the blockchain, but eventually, there might not even be any physical object!"
Manuel Emch: What is certain is that watches don't stop "living" after they have been made and released. We ought to take into account their entire life cycle, which is long. The secondary market is developing ever more rapidly. Today, you can't build your brand if you don't think about that. And each of your models will come back to you one day, if only for after-sales service. With these new tools, with the blockchain, we can now guarantee their authenticity, their provenance, or the fact that they have undergone after-sales treatment. The more proof of authenticity we give, the more we can support the value of a watch.
After purchasing the Louis Erard x Alain Silberstein Triptych set, the 78 owners will be given a private, personal, non-fungible token (NFT) linked exclusively to the triptych. This guarantees and protects the authenticity of the limited edition, and contains all its technical specifications. In addition, collectors can personalise their digital token with a private and personal message.
Let me come back to retailers: how do you convince them to join your system if you are increasingly selling to your customers and interacting with them directly?
Manuel Emch: But we are integrating them! In the case of the partnership with Alain Silberstein, we allocated 40 sets to our key retailers. In the end, I would like to have a network of exactly 178 partners (!), worldwide. We don't yet have enough retailers who are open to this kind of concept.
What about the rest of the Silberstein sets?
Manuel Emch: They were for our customer database. In addition to the sets themselves, we also applied a similar allocation system for the individual models. We are implementing these changes gradually. To come back to your previous question, there are indeed consumers who do not yet wish to join this system. So we try to offer several gateways, and see which ones are the most suitable. These tests serve to ensure that our brand will still have a place in the future. Today, people either want the 'best' or the 'special'. Louis Erard has its card to play.
If each brand launches its own blockchain system, the situation will become complex. The most efficient system for both retailers and customers would be based on a shared solution. Or at least common standards...
Manuel Emch: Of all the blockchain technologies available at the moment to link a physical object – in this case a watch – to its digital double, none has taken the lead. All the companies say they have the "ultimate solution". We are tackling the equation from a different direction: we are not investing large amounts of money in the connection itself, but we are already creating the offer, the content, and imagining the possibilities for interaction with our community. It's better not to bet everything on one horse, because you might lose. We are preparing the ground, and waiting for the technology to mature. The biggest problem in our industry is that we are a very small industry. We should work together. Otherwise everyone will lose.
"The biggest problem in our industry is that we are a very small industry. We should work together. Otherwise everyone will lose."