W
hen legendary British watchmaker George Daniels developed his co-axial escapement, he probably never imagined that his reinvention of the watch's regulating mechanism, which maintains the oscillations of the balance wheel, would be applied on the scale of a brand like Omega, although he did explain that his creation was "intended to sustain the public affection for the mechanical watch during the 21st century." The Swiss giant made this innovation the starting point for a complete reinvention of its portfolio of calibres over the last twenty years.
At the turn of the millennium, in 1999, Omega introduced its first Co-Axial Calibre 2500, equipped with a free sprung balance, followed by the Co-Axial Calibre 8500 in 2007, the first "in-house" movement built specifically around this innovation. Instead of a traditional lever escapement, the two co-axial wheels and the three pallet levers reduced the friction of the regulating mechanism, ensuring greater chronometric stability – and longer service intervals.

The company's roots lie in the development of reliable calibres: Omega takes its name from a movement developed in 1894 by the brand founded by Louis Brandt. A century later, the co-axial calibre, the cornerstone of Omega's entire movement portfolio, was refined with the introduction of the silicon balance spring and embellished with the use of new alloys such as Sedna gold. This bold movement strategy will culminate next year in the Master Chronometer certification of virtually the entire catalogue of Omega mechanical calibres. The chief architect of these developments, Gregory Kissling, explains how this new chronometric quest has unfolded.
Europa Star: What is your approach to innovation?
Gregory Kissling: Innovation is good, but the real challenge for a brand like ours, which has a certain volume, is industrialisation. Without being able to master consistent quality, it's impossible to industrialise an innovative approach, let alone control the costs of its implementation. In the case of Omega, we also have to remain consistent with our long history and style. So it's a very fine balance, and we achieve it by going step by step, never by changing a whole collection at once. The Master Chronometer certification is a good example of this gradual approach to innovation: the first certified model was introduced in 2015, and next year this certification will cover almost all our models, with a few exceptions such as the Calibre 321, found in some Speedmasters.
"Innovation is good, but the real challenge for a brand like ours, which has a certain volume, is industrialisation."
Gregory Kissling is Omega's Head of Product Management.
Let's start with the movement: if you were to sum up movement innovation at Omega over the last two decades, the starting point would certainly be the co-axial escapement by George Daniels, introduced in 1999.
Initially we applied this innovative escapement to replace the Swiss lever escapement on ETA calibre bases. But we soon realised that we would have to develop our own co-axial movement. This gave a big boost to our own calibre unit, as well as imposing special chronometric demands, which led eventually to the Master Chronometer certification, with its maximum variance of 0/+5 seconds per day versus -4/+6 seconds per day for the COSC. Since then, we have developed our own movements, by and for Omega, and we have our own "in-house" movements, recognisable in particular by their "arabesque" Geneva waves.
A view of the 201 components of Omega's Co-Axial Calibre 8501, launched in 2007, a landmark in the Swiss giant's movement development as the first in-house calibre designed around the co-axial escapement.

Another milestone was the introduction of the non-magnetic silicon balance spring in 2008.
The patent dates back to 2002, when it was registered as part of a CSEM consortium. Six years later we launched the first models equipped with a silicon balance spring, the Spiral Si 14 (after the element's chemical symbol and atomic number), designed to resist magnetic fields and improve chronometric stability. These included the Co-Axial calibre 8520/8521 fitted to the Seamaster Aqua Terra Ladies collection, and the Co-Axial calibre 8601/8611 with annual calendar fitted to the De Ville Hour Vision Annual Calendar. The industrialisation of this innovation was carried out at Nivarox. The aim was not to introduce it in a single type of movement, but eventually to equip all our calibres with it. The silicon balance spring is the basis of all our antimagnetic calibres. It is also a group strategy, since other Swatch Group brands use silicon balance springs as well.
"The Master Chronometer certification is a good example of this gradual approach to innovation: the first certified model was introduced in 2015, and next year this certification will cover almost all our models."

This technology reached a degree of maturity five years later, in 2013, with the Co-Axial calibre 8508, capable of withstanding more than 15,000 gauss.
Up to that point, we had tried to protect the calibre by means of an internal casing, acting like a Faraday cage against magnetic fields. But above 1,000 gauss, the magnetic fields were strong enough to reach the regulating organ. We therefore concentrated on creating a movement that was itself magnetic resistant. This new technology, first introduced in the Seamaster Aqua Terra line, allowed us to carry out important movement developments without being constrained by a specific casing, since the internal protective case became unnecessary. This opened up the face of the watch, with the possibility of date windows, as well as the back, with the possibility of a transparent case back. Technology caught up with aesthetics!

This also led, two years later, to a new Master Chronometer certification, delivered by METAS, a Swiss federal institute. You used to be the only holder of this certification, but other brands, such as Tudor in 2021, are starting to come on board.
By being pioneers, we have been able to go a long way in developing and strengthening the criteria. Today, some MRI machines emit magnetic fields exceeding 15,000 gauss. Between 2013 and 2015, we developed the anti-magnetic movement in several sizes, from the 9-line ladies' calibre to the 13-line calibre with two barrels. These basic movements then allowed us to integrate several complications such as the day-date and GMT, and then to develop manual movements. And in terms of the chronograph, the Co-Axial 9300 movement, which took six years to develop, is a fundamental element of our brand, which is strongly focused on this type of complication.
Let's move on to your movement materials: could you clarify the distinction between your "standard" and "luxury" calibres?
On the most luxurious movements, which equip models made from precious materials, from gold to platinum, you will notice the oscillating weight and the balance bridge are made of pink Sedna gold. This is a nod to the colours of our historic calibres, which were recognisable from afar because they were gilded using copper galvanic baths. The problem with rose gold is that it tends to discolour over time. So we introduced our own Sedna alloy in 2012 to stabilise its colouring. This innovation was also a new starting point for all our materials research. We combined our materials research with our movement research to design the Omega calibre of the 21st century.
"We combined our materials research with our movement research to design the Omega calibre of the 21st century."
Omega's Sedna Gold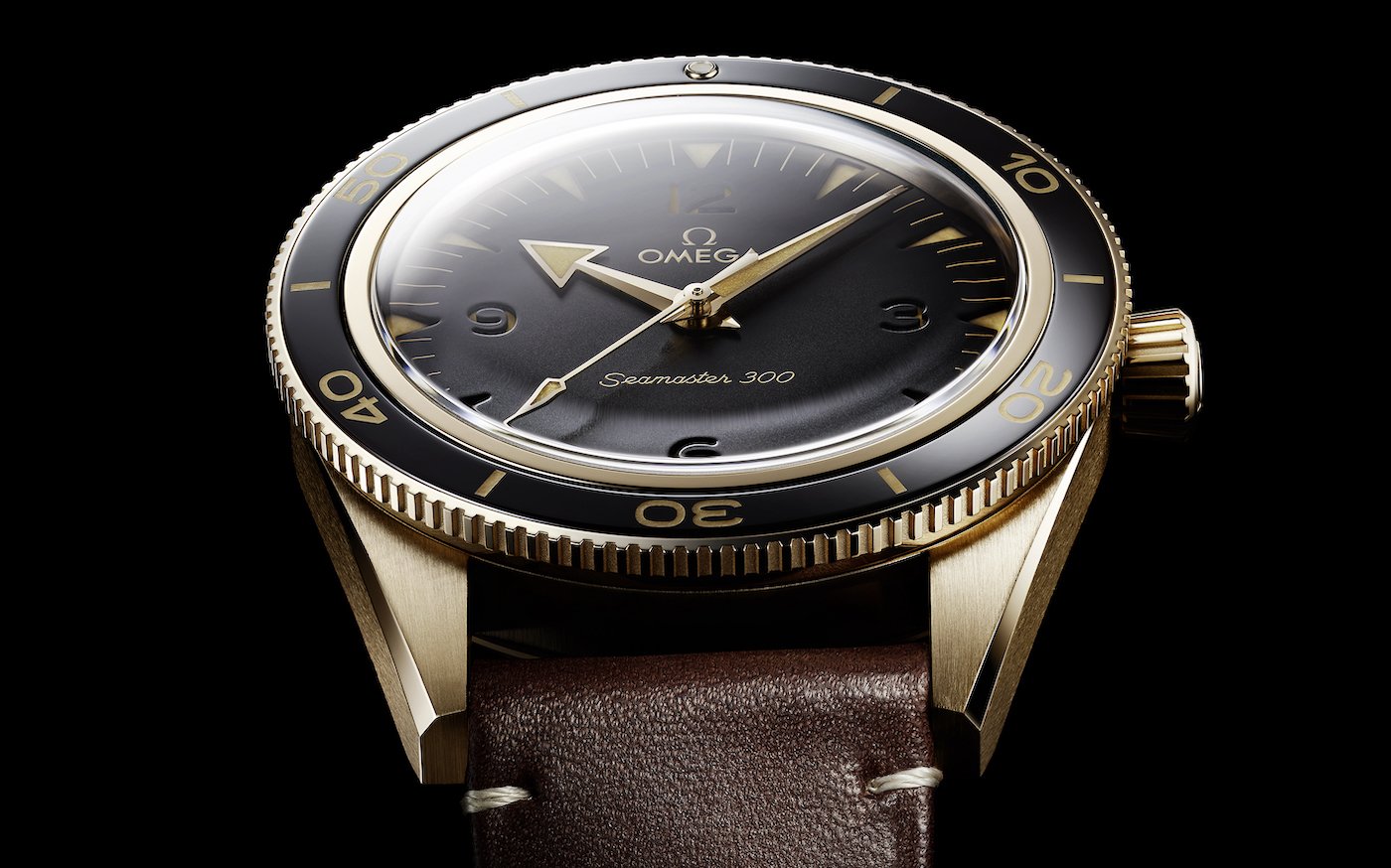 How did you refine your materials research?
We created cross-functional working groups to develop new alloys, such as Canopus Gold, Moonshine Gold and Bronze Gold. We also innovated a great deal in ceramics, which we combine with Liquidmetal or, in the case of Ceragold, gold. The aesthetic component is important. So is the ability to industrialise and control prices: we'd known how to work with 5N gold for generations, and suddenly we were looking to replace it... What I have noticed during all these years of R&D is that we are much more efficient if we have a vector, a direction that pulls us forward. The brand supplies the product to be found, but also the driver for the research.
CeragoldTM developed by Omega allows ceramic timepieces to be decorated with 18-carat gold.
The man-machine equation is also about finding a subtle balance... especially for a brand like yours which seeks both value and volume.
That's for sure. If you take the development of laser technology as an example, on the one hand, it has opened up new creative horizons for us, particularly in the animation of our dials. But this development has also created new human jobs. And the human touch is still very much present, even where we're dealing with large volumes, whether in the development phase, assembly, finishing or inspection. Technologies can be as efficient as possible, but there will always be this subjective, fundamentally human aspect.