I
t's hard to imagine that Sainte-Croix, a rather sleepy town in the shadow of the Swiss Jura mountains, was once home to some of the most illustrious names in the mechanical arts. Not, as the word "arts" might suggest, humble studios but factories where a workforce of hundreds manufactured mechanical objects that were sent to eager customers around the world. Items such as Bolex cameras, Hermes typewriters and Thorens gramophones. Not forgetting musical boxes, a speciality of the region since the 1810s and, thanks to Reuge, throughout the twentieth century and beyond.
Alas, electronics and IT would take their toll on the town's industrial fabric. Nothing could be done to stem the drastic decline in its population, or prevent the loss of an irreplaceable piece of local heritage, when in 1996 a group of Japanese industrialists bought the renowned Guido and Jacqueline Reuge collection for a future Guido Reuge Museum in Kyoto. The population of Sainte-Croix watched as almost 800 artefacts - a unique testimony to the history of musical mechanisms - disappeared.
What the small town didn't yet know was that 2018 would bring excellent news. On August 24, Le Temps reported how the municipality of Sainte-Croix was struggling to raise the necessary funds to purchase the Baud Museum's incomparable collection of 240 mechanical masterpieces, composed of automata, musical boxes and singing birds. Since 1955 these magnificently inventive works - fabulous illustrations of the skill and talent of the region's craftsmen and women - had been on public display in L'Auberson, a neighbouring village to Sainte-Croix. Thanks, perhaps, to the publicity from this nationally read newspaper, 170 generous donors came forward and the target of two million Swiss francs was reached. In the wake of this eleventh-hour rescue came the project to relocate three local museums - the Baud Museum, the International Centre for Art Mechanics (CIMA) and the Arts and Science Museum - to a single site.
The municipality of Sainte-Croix could breathe easy. Not only was the collection saved; there would be a creative revival in the mechanical arts. Once again, talented artisans from around the world were beating a path to its door in search of an ecosystem that has no equivalent anywhere else. The "pioneers" who moved (or returned) there in the 1980s are now joined by a new generation of artisan-entrepreneurs. Within a few streets of each other are dial marquetry artist Bastien Chevalier, independent watchmaker Vianney Halter, brands De Bethune and Reuge, as well as Sylvain Pinaud and François Junod, both prize-winners at last year's Grand Prix d'Horlogerie de Genève.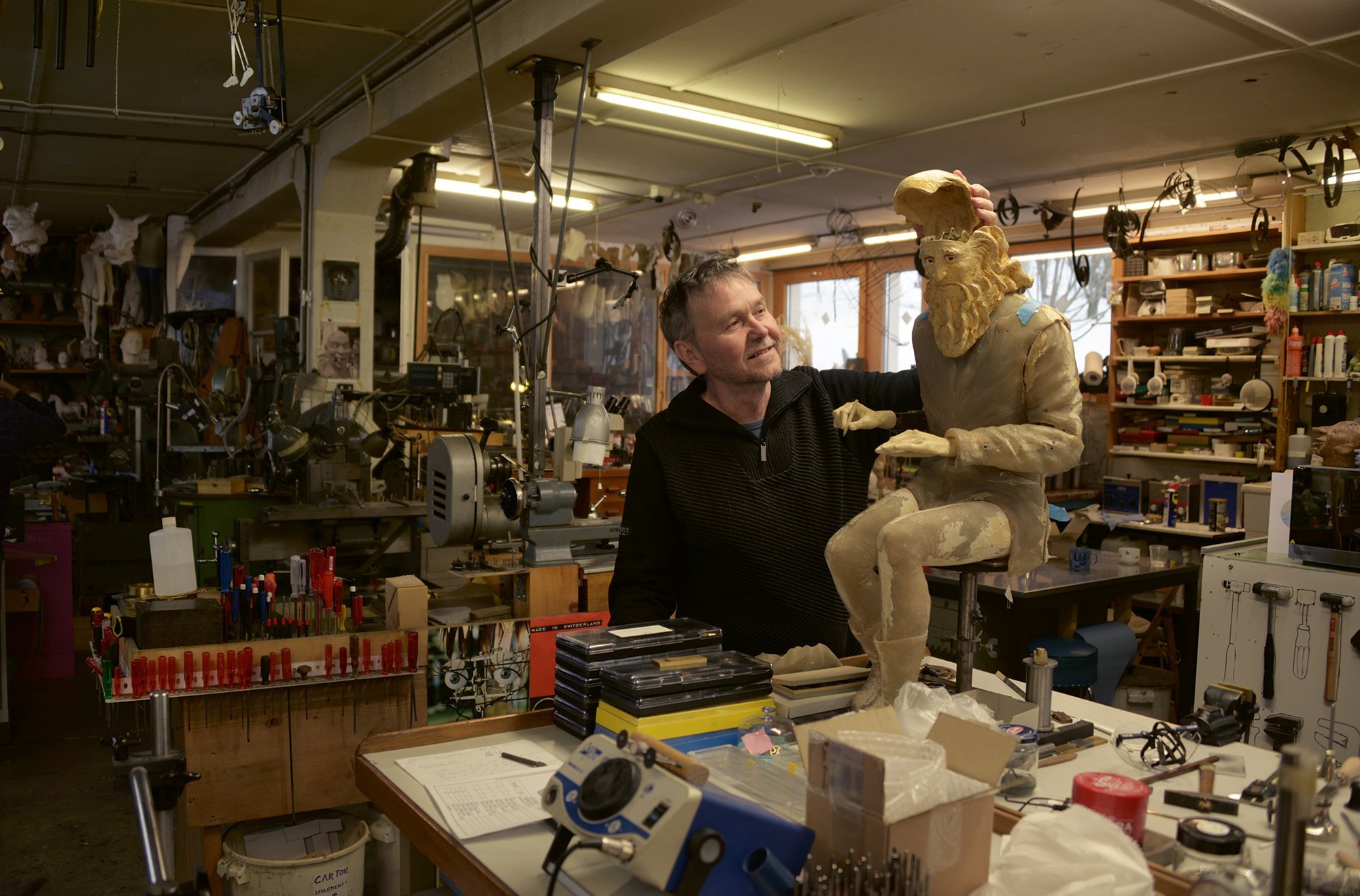 A portrait of François Junod
He could have earned his living as a sculptor. He certainly has the talent. Or "making cinema cameras" – an ideal profession for someone who is just as fascinated by Georges Méliès' cinematic magic as he is by complex precision mechanisms. Affable and unassuming despite his success, François Junod is an automaton maker, an art many discovered thanks to the two remarkable objects he co-created with jewellery house Van Cleef & Arpels. Tucked away in the mountains of his native Swiss Jura, his workshop is a hive of rejuvenated activity overflowing with mechanical treasures. To visit him there is a rare privilege, a delicious treat, to be savoured long after leaving.
"The life of an artist, shut away in his workshop, busying himself with research, is neither instructive nor amusing; it lies in his work." Ferdinand Berthoud's assertion, from his 1802 book, The History of Time Measurement, still applies to the majority of artists and artisans who have made their passion their profession. They spend countless hours in a workshop which, as the years pass, becomes an extension of their private sphere.
The seductive Automate Fée Ondine, Van Cleef & Arpels' first Extraordinary Object adorned with a luminous gem-set dress, seems to be immersed in her thoughts. This unique piece is the result of seven years' work and close collaboration with automaton maker François Junod.
Stepping through the porch into François Junod's workshop, the visitor is greeted with such genuine warmth by the artist and his team, one almost forgets the privilege it is to share what is a form of intimacy. Its contents – at first glance a bewildering array of objects – defy classification: mid-century machine-tools in perfect working order; theatre props; precision mechanisms; an area set aside for casting sculptures. François Junod himself struggles to define his profession. "Automater?" he hazards, quickly adding that it's "a made-up word" and that what he does follows on from "the great French automaton makers who were active from the late eighteenth century into the 1960s."
Cinematic inspiration
He is intrigued by the early days of cinema. Those moving images, brought to life by a nascent art, hide secrets as wonderful as one of Harry Houdini's conjuring tricks. "Méliès' little films are utterly fascinating," he enthuses. "He was the first to have actors disappear in a puff of smoke. The Lumière brothers saw him as a rival, so he had to build his own cameras. In fact he did everything, from designing sets and props to directing and editing."
François Junod started taking Bolex cameras apart to study how they worked. In a curious assemblage, a dozen hang from the ceiling like washing strung from windows in a Mediterranean village. The more observant onlooker will spot a few rare specimens, including a Paillard-Bolex H16, briefly manufactured between 1935 and 1976. For François Junod, it's a way of combining his work with his love of small mechanical objects from another era, in a virtuous circle.
On the Van Cleef & Arpels Floraison du Nénuphar automaton, the butterfly flutters its wings of plique-à-jour enamel through which the light passes. It rises above a dome of yellow gold set with yellow sapphires in two shades, spessartite garnets and diamonds that gleam like the sun from the centre of a delicate corolla. A lily pad and stem appear, drawing the eye toward a rose gold flower bud, similarly lacquered. To complete the creation, a white gold fairy set with three shades of blue sapphires graces the base of the object, where a rotating ring displays the hours.
Alongside these bygone technologies, most of which have lost their relevance in our ultra-digitalised societies, François Junod's creativity is fuelled by Japanese culture, his second major source of inspiration. Or rather, he points to an example that confirms his professional convictions. "Robotics have developed to the extent they have in Japan because the country already has a tradition of karakuri ningyō," he explains. "Every Japanese person is familiar with these wooden automata." These "mechanical dolls" were only produced during the Edo period (1603-1863) and are now revered. The handful of craftsmen who are authorised to restore and repair them have been granted National Treasure status, meaning they receive a lifetime subsidy from the Japanese state to ensure their financial independence – a privilege European craftsmen and women can only dream of.
A little-known profession
François Junod attended the same technical college in Sainte-Croix as his grandfather Samuel and his father Robert: the Centre Professionnel du Nord Vaudois, where he studied mechanics. He pictured himself spending his days tinkering with all manner of mechanical objects, but soon realised he would more likely end up employed by one of the many companies that continued to forge the region's reputation: the likes of Paillard, the maker of Hermes typewriters, where his great-grandfather John worked for forty years from 1879 until 1919, or Reuge, a manufacturer of musical boxes and a client of his father's packaging company, Jost S.A. Cartonnage.
After a couple of disappointing work experience placements, he decided to try his luck elsewhere and enrolled at the art school in Lausanne, despite his family's warning that he would struggle to earn a living: the image of the poverty-stricken poet is still very much alive. Despite parental reservations, his studies in Lausanne would be "a revelation." François Junod relished the pleasure artistic practice gave him without ever turning his back on his mountain origins or the mechanical traditions of Sainte-Croix. Unsurprisingly, one of the names to come up during our conversation was that of Swiss artist Jean Tinguely, and the Heureka kinetic sculpture he produced for the Swiss National Exhibition of 1964.
The Éveil du Cyclamen automaton stirs to life on a base made from two pieces of green aventurine and a bowl of purple jade.
After a brief stint at a sculpture studio in Paris, he returned to Sainte-Croix where he met Michel Bertrand, a French automaton maker who had "taken refuge" in Switzerland. There was no real audience for automata at that time, other than an affluent Japanese clientele besotted with Gustave Vichy's letter-writing Pierrots.
François Junod's debuts are still fresh in his mind. "When I started with Michel Bertrand in 1980, automaton-making wasn't a well-known profession. I learned from Michel and by visiting museums. Automata were at their height in the late eighteenth century. Think of Pierre Jaquet-Droz's singing birds, Henri Maillard's draughtsman or Pierre-Louis Stevenard's magician."
By the early 1990s François Junod knew he wanted this to be his full-time occupation. He set up a workshop and started to produce automata. Never doubting his decision, he got through the next years by restoring the automata entrusted to him by private collectors or museums, learning more about his art at the same time. Often he would call on a network of local craftsmen and friends for help: sculptors, watchmakers and seamstresses who dressed his creations.
Despite these lean years, he felt at home in his new workshop, having spent part of his childhood there. By a stroke of luck, he'd been able to move into the premises once occupied by his father's packaging company. And by a further stroke of luck, his father agreed to produce the technical drawings for his projects, in ink and coloured pencil. For twenty years, father and son would share the same passion. More than once, François Junod was offered the chance to exercise his talent elsewhere, first California then, inevitably, Japan, but his attachment to his hometown, his network of local artisans, the family workshop, his terroir, meant that he turned them down. Not even the promise to dismantle his workshop brick by brick and rebuild it in Japan, with all his machine tools, could tempt him…
Two birds on a fountain
One more wonderful surprise awaited us. The Fontaine aux Oiseaux automaton, made with and for Van Cleef & Arpels, was all wrapped and ready to go – to "fly the workshop nest". This impressive automaton has everyone spellbound from the second it springs to life. With extraordinary grace, the two lovebirds come closer one to the other in a romantic courtship dance, perfectly executed on their delicate legs, before bursting into song. Young and old are delighted by this charming display and its ingenious mechanism. "There's something artistic about making cams, a little like a musician. It's mechanical sculpture," says François Junod. We're surprised to learn that the loveliest antique automata are often fitted with quite ugly mechanisms, some amounting to little more than wires. François Junod's automata, on the other hand, must be flawlessly finished using the same polishing and plating techniques as for a luxury watch. Components are machined and filed to obtain "beautiful rods and beautiful forks." For this reason, many of his automata include a glazed opening through which to enjoy some of these intricate details. This will certainly be the case for his Leonardo da Vinci automaton, an ongoing project.
Is this why Van Cleef & Arpels contacted him in 2010? "I'd already made jewellery automata for Mauboussin and Chaumet. An automaton has to be light in order to function, which jewellery isn't." His first collaboration with the Parisian jeweller – the Fée Ondine automaton – was widely admired. A second project would bring the two partners closer together during the five long years it took to complete the Fontaine aux Oiseaux automaton, which was presented in 2022. The result exceeded all expectations. The media were unanimous in their praise and this "bird fountain" was the winner in its category at the Grand Prix d'Horlogerie de Genève.
The two marvellous mechanical birds of the Fontaine aux Oiseaux automaton converse serenely, in an unknown and fascinating musical language. When activated, the automaton comes to life, revealing a tender scene. The water in the basin starts to ripple, as if in a light breeze. A water lily slowly blooms while a dragonfly rises into the air, beating its wings and whirling about. The birds at the edge of the basin wake, and their song rings out. They raise their heads and move their wings to begin their courtship display. As they move closer together, their articulated legs rise one after the other in a strikingly realistic movement. When the scene is finished, the dragonfly returns to its hideaway, the birds take up their original positions, and the water lily gracefully closes.
François Junod lets us into a secret: "The team at Van Cleef help me develop very different automata thanks to the precision made possible by techniques such as 3D printing and laser welding. I can tell you that both Nicolas Bos [CEO and artistic director of Van Cleef & Arpels] and I are very happy." Indeed, vast amounts of time are saved and the hours ordinarily spent filing parts can now be spent on design – particularly as a jewellery automaton poses a new problem: whereas the mechanism for an automaton such as a Pierrot will always be hidden under clothes, new solutions had to be found so that the mechanisms which enable the birds on the Fontaine aux Oiseaux to turn their heads and open their beaks would be as beautiful to observe as the object itself. Opening a "window" onto the mechanism is no longer enough; the automaton must be considered as a whole.
A full 15,000 hours went into this magnificent and time-consuming piece. "It's sad to say but no-one can stop time," rues François Junod.
Closing thoughts
Van Cleef & Arpels is keen to help François Junod extend his workshop; no doubt an indication of a legitimate wish to increase production capacity at Sainte-Croix with, one can imagine, numerous projects in the offing. New precision cutting technologies will certainly contribute – although no-one would dare hurry an exceptional Romanée-Conti!
The arrival of younger colleagues has brought a particular feel to the workshop. The atmosphere is relaxed, often with music playing in the background, but there are also moments when silence descends as everyone is absorbed by the task in hand. "I feel much better than I did five years ago, thanks to this young team. Now they're the ones driving me forward."
There's a hint of pride as he explains how the workshop's machine tools were "rescued" from factories around the region and restored, giving them decades more use – a nice example of circularity at work.
Success hasn't changed François Junod. This modest and accomplished craftsman, who is also a remarkable artist, is still close to his family, loyal to his region and believes firmly that skills should be passed on. He is a breath of fresh air and we wish him nothing but the best. Or, as this Jurassien born and bred would say: "tout de bon!"