T
itoni celebrates its century of existence this year. In fact the watchmaking company was launched in 1919 by Fritz Schluep under the name Felco, before becoming Felca and then Titoni. The founder's grandson, Daniel Schluep, is now in charge of the Grenchen company, and the fourth generation has recently joined the family firm.
With an annual output of more than 100,000 watches with a "timeless" design, the majority of them automatic (quartz watches represent only a tenth of the portfolio), it is one of the last major independent watch companies in Switzerland. And yet few in its nathe plum flower ("Meihua"), enjoys a greater reputation in China, which is its main playground by some margin. "The first links with Asia were established in the 1930s," says Daniel Schluep, "Since we could not fully develop Felca there because of an exclusive contract with a distributor, we launched a new brand, Titoni, in 1952. It was our historical partner in Asia, Mr Koh, who proposed adding the flower to Titoni's logo: if the Chinese could not recognise the name, they could at least recognise the flower."
Daniel Schluep, CEO of Titoni
Gradually, the Titoni brand took over and the company's entire production was renamed as such. The cornerstone of the brand's development in China continues to be its joint venture with the Koh family. Titoni's network covers 600 points of sale in the country, a pioneering presence on the Chinese e-commerce platforms Tmall and JD.com, a subsidiary in Shenzhen, and offices in Beijing, Shanghai and Guangzhou. It would be an understatement to say that the company feels at home in China.
"It all began with the visit to Switzerland of a Chinese economic delegation in 1959. The delegates wanted to visit a watch company."
Yet the country is changing at an accelerated pace, with the arrival of a new generation that no one really understands. Will they be as attached to Titoni as their parents and grandparents were? And how is the brand managing the growing competition in a market where, until the 1990s, it had a direct partnership with government offices? We met Daniel Schluep to discuss these issues and to review Titoni's history in the Chinese market. To celebrate the centenary, the brand has also introduced its first in-house calibre, the T10, which was naturally first unveiled at an event in China.
Europa Star: You are one of the most established Swiss watch brands in China, with a presence dating back long before the country opened to globalisation. How did your distribution start?
Daniel Schluep: It all began when a Chinese trade delegation visited Switzerland in 1959. The delegates wanted to visit a watch company, but Red China, as it was called back then, did not have a good reputation within the Swiss watch industry and all the brands refused to accept them... except us. Following this visit, they brought back some of our watches to Beijing. Then we started to take their first orders.
That was the beginning of direct cooperation with the Chinese government. How have your business relationships evolved over time?
There were three main stages: the state economy for thirty years, then a transition period until China joined the WTO in 2001, and finally the contemporary era. Until 1990, we had an annual collaboration with the Chinese Ministry of Commerce, which included the delivery of watches according to a specific budget. We negotiated with the official distributor of optical and watchmaking products in China. This system applied to Titoni as well as to other Swiss watch brands already present in China, such as Rado, Roamer, Enicar etc.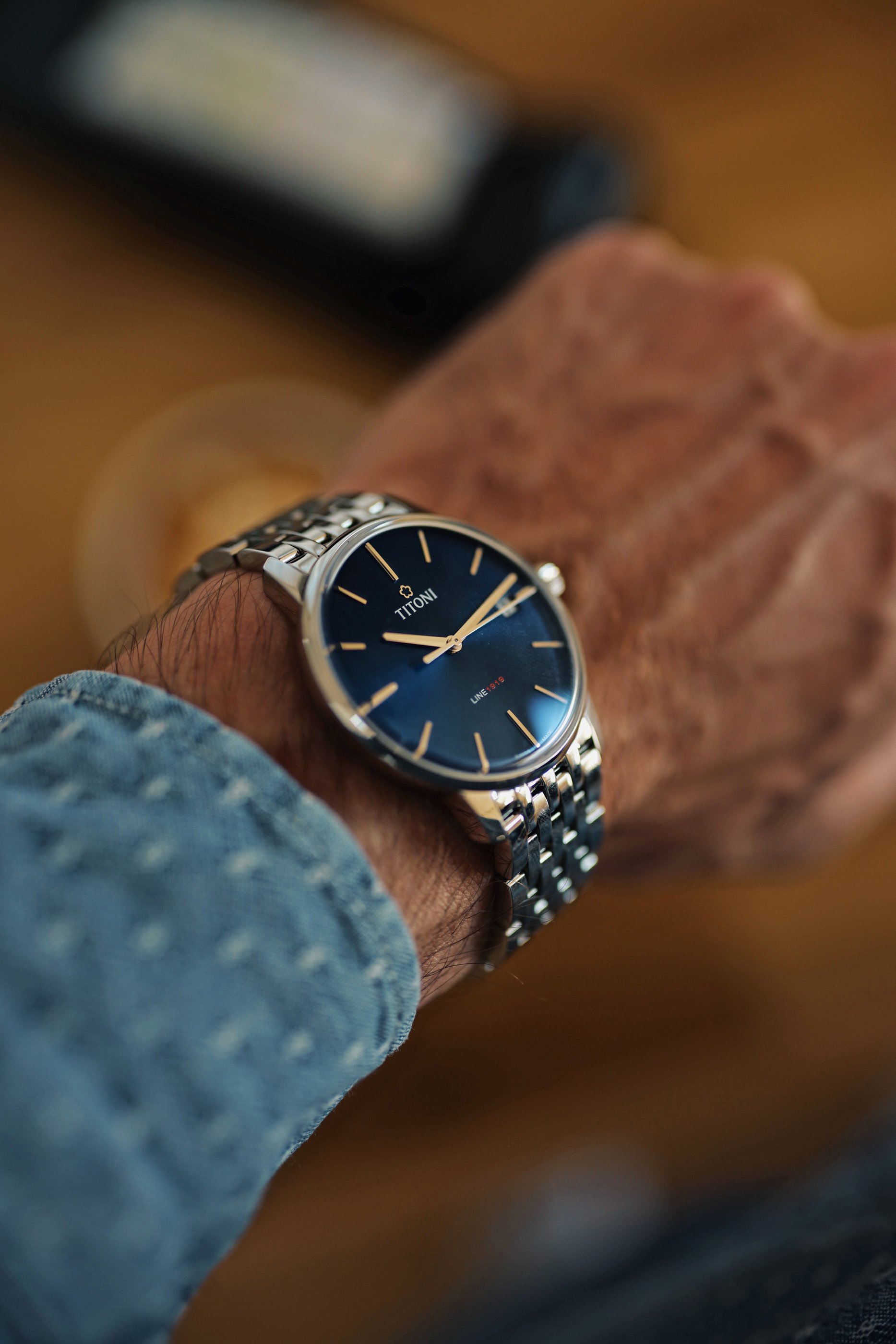 How did it work exactly?
It was simple and efficient, because the orders were always for the same models. The annual negotiation was the most delicate part, as they drove a hard bargain, but once an agreement was reached it was then followed to the letter. This stability has helped us to overcome difficult periods such as the quartz crisis in the 1980s. We were allowed to do some advertising in China itself. However, we had no detailed information about the distribution of our watches into the provinces.
When did this system start to change?
From the 1980s onwards, we began to see parallel imports, as official imports were still taxed at over 100% from Hong Kong to China. In the south of the country, retailers bought watches from both the government and parallel importers. These watches were cheaper and payment was made in cash. This phenomenon then spread to the north of the country and began to really affect official state distribution. Then, in the 1990s, a transition period began. Suddenly, "semi-private" companies were allowed. We saw the emergence of many new actors. It was a time of great confusion.
"Suddenly, 'semiprivate' companies were allowed. We saw the emergence of many new actors. It was a time of great confusion."
When did the situation stabilise?
With China's entry into the WTO in 2001. It was then possible for us to set up our own office in China, initially only for information purposes, not for sales. It was a period of modernisation and we made good agreements with local retailers, because we were helping them renovate their stores at the same time. The 2000s were the best time to enter the Chinese market. Local watch distribution groups were formed, such as Xinyu-Hengdeli (see p. 36), to structure this market and watch imports.
It was mostly after China's entry into the WTO that luxury brands arrived in the country. For you, it was also the end of a form of monopoly on the Chinese market...
The competition is indeed much stronger today, but it is also an opportunity because all these brands contribute to watchmaking education in China, which allows us to sell more expensive models. On the other hand, I believe that there have been too many store openings by Swiss watchmakers, who have been affected by a somewhat senseless "fever" for bigger spaces. As a result, supply began to exceed demand. For our part, we have chosen not to deliver quantities that we felt were excessive.
Several observers are increasingly alarmed by a downturn in watch retail sales in China this year. Are you also aware of this?
The decline in watch sales in China (including Hong Kong) is due to three main reasons: excess inventories after a bullish period in the market, the trade dispute with the United States and the change in status of the watch, whose importance as an indicator of social standing is eroding. However, the mainland market remains vital for the industry, especially as the Chinese government intends to repatriate its citizens' spending back home. Import taxes have been reduced to 11% in our price category. But the tax remains at 31% for "luxury products", i.e. those worth more than 10,000 RMB.
Because of your early market introduction, you are well known to the parents and grandparents of the Chinese millennials. What do these youngsters think of Titoni?
You know, we have been told for 30 years now that we must attract the new generation in China. We do not only want to focus on these new generations, which are very temperamental in their purchasing habits. That said, we are present on Tmall and JD.com, which allows us to reach a new audience. And we have developed a new version of our Cosmo model for the new generations. But the traditional version of this very popular series remains important for our sales.