"E
xplosion of violent thefts of luxury watches in Paris", ran a Le Figaro headline this June. A 56-year-old man was strangled while his 12,000 euro watch was being stolen, and an 86-year-old woman was mugged for her 15,000 euro timepiece... In 2015, Europa Star devoted an issue to the question of security in the watch industry, from simple theft to organised robbery, featuring several testimonies from victims as well as from security experts. Clearly, the situation has not improved.
Sébastien Buonomo, a sports osteopath from Marseilles, has faced three attempted robberies, twice in Paris and once in Barcelona. "Fortunately, I was confronted with rather inept criminals. But when I inherited the watch of my brother, whom I lost at a very young age, and someone tried to steal it from me, I reacted. Because that watch had more than just financial value: it was one of the only objects I had to honour my brother's memory."
In 2015, Europa Star devoted an edition to the issue of security in the watch industry, from simple theft to organised robbery. It's clear that the situation has not improved.
Patented micro-locking system
Sébastien Buonomo looked for a protection system against theft and loss but found nothing convincing. Rather than give up, he saw an opportunity, and contacted a childhood friend, an aeronautical engineer, whom he asked to draw up plans for a prototype of a micro-lock that could be housed in the clasp of a watch bracelet. He brought together investors for an initial funding round, and then entrusted the Geneva-based watch subcontracting company R. Magnin SA, which he met at the EPHJ trade fair, to produce the first prototypes. The patents were registered in France at the end of 2016, then in the main international markets the following year.
The entrepreneur's plans took a decisive step forward when he met Bruno Herbet, director of the technical and engineering company HB Créations in the Vallée de Joux, who has solid experience in the watchmaking industry. His appointment as technical director gave credibility to the project.
The Watchlock® system, integrated into the folding clasp, is designed to prevent the watch from being lost through accidental or intentional opening of the clasp. The lock is activated and deactivated using a mini-key (supplied on its own key ring).
The prototype clasps are designed to fit the Oyster and Jubilee bracelets supplied with Rolex Oyster Professional models from the last 10 years (there are countless different clasp systems used in watchmaking). "We decided to start with these models because they offer the most promising potential for our solution," says the entrepreneur. "In the long term, our objective is to equip a growing percentage of new professional Rolex watches, but also recent second-hand watches. In the near future we also hope to be able to offer our Watchlock® concept for other prestigious brands."
A challenge for the newcomer is to convince watch lovers to replace an original, labelled clasp with an Orkos clasp, named after the company founded by Sébastien Buonomo and his partners. The original clasp and the one equipped with the Watchlock® micro-lock are of similar quality and are fully interchangeable – the solution comes with a Bergeon SA tool and accessory kit to switch from one to the other.
Sébastien Buonomo, founder of Orkos
Bruno Herbet, Technical Director of Orkos
The entrepreneur had actually initially intended to license his patented technology to brands directly, which would have circumvented this challenge. But ongoing discussions within the industry were slowed by the onset of the pandemic. So he decided to start with an initial commercial solution for end customers.
The entrepreneur initially intended to license his patented technology to brands. Following the outbreak of the pandemic, he decided to start with a commercial solution for end customers.
Intended for luxury watches
By November 2021, the first series of 1,000 clasps featuring the micro-lock will be available via the Orkos website and a network of partners (pre-orders will be launched in September). Manufactured by luxury clasp specialists JMT Product/Boucledor, a supplier to numerous brands on the watchmaking circuit, these 100% Swiss-made clasps are machined from stainless steel and "finished to standards similar to that of the top of the range", for a unit price of 1,180 euros. This relatively high price point clearly targets the luxury segment: "It's a price close to that of the Oysterlock clasp of a professional Rolex Oyster," says Sébastien Buonomo.
In addition to 316L 1.4441 steel, the start-up also aims to produce clasps in black PVD steel, as well as gold/steel, yellow gold and rose gold.
"Most of the time, I wear my watch unlocked but I activate the device when I am doing sports or when I feel I am not in a secure environment," continues the entrepreneur. "When I'm doing water sports on holiday, for example, I no longer face the dilemma of wearing my watch and risking losing it, or leaving it in my hotel room."
A fix for a more fundamental problem
Above all, Sébastien Buonomo believes he is supplying a solution to the ever-increasing problem of security for luxury watch owners: "Although violent robberies are what make the headlines, snatch-and-grab thefts represent the majority of cases, according to police statistics. But even this phenomenon is under-reported, since the statistics only account for successful attempts, and not the many unsuccessful ones."
In the absence of assault, the legal risks for criminals remain low. But if you lock your watch, aren't you actually encouraging them to resort to violence? "This is a remark I often hear, but I am convinced the opposite is true," replies Sébastien Buonomo. "Criminals have a well-defined modus operandi: an expert pickpocket will not readily switch to armed robbery."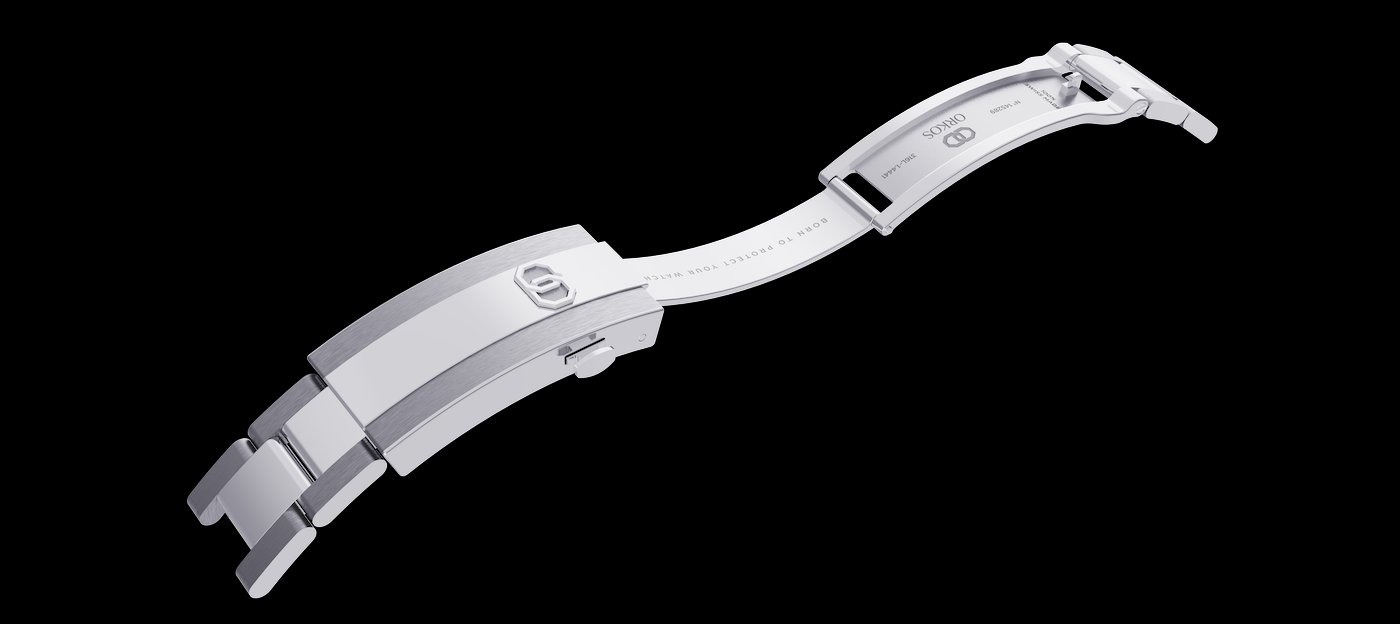 Instead, the entrepreneur sees a bigger risk to the desirability of watches from the increase in theft: "There are people who no longer wear or buy watches because of fear for their safety. This trend is only increasing. Today we live in a cashless society. Robberies have decreased because banks and stores simply don't handle cash anymore. Criminals are turning to other objects, including luxury watches. Some brands are now making headlines for the wrong reasons, with repeated thefts. With our solution, we want to combat loss and deter criminals from engaging in watch theft by trickery."
"There are people who no longer wear or buy luxury watches out of fear for their safety. Our solution aims to stop this problem."
This is certainly not a glamorous subject in an industry that primarily sells its prestige and image. But with the increasing number of opportunities for reselling watches without credible authentication, particularly online, the situation is unlikely to improve. Some watchmakers are beginning to supply their models with a digital ID, which could make it more difficult to fence watches. In the meantime, Orkos is proposing its own fix for a problem that will require in-depth reflection in the years to come.