F
rom October 27 to 30, 2022, the watches of more than 30 renowned brands will all come together at the Rheinterrasse for WatchTime Düsseldorf. In other words: In just under a month, visitors will once again be able to experience the fascination of mechanical watches up close - Germany's largest watch event will bring together passionate collectors, fans, influencers and industry personalities for the third time at WatchTime Düsseldorf.
In addition to the watchmaking highlights, WatchTime Düsseldorf also offers a diverse supporting program with exciting panel discussions and lectures all about the mechanical watch. The event is organized by Chronos, Uhren-Magazin and watchtime.net. In 2019, the exhibition brought more than 4,000 visitors to Düsseldorf, and in the Corona year 2021, more than 2,200.

A new partner is Quintessentially - pioneer and trailblazer of the lifestyle management concept. At Quintessentially Germany, members are connected to an international, like-minded community, have access to exclusive events and can enjoy luxury in the areas of design, fashion, travel and restaurants sustainably, with the highest quality and reliability. Quintessentially's German business partners will be on hand at the opening night of WatchTime Düsseldorf on October 27, 2022, offering a first taste of what's on offer.
In addition to well-known names, the exhibiting watch brands also include insider tips that have only recently been founded and inspire with individual technical or design solutions. These brands are on site (in alphabetical order):
Alexander Shorokhoff I Bauhaus I Bayerische Meisterschule I Belchengruppe I Botta Design I Bruno Söhnle I Carl Suchy & Söhne I Circula I Auktionshaus Dorotheum I Formex I Fortis I Franck Muller I Hacher Uhren I Hanhart I Iron Annie I Jean Marcel I Junghans I Kieser Design I Laco I Milus I Minase I Omega I Oris I Juwelier Pletzsch I Ressence I Rüschenbeck Vintage I Sherpa I Sinn I Staudt Chronometrie I TinoetTino I Titoni I Union Glashütte I Vandaag I Zenith I Zeppelin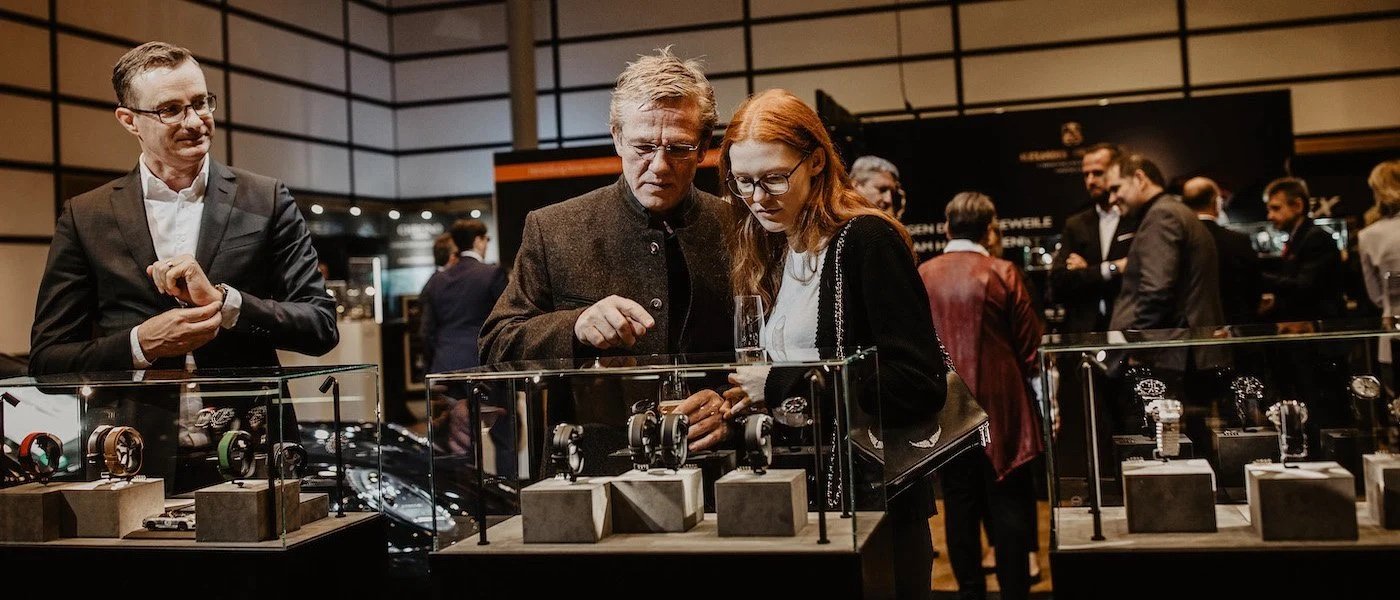 Special Features
This year WatchTime Düsseldorf is pleased to present two special areas: Discovery Area: an amalgamation of the exhibitors Botta Design, Carl Suchy & Söhne, Hacher Uhren, Kieser Design on one area. Here watch fans can discover a small selection of diverse and intrincate watch models.
Future Area: the Bayerische Meisterschule and Juwelier Rüschenbeck hereby set an example for the training and further education and the job market of existing and future watchmakers as well as the employees of the specialized trade. This contact point is particularly relevant for future watchmakers, apprentices and graduates.
Further Highlights
WatchTime Düsseldorf is much more than just an exhibition. Other exciting offerings include: Guided tours: Once a day, editor Alexander Krupp offers a tour of the exhibition. Here, each brand is presented with its history and the respective model highlights.
Conference: The lectures will be more extensive this year and will take place three times a day. Here, industry experts, brand managers, divers and social media professionals will have their say on topics such as watches as an investment, sustainability, advertising with celebrities, diving watches or watch communities. The full program can be viewed here.
Estimates: The Dorotheum auction house will offer its expertise - to have the value of the watch appraised - from October 28 to 30, 2022, for one hour at 11 a.m. and 3 p.m. each day. This requires pre-registration via the website for making an appointment and sending in details about the object.
Cigar Rolling: This year, visitors can explore, sample, and even sit down at a roller table to try their hand at rolling cigars themselves with the help of a torcedora in Villiger's cigar lounge throughout the event.
Other offerings include testing the accuracy and demagnetization of watches by the Bayerische Meisterschule and a 3D flight through an Oris movement.
Location: Rheinterrasse, Joseph-Beuys-Ufer 33, 40479 Düsseldorf
Opening Hours: Thursday, 27th of October, 8pm – 11pm (by invitation only) Friday, 28th of October, 10am – 6pm Saturday, 29th of October, 10am – 6pm Sunday, 30th of October, 11am – 6pm
Fee: 15 Euros per person per day Guided Tour: 29 Euros per person