T
he year 1953 marked the dawn of the modern dive watch genre, with three prominent brands leading the way. Blancpain introduced the Fifty Fathoms, while Rolex launched the Submariner – both models becoming icons of this category, setting enduring standards.
Meanwhile, Zodiac, with its roots in the Swiss Jura since 1882, debuted the Sea Wolf, which gained mass appeal due to its robust depth rating and unique take on an affordable tool watch. The next-generation Super Sea Wolf found favour with the US armed forces and Navy SEALs, particularly during the Vietnam and Korean Wars. However, despite its pioneering efforts, Zodiac was largely consigned to obscurity in the aftermath of the quartz crisis.
Zodiac Watches featured in 1960 in Europa Star
A vision of Zodiac collections from 1965
The Sea Wolf in Europa Star in 1971 (13, 14, 15, 16)
Fast forward to 2015 when there came a new turning point. The Sea Wolf's iconic 20th century status resurfaced within the collecting community, thanks to the breakout success of its limited-edition reissue. This rekindled market recognition for Zodiac, while subsequent releases in collaboration with partners such as Liberty of London, Hodinkee, Worn & Wound, and other retail outlets further solidified its position. Yet, as one delves into the brand's compelling history of movement manufacturing and product innovations on its website, the timeline inexplicably stops at 2018. What happened?
Michael Pearson, Zodiac's International Brand Director

"The recent direction of the brand, particularly from 2018 onwards, is still being written," says Michael Pearson, Zodiac's International Brand Director, who assumed the role 18 months ago. He explains, "The problem with these limited editions is that when they came out, there was fanfare and people loved them, but they didn't last very long. They were wonderful watches, with great colours, and they nodded to the past but there was nothing to fall back on." The brand simply hadn't established a noteworthy core collection to capture or nurture market interest.
The Super Sea Wolf 53 Compression Automatic Black Rubber Watch, priced at $1,295
Pearson contends that the Zodiac name carried notable meaning, especially to American culture, throughout the '50s to the '70s. He reflects, "The brand is very old. But for 141 years, through four different owner groups, including the first hundred years of Calame-family ownership in Le Locle and all the way through its prime years, it's never gone out of business. However, it might have been mishandled and left in a place where it became too small to really matter to the watch community."
The Zodiac Sea-Chron chronograph, priced at $2,495
This is where Pearson steps in to write a new chapter for this heritage brand. Zodiac was acquired by the Fossil Group, based in Texas, USA, in 2001. Its design base, Montres Antima SA in Biel-Bienne, and sister company Swiss Technology Production (STP), a mechanical movement manufacturer encompassing the production division Swiss Technology Components (STC), are all wholly-owned by the Fossil Group and now form the holy trinity behind Zodiac's resurgence. Pearson views this setup as the brand's winning ticket.
In production since 2008, the 28800vph Swiss made STP 1-11 is the entry-level STP movement. It has a 44-hour power reserve and has been used on all Zodiac models from Astrographic to Super Sea Wolf, including COSC-certified editions.

With this internal production capability for every element of watchmaking, Zodiac has achieved self-reliance in building its core collection. Pearson highlights that besides experimenting with colours and materials, "STP, for the last few years, has been getting better every single year. And a lot of people are still discovering what it means." Operating largely under the radar, STP functions similarly to ETA and Sellita – supplying mechanical movements to Fossil brands and selling to undisclosed third-party companies.
The Super Sea Wolf STP 1-11 Swiss Automatic Three-Hand Date Black Rubber Watch, priced at $1,695
The Zodiac Super Sea Wolf Skin
For Zodiac, this manufacturing arm serves as a vehicle to propel the brand forward. It offers flexibility to modify internal components, enabling the creation of ISO-certified dive watches and even the incorporation of proprietary modules for GMT watches. By the beginning of next year, all Zodiac models, except for the Sea-Chron diver chronograph launched this year with a Sellita SW500 calibre, will feature manufacture movements.
Super Sea Wolf LHD Pro-Diver GMT
Pearson knows full well the cachet mechanical credentials carry in the watch community, stating, "That's why we did the skeleton open-face watch, so people could see the STP mechanism inside." He adds, "We know it's not an F.P. Journe. We know that it's not going to change the ultra-complicated world of watches. But if we can look after ourselves with good three handers, we can move up to a GMT world timer, and then look to what the future could be. That's when we can really celebrate what the Calame family did back in the late 1800s and early 1900s because they were pioneers."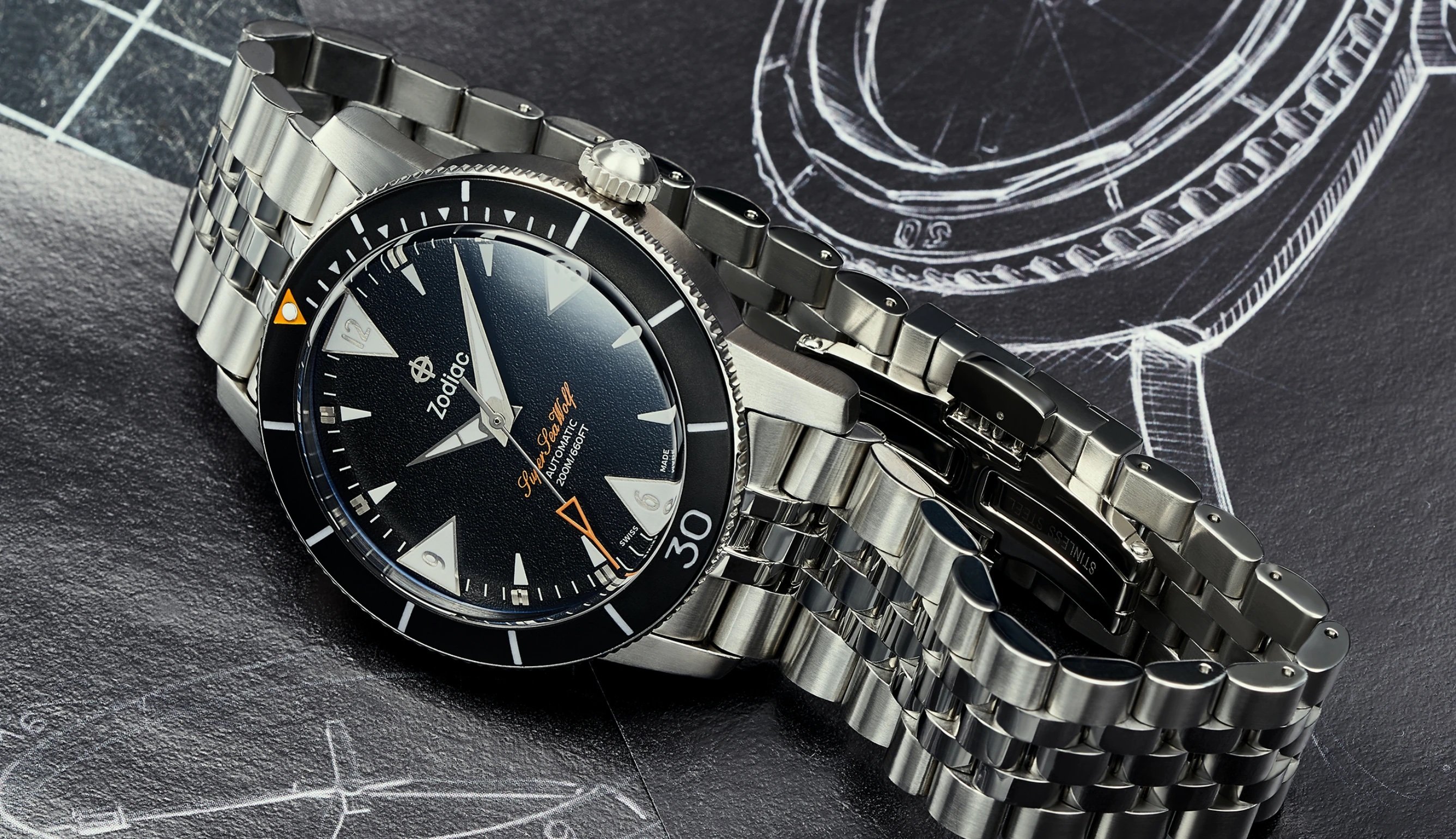 By combining its latest technical prowess with the revival of vintage cult classics from its archive, such as the Sea-Chron, Zodiac's product strategy is starting to solidify. Pearson aims to bring back "a clean and concise brand that can have different pillars, telling you where the brand has been, where it is now, and where it's going". The brand also remains committed to its affordable pricing, with the entire collection falling under $2,500 at the accessible spectrum. Considering the build quality and projected production volume of 15,000 this year, this may seem like a value proposition too good to be true.
Zodiac Super Sea Wolf Skeleton 6-15

Pearson, who previously spearheaded the Bremont USA business for seven years, now operates from the Fossil headquarters and understands that re-establishing Zodiac is a long-term endeavour. "If you saw the last couple of releases, they were done in small batches to get the attention of the world," he explains, acknowledging that the brand is sacrificing margins until the business stands on solid ground and becomes viable. Thus far, Zodiac is witnessing sell-through performance. If this trend continues, the brand can expand beyond the US and the UK to Asia, the Middle East, and mainland Europe within the next two years, eliciting a new level of excitement.

"I think that within five years, we could then start to look at being in boutiques, having bigger partnerships, and maybe having more of a voice than the community that we've had in the past 30 years," says Pearson. Filled with passion, he concludes, "I don't think that we have to look too grand or too great, but I would love for the Zodiac name, more than any other brand I've been associated with in this industry, to have the respect of the watch buying public. That would be absolutely amazing."