Case study: Kobold Watch Company
The Kobold Watch Company has recently gained a great deal of recognition because of their ad campaign featuring actor James Gandolfini staring at the camera, making an obscene gesture (a raised middle finger). The tag line for the ad reads "Even James Gandolfini thinks Kobold is #1."
"There is a need to stand out," admits Michael Kobold, Pre-sident. "If you are going to go and start advertising nationwide, you have to stand out. You can't have the same kind of ads like everyone else. You have to make a statement. We knew that some people would be offended and we counted on that. In all sincerity, a lot of people are conservative and easily offended, but we had to stand out. We decided to stand out like a sore thumb."

Watch trends and colour
The biggest trends in the US are an increased importance of diamonds in ladies watches, large sized watches for both men and women, a renewed emphasis on mechanical movements and a wide selection of colour.
Why colourı That's simple – people in the US love colours. Colours are exciting, they catch the eye and they can take a normal watch and turn it into something extraordinary.
"Colours are very important at Chopard because we are a very happy and playful brand, so our watches have always been linked to happy colours," says Stephanie Labielle, Chopard North America. "The colour in the case gives the right image of Chopard; it's all about being beautiful, colourful and happy. Colour is more popular than ever because watches are a real fashion accessory, so the more colourful they are the better. Your watch is a reflection of you, so you have to have several coloured watches - one for the morning, one for your lunch, one for your dinner and one for your cocktails."
One company that has grown incredibly quickly, hitching its image to colours and unique designs early on, is Michele Watches (now a member of the Fossil Group). "I think colour is very important," says Michele Barouh, Creative Director, MW by Michele. "Our customers are looking for something different. At our price point, buying a colourful watch is more justifiable. We are constantly trying to come up with new colours and new fabrics."
Corum, reinvigorated and reborn, has counted on cutting edge designs and eye-catching colours to make its own brand statement. "There is absolutely more colour in the market right now," says Corum's Orloff. "The launch of the classic, original Corum Bubble five years ago and the Trapeze really paved the way for colour to be at the acceptable luxury level instead of pure fashion. We are finding great success with colour. We are standing behind the fashion trend, but we are innovative with a feeling of luxury."
A very traditional company with long roots in high watchmaking, Zenith, has rejuvenated its women's line with interesting colours and flourishes. "There are women out there who want to be expressive, show their individuality, and because women and men own more than one watch, they often own a watch that will match an outfit," explains Paul Ziff, President, Zenith North America. "We see it as a trend in the industry – passion, haute couture and jewellery. The Star Open has taken the market by storm and the Baby Star has been very successful."

Unique designs
US retailers know how important it is to have unique and different product in their windows and cases – it helps set them apart from their competition and makes sure that they can sell the watches and realize the profit they need to stay in business. If a retailer is trying to sell something that other retailers are also selling, it very often comes down to price in the customer's mind, and the watch has just become a commodity, not a beautiful piece of craftsmanship.
"We all want to be able to make a profit and when jewellers are selling the same product in the same area, it becomes a commodity not a timepiece," John D'Amore, D'Amore Jewelers (Cliffside Park, New Jersey). "Our customer is the woman who doesn't want to walk around with the same watch everyone else has. In doing that, we are able to make money with the product. A watch that draws people into the store, even if they buy something else, is important."
Uniqueness is a key to success for many retailers. "It's really important to have watches that other retailers don't have, it means that the customer can't shop anywhere else," points out Randy Coffin, Vice President, CFO, Coffin & Trout Jewelers (Chandler, Arizona). "And we can make a profit on it without having to compete against other retailers on price alone. It takes it back to being able to romance the product and sell it for its uniqueness and beauty. It's important for watch companies to continue to come out with product like this, product that is unique."
Uniquely designed watches are important to bring people into the retail store. It doesn't matter that the customers don't buy the watch they came in to look at, at least they are in the store. Some of the more unique and different watches might take some time for the customer to understand them, so they might sit in the case for a while.
"Austin, Texas is one of the most conservative watch markets in the country, as far as I can tell - we are almost fashion backward," says Hank Korman, Vice President, Russell Korman Jewelers (Austin, Texas). "When there is something that I like, like some of the Corum watches, they sit here until they get discovered. As buyers, we like new inventive things, but selling them is the challenge. As buyers we like to bring in new things, but it's trying to guess what the consumer might buy.
"You have to have to have the unique watches, like Corum and Breitling, because they draw the buyers in,"Korman continues."If people come in and see the same old watches, and the majority of our customers are repeat customers, they get bored. They might not buy the unique watches, but they look at the other goods and buy something else. Also, if a customer sees and admires a watch for a long enough period of time, they might end up buying that watch. For these new watches, it takes time for people to get used to them, to really understand them, especially in Austin. For example, we are a Jaeger-LeCoultre dealer and Jaeger is really a watch that people aspire to, so it might take some time for people to decide to purchase the watch."

The Future
The future looks good for the US market. The past few years have been good and the hope is that the coming years will continue to see sales continue to increase. The good news is that the US is severely under-penetrated in fine watches, so there is a lot of room to grow.
Patek Philippe's Edelman sees great potential for growth in the American market. "In the US, the sensitivity and awareness of fine watches is still in its infancy," he says. "More people than ever before are aware of fine watches and Patek Philippe, but there are so many people who don't have that awareness. If we can educate them, both as a company and as an industry, there is great growth potential."
"I think there is a great deal of potential for growth in the US," says Girard-Perregaux's Jackson. "So much of our consumer life is driven around technology and products that have a very short value that the watch remains something that has a consistent value. The segment will grow because more people are starting to appreciate watches as a product that not only delivers now, but can be a family heirloom. It's also a very subtle way to communicate the character of the individual."
"I think we will continue to grow strongly," says LVMH's Lalonde. "We will increase our existing share within the current watch market and we will work hard on bringing new consumers to the luxury watch category. Most people do not have a luxury watch, the question is why and what can we do to reach out to those people who pay attention to the car they use, the suit they wear, their shoes, we want them to pay the same attention to their watch. As an industry, we have a challenge to bring consumers to the watch category. There are only about a million luxury watches sold every year and that's not a lot in this huge market."
Tourneau is counting on a bright future as the company continues to expand. "I think the watch industry is very strong - the category has grown tremendously in the last five years and it is still underdeveloped," says Tourneau's Block. "Our marketing strategy is cradle to grave. We want to sell you your first watch, your last watch and every watch in between. We want to make it easy too, if that means a huge selection, trade-ins, incentives, trained salespeople."

Everyone Europa Star talked to about the future of the US market was cautiously optimistic. Given the market's huge potential, and the commitment of the watch brands to reach new markets, 2005 and beyond should be very good indeed.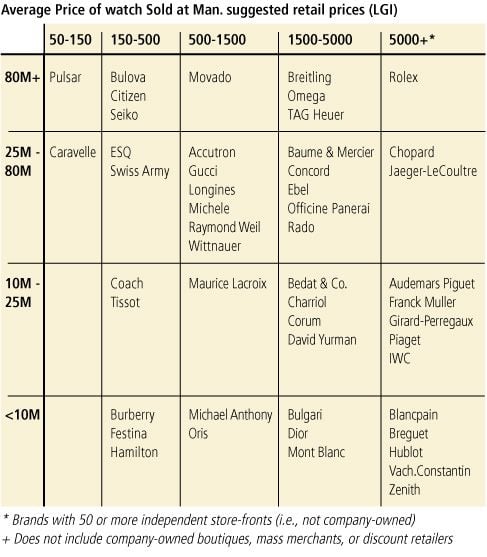 TO BE CONTINUED...
In the forthcoming days, the rest of this lenghty survey will be added to our europastar website.

1. The state of the U.S economy, Distribution

2. American brands, The top brands in the U.S., The watch groups in America

3. Watch wardrobing, High-tech, The Internet, Counterfeiting and the grey market
Involving the customer

4. Case study: TAG Heuer

5. The bridal market

6. Case study: Kobold Watch Company, Watch trends and colour, Unique designs, The Future


Click here to subscribe to Europa Star Magazine.