Case study: TAG Heuer
Many brands do extensive research to determine just who their target market is and go to great lengths to make sure they are communicating the right message.
TAG Heuer is coming at it from a different perspective. The new emphasis for TAG is involving their customers in the experience of the brand. Rather than the interaction between the brand and the customer beginning and ending at the sale, TAG Heuer wants to use the sale as the opportunity to develop a long standing relationship with each and every customer. The company calls this approach Customer Relationship Management (CRM). "We have been able to identify each consumer who purchased a TAG Heuer watch," Lalonde explains. "We are placing an important part of the relationship with the consumer post purchase. The goal is to make the consumers live the TAG Heuer experience after they have purchased the watch. We want to inform them, communicate with them and provide them with offers that are unique to TAG Heuer.
"The first offer is simple – after they buy a watch, within three months they get a welcome letter from Jack Heuer and a TAG Heuer branded baseball cap,"Lalonde continues."It's a token of appreciation for our customer. That's the kick off; after that, they will get sneak previews of novelties before the rest of the world and there will be privileges they get by being a TAG Heuer customer. We want to make sure they stay an active participant in the TAG Heuer experience."
This increased concentration on the customer, and on training the salespeople on the retail floor, another area where TAG is a clear leader, started in the US and is moving internationally because of the phenomenal success that TAG Heuer has experienced.

New brands – tough market
The USA is a very tough market to break into, mainly because of how large it is and how difficult it is to get people's attention. Some brands come in and establish their names by spending huge amounts of money, but that is the exception rather than the rule. Most brands try to do it in original and distinctive ways, ways that help save money and also garner more attention.
Louis Erard Watches, distributed by Wolf Designs, is being introduced in 2005 to the US market for the first time. Wolf Designs plan is to sell Louis Erard watches to their existing watch box and watch winder distribution network, offering retailers an attractive alternative to what they are currently carrying, counting on their loyal retailers to spread the word and push the watches.
"Our belief was that if we could offer an automatic watch to retail from US$ 750 - $2000, the core of the quartz watch market, with a triple key mark up, we could be successful," explains Paul Hill, Director Of Business Development, Wolf Designs. "The response has been absolutely fantastic. We are not going in as an unproven brand, we are going in with a very positive perception of Wolf Designs. The retailers have been very receptive and they know they make a lot of money with us."
The good thing about the American market is that consumers are both loyal to existing products and companies that have served them well and open to new products that are unique, innovative and presented in such a way that gains their attention. What it comes down to, really, is advertising and marketing.
Watch brands can make a splash with an eye-catching print campaign, which is really the key. There is so much advertising out there that the American consumer is numbed by it all. Most watch advertising uses the product first and foremost, but if the reader is not already a watch lover, they simply turn the page.
Some brands do advertise on TV (Seiko and Citizen, as well as a few others), but the majority of brands concentrate on print. Some do the glossy, mass market magazines (like GQ, Vanity Fair, Town & Country, etc.), while also mixing in advertisements in watch publications (like InSync, WatchTime, Watch Aficionado and International Wristwatch) and other non-mainstream publications, as well as local and regional magazines and newspapers.
The American mass market publications don't do a very good job covering watches, editorially. They don't make an effort to educate, they just show pretty pictures of watches and list the prices. What is espec-ially galling is when a watch retailing for US $50 is in the same layout as a watch priced at US $11,500, and there is no information to educate the reader on why one watch costs more than another. This lack of awareness on the part of the big mass market magazines may be part of the reason watch brands are looking for other ways to get the message out.
"We are still growing and every day we are trying to put our name on the map, so advertising and marketing is still a challenge," says Corum USA's Orloff. "With these big magazines, I am priced out of the market. I've had to look at different opportunities in local markets, regional markets and smaller books, because I am able to focus and tailor it to my product. For example, I am trying a yachting magazine, an auto magazine and some other specialty magazines. I put a one of a kind 18 carat piece in an ad in Elite Traveler, and I got calls from that ad from NBA players and now professional athletes has become a huge market for us."
Making an impact is what it's all about and the logic of putting your watch in a magazine mixed in with dozens of other watches is being questioned by many brands.
"Advertising is very difficult, it's hard to make an impact," admits Swatch Group US's Gamard. "If you look at the big magazines, they have 700 pages of advertising and everyone wants to be in those pages. We are gearing ourselves more towards billboards, shop in shops and we spend a lot of money on merchandising, because that is what we feel needs to happen."
The involvement of celebrities, as buyers and wearers and endorsers of the brand, is a huge factor for American consumers. TAG Heuer has been doing it for years with Ambassadors, and many other companies hitch their products and their brand image to a celebrity.
One successful example is Ritmo Mundo, founded and run by Ali Soltani, who is a principle in the very successful Beverly Hills jeweller David Orgell. "I managed to make Ritmo Mundo successful with a lot of hard work," he explains. "You constantly assume that no one knows you, so you have to continually get your name out to clientele – through advertising and editorial. You have to have allegiances with established, very well known stores, movies (like our appearance in 'Oceans Twelve'), celebrities, so you get known through association with others. A lot of people try the same thing but don't have the connections, which luckily I have."
Movie product placement is another area where America is leading the world. Hamilton Watches has been very successful placing product in movies ("Men in Black I and II," "Pearl Harbor," and many more) and other brands are working hard in that arena, knowing that putting a watch in a movie can garner worldwide exposure and attention. When the 'Men In Black' movies were released, American consumers were actually walking into watch retailers asking for the 'Men In Black' watch – they didn't even know the name of it, but they knew they wanted to buy it.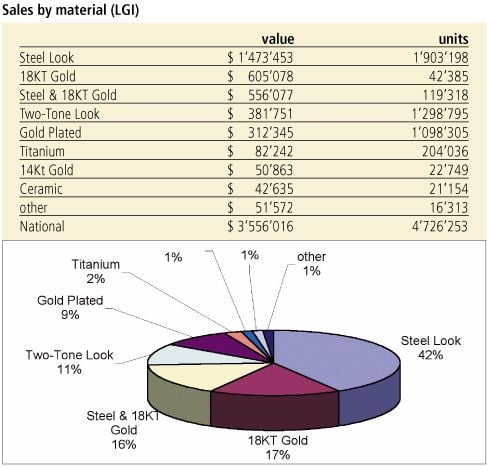 TO BE CONTINUED...
In the forthcoming days, the rest of this lenghty survey will be added to our europastar website.

1. The state of the U.S economy, Distribution

2. American brands, The top brands in the U.S., The watch groups in America

3. Watch wardrobing, High-tech, The Internet, Counterfeiting and the grey market
Involving the customer


4. Case study: TAG Heuer

5. The bridal market

6. Case study: Kobold Watch Company, Watch trends and colour, Unique designs, The Future


Click here to subscribe to Europa Star Magazine.