Seiko's image and positioning in Japan is not the same as its image and positioning around the world. Founded in 1877, a pioneer of modern watchmaking and the mechanical watch in Japan, Seiko is still owned by Hattori the founding family. As a result, the company is, in a way, part of the nation's patrimony.







Seiko's positioning in Japan is therefore understandably much different, and much higher, than on an international level. Those who know Seiko only by its products sold around the world will be surprised to discover superb mechanical skeleton watches, for example, or to learn that what Seiko manufactures in its own country is quite different than what it sells on foreign markets.

Seiko's repositioning
The largest watchmaking enterprise in the Nippon archipelago, Seiko plays a key role in the sector, a role that is even more important since the brand has, for many years, distributed Swiss brands such as Longines in Japan.
Seiko's positioning in the haut de gamme on its own terrain is explained also by the attraction that Japanese have for "expensive" watches. "The Japanese watch market has always been open to Swiss timepieces," explains Mashiko Shoyama, General Manager of Seiko's Marketing Division, "and the consumer appreciates the notion of historical legitimacy." This appreciation explains the fact that in Japan, Seiko is above all perceived as a venerable historic brand, capable of creating and manufacturing exceptional timepieces.
"Our Credor line, for example," affirm managers of the brand, "includes certain platinum models whose prices are in the neighbourhood of US $130,000. This same Credor collection offers very sophisticated mechanical models, ranging from three hands to retrograde movements, without forgetting its complex chronographs or power reserve indicators."
If, on an international scale, the pyramid of Seiko products ranges from US $50 to about US $1,000, its own domestic market is much wider (in somewhat the same manner as the Swatch Group) whose entry level prices also start at US $50 with its Wired and Alba brands. Various brands of Seiko such as Propspex, Brightz, IU, Lukia, Dolce and Exceline have price tags that range up to US $2,000. Above that, we find the Grand Seiko collection, intended for consumers between the ages of 30 and 50 years. These watches have a classic design and sell for an average price of US $6,500. Timekeepers from this collection are also (deliberately) hard to acquire and are largely made in a traditional artisanal manner.
The history of the Grand Seiko collection dates back to the 1960s, a time when Seiko made impressively large quantities of mechanical watches and regularly won Swiss chronometric competitions. The stated goal of the brand was to beat the Swiss on their home turf for precision by creating the best watches in the history of Japanese timekeeping.

The quartz revolution
The quartz revolution had the same impact in Japan as it did in Switzerland and Seiko's mechanical production came to a grinding halt about 1975. It was only in 1993 that the new generation of mechanical movements of the Grand Seiko collection saw the light of day. In the beginning, they were equipped with revisited versions of the original calibres. These were followed by a brand new calibre, the famous 9S55, which was assembled and controlled in small traditional ateliers, then finished with great care.
Although strongly implanted in less expensive market segments, and even the 'fashion' sector with the popular Lukia line, Seiko has entered into direct and difficult competition with prestige Swiss and other European brands by presenting its new Grand Seiko collection. (It must be said that these foreign brands account for about 60% of the value of watch sales in Japan, and their market share is continuing to grow.)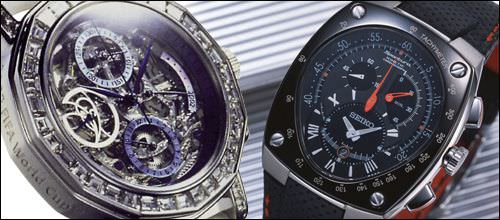 CREDOR FIFA WORLD CUP SKELETON
Limited Edition of one piece with a chronograph movemnet and a power reserve indicator.

SPORTURA: ALL-STAR CHRONOGRAPH


Distribution strategies
Between Seiko and the European companies, the distribution strategies differ considerably. While the Swiss are trying to gradually eliminate 'discounters' (these stores often offer presentations that are comparable to more traditional retailers) from their distribution channels, the management of Seiko admits that the brand's "largest client in Japan is the discounter Yodobashi Camera," which generally offers discounts of 20% for Swiss brands, including Rolex.
At the same time, there is another distribution channel that is typically Japanese, the gaishos. These salespeople visit the client directly in hopes of selling many prestigious brands. For Seiko, however, this practice is becoming less important. "The gaishos are tied to department stores, and now, these stores are becoming more internationalized," explains Shoyama, "At the same time, they are taking the place of the traditional jewellers/watch retailers, who are slowly disappearing from the heart of the large cities. Besides these department stores, the traditional retailers are also losing ground to certain boutiques, or more precisely, the discounters, whose clients are generally men."
It seems therefore, that in its own country, Seiko is confronted both by a growing vogue for Swiss haut de gamme watches and by a major transformation in the structure of traditional sales. The decline in market share of Japanese watches in their own market seems to confirm this observation. We can then reasonably expect to see Seiko conduct a stronger offensive on an internat-ional level, such as, for example, the new products offered at BaselWorld each year seem to indicate.


TO BE CONTINUED...
In the forthcoming days, the rest of this lenghty survey will be added to our europastar website.

1. The Japanese watch market in convalescence
2. In Japan, Seiko is also positioned in the haut de gamme
3. Citizen – Classic Outside, Hi-Tech Inside
4. The IWC image challenge
5. Girard-Perregaux: the cultural strategy of an independen
6. The exemplary establishment of Hermes in Japan
7. F-P Journe: Listening to intuition!