"The total UK market for watches is estimated at 18.4 million units in 2003, with an estimated retail value of £710 million (men's, 50.5%; ladies', 37.5%; children's, 12%). With value growth at 22% (10% in real terms) during the period 1998–2003, average prices have also continued to increase."






George Pragnell shop-front
in Stratford-upon-Avon – then and now.


The above statement comes from the leading UK market research company Mintel. But it must be placed in an interesting context. Confusing though it may be for some readers (and advertisers!), Mintel defines a luxury watch as one that retails for only £500 or more. It has estimated that in 2003 the UK luxury watch market (as defined) was worth £395 million, with about 550,000 units sold. These figures represent a growth in value of 30% in current terms on 1998, or just 17% after allowing for inflation.
Mintel finds that the UK market for luxury watches is basically composed of domestic (as opposed to foreign visitor) buyers, and that domestic demand should continue to increase gradually, if the economy performs as it is doing at present.
Ownership of watches in the UK in the 45–55-year-old age group is estimated at 81%, while the ownership figure for the 20–25-year-old age group stands at about 61%. The latter statistic is perhaps due to the increasing use of mobile telephones for timekeeping. It is known that more men than women buy wristwatches; on the other hand, self-purchase among women is seen to be increasing. Necessary replacement of a watch is second only to a gift purchase. It follows that the weeks before Christmas, as in many countries, is the key period in the year for the trade and, according to Mintel, can account for 40–45% of annual turnover. Stockholding problems are of course an annual occurrence, and sound financing has therefore to be in place. At 27th March 2003, the MW Group Ltd (Mappin & Webb and Watches of Switzerland) held stock to the hefty value of £36 million.
Jenni Middleton is the widely respected editor of Retail Jeweller, the UK's only monthly magazine for the watch and jewellery trades. Every month she runs an imaginative feature called Barometer. The watch section is compiled from a telephone survey of about 200 independent retailers, from a cross-section of the industry's sectors. In this section, covering trading during four weeks ending 30th June 2004, it established the following results among best-sellers in these three categories, in order of sales: (1) under £150 retail price: Rotary, Citizen, Pulsar, Avia, Sekonda; (2) £151–500: Rotary, Citizen, Raymond Weil, Seiko, D&G; (3) over £500: Raymond Weil, Longines, Rolex, Omega, Cartier.
The Retail Jeweller also organizes the high-profile annual UK Jewellery Awards. In July 2004, Cartier was elected Luxury Watch Brand of the Year, Selfridges' David Morris concession (which offers nearly 50 wristwatch brands in fine ground-floor premises) won the Departmental Store Retailer of the Year Award, the Watch Brand of the Year went to Citizen UK, while the Multiple Retailer of the Year was Beaverbrooks.
The twin drivers of growth in the UK watch market are now acceptance of higher retail prices and attractive designs, whether innovative or not. This is where the effective promotion of brand power enters the horological picture.
The average retail price of a wristwatch purchased in the UK, though gradually increasing, is still under £40. Some 25,000 adults were interviewed last year by Mintel about their price purchase habits. The survey revealed the following – retail price under £25: 39% of the interviewees; £25 - 49: 23.2%; £50 - 99: 20.5%; £100 - 199: 9.2%; over £200: 8.1%.
The following were the key factors governing these purchases: (1) "my price range"; (2) everyday use; (3) water-resistance; (4) quartz movement, including battery; (5) traditional 12-hour dial; (6) well-known brand name; (7) day-date display; (8) fashionable design.
These statistics will have been noted by the Asda supermarket chain (now owned by the all-conquering Walmart outfit, the world's biggest). In August 2004 Asda launched its Time Centres, catering for the low end of the market, though only in some 50 stores. Fila, Timex and Umbro brands are there, along with Time Centre's own brand Solo 1.
A unique measure of reassurance is provided to customers in the UK who are considering the purchase of platinum, gold or silver wristwatches. The testing and marking of watches and jewellery, in order to guarantee the precious metal content of an article, has been carried out by the Goldsmiths' Company, a City Livery company since the year 1300 – an astonishing fact. The process is known today as hallmarking, which originally meant 'marked at Goldsmiths' Hall'. It is arguably one of the oldest forms of consumer protection anywhere in the world. Today there are Assay Offices in London, Birmingham, Sheffield and Edinburgh. The London Assay Office alone has over 6,800 registered customers, and receives about 69,000 packets, containing over six million articles, for verification and marking each year. On average, 0.31% of these are rejected.
The continuing quest for guarantees of quality in the UK watch trade is well portrayed by the 29-year-old Houlden Group. Based in Glasgow, inspired by Stuart Laing, this buying group is able to obtain extra discounts from manufacturers for its 30 or so members throughout the UK and Northern Ireland, who together own 66 points of sale. Their window banners read 'Jewellers of Excellence', and those members politely maintain each other's standards. Prominent among them are Laing the Jeweller in Scotland, Parkhouse & Wyatt in Southampton and Wales, J.H. Lunn in Northern Ireland, Weir & Sons in Eire, and the family-run business George Pragnell in Shakespeare's birthplace, Stratford-upon-Avon.
One of the newest 'hot' areas in the UK is located in the historic (recently refurbished) Royal Exchange, in London's financial quarter, the City, the land of suits and straight skirts – and massive personal earnings. Retailers now installed there include Boodle & Dunthorne, Hermès, Montblanc, Theo Fennell, Tiffany and Watches of Switzerland.
Absent from this Focus report is any comment on the role of sponsorship by brands in the UK. This important subject area was portrayed in Europa Star in the August–September 2004 issue.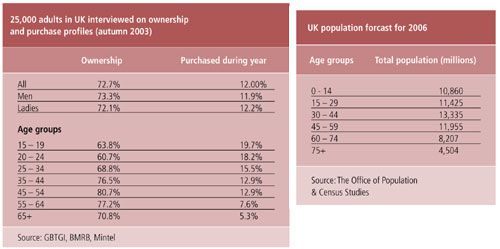 TO BE CONTINUED...
In the forthcoming days, the rest of this lenghty survey will be added to our europastar website.

1. A bullish market, but challenges remain!
2. The market place
3. Retail Trade
4. Distribution
5. International luxury goods groups



Click here to subscribe to Europa Star Magazine.