I must admit that the news broadcast in June 2004 was a bit of a shock to me. Jean-Claude Biver was taking over the reins of Hublot!! But why was I, along with so many others, so surprisedı Hublot is the creation of one person, Carlo Crocco. This quiet, somewhat introverted man is the exact opposite of the exuberant and very extroverted Jean-Claude Biver.
Carlo Crocco constructed his brand, step by step, with little or no fanfare, in a very 'gentlemanly' manner. He never deviated from the path leading to his original goal, which he arrived at with modesty, class and grand style. Crocco succeeded well in his bold and daring initiative, which was basically to combine prestige watchmaking with rubber.
With his mono-product brand, based on various versions of a unique, well designed, and immediately recognizable case, Crocco has carved out a special niche. You either like Hublot's classic contemporary design or not, but you cannot deny its existence, its identity or its individuality in the panorama of fine timekeepers.
Among those who like it, and even love it, is Juan Carlos, King of Spain, who never seems to be without his Hublot. Juan Carlos' appreciation for the brand has helped contribute, along with a remarkable agent, Marzio Vila, in making Hublot the flagship watch of the new Spain. (It is said that, in Spain, Hublot is ahead of Rolex, and that is saying a lot!)
While the company does not enjoy the same strong presence in other markets that it does in Spain, it nevertheless has about 500 sales points around the world. Its principal markets are, after Spain, the United States (a subsidiary), Japan (a subsidiary for two years), the Middle East (managed directly by the parent company) and Europe. Undoubtedly as a matter of choice, Hublot has maintained a rather discreet profile, contrary to the more boisterous brands and their flamboyant marketing plans.
Faithful to his nature, Carlo Crocco was content with this situation and the brand's modest yet steady annual growth. (Today, it makes between 15,000 and 16,000 watches per year.) One of the main reasons for this relative discret-ion is the personal involvement of Carlo Crocco in a series of charitable activities. His engagement is real, profound and very intimate. For example, Crocco goes to India several times a year to visit various orphanages and schools that he has created. Also, each year during the Basel fair, he presents the 'Prix Hublot' to a person or organization that has made a significant difference in helping underprivileged children. However, fearing that he might be accused of "being a humanitarian" only as a means of better promoting his brand, he paradoxically awards this prize with the utmost discretion, inviting only his friends and a few rare journalists.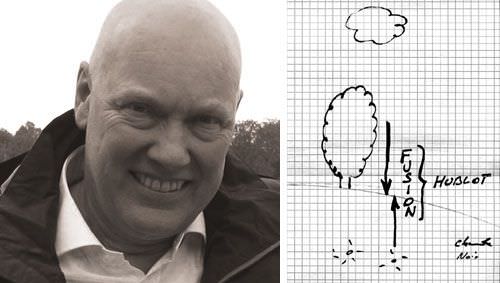 An entrepreneur and a visionary
Enter Jean-Claude Biver to the Hublot scene. Greatly esteemed in the watch milieu, Biver is the perfect example of a successful entrepreneur who is not afraid to speak his mind, and does not hesitate to "dive right into the work." His accomplishments are many, beginning with what has become a true "case study" that is taught in marketing classes around the world: the Blancpain example. The first to have foreseen the return of the mechanical watch, Biver bought the forgotten company at the end of 1982. (Blancpain was founded in 1735.) He endowed it with the slogan "Since 1735 there has never been a Blancpain quartz watch and there never will be," and along with his "six masterpieces of the watchmaker's art" positioned the brand as the ultimate reference in haute horlogerie. The success was phenomenal. But, always in search of new adventures, Biver sold the brand to the Swatch Group in 1992, doubling his fortune in the process, and, at the request of Nicolas Hayek, took charge of Omega, with the planetary success we have witnessed. However, as Biver likes to say, he does not have the "soul of a soldier" and thus dreams of other challenges. By 2004, he was already dreaming of creating a third success. He decided to leave the Swatch Group and the comfortable position with the group's general management, all "in the good graces of Hayek who, as a grand promoter of the enterprising spirit, knows that an entrepreneur needs to be free," Biver explains. He then made an appointment with Carlo Crocco.
"I felt the exceptional potential of Hublot," says Jean-Claude Biver. "It is a mono-product brand, but transformable, adaptable and the original concept has not taken on a single wrinkle since its creation." He wanted to buy Hublot, but Crocco did not want to sell. On the other hand, Carlo Crocco was attracted to Biver's proposition and the two men reached an understanding. Crocco would remain the owner and president of the board of directors, but would retire from the operational management. Biver would take the reins of the company in both hands and become CEO. What would this association, a priori 'against nature,' bring to the table for Hublotı

Warning to the competition
"We are going to make Hublot take a serious look at itself," immediately declares Jean-Claude Biver. Reiterating his deep respect for the work of Carlo Crocco, for "his tenacity, his continuity, his stability, and his insistence on quality that have been the keys to Hublot's success," the new CEO nonetheless affirms that, faced with the challenges of the current world, "the brand needs to rethink its strategies. It needs to show itself, to affirm its identity. It needs to be competitive. It's actually quite simple," says Biver with a smile: "Up to the present time, the competition has loved us. Now, they are going to begin to love us a little less…"
This challenge is obviously stimulating to Biver since, as he says himself, "it is profoundly different from everything I have done up to now. If I repeated myself, I would run the risk of doing less well. Now, Hublot, is another story…" When he joined at the beginning of June 2004, Jean-Claude Biver did not arrive with all the solutions in his pocket, quite the contrary. First of all, he wanted to learn, listen, look, and understand. This first round of observation took him everywhere that Hublot is present. Then, September, he gave his verdict.
"Contrary to what you might think, I am a man of action, but before that, I am a man of concepts. I need to have a very clear direction that will determine everything that I am going to undertake. With Blancpain, the concept was clear and about a single word: Benchmark. To become the benchmark of the art of watchmaking involves a whole series of commandments: no quartz, only timeless round watches, mastering production. This concept is the message of the brand, a message later incarnated by all the components of this brand. So, what is the key word, the directional concept for Hublotı The answer is Fusion."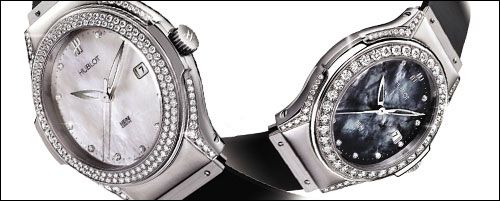 Hublot "1910" – Black & White Mother Of Pearl


Fusion is the new religion
Tracing out a simple drawing, Jean-Claude Biver passionately explains his vision of "fusion," the new directional principle of the brand. "Hublot, what is itı" asks the new CEO. "Hublot is the fusion of the earth and the sky, in this case, of rubber that comes from the trees and of gold that comes from the bowels of the earth. This meeting of the sap from the tree and the gold from the mine is Fusion. It is Hublot, and it is its unique reason for being. From now on, this Fusion is our directive, and must be interpreted in all domains: in materials – it doesn't matter which ones as long as there is a fusion of two elements – and in movements, where the same principle applies, offering a fusion of tradition and savoir-faire inherited from the past with the future, the infinite. Think for a minute what this means. We will never make only traditional, and we will never make only futuristic. We will fuse them both together. Our ambition is to become the reference for fusion in watchmaking. It is our religion. We want to develop this concept of fusion. We want to promote fusion and demonstrate the richness that it conveys. I want to become the Pope of Fusion," he declares ardently.
Nice words, we answer, but he interrupts immediately. "The goal of Hublot is to do, not to say, but it is necessary to begin by saying!"
How much time does he think that it will take to get the message outı "I give myself eight years, with a little luck, or 15 with a little less luck, to become a benchmark and succeed in getting this message into our products, into our distribution networks, and into the public consciousness. But our goal and our determination are strengthened because we know now the role that we have to play in the timekeeping arena. We don't exist to simply make watches. We exist for interpreting the concept of fusion in watches."
This vast project has already begun, with the first stage being the product. "The product incarnates the message," explains Biver. "It must be totally identified with the concept of fusion. But we do not want to do things in a hurry. At Basel 2005, we will present several reworked models. The Big Bang is for later. Then, we need to convince our distribution network that our message is valid, saleable, and that they will do good business with it. We must also convince our suppliers; we must communicate and indoctrinate our religion both upstream and downstream."
The initial prototypes are promising. They represent for now only cosmetic "retouches" as Biver himself says. Yet, these retouches are opening the door for great possibilities. Jean-Claude Biver's intuition seems to be confirmed. The superb design of Hublot lends itself with grace and flexibility to transformation and to adaptation. "The great thing about Hublot," he concludes, "is that Carlo Crocco has preserved the image of the brand totally intact. The ground, so well maintained, is ready to be seeded again."
Rendezvous at the next harvest, to see what fruits the Biver-Hublot fusion will produce.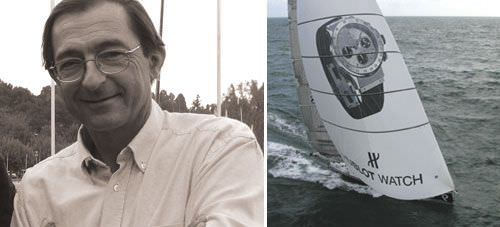 Hublot sponsors Dominique Wavre

The opening exercise of applied "fusion" is the boat. For the first time in its history, Hublot is sponsoring someone. In this case, it is the Swiss yachtsman, Dominique Wavre, known for his daring exploits, who will attack the Mount Everest of the sea - the legendary Vendée Globe. This ocean race around the world must be done alone, with no stops and no assistance, and includes sailing around the South Pole, between the rough fortieths and the hurling fiftieths.
In this case, "the fusion is the boat, a fusion between the sea and the wind, but also between the mariner and his boat. Beyond that, our name itself, 'Hublot' does not have a direct relationship with the boats," explains Biver. "In addition, we are benefiting from this project in that another fusion is being created, one between extreme sports and medicine. During his voyage, Dominique Wavre will carry a small electronic instrument around his chest that will directly transmit his physiological data to a scientific and medical research project coordinated by Dr. Ferdinando Battistella, working at the Legnano Hospital and Director of the Biotechnology Centre near Milan. Funded by Hublot, the goal of this project is to test the effects of stress on an organism subjected to extreme conditions. You see, the association of Hublot and Wavre is a good one for a number of reasons."
To test the effects of stress on an organism subjected to extreme conditions… Isn't this metaphorically what Biver is undertaking with Hublotı



Click here to subscribe to Europa Star Magazine.