The relaunch of Louis Erard is due to the efforts of Alain Spinedi and his success in convincing a group of investors of the great potential offered by quality mechanical timekeeping in the Swiss tradition but marketed with a very aggressive pricing structure.
Spinedi's conviction in this regard was undoubtedly forged during his ten years in the continued development of Tissot, followed by the seven years he successfully managed the international division of Sector from its world headquarters in Neuchâtel. He was also world sales director at Swatch, which convinced him that there were ample opportunities to develop the mid-range sector left vacant by many Swiss brands.

A living heritage
The history and heritage of Louis Erard live on and lend themselves perfectly well to meeting the new and increasing demand by well-informed consumers who want mechanical watches at an affordable price. Louis Erard created his company in 1929, produced his first watches under this brand name in 1931, and founded a 'dynasty' that would continue his watch activities until 1992, at which time it changed hands for the first time.
As an assembler and finisher for third parties, the Louis Erard brand developed a 'classic' style of quality watchmaking, which would become established notably in the markets of the Middle East and the Far East. The great upheavals in the Swiss industry that would see the entire fabric of the industry torn and recomposed, would affect the Louis Erard brand as it would many others.
With the brand's reputation for quality, its rich past built on a solid foundation, as well as its living heritage, Alain Spinedi and the group of investors realized the opportunity for a re-launch and acquired the brand in 2003.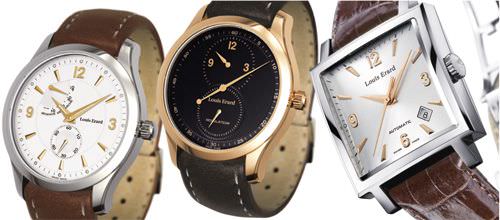 RÉSERVE DE MARCHE equipped with a modified Peseux 7001 hand-winding movement.
1931 RÉGULATEUR equipped with automatic Peseux 7001 movement.
LA CARRÉE equipped with an automatic ETA 2824-2 movement.


Reorganization
The year 2004 saw the beginning of the reorganization of the brand, leading to a revival built on 'four major axes', which are, according to the new managers of Louis Erard, 'the quality of its products, their timeless and classic appeal, an aggressive pricing policy, and excellent service.' The approach seems to have worked and is meeting a real demand since, over the past year, not less than 23 countries and 400 retailers have opened or extended relationships with the brand.
A few key markets in Europe, primarily Switzerland and Italy, as well as Asia have assured the first phase of the brand's development. 2005 will see the continuation and strengthening of this ambitious policy, with targeted countries being China, Taiwan, Malaysia, Hong Kong, followed by the spring opening in the important United States market.
The distribution of Louis Erard in the USA has been entrusted to Wolf Designs, based in Malibu, California. An important manufacturer and distributor of luxury leather cases for the jewellery and watch sectors, as well as rotating winder cases, Wolf Designs is a family enterprise founded 170 years ago in Germany and established in the United States since 1988. Enjoying good relationships with a vast network of upscale retailers, Wolf Designs, in its analysis of the market, agrees with Alain Spinedi and his team, "A gap in the market exists for a high quality, Swiss automatic for men, with classic, elegant styling at affordable prices," declares Simon P. Wolf, Vice President of the distributor. "The watch business is very tough for retailers; margins are eroding and the inventory ties up huge amounts of capital. Our solution to this is our triple-key pricing, with a brand that is relatively low buy in level." By the end of 2005, the global network of Louis Erard should reach about 800 sales points.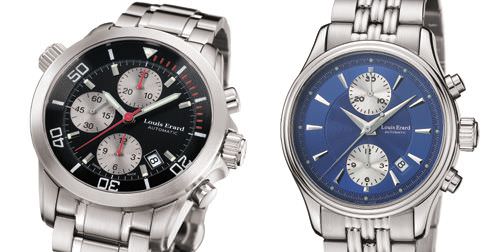 THE HERITAGE equipped with an automatic ETA 7750 chronograph movement.
THE MOVE equipped with an automatic ETA 7750 chronograph movement.


Five families
The collection that Louis Erard is using to attract this 'new' clientele to mechanical watchmaking is divided into five principal families. The common denominator, beyond the high quality, is a certain classicism, devoid of nostalgia. Very much in line with the art of timekeeping, these pieces are pleasant to look at as well as to feel and to wear, without being extravagant. For the moment, the collection is essentially masculine, but should include ladies' timepieces in the near future.
The flagship line is the 1931 collection. Available in steel or in rose gold PVD, with a very classic design, the 1931 is intended for those who are already initiated into the realm of fine mechanical timekeeping. Certain models include small useful complications such as the beautiful 1931 Réserve de Marche equipped with a Louis Erard modified Peseux 7001 movement, or the very classic and inspired Régulateur Réserve de Marche watch.
The Heritage family, with its two-toned guilloché dials, its faceted appliqué hour markers, and the harmony of its form reminds us of watch-
making in its purest tradition. The Heritage Chronograph, equipped with an ETA 7750 automatic movement, is a perfect example.
The Move family of watches, on the other hand, with its sportier look, even though tempered by the dominant classicism of the brand's overall appearance, appeals to a younger, more 'trendy' clientele. The Move Chronograph is emblematic of this collection, and has a very contemporary design with affirmed sporty qualities such as water-resistance to 100 metres with interior rotating bezel, red graduated scale in units of 15 minutes and chronograph hands, date at 4:30, stainless steel case, and protected crown.
The La Carrée family, inspired by the 1960s and revisited according to contemporary design standards, is a more 'trends' collection. It has a strong identity and is highly recognizable with its black or patterned silvered dials and rose gold PVD hands and hour markers, or its patterned brown dials with silvered hands and hours markers.
Last but not least, the Montres family of pocket watches completes the highly 'watchmaking' image that Louis Erard wants to transmit as it occupies this rather particular, and generally vacant, niche in the watch industry.
In total, the brand's offer has skilfully made itself part of the overall landscape of the mechanical Swiss watch by proposing a distinct and attractive collection that will certainly appeal to those consumers who want this type of product but who have been hesitating because of the prices, often too expensive and even exaggerated, of traditional timepieces. Now, they too can share in the joys of having a mechanical watch. With prices ranging from 595 to 1995 Swiss francs for the most complicated models, we can be sure that increasing numbers of buyers will hesitate no more.



Click here to subscribe to Europa Star Magazine.