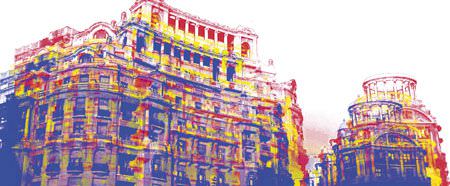 Romania is an interesting market for watch producers, as demonstrated by the value of its imports. In 2005, this value reached a record level of 10,443,030 euros, an increase of 25 percent over 2004. The last four years have shown net increases in watch imports into the Romanian market, while over the last 15 years, since 1991, the value of watch imports has increased eleven times. Expectations are that this growth trend will continue in the coming years.

Imports by value and volume
The uncontested leader in providing watches to Romania in 2005 was Switzerland, whose timepieces represent 60.25 percent of the total value of watches imported into the country.
The chart below shows watch imports by country in 2005. Also noteworthy is the remarkable rise of Italy, especially in the luxury watch sector, for precious metal timepieces. Spain has also shown significant growth, and is now the seventh largest supplier of watches to Romania. On the other hand, the important providers of the past, such as Russia, Austria, and Thailand, are not in the top ten list. The situation of Russia is quite dramatic, since the value of watches imported from this world watch giant (11,140 euros) only accounts for 0.10 percent of the total.

In terms of the volume of Romanian watch imports, there are several interesting observations in the current situation. Of the overall level of 3,910,999 pieces, those made with precious metals (14,564 units) account for only 0.37 percent of the total by volume. (In value terms, however, they represent 25 percent of the total.) By volume, China is, as expected, the leader with 3,664,620 pieces (of which only 4,205 are made of precious metals), or 93.7 percent of the total. At the bottom end of the volume category for 2005, four watches were imported from Bulgaria, three from South Africa, two each from Tunisia and Ireland, and one from Canada for a value of 100 euros.
The average price of watches imported into Romania in 2005 was 2.67 euros, while for China, in particular, the average price for all categories of watches combined was 0.50 euro. In the case of Swiss products, the average watch price was 120 euros. For watches made of precious materials, the average price was 179.73 euros, with the largest contribution coming from Switzerland, while the average price for other materials was only 2 euros.
In the luxury sector, watches coming from Switzerland averaged 1,113.50 euros, while those imported from the United Kingdom averaged 4.07 euros! Surprisingly, Liechtenstein's exports to Romania of 11 watches cost, on average, 132.72 euros, which is higher than the average price tag of timepieces made of other materials coming from Switzerland (86.18 euros). In terms of other materials, China's exports to Romania occupied the bottom rung with an average price of only 0.47 euro.
The numbers are quite interesting in themselves, and show that Romania is becoming more and more attractive as a watch importer, especially after its adhesion to the European Union.

Romanian preferences
Observers of watch sales in Romania, and also retailers, have noted that watch preferences have remained relatively stable. Romanians continue to purchase primarily Swiss watches in the medium price range, while high-ticket timepieces are bought by politicians, sports personalities and movie stars.
Despite the nation's economic difficulties, there is already a market for collector's watches, and it is not by chance that certain luxury watch manufacturers officially launch their specialty products in Romania, then in other countries such as France, Germany, Switzerland, England and the United States. Little by little, Romanians have come to realize that a good watch cannot be purchased for the same price as counterfeit pieces, and that it will serve them for a long period of time.
In terms of design, 70 percent of consumers in Romania prefer dials that are gilded or silvered with hour markers. Others appreciate dials that have combinations of Arabic numerals and hour markers. Fashion watches, even those with mechanical movements, are not yet very popular in Romania. Even models from Claude Bernard (the popular brand from Edox & Vista SA) have not succeeded in attracting a large number of clients. This was demonstrated by a survey conducted by International Genimpex SA in several high-sales stores in Bucharest and in the western part of the country. Ironically, the only watch sold was purchased by a Hungarian.
Interestingly, some international brands launched new collections in Romania a few months before presenting them at BaselWorld. The imported watches were sold, but only because they were totally new, because the majority of consumers prefer the established models. Romanians do not tend to take risks and will buy new products only after several visits to the retail stores and when they are satisfied with the information received as to the claims of one model or another. Often their hesitations result from the quality of the watches they find in the showcases.
Finally, anniversary timekeepers incite no particular interest, as they are seen as replicas. In addition, people who receive personalized watches with company logos do not generally wear them. Rather, they save them, often believing that they can sell them as collection pieces several decades later.
The Romanian market, which registered the record for Central and Eastern Europe in terms of prices for a new watch, still remains a market of contrasts. Sales of luxury products co-exist with low-end Asian pieces and counterfeits. The next European integration will undoubtedly erase these contrasts, and the Romanian market will become more interesting for the large watch brands.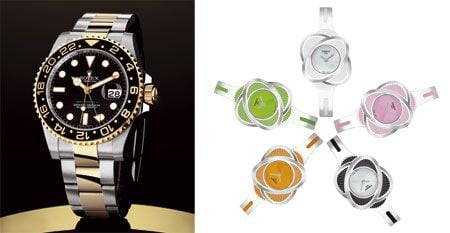 OYSTER Collection by Rolex
FLOWER POWER by Tissot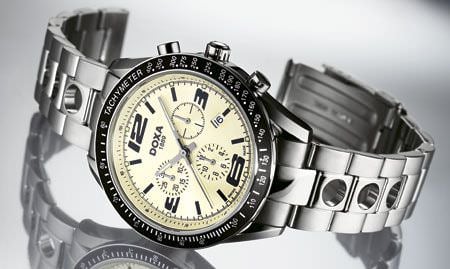 DOXA Trofeo


Internet sales
After several years of modest sales, retailers are selling more watches on the Internet. Increasing numbers of clients prefer to buy products online according to studies carried out by the preferred brands. For example, the company, International Genimpex SA Bucuresti (GIE), did very well in 2005 with Internet sales. While in the beginning, most online sales were for mechanical (even automatic) watches, sales in 2005 were up, and showed an unexpected diversity of watch types, even including anniversary timekeepers.
However, online sales are also the preferred method for selling counterfeit pieces.
But, retailers do not seem threatened by the fakes because they feel that connoisseurs and collectors know where to turn for the watches of their dreams.

New brands and companies
After several rather unsuccessful attempts by a few Romanian com-panies to distribute the most recognized global brands, a very important event took place last year. The sacred Swiss brand Rolex came into the market, distributed by an indirect subsidiary. The watches are sold in the store, Rolex Boutique, which is part of a commercial gallery opened at the Grand Marriott Hotel. Prices start at about 3,500 euros, and the watches are enjoying considerable success. The penetration of this prestige brand into Romania is seen as very important, especially in light of Rolex's demanding and exclusive policies in terms of marketing, which is not limited to its own distribution network, but which also applies to its sports sponsorships, social activities, and its close relationship with the press, etc.
A new watch retail company, Sunrise Impex-SRL Ploiesti, has launched a brand called Adriatica, which it supports by continuous and regular advertising. Watches from this company were sold on the black market in the 1970s, bearing the logo 'Atlantic' brought into the nation by sailors landing in the ports of the Black Sea and the Danube. The Atlantic timepieces (Worldmaster Art Déco) were preferred by men, while those of Adriatica were purchased and worn by women.
Another relatively new company, Tempora International, sells the brands Atlantic, Festina, Doxa, Candino, Seiko, Timex, Q&Q, Casio (including the G-Shock range), and proudly considers itself the largest dealer of electronic watches. Starting in December 2003, the retailer began selling its own wall and desk clocks under the Tempora label. The company also sells other luxury products in metal or in leather, some of which have famous names.
The store, Silgeda Gold, in Timisoara, sells less ordinary products of the Tissot brand, such as T-Touch, an automatic diver's watch that indicates the water depth and pressure down to 300 metres. Made in titanium, prices vary between 265 and 625 euros.

New products and collections
Several brands launched new collections or extensions of old products in Romania, well before the major fairs this year. Examples are Trofeo, Tholos, and Quadro Chrono, introduced by Doxa Watches SA. The same brand has also entered the world of cinema by contributing to the movie, Sahara, which ran in the Movieplex theatres in Bucharest. A special edition of the diver's timepiece, Doxa Sub 750T Dirk Pitt, worn by the main film's star, Matthew McConnaughey, was made for the occasion. It is destined for the American market where it has been patented (US patent Nr. 3505808). After the film run, several members of the Constanta Dive Club expressed an interest in purchasing the watch, however, its price tag of about $1,000 seems to be prohibitive. Doxa also took advantage of the movie to promote its famous orange automatic diver's watch, Sub 600T Professional, which can go down to 600 metres.

Ambassadors
The large global watch brands have their own ambassadors, who represent their interests and promote their image. The famous Swiss brand, Omega, has had its own ambassadors for a long time. They come mainly from the world of sport and cinema, and include Michael Schumacher, Alexandre Popov, Michael Phelps, Anna Kournikova, Nicole Kidman and Pierce Brosnan. Beginning in 2005 and continuing for four years, the swimmer Camelia Potec, the Athens Olympic gold medal champion, joined the ranks of Omega's ambassadors.
The choice of the Romanian swimmer, Potec, was made by Omega's representatives in the country based on her intelligence, beauty, and swimming prowess, not to mention her fame in her native land. Decidedly, she is in good company and this is a great honour for Romanian sports as well as for the image of our country.


Source: Europa Star August-September 2006 Magazine Issue