Based on everything that is in the media, the majority of stories and coverage being on mechanical watches, one could assume that quartz watches are on their way out.
Nothing could be further from the truth, however. The vast majority of watches sold worldwide are quartz. In fact, quartz exports from Switzerland were greater than mechanical watches in 2006 - 24,866,185 to 21,108,829 units (source: FH).
Quartz watches are alive and well...and maybe, just maybe, ready for a renaissance.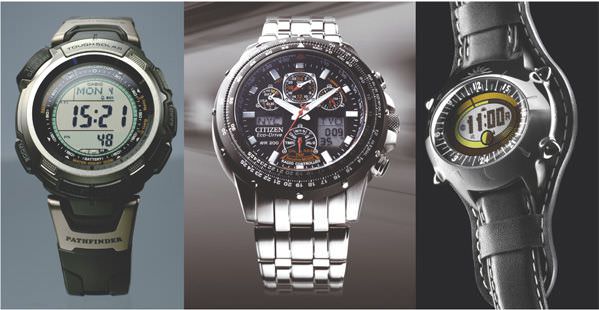 PATHFINDER by Casio, SUPER SKYHAWK by Citizen and TATI World Time by Yes


The benefits of quartz
For a while, quartz was the giant killer, pushing the mechanical watch to the brink of extinction. Many people can't understand today's interest in mechanical watches - for them, it's about precision and reliability and if those are the only criteria, there is no question that quartz watches outperform mechanical ones.
"From our point of view the logical and perhaps the only choice of a movement for a true sports watch is a quartz movement," says Jimmy Olmes, President, Reactor Watches. "Accuracy, durability and hassle free performance are the key attributes. In simple terms, the lack of moving parts in a quartz movement when compared to even a basic mechanical movement makes it an ideal choice for a performance sport watch. Quartz movements have a far greater ability to absorb shock and continue to keep excellent time. Quartz movements are service free, other than an occasional battery replacement. When you consider the fact that a good quartz movement (Japanese or Swiss) is accurate to +/– 15 seconds a month compared to the best mechanical movements that can boast +/– 20 seconds a day, and that is when they are new. Once they are bounced around a bit by a sporty active wearer their accuracy diminishes very quickly. I certainly admit that quartz movements do not have the cachet of mechanical movements but for a true performance sport watch they are a better choice."
Quartz watches are more accurate, more dependable, have fewer moving parts, cost less than mechanical watches and offer much more functionality. Without quartz, it would be impossible for watches to feature highly desirable functions like altimeters, barometers, temperature gauges, digital compasses, heart rate monitoring, multiple alarms, data storage and more.
Consider the Casio Pathfinder watch: for less than US$300, you can have a watch that features the time, a chronograph, six alarms, barometer, altimeter, digital compass and temperature gauge. Just having an alarm in a mechanical watch means spending upwards of US$2,000, without any other features.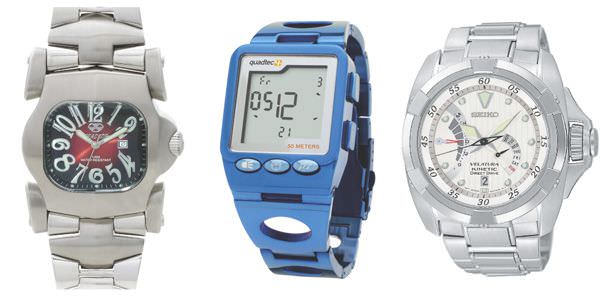 ELECTRON by Reactor, QUADTECH by EquiTime and VELATURA KINETIC by Seiko


The drawbacks of quartz
Though quartz technology does offer a great many benefits, there are drawbacks. Volume - in this day and age of customization and luxury, many people don't want to buy the same watch everyone else has, so quartz watches, which are mass produced, are getting overlooked.
Reliance on batteries - although few people have ever actually had their quartz watch fail on them when they needed it, dependence on a battery is a key reason many people give for not buying quartz. The environment is often cited when people don't want to use a battery in their watch. Citizen, Casio and others have addressed this by producing watches that rely on light power.
Low cost - believe it or not, people like to spend money on a special watch. Regardless of the whistles and bells on quartz watches, unless you pile on the diamonds, you aren't going to spend more than US$1,000 for even the most complicated quartz watch.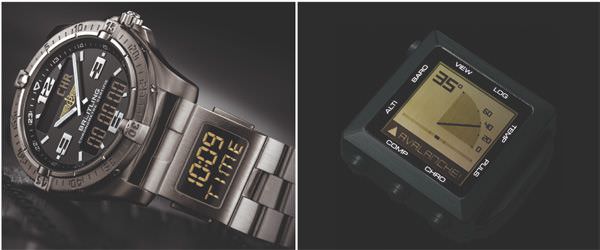 CO-PILOT by Breitling, Linde Werdelin


The future
Quartz is here to stay, that's for sure. Quartz movements will still be used in the majority of watches, especially at the lower end.
Interestingly, some companies are looking for quartz to make a rebound by using the incredibly functionality of quartz to enhance this very stable category.
TAG Heuer has been working in both quartz and mechanical, and one of their most notable achievements in quartz is the Calibre S, which combines the precision of quartz with the complexity of a mechanical movement.
"TAG Heuer sells 50 percent mechanical watches and 50 percent quartz watches," says Jean-Christophe Babin, President and CEO, TAG Heuer. "We do not belong to the group of people who think that quartz is less prestigious than mechanical, and we are going to continue to offer products in both fields. With our Calibre S, we even unite the best of both worlds: the unequalled precision of quartz, functions such as the 99 year perpetual calendar, and the sophistication of mechanical. The watch industry can be compared to the car industry. For a long time it was thought that the high-end car was only petrol and not diesel. Well, brands such as BMW and Mercedes show that today the high-end can be diesel. I don't have a watch taboo and I believe that the high-end can also be quartz."
Citizen has recently begun introducing tra-ditional mechanical complications (perpetual calendars, minute repeaters, etc.) into quartz watches, bringing these wonderful functions to the masses.
Some companies have been pushing the limits of quartz by piling on the features, like the Tissot T-Touch, the Casio Pathfinder, the Citizen Dive Computers and pilot's watches, and the Suunto range of very technical, highly complex watches.
The new Quadtech watch from EquiTime, which tells time in unique and user-determined ways, relies on a quartz movement to provide the engine for its unique timekeeping system, which allows the user to vary the way time is displayed.
The Yes World Time watch offers the time in hundreds of cities around the world, using airline codes as identifiers. A beautifully styled watch, Yes needs the power of quartz to make its travel watch a reality.
Linde Werdelin acknowledges the limitations of mechanical movements and has built a watch that features a mechanical watch as a base, along with a quartz instrument that snaps over the mechanical watch for use in extreme circumstances.
Breitling offers the SuperQuartz movement, which is 100 percent COSC certified. Breitling uses the SuperQuartz technology, which according to the company is ten times more accurate than standard quartz, in all its electronic models, including the Emergency, Airwolf, Aerospace, Co-Pilot, and Chrono Avenger M1 watches.

The future is bright for quartz watches. Sure, many people are enamoured by the turning parts of a mechanical watch, but the heavy lifting of the watch industry is done by the quartz watch.
At the same time, it would be a mistake to assume that quartz is only for the low-end of the watch market. Don't overlook the new technology and advancements being introduced in quartz watches.


Source: Europa Star February-March 2008 Magazine Issue