Since 2004, Perrelet has belonged to Miguel Rodriguez, who also owns the Festina Group, which includes Candino, Lotus, Jaguar, and Calypso. Also in the group is L. Leroy (originally from Besançon and known, above all, for 'the most complicated watch in the world') as well as two other small but dormant brands formerly active in high mechanical timekeeping, Joseph Chevalier and Berney Blondeau.
Given the name of Group H5, this small contingent of brands is at the forefront of a strategy to gradually carve out a share of the haut de gamme market. As evidence of this, we are seeing a new dynamism in Perrelet—which we will examine in this article—and the re-launch of the L. Leroy brand announced for BaselWorld 2009 with its very high-end timepieces. Continuing to prove the seriousness of his endeavour, Miguel Rodriguez recently acquired STM Holding from Peace Mark. STM includes, besides the large manufacturers of mechanical movements Soprod and Indtec, a major player in the production of quartz calibres with its some 90 million pieces per year. Obviously, a surprising and bold move on the chessboard of time.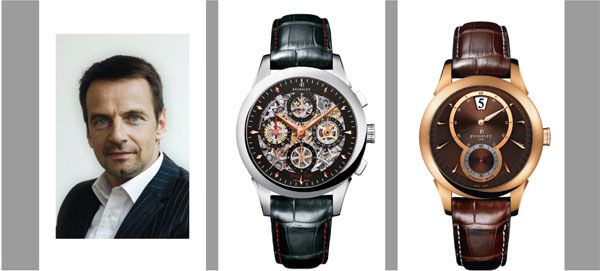 Marc Bernhardt, SKELETON CHRONO DUAL TIME and JUMPING HOUR


Major marketing research
In this evolving context, it is important to understand the activities undertaken by Marc Bernhardt who manages Group H5 and who is also CEO of Perrelet watches. Appointed by Miguel Rodriguez in 2007, this young man, who comes from the financial sector, entered the watch industry with full force in 1995 when he joined IWC. Later he was recruited to manage the United States market for this brand, before being called back to Schaffhausen by Georges Kern when IWC was acquired by the Richemont Group. He remained with IWC until 2004, when he went to work for a year at Bertolucci, which was sold to Dixon. Bernhardt also worked on the re-launch of Wyler Genève before Miguel Rodriguez convinced him to join his team at Perrelet.
"When I arrived," explains the young man in his office in Bienne, "it was as if they had just carried out a 'real' marketing research project with real products. With this information, I had all the elements necessary to justifiably reduce our range and concentrate on the strategic heart of the brand." In fact, great strides towards a re-launch had already been ac-complished by Rodriguez's teams beginning back in 2004. The main idea was—and still is—to capitalize on Perrelet's historic watchmaking authenticity, in other words, to focus on the automatic movement, of which Perrelet is credited as being the inventor (see sidebar).
While keeping the famous double rotor model in the collection, of which one rotor is on the dial of the watch—the way the brand was launched in 1995—Rodriguez's team created more than 300 new references and developed 17 different movements for a series of round, tonneau, and cushion watches. "There were way too many models in terms of production, logistics, and image," adds Marc Bernhardt. "But this extensive exercise permits me to design our offer so that we can better meet the expectations of the marketplace. If I had to define our positioning, I would categorize it as smart luxury, which is a term that I prefer to the expression, accessible luxury, to denote a range of products whose retail prices range from around 2,700 Swiss francs (for a steel watch with power reserve, large date, and off-centred hands) to approximately 11,000 francs for one of our best sellers—a 42-mm skeleton chronograph with dual time zone. In terms of sales, our great strength resides in the segment that is priced from 5,000 to 10,000 francs, where we offer quite a number of special items."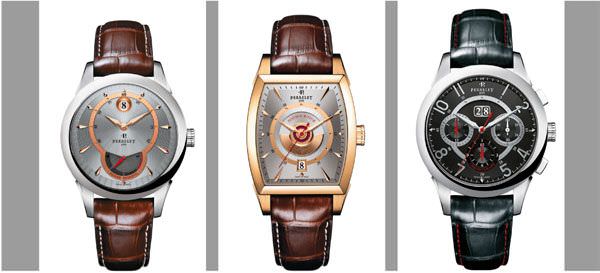 POWER RESERVE, DOUBLE ROTOR and CHRONO BIG DATE


A privileged position
Perrelet is not looking to become an integrated 'manufacture'. Yet, thanks to the synergies developed within the constellation of brands and production units under the leadership of Rodriguez, Perrelet finds itself today in an excellent position. The brand has directly mastered (using a unit installed at Candino) what it calls the T2, meaning the encasing of 5,000 pieces currently produced per year.
Moreover, the design is essentially carried out in-house, as well as the construction of the case and the additional mechanisms attached to the movements. These are generally created using an ETA base—while waiting, of course, to strengthen relations with Soprod. Some of the exclusive models are produced by DTH Dubois Technique Horlogère, which since 2003, also belongs to Miguel Rodriguez, and whose stated objective is to manufacture not less than 50,000 haut de gamme mechanical movements per year!
This privileged position of Perrelet, which is surrounded by high performing production poles, permits Bernhardt to affirm that he is not interested so much in "increasing the quantity of the pieces produced as in continually improving the quality, without however falling into the trap, especially in the current economic context, of a move upmarket that is too abrupt." Citing the successes of Frédérique Constant or Louis Erard, Marc Bernhardt believes that there is a real space for luxury that remains within reach, a smart luxury.
On the distribution level and in the markets, a similar effort of rationalization and expansion is being carried out. "In the beginning, distribution was built in an opportunistic manner," continues Bernhardt, who clearly wants to remedy the situation. The brand's strongest markets for now are: Russia, with 35 sales points, Eastern Europe; Asia, with a good presence in Singapore and an expected launch in China in 2009 (with an original 'peripheral' strategy that will first target cities in the provinces); the Middle East, with 150 sales points and the United States which has a local branch office in the state of Florida. Europe remains a vast potential market and the brand has just taken over its distribution in Switzerland.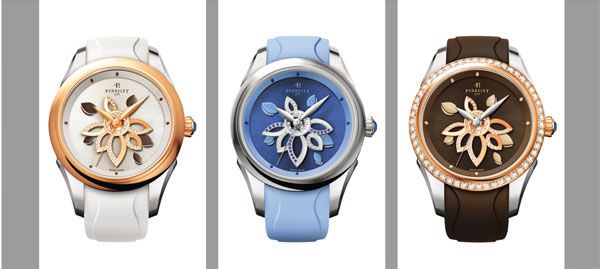 DIAMOND FLOWER


What about the essential—the product?
"In our current phase of development," adds Bernhardt, "the product must be the absolute star. It is at the centre of our attention and our communication. Perrelet has historical and timekeeping credibility in the automatic movement, as well as credibility in terms of manufacturing and quality. On this basis, by working on the notion of the automatic movement itself, of the power, as well as on the design, aesthetic, and construction of the calibre, we will bring a new dynamism to our products."
In looking closely at the current collection, we notice that the promised energy or power is already there. Throughout the models, the same strong identifying elements can be found: ergonomic case, grooved edges, curved horns, sapphire case back and dec-orated rotors in cases varying in shape from round to tonneau to cushion.
The exclusive and patented line based on the synchronized double rotor (technically modified in 2007 with a complex and direct bore through the movement and a supplementary gear train that replaced the original design comprised of a peripheral gear train) will be continued and diversified. We observe this notably in the very successful feminine line where the rotor becomes one of the petals set with a 'diamond flower' that turns on the mother-of-pearl dial.
But the double rotor is not the only star of the brand. Perrelet is also proposing an inventive Retrograde Hour line with a regulator display and date hand—an automatic, of course—and a very lovely Grand Lunar Phase with central moon phase display and date hand. We also must mention the brand's bestseller, a beautiful skeleton timepiece with dual time zone that skilfully combines a Valjoux ancient-style movement with a very contemporary case.
An additional step towards the contemporary is seen in the Titanium Collection, a resolutely sporty line that reinterprets the double rotor or the retrograde display with their powerful stylistic codes, as well as the case and its materials—titanium, rubber strap, polished and satin-finished steel, carbon fibre dial—in totally renewed symbols that nonetheless remain completely identifiable.
This offers ample demonstration that the future of Perrelet does not lie—and far from it—in a single model. In fact, the brand certainly seems to have the means to carry out its ambitions.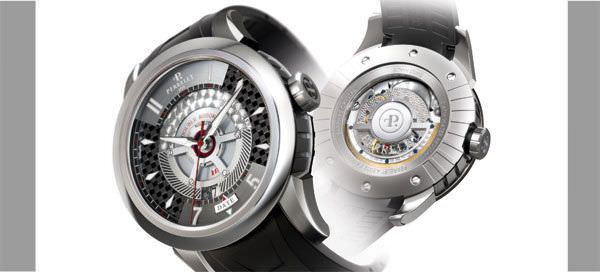 TITANIUM COLLECTION


Perrelet—did he invent the automatic movement?
Most watch historians credit Abraham-Louis Perrelet, born in 1729 in the Swiss town of Le Locle, with the invention of the automatic watch. However, a longstanding debate among experts as to whether he did or did not create this mechanism remains unresolved to this day. Without a doubt, as is true for many scientific inventions, a number of watchmakers of that era worked on similar designs. Whatever the case, the watchmaking legitimacy of Perrelet is irrefutable and his name figures among the greatest inventors and pioneers of the art of timekeeping. Abraham-Louis thus gave birth to a veritable watchmaking dynasty that most particularly includes his grandson, Louis-Frédéric, born in 1781, who is considered the inventor of the flyback chronograph that he patented in 1827. His own son, Louis, followed in his footsteps and became the watchmaker to the King of France.


Source: Europa Star October-November 2008 Magazine Issue