Maurice Lacroix and opportunities in times of crisis
At Maurice Lacroix, Martin Bachmann took over the helm after the departure of Philippe Merk who was appointed to head up Audemars Piguet. The transition is one of continuity since Bachmann, who began with Merk in 2001, was Director of International Sales and Marketing before taking over as CEO. What about the crisis? "It offers opportunities since our market is democratized luxury," affirms Bachmann. "Opportunities" since Maurice Lacroix "is not stuck in a single-product strategy and has capitalized on the intrinsic value of the product and the respect for the price/quality ratio. The brand is also not ostentatious but interprets classicism in a very contemporary manner, differentiating itself from the competition by its affirmed design codes." The general direction has been defined over the preceding years and Maurice Lacroix intends to keep on this path, which means paying attention to its own watchmaking competency—six in-house calibres have been realized—as well as developing new complicated models on existing calibres (mainly Sellita).
In terms of products, 2009 will be "the year of transparency" with the steel Masterpiece Chrono Skeleton and a partially skeletonized Masterpiece RÉtrograde, finely treated with black and grey anthracite. In the Pontos family, there is the steel Pontos Chrono Full Black with PVD treatment on ceramic or a titanium version with a black gold dial and orange hands. In all, ten new references were created for 2009. And what about the famous MÉmoire1? "It remains a priority," insists Martin Bachmann who, at the same time, admits that it is necessary to take time to present a totally reliable product. "We are going to finalize it and then we will talk about it. For now, I don't want to give a deadline or talk about this creation. We must give it some time." An understandable necessity, especially since the news of many of these concept watches such as the V4, the Opus 3 or the MÉmoire1, was announced too soon. But with the 'crisis', the fever of these premature announcements will undoubtedly calm down.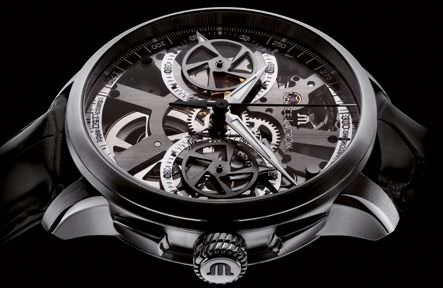 Masterpiece Chrono Skeleton by Maurice Lacroix


Oris, everything but bling-bling
At Oris, there is also a tendency to see the crisis as an 'opportunity'. Has this become the new talking point? Rolf Studer, in charge of marketing, sums it up by saying that Oris makes "real watches, real products, for real people. Briefly, if Oris was a person, it would be an honest man who confronts obstacles and is the opposite of bling." It is true that the diver who, just before our conversation, had made a demonstration of his skills, was everything except bling and visibly ready to affront obstacles. The new ultra-technical diving watch—the ProDiver Chronograph—was presented with its rotating bezel colored by a cap of vulcanized rubber that must be raised before the bezel can be rotated, plus its helium valve, titanium case, screw-in push-pieces, maximum readability and Valjoux movement. The watch was tested to a depth of 1,000 metres and sells for the competition-defying price of Euro 2,900. About 20 per cent of Oris' timekeepers are diving watches, while the remainder is divided between pieces inspired by automobile sports and aviation, with the exception this year of a tribute to Bob Dylan in the form of a pure and simple rectangular watch.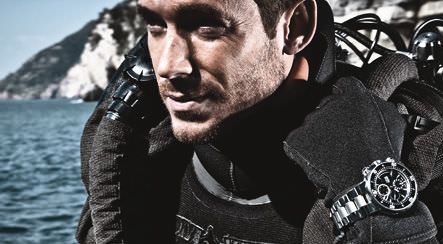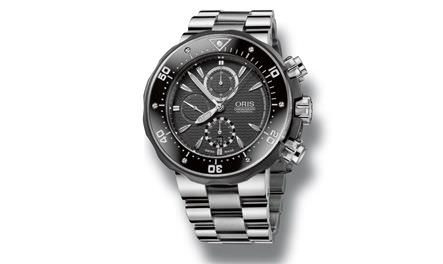 Prodiver Chronograph by Oris


Raymond Weil recalibrates its offer
Over at Raymond Weil, like at Maurice Lacroix, the company had decided to reduce activities and has laid off 13 people. "2009 continues the process we started five years ago of redoing our entry-level products. We have simply recalibrated the offer at the heart of the brand's DNA," explains Olivier Bernheim. He shows us 46 new models, of which 30 are entry-level, priced between CHF 695 and 2,000 (Euro 460 – 1,300), with the core of the offer situated between CHF 1,350 and 1,450 (Euro 895 – 960).
For Olivier Bernheim, whose brand is present in more than 90 countries, this strategy is double pronged: "Our markets that are situated essentially in the upper end of our offer are reassured to have a consistent offer in the entry-level and those markets that are situated in the lower-end of our range are happy to be able to offer an increased number of new products."
Concretely, the pyramid of new products presented in Basel starts at the high-end with the Don Giovanni Cosi Grande with jumping hours in gold for CHF 13,400 (Euro 8,885) or in steel for CHF 4,120 (Euro 2,730), the Freelancer in pink gold priced at CHF 11,560 (Euro 7,665), with a feminine diamond-set pink-gold model with a mother-of-pearl dial priced at CHF 8,100 (Euro 5,370) and the imposing 46mm Nabucco Rivoluzione chronograph (movement developed with Sellita) for CHF 5,600 (Euro 3,700). On the other end is a new ladies' collection called Noemia, which features charming watches in diameters of 27mm and 32mm, with prices starting at CHF 975 (Euro 520).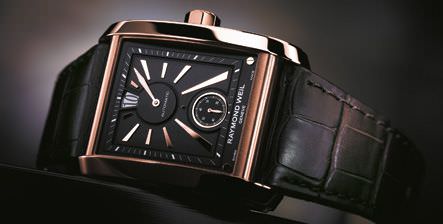 Don Giovanni Cosi Grande by Raymond Weil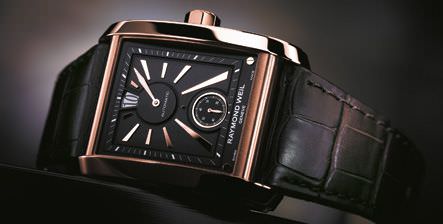 Nabucco Rivoluzione Chronograph by Raymond Weil

Vogard carving out its place
In 2004, Michael Vogt created Vogard, a single-product brand whose first watch allowed the time zones to be adjusted by simply rotating the bezel. The patented Timezoner System, which also includes daylight savings time, has added to the brand's success. It is available in a number of models depending on the utilization, whether at airports, golf courses, beautiful beaches, the best ski resorts and more. Intelligently constructed (the movement, case and bezel are con-sidered 'one functioning unit') with a strong and identifiable design that nonetheless allows for many variations and personalization including jewellery models with highly creative straps, Vogard has gradually gained momentum in the marketplace with its modest rhythm of 500 pieces per year.
Attentive to the construction and continuing growth of the brand, Michael Vogt considers consistency a cardinal virtue, thus he advances step by step, by "giving sense to luxury", according to his own formula. This year, still with the same uniformity, he presented at BaselWorld the Chronozoner, a combination of a chronograph and the Timezoner System. Combining the two complications required a great deal of work on the watch's proportions (48mm titanium case) and for the reading of the chronographic functions, inspired by a car's dashboard. Working with the famous watchmaker Andreas Strehler using the ETA 7750 as a base, Vogt designed a special lever that, attached to the inside of the plate, offered him the liberty to place the winding crown at 6 o'clock, thus clearing the sides for the lever that releases the bezel. It also allowed the security adjustment of the time zones and the placement of the push-pieces at 4 and 8 o'clock. The piece's large size and ergonomics offer great functionality. Vogard has demonstrated that a small niche brand, by carving out its own place, can offer the best to watchmaking with a high but convivial level of technology and respect for the consumer and retailer (no advance marketing hype, everything is deliverable immediately).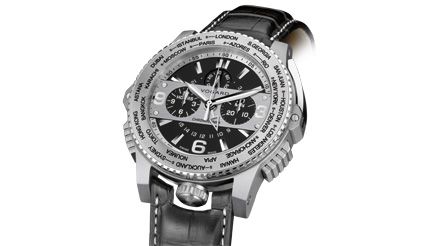 Chronozoner tc61 by Vogard



Same consistency at Linde Werdelin and Vulcain
This same approach of consistency and respect are evident at other niche brands such as Linde Werdelin and Vulcain. With four new models—The One, Spidolite, The 3-Timer and Oktopus—Linde Werdelin is giving a new face to its unique watches, whether urban and very contemporary, or chic, or ultra sporty, or even very visual. They are watches to which are fixed professional instruments providing all sorts of terrestrial (compass, temperature changes, altitude, weather trends, angle measurement and guide for 'The Rock' model—an instrument used primarily for skiing) as well as marine indications (depth, ascent speed, dive time, steps, alerts, etc., for 'The Reef' watch, a diver's instrument). (See also Back to basics – the sports watch round up, BaselWorld 2009 by Keith Strandberg in this issue.)
As for Vulcain, with the launch of its first in-house calibre, the Cal. V21 and the first automatic alarm watch (which we already presented in the last issue, No. 2/2009), the brand delightfully continues on its way. Using the existing Cal. V10 as a base; it took three years to develop the automatic calibre that would not add too much thickness to the movement and that would not involve a complete re-industrialization, since one of the essential goals is to remain in the range of 'concrete' prices according to Mr. Fleury, the enterprising and steadfast CEO of the brand. The public price of this first model, which is already available, is CHF 8,800 (Euro 5,835). There are two models, a world time watch and a dual time zone timepiece.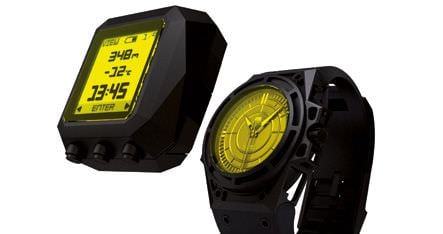 Spidolite dlc + the rock dlc by Linde Verdelin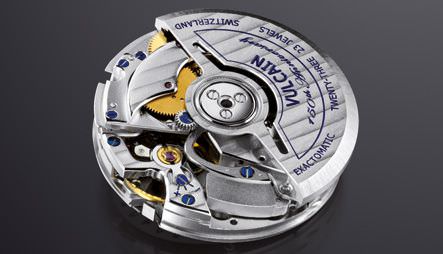 Cricket Calibre V-21 by Vulcain


Ode to purity
The year 2009 is a year of truth for a brand that we admire and that we personally place very high in the watch spectrum: H. Moser & Cie. It is a year of truth for many reasons, internal as well as external. For the internal reasons, there are two. First, the anticipated models in the three collections of Mayu, Monnard and Henry are finally totally developed and ready for delivery. Secondly, after having invested between CHF 30 and 40 million (Euro 19.8 – 26.5 million), the Moser Holding group is operational on all levels and is capable of the in-house design and manufacture of all the component parts for its movements and its cases, including of course the escapement and the balance springs.
The external reasons have to do with the current economic situation. The total authenticity of the offer—a true in-house movement that very few brands can claim—and a rare stylistic purity with correct prices (starting at CHF 12,500 [Euro 8,280] for a Mayu in gold or exceptionally CHF 36,300 [Euro 24,000] for a magnificent and simplistic perpetual calendar).
We might mention that yesterday these prices made the competition call the management of Moser & Cie 'crazy'. Not today, however, as they seem to be strategically perfect for timekeepers with superior chronometry (all are tested in 'COSC manner' meaning in six positions, but unlike the COSC tests, these watches are tested after being placed in the case, which changes everything).
Authenticity, purity, chronometry, beauty, correct pricing, etc. What else could we ask for in these troubled times?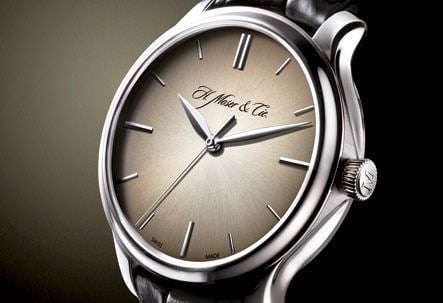 Monard Fume by H. Moser & Cie



This is part three of a three part series

Source: Europa Star June-July 2009 Magazine Issue