RELOOKING MEN'S WATCHES FOR WOMEN

Launching a women's line is expensive, often too expensive to be cost efficient, so for many brands, it makes sense to feminize their men's collections. This cuts down on the cost of developing new cases, new straps, new hands and so forth, which makes financial sense especially in today's economical climate, but do women really like the size of a man's watch? "The detail and complications on the men's watches are appealing to the women from a fashion point of view. It is very easy for us to sell 40 mm, 42 mm, some 44 mm." explains Robin Levinson, Co-owner of Levinson Jewelers, Florida. "Some of the men's brands are now putting coloured sapphires on the bezels as well as diamonds which attract the women."
I admit, until recently, I was not a fan of this practice. Women aren't pink, diamond-set versions of men! However, The following pieces from Peter Speake-Marin, Jaquet Droz and Audemars Piguet have led me to change my mind.

Peter Speake-Marin's secret women's collection
Peter Speake-Marin has been making the most elegant wristwatches for men since 2003. If I were a man, I would definitely want one! There is something delightfully British about them, maybe it's those squiggly blued steel hands, the white enamel dials or the sculptured crowns, I'm not sure, but they are certainly dashingly handsome pieces. So when I bumped into Daniela Speake-Marin, Peter's lovely wife and partner, during BaselWorld, I almost fell over when I saw her wearing a ladies version with a mother-of-pearl and onyx dial and white crocodile strap. If that wasn't exciting enough, Daniela explained to me that there was a whole collection called the Sea and Stone Collection (See photos on this page). Each piece in the collection is equipped with an automatic movement, sapphire crystals front and back, Foundation style hands and displays the hours, minutes and seconds. The design of each dial is cut and positioned with great precision by specialists in Germany and then assembled and printed in the company's own workshop in Switzerland.
The editions are limited to six with some unique pieces. Was the intention to create a collection for women? "The Sea & Stone collection was a study of materials, I wanted to mark my 40th birthday in Japan with our Japanese retailer and create a special series of watches," explains Peter Speake-Marin, " The dials work very well in a 38 mm case which fits women well, change the strap to a white or add a different coloured strap and the watch transforms into a very feminine watch." Needless to say, I have started saving!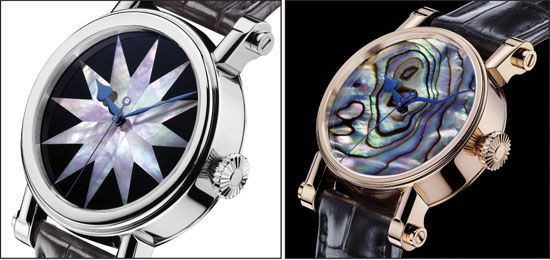 PEARL STAR and ABALONIAN SEA by Peter Speake-Marin


Jaquet Droz's three galactic collections
Another surprise for the ladies this year was to be found at Jaquet Droz. Until recently the brand had mainly been concentrating on timepieces for men, but all of sudden they have gone crazy for women and women are surely going to go crazy for them! Firstly there is Jaquet Droz's L'Heure Céleste, equipped with the company's 2653 self-winding mechanical movement, double barrel, 22 carat gold oscillating weight and 68 hour power reserve. Below the off-centred hours and minutes is a galaxy of 18 carat gold spheres set with 123 diamonds (0.65 carats) on a lacquered background. The sapphire crystal is of particular interest as it expands across the dial highlighting the three-dimensional aspect and eliminating the need for a classic bezel.
Jaquet Droz's Date Astrale is equally elegant with its 244 diamonds (1.83 carats), off-centred hours and minutes and contemporary retrograde date with a diamond that returns to its starting position at midnight at the end of each month – something worth staying up for! The case is 39 mm, 3 mm smaller than the L'Heure Céleste, and the movement is Jaquet Droz's 2650R self winding mechanical calibre. Two dials are available in black or white Polynesian mother-of-pearl.
The galaxy is again the theme for the collection L'Heure Sélénite, named after the Greek goddess of the moon. Jaquet Droz's signature off-centred hours and minutes (this time in black onyx) is surrounded by a mother-of-pearl crescent moon, 464 black diamonds (1.12 carats) and 21 white diamonds (0.07 carats). In all three collections the case size and off centred hours and minutes follow the male DNA of the brand, however the originality of design, attention to detail and workmanship make these collections highly feminine and a delight to admire.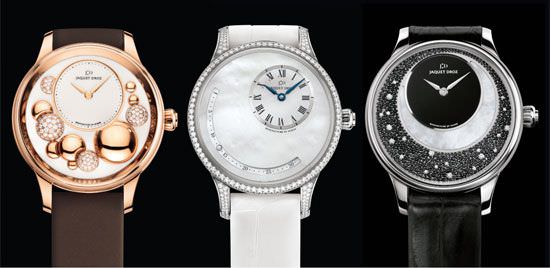 L'HEURE CELESTE - DATE ASTRALE - L'HEURE SELENITE by Jaquet Droz


A Royal Oak for the girls
The Lady Royal Oak and Lady Royal Oak Offshore are two collections from Audemars Piguet that have been developed from the famous men's line of the same name. The Lady Royal Oak is a smaller version with a quartz movement while the Lady Royal Oak Offshore has a self-winding chronograph, date display and small seconds. For 2009 Audemars Piguet has launched the Royal Oak Offshore Ladies' Chronograph. This 37 mm timepiece is the first time Audemars Piguet has used forged carbon on a ladies' watch. The effect is powerful especially when combined with a black Méga Tapisserie motif on the dial, white luminescent numerals, red chronograph seconds hand, vulcanised rubber strap and 32 diamonds.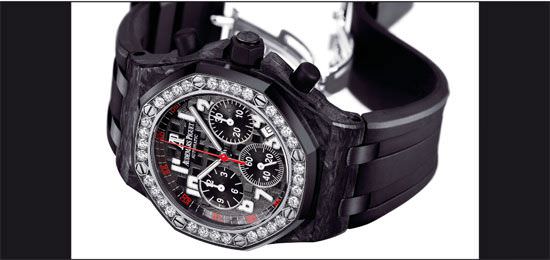 ROYAL OAK OFFSHORE LADIES' CHRONOGRAPH by Audemars Piguet


Unisex watches in the world of women's mechanicals: Part 1
Unisex watches in the world of women's mechanicals: Part 3


Source: Europa Star August-September 2009 Magazine Issue