2004
Having reached their critical mass and having digested their acquisitions, the large groups are finally enjoying the fruits of their labour and investment, especially in the gradual verticalization of their production.
The mergers and acquisition game seems to have reached its maturity. The markets are now where the competition is being played out. China is a good example. The Swatch Group has been present on Chinese soil for two decades where it is also active in production. It is now reaping the rewards of its long advance move into this nation. One image shows the group's domination in the Chinese watch market. Omega had the immense privilege of providing the large clock on Tiananmen Square that counts down the time until the opening of the Olympic Games in Beijing. It is the only brand present on the square, which is at the heart Chinese power.
In a different approach, the Richemont Group, endowed with the excellent heritage of its bouquet of brands, chose the 'cultural' path and organized a sumptuous exhibition displaying its savoir-faire that took place in the Forbidden City, another symbol of Chinese power that is only a few steps from Tiananmen Square.
LVMH, having more recently constituted its watch brands, is betting on their commercial appeal and is concentrating its efforts in the economic heart of China, Shanghai. On the occasion of the first Chinese Grand Prix, TAG Heuer set up huge posters proclaiming the modernity of its products.
Three groups, three approaches. In the meantime, these large groups have given ideas to others. A palette of 'mini' groups has been formed in the wake of their elders. Contrary to what many people predicted, the domination of the large groups has not frozen the watch landscape. But while all is possible, reaching the critical mass remains problematic. Only the large groups have the financial resources for widespread and continuous marketing campaigns that will ensure their brands a predominant place. Logically, therefore, these brands should continue to dominate the watch landscape. Yet, with the opening of new markets such as China, India and Russia, the cracks in the wall of the large groups could very soon turn into rich niches for others to benefit from.
The announcement by the Seiko group that it intends to compete in the haut de gamme sector will certainly make for interesting times to come. Fortunately, the story is never over.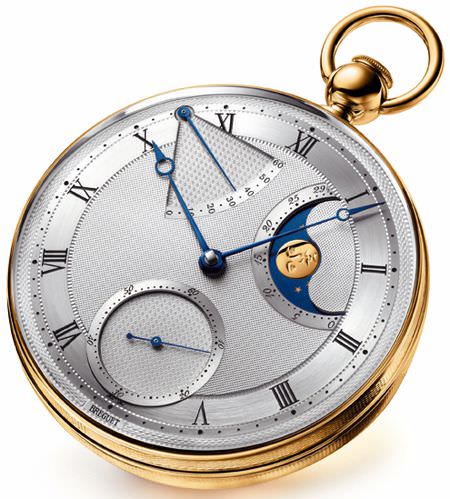 Nicolas G. Hayek, after having acquired the famous No 5 watch made by Breguet in 1794, decided to reproduce an identical model. The perpetual calendar movement with a quarter-hour repeater was therefore totally dismantled, photographed piece by piece, then redesigned. With the exception of the escapement, everything was reproduced exactly as it was in those days. This can be seen as a symbolic move that positions the Swatch Group at the heart of classic, traditional watchmaking for which it intends to become the legitimate heir.


Source: April-May 2005 Issue

More...Click here to subscribe to Europa Star Magazine.