Located on Ruoholahti (Grassy Bay) in the Western part of Helsinki, the Cable Factory was operated by Nokia when the company still made electrical cables, rubber tyres and rain boots. That was before Nokia's brave venture into mobile telephones turned the brand into a household name. Some years ago, this industrial site was acquired by the City of Helsinki, and gradually it was transformed into an avant-garde location for cultural venues, dance studios, music classes, artists' ateliers, and an assortment of innovative activities quite characteristic of contemporary Finland.

In fact, the Kaapelitehdas (cable factory) has turned out to be one of the favourite relocation spots in town, where you can now find the RadioCity radio station, the Museum of Photography, the Theatre Museum, and even a Hotel and Restaurant Museum. The French Cultural Centre in Finland, which chose to settle here three years ago, contributes to the present attraction of this converted industrial site.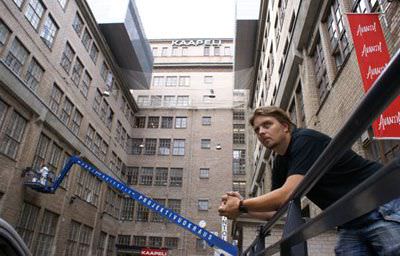 Stepan Sarpaneva in the courtyard of the former Cable Factory in Helsinki (Photo: JJS)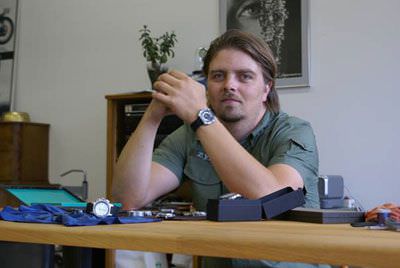 Stepan at one of his workbenches, wearing his 'Oiva' watch (Photo: JJS)


This is where Stepan Sarpaneva has chosen to establish his atelier: I use the word atelier, rather than workshop, because there is something of a sculptor in this Finnish watchmaker, and this shows in the way he has organized his professional realm. When Stepan ushers you into his fifth-floor quarters in the Cable Factory, the natural lighting from the row of windows facing North-East brings out the features of this modern working place: it is spacious, the metal cabinets with dozens of shallow drawers are lined along one wall, a red Moto Guzzi motorcycle of his youth stands guard by the coffee table and couch, and Stepan is not encumbered when moving from one workbench to another, from the lathe to the microscope, from the cabinet full of watch parts to the testing bench, as he pursues several watchmaking projects in the course of a week. During our conversation, a detail emerges which is quite revealing of the way Stepan considers his commitment to his work: he brought his family to live in one of the apartments set up in another part of the Cable Factory, so that family life and watchmaking are closely connected.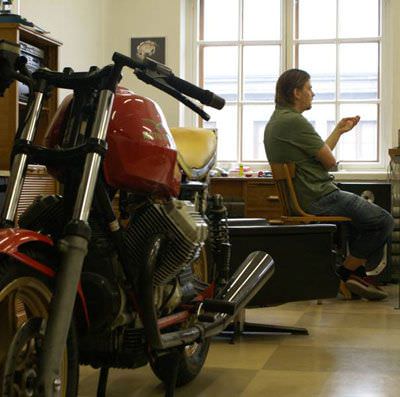 Often taken apart and reassembled: a red Moto Guzzi (Photo: Léa S.**)


On one wall, above a filing cabinet, a portrait of Abraham-Louis Breguet is a constant reminder of the values embodied to the highest degree in the old Master's inventions: technical innovation, excellent craftsmanship, sober elegance. On another wall, a framed poster delivers a close-up view of one of the jewels crafted by Stepan's father, the late Pentti Sarpaneva, no doubt one of the most renowned Finnish creators of jewellery of his time.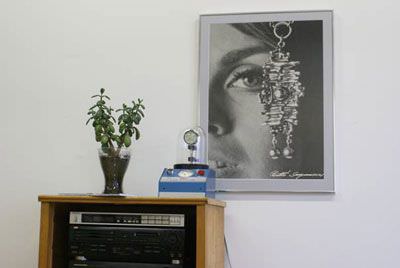 A poster showing a jewel designed and crafted by his father, Pentti Sarpaneva (Photo: Léa S.)


In this functional yet quite personal setting, I asked Stepan to tell me about his experience as a watchmaker. In a leisurely way, he speaks about his background, the family of blacksmiths established in the lake-spotted area of Savo in Finland for more than two hundred years, the high standards in craftsmanship set by his father Pentti in jewellery, and by his uncle Timo in glassware (Author's note: Timo Sarpaneva passed away on October 6th, 2006, at the age of 79. Sincere condolences go to all his family). Brought up in this tradition, young Stepan soon realized that he also was attracted by the challenge of designing and crafting. When he was admitted to the famous Finnish School of Watchmaking in Tapiola at the age of 19, he felt he had chosen the right profession. When graduating from the school in 1992, he began looking for a job at the worst time in modern Finnish history. Indeed, when the neighbouring Soviet Union imploded, the ensuing economic disarray had an immediate effect on Finnish industry which had been selling a sizeable proportion of its exports to the USSR, from food products to Nokia rubber boots, from marine engines to electrical equipment. As a result, Finland suffered the worst economic depression of any Western country since World War II, with unemployment reaching a national average of 20 percent (and more in some areas of the country).

Among his teachers in Tapiola, Stepan mentions Jorma Tuominen, who had acquired precious experience at Patek Philippe before becoming one of the most respected professors of horology in Finland (in a recent conversation I had with the watchmaker Kari Voutilainen, he also spoke of him in equally glowing terms). Stepan also mentions Professors Ruokola and Koivisto, the latter having retired the year that the young Sarpaneva entered the school. That was also the time when a younger instructor joined the faculty at Tapiola: Juha Kauppinen, who still teaches there. What are some of your memories of the Tapiola school, I inquired? "Well, a combination of stability and creativity. Also a sense of security because our teachers were outstandingly gifted and committed, so that we students had no difficulty in accepting a strong discipline. On the other hand, we enjoyed great liberty in testing our own ideas, in trying to be creative."

Upon leaving Tapiola, and because of the economic recession, Stepan could only find work as a truck-driver. After some odd jobs, in 1994 he went to Switzerland to attend the WOSTEP refresher course, "because at the time, graduating from the Tapiola school alone was not sufficient to secure a job in watchmaking," he explains. This first contact with Swiss horology, in an international setting, was quite an experience, "and during the training at WOSTEP, I realized how much we had actually acquired in Tapiola," he adds. Upon completion of the WOSTEP 5-month course, Stepan applied for 30 job openings. He received 3 positive replies, from Rolex in Stockholm, Garrard's in London, and Piaget in Switzerland. He chose to work with Piaget at La Côte aux Fées in Switzerland, in the customer service department, where he had to deal with a variety of technical challenges on a number of different models. Stepan remembers, with affection and gratitude, the kindness and unstinting advice he received from his neighbour in the workshop, Yvan Barbezan who, aged 75 at the time, had spent all his professional life with the same company and was still working there part-time. Monsieur Barbezan also gave Stepan the opportunity to practice his somewhat sketchy French (which he now speaks quite well), and to comprehend some of the finer points of watchmaking. After some two and a half years with Piaget, Stepan went to attend the WOSTEP 'Restoration of complicated watches' 5-month course.

Stepan then joined Parmigiani: "I was fortunate to be posted in the atelier where they made complicated watches in limited series and for private labels." The interesting oddity here is that two Finns were working in the same atelier at the time: Kari Voutilainen and Stepan Sarpaneva. These were years of intellectual ebullience, of technical invention, and they hold a special place in Stepan's memory. After the complicated mechanisms, Stepan moved on for some time to Parmigiani's customer service, always eager to enlarge his hands-on experience of a variety of models.

Stepan met Vianney Halter, who invited him to come and work in his atelier, a sort of rocket-science niche within Swiss watchmaking. This adventure, which Stepan started in 2000, lasted about a year, and he remembers it for the boundless ability of the owner to question conventional wisdom, his quest for novel solutions, and his strong, very personal aesthetic inclinations. During Stepan's time there, the Vianney Halter atelier produced some well-known timepieces: the 'Classic', two types of 'Goldpfeil', and the early model of the 'Antiqua'. This atmosphere was conducive to personal research and creation, and Stepan used all his free time to begin planning and building his own watches.

Some day, historians of horology might identify the 'model TT' pocket-watch as the real debut of Stepan Sarpaneva as a watchmaker. He brought together two improbable components in order to make a statement: technical refinement can merge with a bold design. The TT, built in 2000, is a motorcycle cog, in which Stepan set a refined, extra-thin Piaget movement.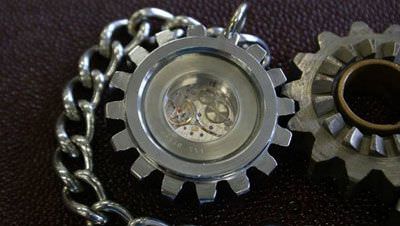 The TT pocket-watch, created in 2000, houses a Piaget extra-thin movement (Photo: Léa S.)


After his spell in the Vianney Halter team, Stepan was invited by Christophe Claret, 'a gentleman watchmaker' to work for him 80% of his time, which left the aspiring Finn the possibility to devote 20% to his own research. At Claret's, he concentrated on the painstaking assembly of complicated movements for limited series (e.g. minute repeaters and tourbillons). Christophe Claret helped Stepan implement his strong wish for creating his own watchmaker's atelier in Finland, and to this day Stepan still carries out some fine-tuning work for his former mentor.

In 2003, Sarpaneva Watches were established in the Cable Factory in Helsinki. Watches produced include: 'Salpa' (the Finnish word for 'bolt' as in 'lock and bolt'; it also refers to the defence line of Finland against a threat from the East, i.e. from the USSR during World War II). Production of this watch, based on an ETA movement, has been 15 pieces. Hours, minutes and central seconds.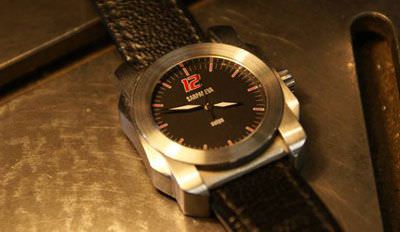 Sarpaneva's 'Salpa' model (Photo: JJS)


'Oiva' (the Finnish word for 'excellent'), based on an ETA movement. 25 of these watches have been produced so far in 3 years.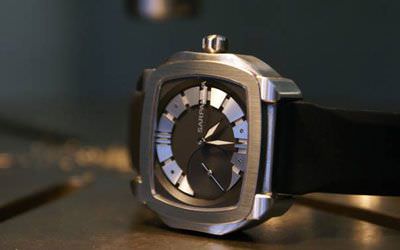 The 'Oiva' model (Photo: JJS)


'Loiste' (the Finnish word for 'shine, glory'), a series of 30 have been produced so far in two years.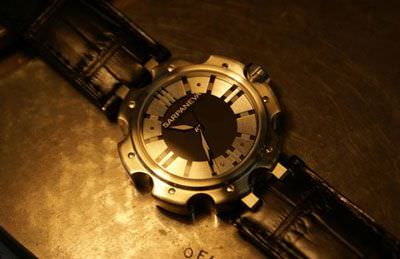 The 'Loiste' model (Photo: JJS)


In making the 'Komentaja', a high-speed diamond plasma is projected on the steel casing (and optional spiral winding mass), giving a hardness factor of 5000 Vickers, compared with 250 for stainless steel. Currently selling in Finland at 1700 euros (without VAT).





'Komentaja' (Command instrument) with the brand name SUF (Sarpaneva Uhren Fabrik, in German), proudly states 'Helsinki' (Photo: JJS)


'Komentaja' could best be rendered in English, not by 'Commander', but by 'Command instrument'. The dial also bears the name 'Helsinki': this reminds me of the watches made by Kari Voutilainen, which are declared 'Hand made' instead of 'Swiss made'.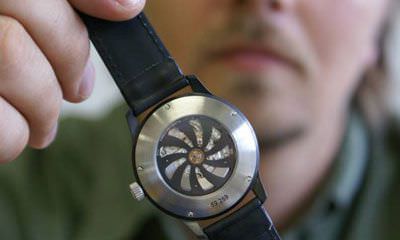 Stepan showing the hardened 'turbine' winding mass of his automatic 'Komentaja' (Photo: JJS)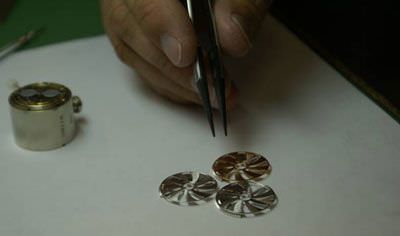 Stepan inspecting spiral-shaped winding masses for his 'Komentaja' automatic watch (Photo: JJS)


Stepan is working on a new version of the 'Loiste' model in which the automatic movement is graced with a new winding mass, which when viewed through the metal-and-glass back, produces the patterns of a kaleidoscope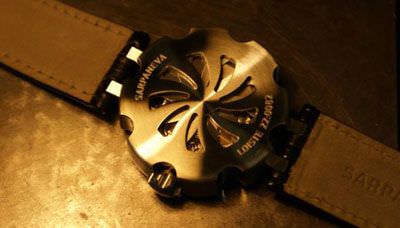 The new Sarpaneva automatic watch: the winding mass in movement, when viewed through the partly transparent, spiralling back, creates the same fascinating patterns as a kaleidoscope (Photo: JJS)


Stepan also spoke about his present research into materials. He is striving to reduce friction, for instance by creating a diamond-coated escape wheel (the patented process is done by DIARC®).





Diamond-coated (dark) escape wheel on an ETA movement modified by Sarpaneva (Photo: Stepan Sarpaneva)


I asked about watches-in-the-making. Stepan showed me a sports watch which registers acceleration. It is intended for pilots, but also golfers wanting to measure their swing. Sarpaneva Watches are working on this project with a professional electronics firm.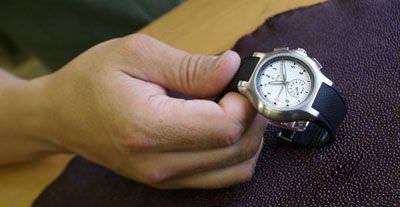 Stepan presenting his experimental sports watch which measures acceleration (Photo: Léa S.)


Finally, I asked Stepan Sarpaneva if he had any idea why a fairly high proportion of Finns happen to be employed in some well-known watchmaking ateliers in Switzerland. "Well, probably the very thorough approach we have to watchmaking is one of the main reasons. To enter such a demanding profession, we Finns would not even contemplate jumping over any of the modest yet essential steps to achieving true technical expertise. In this sense, the Finnish School of Watchmaking in Tapiola gave us a very solid background, which in turn allowed us to make the most of the valuable experience we gained later when working in some of the best ateliers. This combination provided us with a good system of values and references: we are steady, reliable, and very attentive to overall excellence, whether of a movement, a case, a dial or a complete watch. And a strong interest in innovation and technology probably helps us keep up with interesting developments."

It seems to me that Stepan Sarpaneva is an interesting case in today's horological world. He is one of the up-and-coming members of a community of Finnish watchmakers which, though small, already enjoys a reputation for original design, technical innovation and excellent craftsmanship.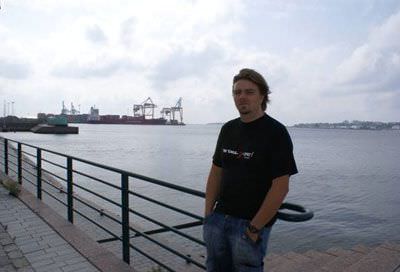 Stepan Sarpaneva at Ruoholahti (Grassy Bay) in Helsinki,
location of the Cable Factory where he has set up his watchmaking atelier (Photo: JJS)


In the 1960s, the Cable Factory was the location from which the reference time signal to all radio stations in Finland was regularly broadcast. It seems appropriate that, with Stepan Sarpaneva's watchmaking activity now located here, time has come back to the Cable Factory on Grassy Bay.


* The author, Jean-Jacques Subrenat, is a retired ambassador, with an interest in horology since childhood.

** Léa S., his 12-year old daughter, enjoys photography.