Business for the watch industry is good, especially on the high-end. But what about the bread and butter of watches, the fashion watches at the lower end of the spectrum? Just about every retailer has to have some kind of opening price point fashion line to catch people's eyes, create an impulse purchase and make some noise.






ROCCOBAROCCO, MARC JACOBS, PASSION, CALVIN KLEIN


How's business?
The overall impression is that business is good. The middle part of the watch market (the US$2,000 to US$4,000 segment) might be disappearing, but the lower end is still cranking out the lion's share of the volume of watch sales. This entry price point is important to get people into watches and to keep them there.
"Business is in general very good and our sales of the new collection already exceed all 2006 sales and that only after 2 months," says Christoffer Owers, CEO, Synoco Scandinavia AB (Gant Time). "We see a very strong business cycle where Gant Time grows faster than the trade growth in general. During 2006 we have worked on developing a completely new design and marketing strategy for Gant Time, with a retail price level between 129-249 Euro, higher margins for both distributors and retailers, launch of new collections four times per year and complications on movements that never have been seen before by using modified movements from Miyota."






PRIMA CLASSE, OXETTE, CLYDA, ALFEX


The fashion world is often very hit or miss, with cutting edge designs a risky proposition. "You know when you launch an unprecedented collection, you wait with fear for the jewellers' and the customers' reaction," says René Attias, Navitec. "So today, considering the success we encountered with Navitec, I can tell you that business is doing beyond our expectations."
The good news is that the fashion watch market exists in nearly every market around the world. "Business is doing very well indeed," says Izabella Marcinek, Sales Area Manager, Fiorucci Watches. "The successfully openings of French and Italian markets have allowed us to fine tune the collection for new markets."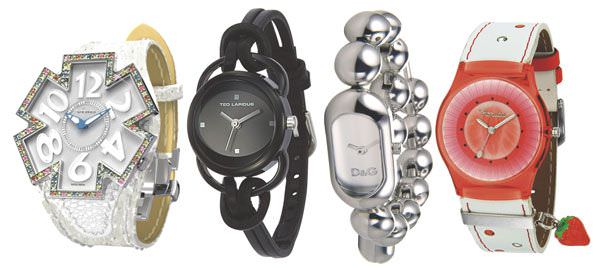 Vo!là, TED LAPIDUS, D&G, FIORUCCI


Some smaller companies might be able to succeed based on the success of one particular model, but most larger companies need a stable of successful product. "After five years of spectacular growth, 2007 is up dramatically," says John Marcheschi, Senior Vice President, Callanen International (Guess Watches). "One watch cannot drive a business as large as ours. We have eight watches that are driving our business. Fashion is the essence of what we do. We have core items in our ladies jewellery and ladies sport watches that are leading sellers."
Overall, exports from Switzerland are up and still climbing. "The Swiss Watch Industry is jumping from one record to the next," details Daniel Bogue, President, Eurotime Corp., the North America distributor of Alfex. "In January 2007, Swiss exports increased 14% compared to last year. America is still the biggest market for Swiss watches and Alfex takes part in this positive development."
Vo!là is taking its Asian design sense and going worldwide, with great success. "Japanese consumers set trends not just in Asia but the world over, Japan by itself is the leading consumer of 47% of the world's luxury goods, followed by the USA and in the recent years, China," says Roger Khemlani, Creative Director, Vo!là. "Along with these markets, we also are having tremendous success, with online sales, duty free and jewellery stores throughout the Middle Eastern countries."





121 TIME, ZODIAC, FESTINA, GUY LAROCHE


What are people looking for?
The general consensus is that customers are looking for intriguing designs, watches they haven't seen before, interesting colours and shapes and value for their money.
"Our customer can be anyone, someone who loves the brand and someone who loves the style," says Arlette-Elsa Emch, President, cK watches and member of the management board, the Swatch Group. "We design for a modern, trendy, cosmopolitan person who lives in a large city. The consumer is so mixed because we are a worldwide company. It could be a young Japanese man or an old French woman. The Calvin Klein brand is so well known around the world, people are buying both the brand name and the watch."






o.d.m., OXBOW, DROPS, CALYPSO


Fashion watches are accessories in the truest sense, with people buying the watches because they make a style statement. "Fashion is about style and being in the trend," says Patricia Pessoa, Creator of DROPS Milan. "A fashion watch is accessorizing the timepiece from a once-in-a-lifetime watch to a once-a-week type of watch. In today's electronic/digital age, fashion watches must be adept or the audience will resort to their cell phone or Blackberry for timekeeping.
"I believe that plastic (polycarbonate) and mixed material time pieces will proceed and evolve into next generation styles that do not resemble other models,"she adds.
"Watches are like sunglasses, belts and handbags - they have stopped being purely functional elements and are now symbols of trends, status and even characteristics of personality and lifestyle,"says Laura Prat, Media Manager, Festina Group."For this reason what the public, and above all women, are looking for in this type of watch is an accessory to combine with their preferred daily look and to do this they chose more price-accessible elements. One cannot have just one watch now; today one has to have a watch for each occasion."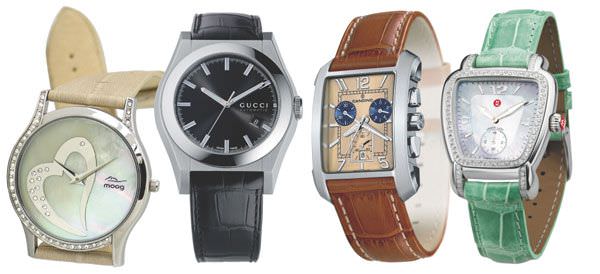 MOOG, GUCCI, CANDINO, MICHELE WATCHES


People are using watches to define their sense of style. "People are looking for trendy, distinctive design; a fashion statement about their personality and character; a watch that says a lot about who they are," says Effie Lazaridou, International Marketing and Public Relations Manager, Oxette. "Fashion watches are treated like accessories, so customers are looking for designs that match their style and look."
Value can't be discounted, even at the entry price points. For many entry level brands, between US$100 and US$200 is the magic impulse purchase range.
"We see that the Gant Time customer wants value for money and a classic watch with the small extra features in regards to design and technique," says Gant Time's Owers. "Our best selling models are with slightly oversized cases in 42-46 mm but still classic with an extra twist in design. Customers are looking for complications and interesting design at a very competitive price level. The big sales increase of Swiss made complications with brands such as Zenith, Audemars Piquet, Jaeger-LeCoultre, etc. set the trend even for watches in our price level. We also see the trend with larger and larger cases continuing – 5 years ago a 40 mm case was considered big but is today almost a ladies size."
Guess is providing watches that match the trends in fashion overall. "People are looking for real fashion, watches that are accessories to their wardrobe," says Guess' Marcheschi. "Stoned styles continue to lead. Logo watches that carry the Guess G logo are very sought after. This year at Basel, we are offering watches that speak to the 'exotic' trend, a mix of various animal print influences that are accessories that happen to be watches."
Though brands are important, the watches in most cases have to stand on their own. "Watches must have strong identity, brand name is not enough anymore," says Fiorucci Watches' Marcinek. "In many segments, the fashion brands are in the situation to replace the traditional watch brands so they have to make the difference on the product (quality, design, value for money)."
For women, some of the trends Alex Cushing, Vice President of Fossil Development and Sales, has noticed include organic design, natural colour, wood materials, simulated tortoise and bamboo. "For men - a continued increase in average case size and coloured platings are still very important like black, grey and brown," he says, "Clear stones like diamonds or cubic zirconias continue to be a major part of our business. The importance of pavé is giving way to an increased interest in larger square cut and baguette shapes. There is an increased interest in gold as a trend but has yet to be supported at retail.
"We see interchangability as an opportunity to offer the customer a chance for personalization,"he continues."The new, younger customer is an important factor and we have been addressing this need for over three years with our 'Watch Bar' that offers straps and dials that the customers choose themselves, thus creating a watch just for them."
"Ceramic continues to be an important trend in the fashion sector,"says Michele Barouh, President, Michele Watches."We have developed a ceramic version of our Deco Diamond which looks really great. I think that people are also looking for unique pieces as well whether they are limited editions or just something different from what everyone else has."
Anna Alterio, Roccobarocco, agrees that new materials are taking centre stage in watches. "The general trend is the use of unusual materials: ceramic, plastic, polycarbonate, black burnished stainless steel. Also very interesting is the fact that lately these kind of products are not oriented anymore just to a young target but are attracting older consumers too (up to 55 years old)."
Outrageous fashion styles certainly get noticed, but customers are focusing on enduring designs. "People are no longer looking for 'flash in the pan' fashion that is short lived," says Eurotime's Bogue. "Alfex is a design oriented watch that is fashionable. Our watches give the consumer the certainty that their Alfex watch will be exciting, beautiful and designed to last for a long time. An Alfex watch has a certain fashion appeal but, more importantly, a very strong design element. Our philosophy is to achieve long lasting designs. While trends certainly exist and may have an influence on some aspect of a watch design, at Alfex the focus is on individuality and creativity."
That doesn't mean, however, that fashion watches will become staid and boring. New products and creativity will certainly drive the category in the future. "We believe what people looking for in a fashion watch are novelty and extraordinariness, as well as quality," says Olivia Cheng, Brand Assistant, o.d.m. Design & Marketing. "Our watches are targeted for fashionable youths who are fond of bold, new and advanced designs, which is, favourably, exactly how the trend is going."


Source: Europa Star April-May 2007 Magazine Issue