During the month of June, right in the middle of the economic crisis, we learned that a young 22-year old individual named Jonatan Gil took over the reins—and the shares—of the Dubey & Schaldenbrand company from its owner Cinette Robert. Intrigued by this turn of affairs, Europa Star visited Ponts-de-Martel, a small village not far from La Chaux-de-Fonds, to learn more about this surprising transfer of power.
In the Swiss watchmaking landscape, Cinette Robert, one of a very few women to head up a brand, is exceptional in every sense of the term. In 1995, she purchased the brand, which had been founded in 1946 by two watchmakers, Georges Dubey and RenÉ Schaldenbrand. Since that time, she has never wavered from her path and has never given in to outside influences. And yet, she managed to give the brand a very strong identity—total respect for the canons of traditional timekeeping, technical and aesthetic quality, as well as a transparent and exemplary price/quality ratio. It is an 'honest' brand as Robert likes to say, a brand that produces 3,000 to 5,000 watches a year (sold in some 30 markets), a brand that is also very recognizable. Its strong distinguishing characteristics include a curved case, the delicate guillochage of its dials, as well as the unique feature of its balance spring that is often blued and fixed to the seconds hands of its chronographs. This is the Spiral collection (derived from the historical heritage of Georges Dubey who, in the 1950s, invented a particular flyback device that has been reinterpreted by Cinette Robert in a decorative, dynamic, and recognizable manner).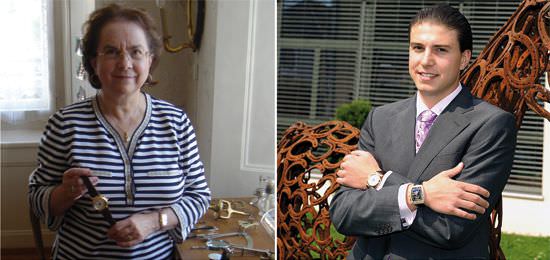 Europa Star: Cinette Robert, why are you selling your brand?
Cinette Robert: I am doing so, and in a very serene fashion, because, now that I am at the age of retirement, I want to return to my first love—ancient timekeeping. Before taking over Dubey & Schaldenbrand, I had a business specializing in antique timekeepers and I purchased everything that was unusual—power reserve, large date, chronographs—and then I resold them to dealers supplying the brands. In 1992, upon the death of Adolf Benz, I purchased the entire stock of the Comor company, where I had worked during an earlier period. We tend to forget today but, at that time, Comor produced very haut de gamme pieces, complicated watches and enamelled timekeepers. I will take this large quantity of stock and revamp it, at my own pace, while taking my own time.

ES: But isn't it a bit unusual to entrust your brand to a young man of only 22 years of age?
C.R.: Oh, you know, when I was exactly 22 years old myself, I was already a senior executive, with signature rights, at Matthey Tissot. This name is also forgotten but, at that time, the company produced watches for some of the largest brands including the likes of Breguet, Vacheron Constantin, LeCoultre, etc. In the 1980s, when Matthey Tissot decided to move into quartz, I left since that did not interest me at all. I was right. So you see, youth does not scare me. In Jonatan Gil's case, he not only has the qualities necessary for leading a brand like Dubey & Schaldenbrand, but the world has changed and continues to change. It is necessary to rethink distribution and to continue to anticipate other changes. Jonatan is well placed for this and, while I will transmit my knowledge to him, it will be up to him to find his own way.

ES: Jonatan Gil, you now have an immense responsibility on your shoulders. What do you plan to do with Dubey & Schaldenbrand?
Jonatan Gil: For me, it is the beginning of a huge challenge but I plan on continuing in the same line as Cinette Robert. I will remain faithful to her philosophy. This is a critical time for the entire watch industry and I know that we are at a turning point. It is therefore indispensable to remain cautious and to keep our feet on the ground. I believe I am a realist even if, obviously, I have my doubts and my fears. This is quite natural at the start of an adventure of this kind. But quite frankly, I am not unhappy that we are now in a crisis. This will permit me to slowly organize things so that we can be ready for the re-launch.

ES: What will be the first things you do
J.G.: We will vacate the offices at Ponts-de-Martel, which Cinette Robert will take over for her own activities, and move to La Chaux-de-Fonds. Gradually, we will bring certain operations in-house, such as, for example, the technical office. We will still, however, remain loyal to our network of subcontractors that are all located in the region. As time goes on, I plan to modernize our identity while maintaining the brand's basic values and its DNA. But we will introduce new materials and make our products in a different way. There is also a lot to do in terms of using modern methods for communication and marketing. I am thinking especially of how to use the Internet.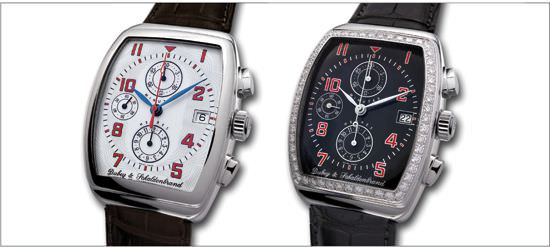 ES: What do you feel are the brand's principal advantages in the current econ-omic situation?
J.G.: I feel that our very interesting price/quality positioning is a definite advantage. This pos-itioning includes an entry-level price of 4,000 Swiss francs for a movement with three hands, curved steel tonneau case, sapphire crystal caseback, and up to 18,000 francs for a chronograph or hand-engraved movement. Another plus is that we can deliver with no delays. The major advantages are the strong brand identity and the loyalty of our clientele, who are mainly those who love the brand and own several of our watches. They totally understand that, from a technical point of view, the watches are excellent as is the after-sales service. For us to have earned the trust and confidence of the marketplace is a central point.

ES: How is it that you are able to purchase such a brand when you are only 22 years old?
J.G.: Yes, I know that my young age is intriguing. But even though I am not a watchmaker myself, I was born in La Chaux-de-Fonds and have been immersed in watches since I was a small child by both my father, who was a stone setter, and by my grandfather. I am a computer scientist by training and also studied technical drawing. I also took courses in management and marketing. Since I was 12, I have been going to the watch fair in Basel. I met Cinette Robert a year ago during an exhibition in Qatar, and we decided to work together. Eight months later, she offered to sell me the company. I found investors and we made the deal.

ES: Cinette Robert, you do seem quite serene about all of this…
C.R.: Ah yes, as I said, Dubey & Schaldenbrand is a perfectly healthy company, which up to now, has never had any problems, not on a technical or financial level. We have always been self-financed and have never had to borrow money from the banks or outside investors. The situation today is certainly difficult, especially the American market that is bad for everyone, but our products are perfectly consistent and well structured. They are different from all the others. We have never given in to the fads of the moment. Thus I am handing over, in total confidence, a company that is in good shape. As for Jonatan's young age, I consider it less of a handicap than a decisive advantage. His youth surprises people and this is a good thing. During my early years, my youth also surprised people. And now, the rest is up to Jonatan.


Source: Europa Star August-September 2009 Magazine Issue