N
early a year ago, before Covid-19 showed up, we met Alain Spinedi, who made a rather disenchanted assessment of the general situation. "When we started in 2004, our positioning at the entry level of the Swiss mechanical watch was the right one," he explained. "And for 10 years it remained so, with around 20,000 watches a year. But it has gradually been undermined by a combination of many factors."
Any examples? "ETA's Valjoux 150 has increased in price by 300 CHF; at the same time, the Swiss franc has strengthened considerably. We can no longer compete with the Swatch Group and have therefore suffered a loss of credibility. We were forced to offer men's quartz timepieces too, and that only impoverished the brand. Basically, we had to lower the average price without being able to really increase volumes."
"At the start, our positioning at the entry level of the Swiss mechanical watch was the right one. And for 10 years it remained so. But it was gradually undermined by a combination of many factors."
It proved difficult to increase volumes in 2014 when, at the same time as this spike in prices, there was "a disappearance of distribution", as Alain Spinedi puts it.
"We were an ideal brand for retailers in medium-sized cities. But how many of them ended up going out of business? In Malaysia, for example, with the opening of branded shops in large malls, we went from 13 representatives to only six, with all the stock problems that that entails. And finally, there was the smartwatch offensive. In 2018, 33 million Apple Watches were sold, and that's not even counting other brands like Samsung. In short, we are witnessing a change in consumption and, after all, what could be better for the middle class than an Apple Watch?"
"In these conditions, what can we do?"
Alain Spinedi
Louis Erard was a rational brand based on an unbeatable price/quality model. But that's no longer enough. "You also have to tell stories, broadcast them, use social networks. There was a turning point that we missed at the time," admits Alain Spinedi with a frankness that is very rare in the watchmaking world.
This is where Manuel Emch comes in. The former manager of Jaquet Droz and Romain Jerome is now a consultant with his own agency called Le Büro. In this capacity, he has completely revised Louis Erard's strategy.
"You also have to tell stories, broadcast them, use social networks. There was a turning point that we missed at the time."
To put it very simply, the brand is returning to what defines its core identity: the Regulator. Louis Erard is eliminating everything below 1,200 CHF, dropping quartz completely, and targeting a premium audience with an offer that can be described as "the entry-level of watchmaking excellence", with nothing above CHF 4,000.
Manuel Emch, strategic advisor to Louis Erard
The partnership with Silberstein
This strategy, which Alain Spinedi explained in detail in October 2019, was already on the way to being delivered when Covid struck, slowing down the planned launches. But when we were able to catch up with Alain Spinedi and Manuel Emch again at the end of August 2020, during the Geneva Watch Days, the first visible fruits of this strategy were well and truly on the table.
One of the first signals came a few months earlier, with the announcement of a watch designed to strike exactly the right note: the Régulateur Louis Erard, revised and adjusted by the great Alain Silberstein ("great" in this case is not hyperbole, because this watchmaker with his unique style paved the way for many of today's creative independents).
For a so-called "rational" brand, it is true that this colourful rejuvenation of the very serious regulator-type display could be seen as an "irrational" manifesto for the new Louis Erard. But make no mistake, colours are a deliberate feature of the entire new collection. In its own way, this inaugural watch offers the perfect signpost to the brand's new direction, and tells the beginning of a new story.
The Regulator as interpreted by Alain Silberstein
"The Alain Silberstein Regulator has undoubtedly aroused unprecedented media interest and helped to put the spotlight on the brand. But alas, Covid made us lose almost six months of momentum. We won't be able to start distributing them until this autumn. But all of them were sold, almost immediately, and only via the internet," explains Manuel Emch.
It is now a matter of catching up, launching the second phase of the strategy and unveiling the new collections.
A drastic reduction in references
The first measure was to take an axe to the catalogue: the number of references was cut from 300 to 30! They are now divided into two collections: the Classique collection, which brings together three-hand watches, regulators and single-pusher chronographs, and La Sportive, focusing on materials, starting with Grade 5 titanium or bronze chronographs.
The first step was to take an axe to the catalogue: the number of references was cut from 300 to 30.
Each of these two collections has its own unique character. The Classique range spotlights watchmaking excellence, with the use of enamel, guilloché and stone dials. The Sportive models highlight materials and performance. The price structure is kept deliberately simple: from CHF 1,500 to CHF 4,500 for the Classique; and from CHF 2,000 to CHF 4,000 for La Sportive.
The Regulator
The Regulator redesigned by Eric Giroud, here in blue
The Regulator Alain Silberstein would not have been possible without the earlier input of designer Eric Giroud. In revisiting the regulator, he "purified" it, returning it to its essential lines, devoid of all superfluity.
From then on, this very special display, whose unique approach lies in separating the hours, minutes and seconds – a display originally invented for regulator clocks, which were designed to provide the most accurate reference time for watchmaking workshops – gained renewed legitimacy, as well as becoming a source of inspiration for the many regulators that Louis Erard will now be launching on a regular basis.
Every three months, a new limited series Regulator will be released.
"Every three months or so, we will present a regulator in a limited series of 178 pieces, created in collaboration with a designer, architect or personality whose artistic expression we expect to be found on this dial and display," explains Manuel Emch.
Importantly, the movement, case and buckle will remain the same. This standardisation also makes it possible to manage the price structure.
The Excellence Triptych
"You never completely reinvent the classic watch, but you can give it new meaning." That's what the brand has to say about the inaugural Triptych, part of its new classic collection.
The aphorism is illustrated by these three essential watches, a three-hand watch with small seconds, a regulator and a single-pusher chronograph with 30-minute counter at noon, designed with sobriety and sensuality by Nicolas Barth Nussbaumer. The aim here is not to update one of the brand's iconic models – born in 1929 – but to rediscover the essence of the classic watch.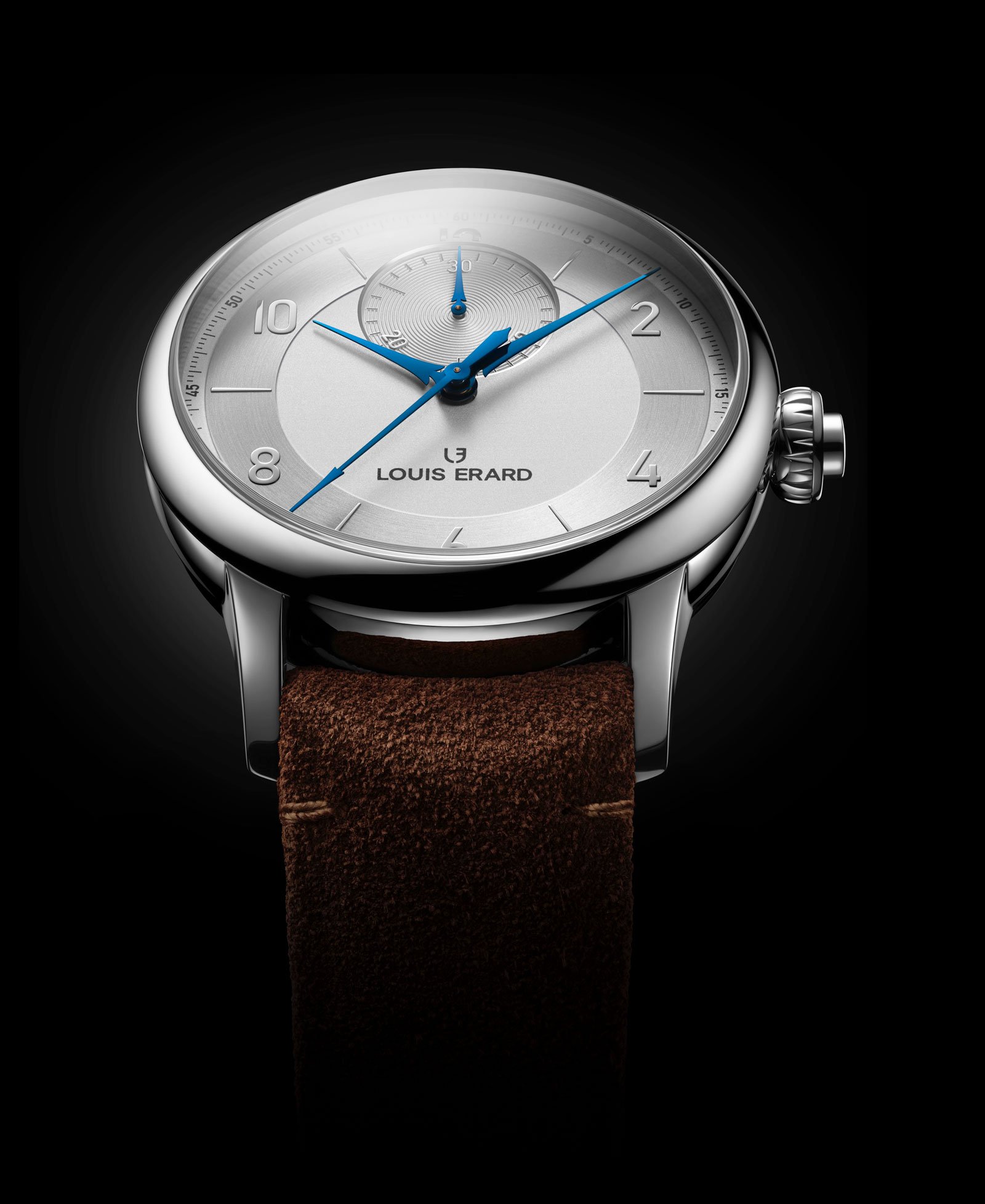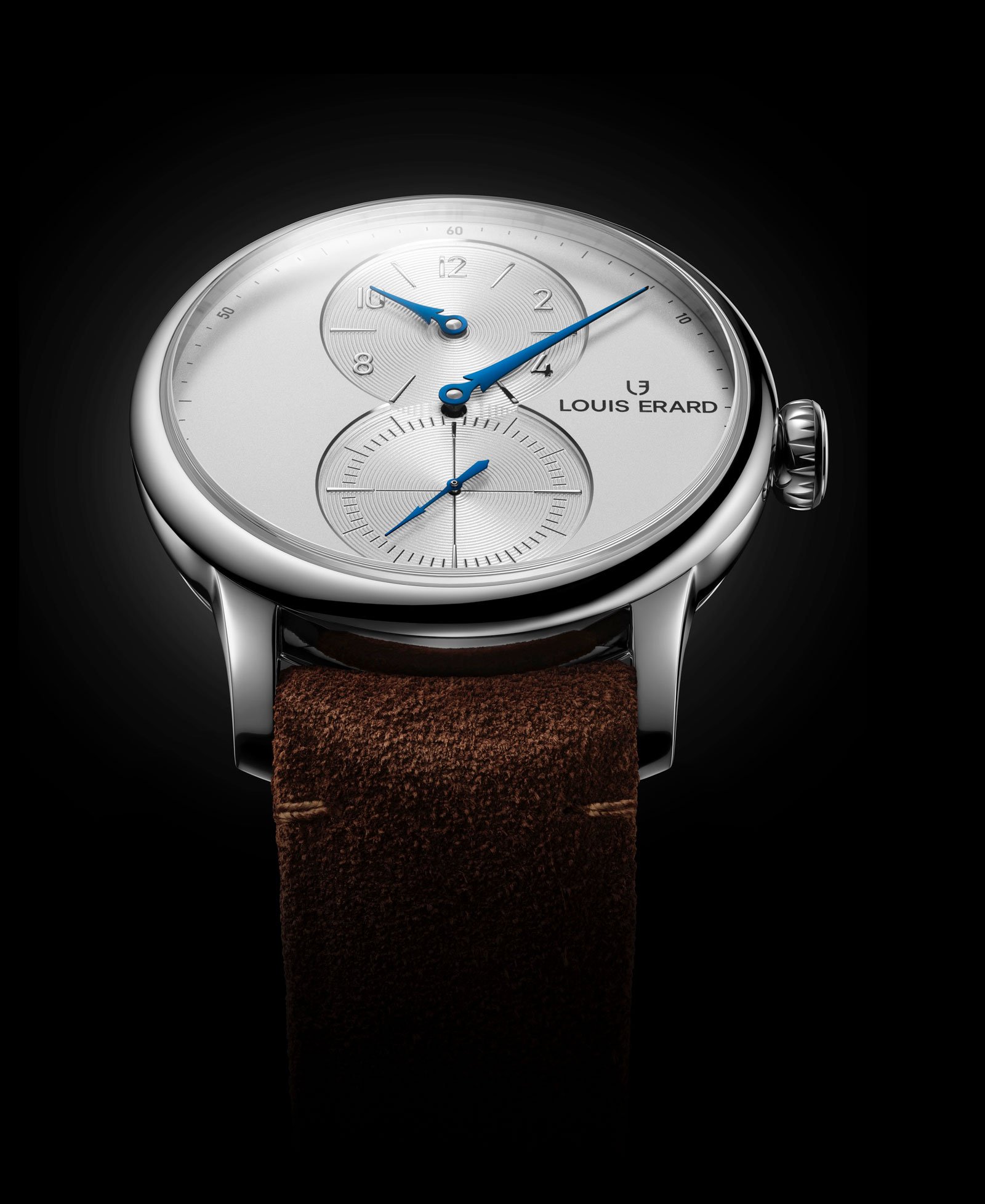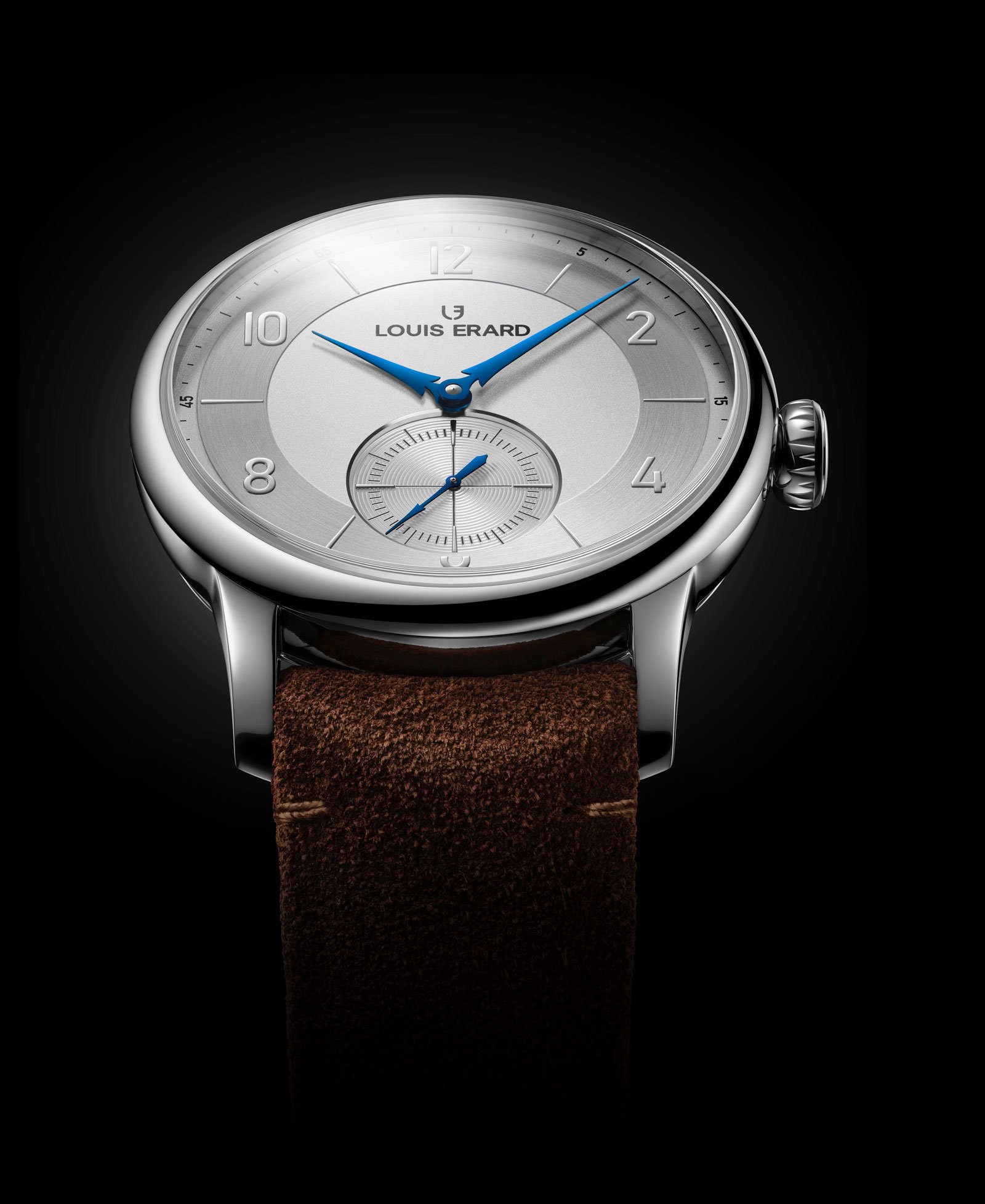 As can be seen here, this ensemble, with its eminently classical, uncluttered display, nevertheless exudes a very contemporary feel. This impression of classic dynamism, if one can call it that, is due to a series of details that have been approached with great care and precision. The sapphire crystal, which is rounded like a pocket watch glass, protrudes slightly beyond the case. The dial, where satin finishes contrast with brushing, azure-brushing and diamond-polishing, is punctuated by an interplay of different levels and typographies, executed with elegant precision. And, as a final touch, it is mounted on a chocolate-coloured nubuck calfskin strap.
The Excellence Régulateur's profile
All these models are equipped with automatic movements by Sellita, a partner of the brand. The elaborate calibres are meticulously decorated, and feature an openworked oscillating weight bearing the Louis Erard symbol. They provide a power reserve of 38 hours, or up to 48 hours for the chronograph.
Sellita automatic movement for Louis Erard
The Excellence Petite Seconde is positioned at the entry level at CHF 1,500, the Excellence Régulateur at CHF 2,500 and the Excellence Chrono Monopoussoir at CHF 3,500.
La Sportive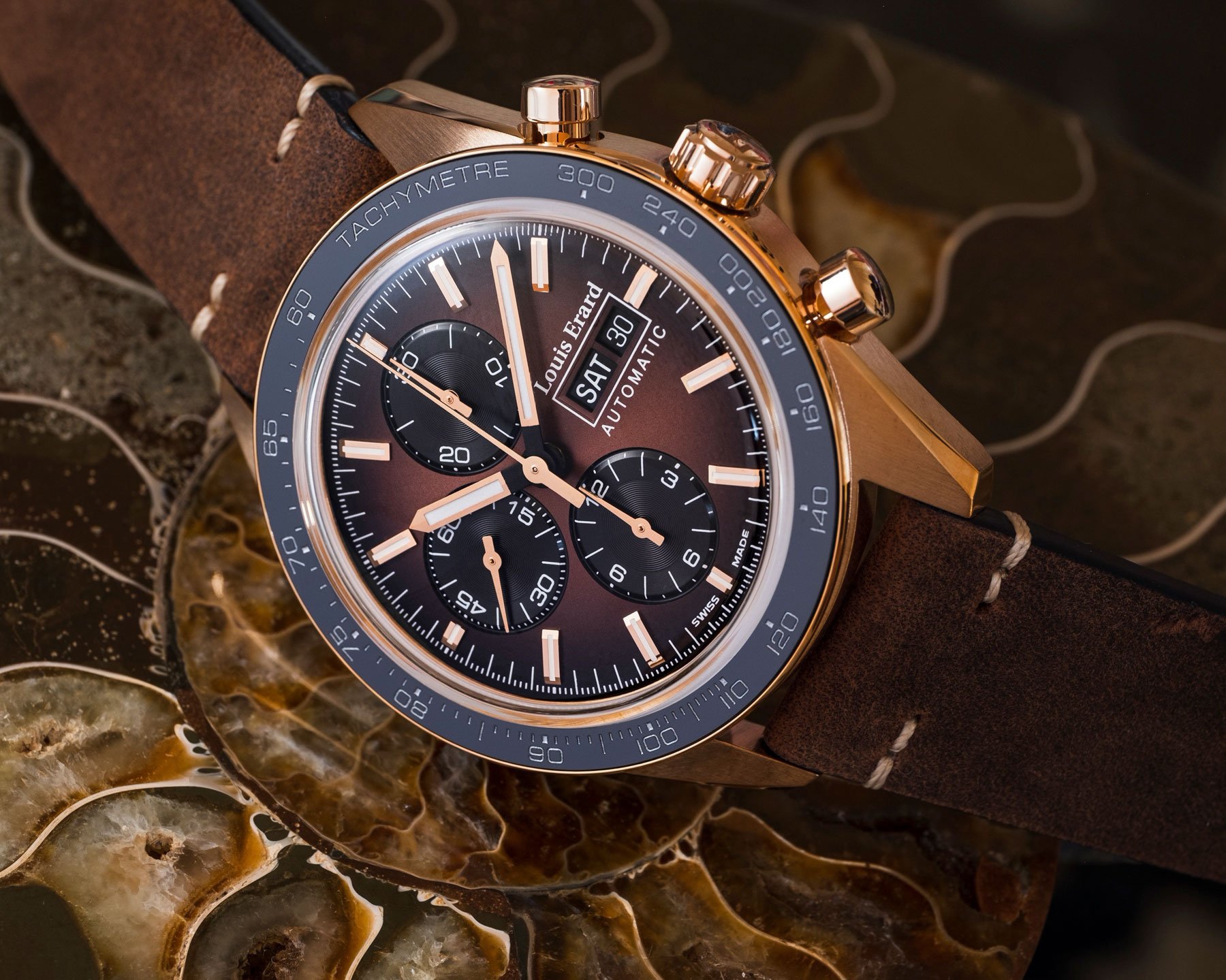 For the debut of the La Sportive collection, four automatic chronographs have been released in a limited series of 250.
Aesthetically, these chronographs with their classic display – second hand in the centre, 30-minute counter at 12 o'clock, 12-hour counter at 6 o'clock, small seconds at 9 o'clock and day/date at 3 o'clock – nevertheless offer a resolutely contemporary look, enhanced by the black ceramic bezel insert complete with tachometer, and the enlarged cutouts of the subdials. The typography provides optimal legibility, reinforced by the large Super-LumiNova-treated hour markers and hands.
The smoked dials come in four shades – brown, green, blue and black – for a neo-vintage touch, topped with a strongly domed sapphire crystal.

Focus on materials
On the technical side, these chronographs come equipped with a Valjoux 7750 movement, renowned for its reliability and precision. Displaying a 48-hour power reserve and featuring a personalised Louis Erard oscillating weight (visible on the back of the watch), the watches are also water-resistant to 50 m.
For the new La Sportive collection, Louis Erard is placing the emphasis on materials. Thus, these four inaugural chronographs come in two case versions: bronze, with brown/black or green/black gradient dial, or grade 5 titanium with grey/black or blue/black gradient dial.
Lightweight, strong, shock-resistant, corrosion-resistant, non-allergenic and anti-magnetic – grade 5 titanium is a material of choice in both the medical and aeronautical sectors. Offering polished and satin-brushed surfaces, the 44 mm diameter case aesthetically underscores the sporty character of the timepieces.
The La Sportive Chronograph in grade 5 titanium, with blue dial and black counters for optimum readability
CuSn8 bronze, on the other hand, offers very different qualities. In contrast to the stability of titanium, bronze is perfectly wear-resistant and oxidises gradually. Over the course of its life it acquires a unique patina, which will differ according to how it has been worn. Each watch thus becomes an eminently personal object.
La Sportive Chronograph, bronze case and smoky green dial
The strategy is beginning to bear fruit
The price of these chronographs is 3,250 CHF for the grade 5 titanium version or 2,950 CHF in bronze. You can't get much more competitive than that!
"We have to fight to achieve these prices, without making the slightest concession in terms of quality and sourcing, so we have to accept that we will make less of a margin," explains Alain Spinedi. "But with our new approach, which is in perfect continuity with our long-standing philosophy, we want to create greater desirability, in particular by launching regular special editions in very limited volumes but at very low prices. It is a gradual transformation that we are making, step by step."
"In order to achieve these prices, we have to accept smaller margins."
"The strategy seems to be working," says Manuel Emch. "The new website was launched in January, and official online reseller agreements have been signed. As a result, the average online sales price has risen from around CHF 600 to CHF 3,000 this year." The Silberstein Regulator, which was nominated for the Grand Prix d'Horlogerie de Genève in 2020, is sold out. A Silberstein Triptych in three series of 178 pieces will be released in November.
Since April, Alain Spinedi points out, the margin achieved in online sales has been higher, with 15% of sales going directly to charity, in this case to the World Health Organisation's Covid-19 Solidarity Response Fund.
A coherent approach, a perfectly designed strategy, a strong aesthetic imperative and a very attractive price point has resulted in well thought-out, perfectly finished timepieces with a strong identity. In short, it's a turning point to be welcomed and supported, particularly in these times of crisis.