O
f all the possible ways to set gemstones, one method is by far the most difficult and that is the invisible setting, invented in the early twentieth century. Grooves are cut into the stone's pavilion and the stone pressed into a metal rail. The gems are then adjusted so that no part of the metal mount is visible, transforming the surface into a shimmering mosaic.
This is the method Audemars Piguet has chosen for two series of fine jewellery Royal Oak: a double rainbow of precious stones and gemstones in honour of the iconic watch's 50th anniversary. The Royal Oak Selfwinding Rainbow comes as two sets (37mm and 41mm) of ten watches each.

"Each timepiece is embellished with 861 rigorously identical stones for the 41mm version and 790 for the 37mm executions," says Nathalie Barzilay, who is Audemars Piguet's head gemmologist.
It was important that each colour should be interpreted with as much vibrancy as possible, which led Nathalie Barzilay to make some unusual choices. "There are a multitude of stones, combinations of which will produce rainbows that have different vibrations, but we wanted the most intense colours possible and for the ensemble to be harmonious and expressive. After careful consideration, we selected ten stones in vivid shades of red, yellow, green, blue, purple, pink and orange, so that each individual timepiece displays an array of pure, intense colour but also to create an overall harmony when all the watches in a set are placed side by side."
Nathalie Barzilay
Nathalie Barzilay made the conscious decision not to use different coloured sapphires, as they have a less intense hue, choosing instead three precious stones: blue sapphire, emerald and ruby. "They set the tone for the colour gradation," she continues. "The other stones had to equal them in terms of intensity and nobility. We looked for stones with the most vivid colours." This resulted in the final selection of tanzanite, yellow chrysoberyl, pink tourmaline, amethyst, blue topaz, orange spessartite and tsavorite. "We also liked the fact that some of these stones, tsavorite and tanzanite for example, are rarely used in watchmaking."
Nathalie Barzilay made the conscious decision not to use different coloured sapphires, as they have a less intense hue, choosing instead three precious stones: blue sapphire, emerald and ruby.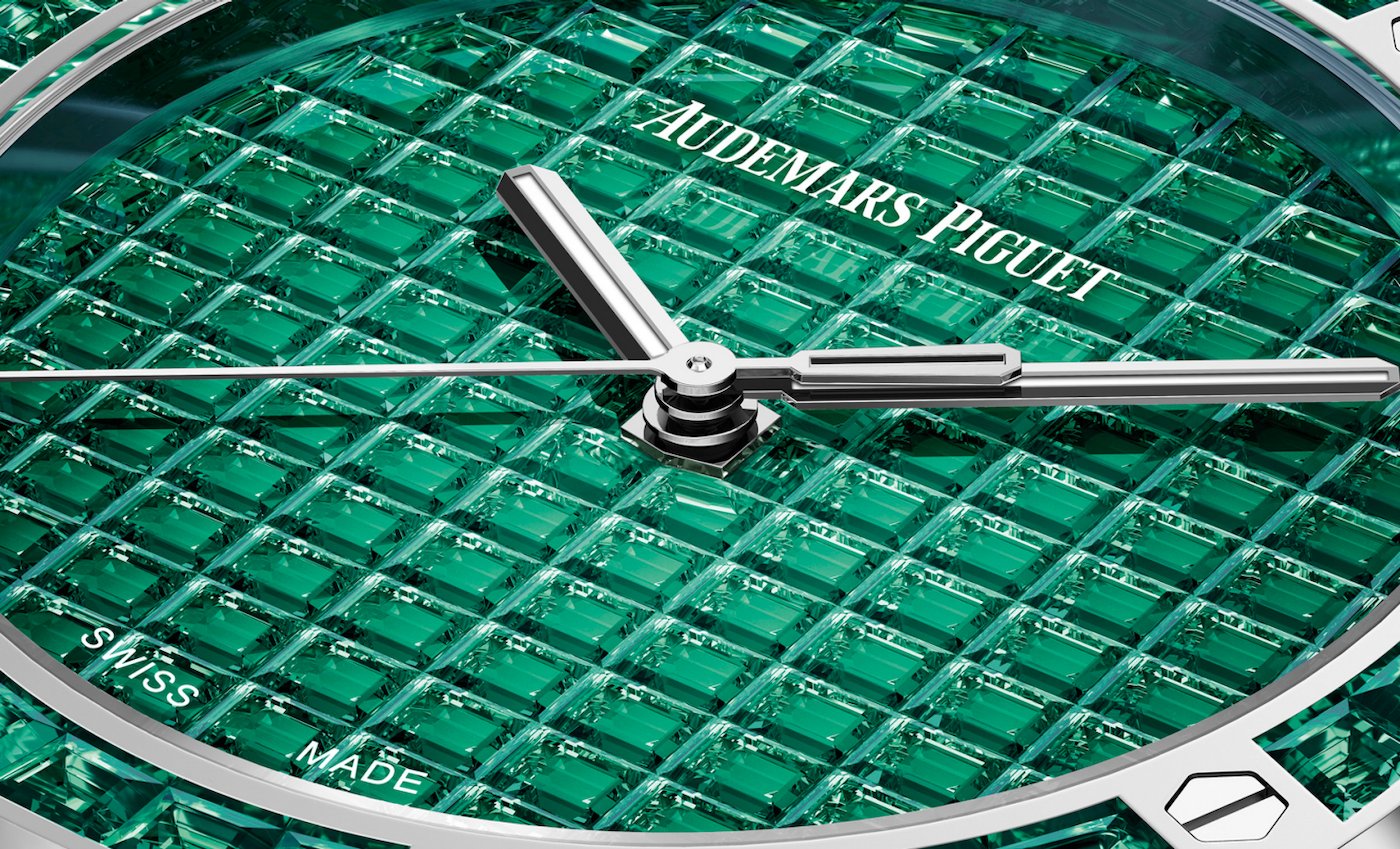 With the gems and colours chosen, all that remained was to track them down. Nathalie Barzilay spent an entire year sourcing the stones for these twenty watches. Audemars Piguet works with longstanding partners in Switzerland for its coloured stones.

"We start by defining the criteria for each stone," the gemmologist explains. "We compare different colours side by side until we've identified the best set. After this, our partners travel to countries around the globe and purchase several batches of stones. The majority are pre-shaped or semi-cut, as this gives excellent colour rendition. Our partners then have them cut to our exact specifications, following which we take delivery. The invisible setting is such a complex technique that it can take up to eight hours to cut each stone."

Looking at these Royal Oaks, it's difficult to imagine just how demanding this process is. "Given the level of expectation, each stage was a challenge in itself," Nathalie Barzilay continues. "We selected the most vivid colours and the purest stones to obtain a vibrant and homogenous ensemble. Sourcing the stones was hard enough; setting them was nothing short of an exploit, brilliantly executed by our partner, Salanitro. The coloured stones we chose for these sets are actually more fragile than sapphire or diamond, which made setting them a particularly delicate enterprise. It's thanks to the overwhelming passion of our partners and teams that we were able to meet this immense challenge."
"The invisible setting is such a complex technique that it can take up to eight hours to cut each stone."
Salanitro SA (more here) has worked for years with Audemars Piguet, and with most of the other leading watch manufacturers, and masters every aspect of the invisible setting technique. It took the combined skills of ten gem-setters to bring the project to completion.
Pierre Salanitro
"There are very few gem-setters in Switzerland who are skilled in this technique and the best ones are at Salanitro SA," says Pierre Salanitro. "We'd already done invisible settings on watches for several clients, but never this many entire watches and bracelets all at the same time and with so many different and extremely delicate stones."

Asked about the most difficult part of the project, Pierre Salanitro answers with an entire list: "Sourcing the stones, matching the colours, preparing the components using special machining techniques, polishing then finishing to the highest standard."

Invisibly setting stones is complicated enough; doing so with gems that aren't all square or rectangular, because of the Royal Oak's shape, adds another layer of difficulty. Pierre Salanitro explains how "each stone is adjusted to fit a precise location, which is calculated from the very start of the project, during the study and development phase, based on the available geometries and positions."
Eighteen months went by between the design phase and the final phase. And at the end of those eighteen months… a double rainbow.
The origin of the invisible setting
It's hard to say with certainty who devised this technique, which secures the stones without any visible prongs, grains, bezels or other metal. Langlois, Van Cleef & Arpels and Cartier agree to disagree, each claiming its invention. Some say we owe it to Joseph Chaumet who filed a patent on August 17, 1904: a quarter-century before Langlois, said to have created the technique in 1929, and thirty years before Cartier registered its patent on March 18, 1933, and before Van Cleef & Arpels filed its first patent on December 2, 1933 and a second on April 29, 1936.
Joseph Chaumet's patent, titled "Method for mounting stones for the production of jewellery of all types", describes a means of securing stones "by means of a metal frame". It goes on to explain how "the stones are prepared and the framework executed so that, when the jewellery is finished, it appears before the eyes as though formed almost exclusively from stones, the metal structure being embedded in the stones."
Whereas in traditional techniques, part of the precious metal mount, however tiny, remains visible, for the first time in jewellery history, stones were held in a metal structure that was present but invisible to the eye. Hence the name invisible (or mystery) setting.