W
hat I'm about to say might be elementary for some of you, but for all the others it will certainly help them avoid ending up with a rusted watch, tears rolling down their cheeks and a severe case of depression.
First, as you may know, not every watch is waterproof. The original, most well-known pioneering wristwatch that was able to defy a wet environment was the famous Oyster-cased Rolex worn by Mercedes Gleitze when she swam across the English Channel in 1927 (that's actually not quite correct – but more about that in another article). We could also mention the so-called "Marine" Omega dating back to 1932.
NB: If your timepiece dates back to before the 1930s, you shouldn't even get close to water with it.
Omega Marine worn by Yves Le Prieur
It was only with the technological revolution brought about by WW2 that waterproof watches became a must. In fact, the Allied forces asked manufacturers to come up with watches that met all their specifications. Only twelve Swiss companies were able to produce these timepieces, and they were later named "The dirty dozen" by collectors. If you look at any of these watches, you will discover a "W.W.W." engraved on the case back, standing for Waterproof Wrist Watches.
1944 Omega Dirty Dozen with the W.W.W. engraving on the case back

© corrvintagewatches.com
Moving on to the 50s and 60s, the race for the depths of the ocean pushed mechanical engineers and watchmakers to develop technologies that had to follow divers into the dark abysses of our world, down to 20m, 50m, 100m, 200m, 300m, 1000m, 3900m…
From the fake watches you find on Italian beaches to the Rolex Deepsea on display at your local watch store, it's rare today to see a watch that is not water-resistant up to at least 20m.
Rare Rolex Deepsea prototype with a thick case and glass - owned by the Bayer family

© le-monde-edmond.com
But how do those numbers written on your watch stand up in real life?
Actually, the term "waterproof" has been made illegal for commercial use in the USA: manufacturers have to use "water resistant" instead, a more vague denomination.
However, it's important to note that a water resistance of 3 atm (30 metres) doesn't mean you can dive to those depths, but rather that your watch will resist rain and splashes.
In fact, as watches are, for the most part, pressure tested in labs and rarely in real conditions, the metres indicated on your watch dial don't necessary represent the reality. In a real diving situation, your watch isn't static. Every movement you make underwater puts pressure on the case, glass and crown.
We consider that a 5 atm (50 metres) watch could potentially be taken for a swim, but forget about diving or snorkelling.
The 10 atm (100 metres) mark is where you can start to slowly discover your underwater surroundings, meaning snorkelling and light diving (0 to 5 metres).
Although it may be fine if you start diving to 10 metres and remain immersed for a longer period of time, 20 atm (200 metres) isn't really a hardcore diving specification.
With 30 atm (300 metres) inscribed on your dial, you'll be fine if you want to use your 20 metres PADI certification.
However, if diving is your passion or your job, you might consider buying a watch that complies with the ISO 6425 standard, assuring you a safe trip into Nemo's world.
A Blancpain Fifty Fathoms. The ISO 6425 standard launched in 1996 took as inspiration some of the specifications and requirements of the Blancpain Fifty Fathoms
Now, let's come back to our vintage pieces, and mention a few tips to make sure that your watch will not end up rusting from the inside out.
For watches prior to the 60s: it's an absolute no go!
Watches with snap back cases: simply forget about it. Screw-down case backs are safer but not necessarily waterproof.
Any watch that wasn't specifically advertised as a diving watch is potentially not fit for the ocean. Look for the "diver" marking hints or depth rating inscriptions on dials or case backs.
The style of the case will also help you: for instance, the bulkier it is, the more resistant to water it might be.
If there is a screw-down mechanism to lock the crown in place, the timepiece should be more suited to a wet environment.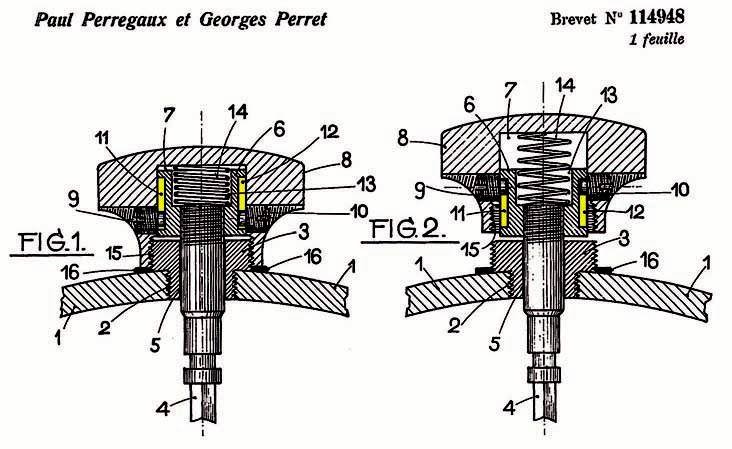 Thicker mineral or sapphire glasses will also be more resistant to the pressure underwater.
Furthermore, chronographs shouldn't be used in a diving situation. This goes for most vintage chronographs, even if they have Waterproof written on the back. The pushers are dangerous points of entry for moisture and water. If you activate your pushers while diving, water could potentially enter and damage the rest of the movement and components. I wouldn't try it, even with an Omega Speedmaster that went to the moon.
The Rolex Daytona with screw-down pushers and crown is a safer watch to use while diving, however note that you shouldn't unscrew them to activate the chronograph function.
Screw-down pushers on a vintage Rolex Daytona ref. 6263

© rolexpassionmarket.com
Universal Genève Space-Compax chronograph with screw-down and rubber pushers to ensure water resistance
As vintage watches have passed through different owners' hands and sometimes have an obscure past and history, you must be sure of their resistance to water. Watches are opened and serviced by different people, altering the gaskets and hence the water resistance. One way to make sure that your timepiece is ready for a swim is simply to take it to your trusted watchmaker. He will pressure-test it, change the gaskets if needed and offer you well-deserved peace of mind. Even with a Rolex Submariner or an Omega Seamaster, you shouldn't avoid these precautions.
Another thing to keep in mind, if you decide to play with your timepiece in salty water, is to rinse it (bracelet included) afterwards in fresh water to make sure that salt deposits don't ruin and rust the metal as well as the rest of the watch.
It's a special feeling to pit your body against the ocean's waves, taking you back to your early days as a swimmer. However, facing them with a watch on the wrist is even more enjoyable.
Snorkelling or diving with your timepiece is also one of the more unique feelings you can get in and under the water. We like to say that, with time, people change; they come and go. But your watch (for we watch geeks) might be your only trustworthy companion, whether it's on land, in the sky or even underwater.