W
ith an average price of around 1,000 francs, Mido falls into a category that is essential to the health of the Swiss watch industry. This category has historically provided the link between cheaper quartz watches and luxury mechanical timepieces.
It's an essential segment, but a fragile one. On its left, the volume of Swiss quartz watches has been in free-fall for several years, for various reasons, not least the arrival of smartwatches; on its right, the Swiss mechanical watch is moving further and further away from the 1,000 franc mark. Thus Mido finds itself in an increasingly isolated segment of the Swiss industry today.
We asked Franz Linder, who manages this Swatch Group brand, about new releases planned for 2020, his view of the impact of Covid-19, and the crucial issue of attracting younger generations.
Europa Star: What impact has the closing of markets in recent months had on Mido?
Franz Linder: Obviously, we have been strongly impacted by retail closures. We hope we won't see a second wave of the pandemic, but it's hard to predict. China, South Korea and Taiwan are currently more dynamic markets than Singapore or Hong Kong. I remain hopeful that the last quarter of 2020 will see a return to normal.
"I remain hopeful that the last quarter of 2020 will see a return to normal."
Franz Linder is the CEO of Mido (Swatch Group), a brand he joined more than 25 years ago.
Export volumes of Swiss made watches are falling every year, and at an ever faster rate (around three million fewer pieces last year, mainly quartz). Does that also apply to you?
Mido is a special case because we have focused on mechanical calibres for the last 20 years. Today, only around 10% of our output is quartz watches, and they are mainly for Latin America. Our state of mind is not to move up the range, but to offer the best value for money on models with mechanical movements. We have proved this in recent years with the introduction of the Calibre 80 and the Big Date complication. I would like to produce greater volumes at unchanged prices, but we are dependent on the eternally strong Swiss franc exchange rate... It is a permanent handicap.
"We have been focusing on increasing the production of timepieces equipped with automatic calibres for 20 years now. But our state of mind is not to move up-market."
The dial-less Multifort Mechanical Skeleton Limited Edition, with a 44 mm diameter black PVD-treated titanium case, displays its skeleton movement (a first for Mido) with its hands integrated directly into the black plate decorated with Côtes de Genève. Limited series of 999 numbered pieces.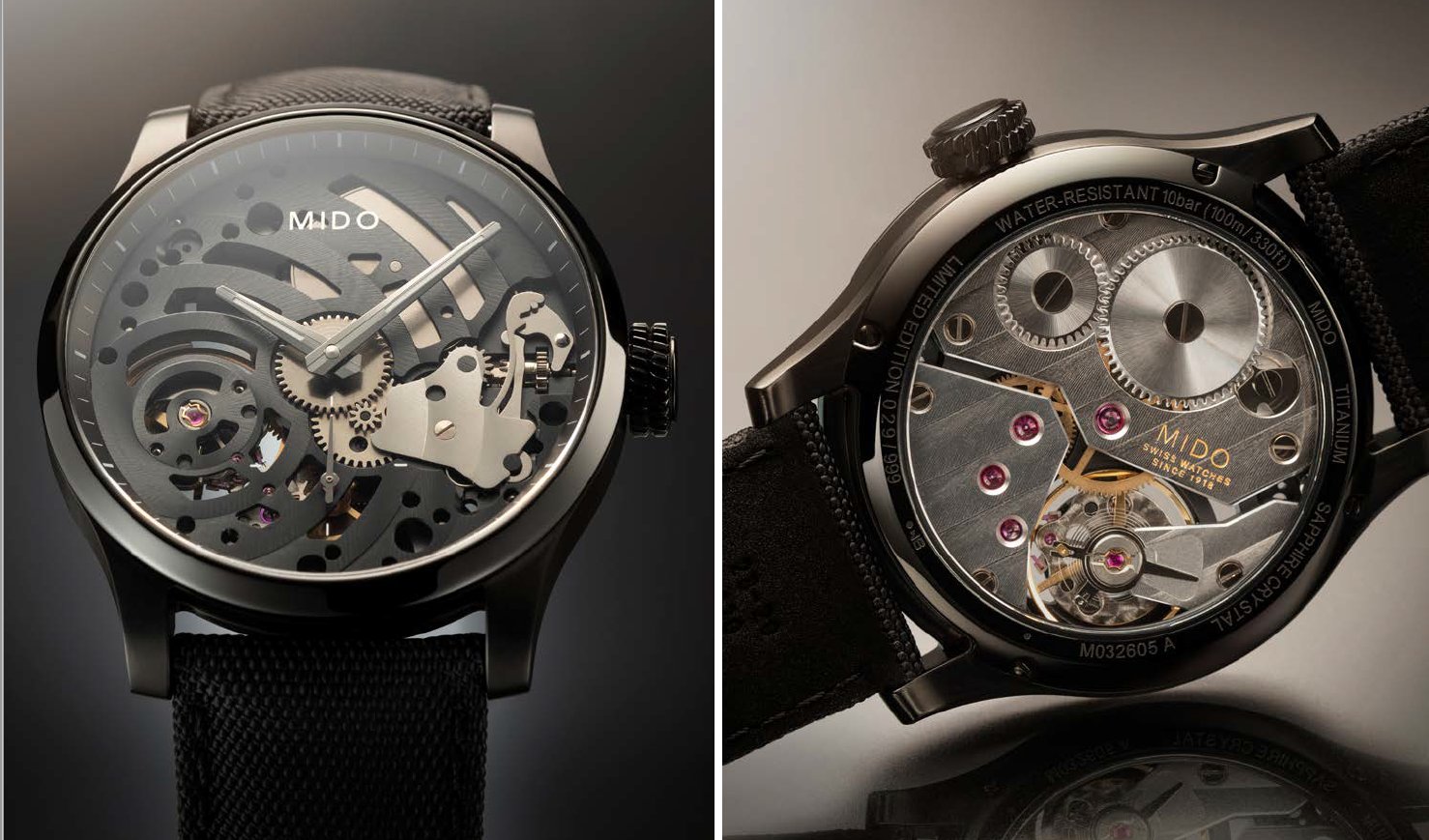 The sports watch niche seems to be increasingly occupied by smartwatches. Now that Tissot has taken the plunge with its Connect Solar, do you also plan to incorporate connected modules?
No, our strategic choice is the automatic watch. This cannot be associated with connection. We are holding our course.
Has the coronavirus crisis accelerated some underlying trends in the watch industry?
We're now doing as much of our business as possible remotely. This has some advantages and allows us to function, but it does not replace human contact. Before the crisis, people were already used to researching models online; since then, more and more customers are buying online, some of whom would not have done so without the crisis. It's a boost to our e-commerce but it's not going to replace physical distribution, which I still believe in. It's like with you journalists: we can show you the most beautiful films of our models, but it won't replace having the watch on your wrist.
"We can show you the most beautiful films of our models, but it won't replace having the watch on your wrist."
The Baroncelli Mechanical Limited Edition is Mido's thinnest mechanical watch, measuring less than 7 mm. Equipped with a 2.5 mm thick manual movement, it combines black lacquer with rose gold-coloured polished PVD. Numbered series of 2020 pieces.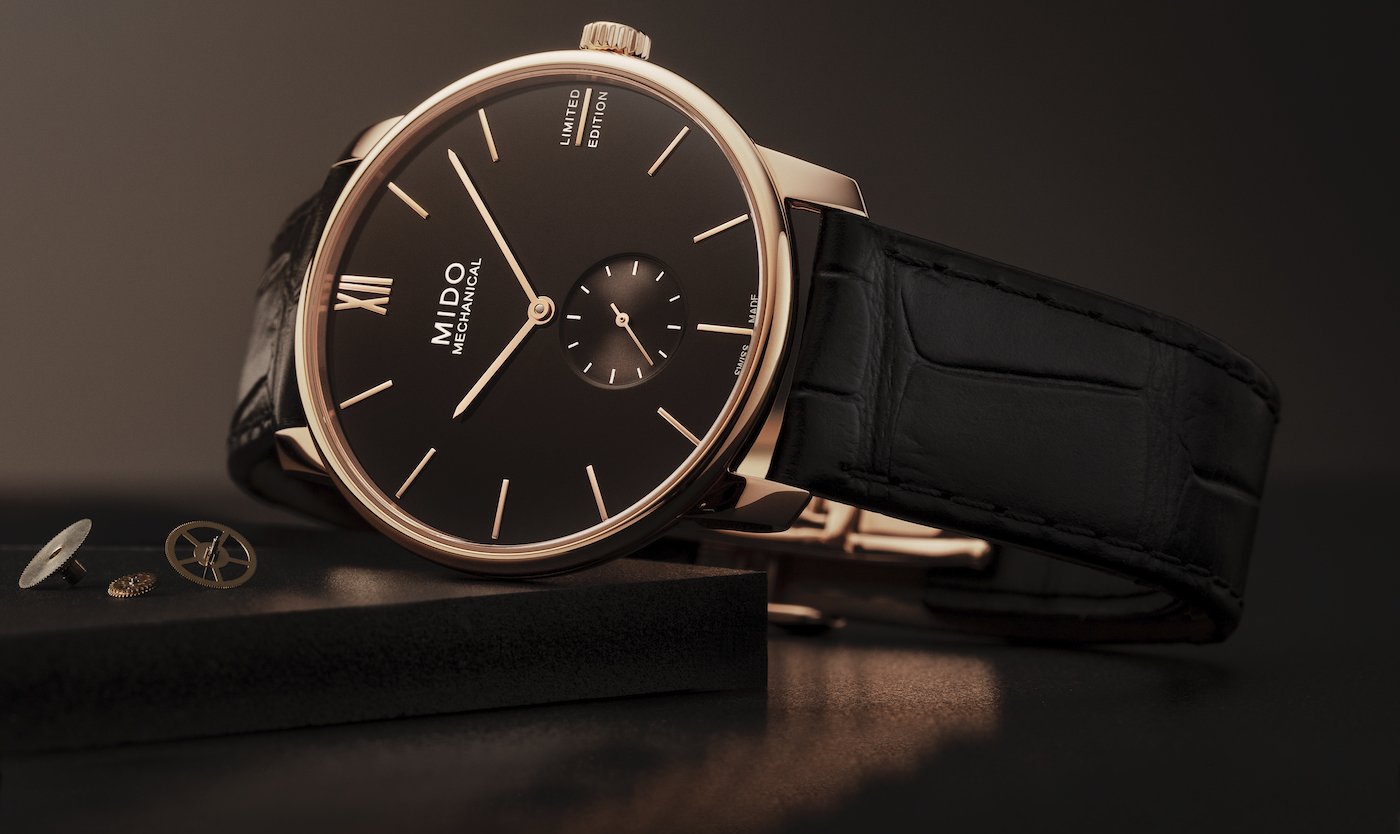 What's the share of online sales at Mido?
It depends on the country: in China, this channel is very developed and we are present on the dominant e-commerce platforms. But there as elsewhere, physical retail still dominates, with a growing share of hybrid "click and collect" models. It's true that the situation has made us think, and we've become more involved in this area. But we work market by market.
The Ocean Star Decompression Timer 1961 is a reissue of the famous Rainbow Diver, Mido's successful model of the 1960s, one of the brand's most sought-after vintage pieces. The multicoloured decompression stop display on its dial gives it an incomparable style. Limited to 1961 pieces.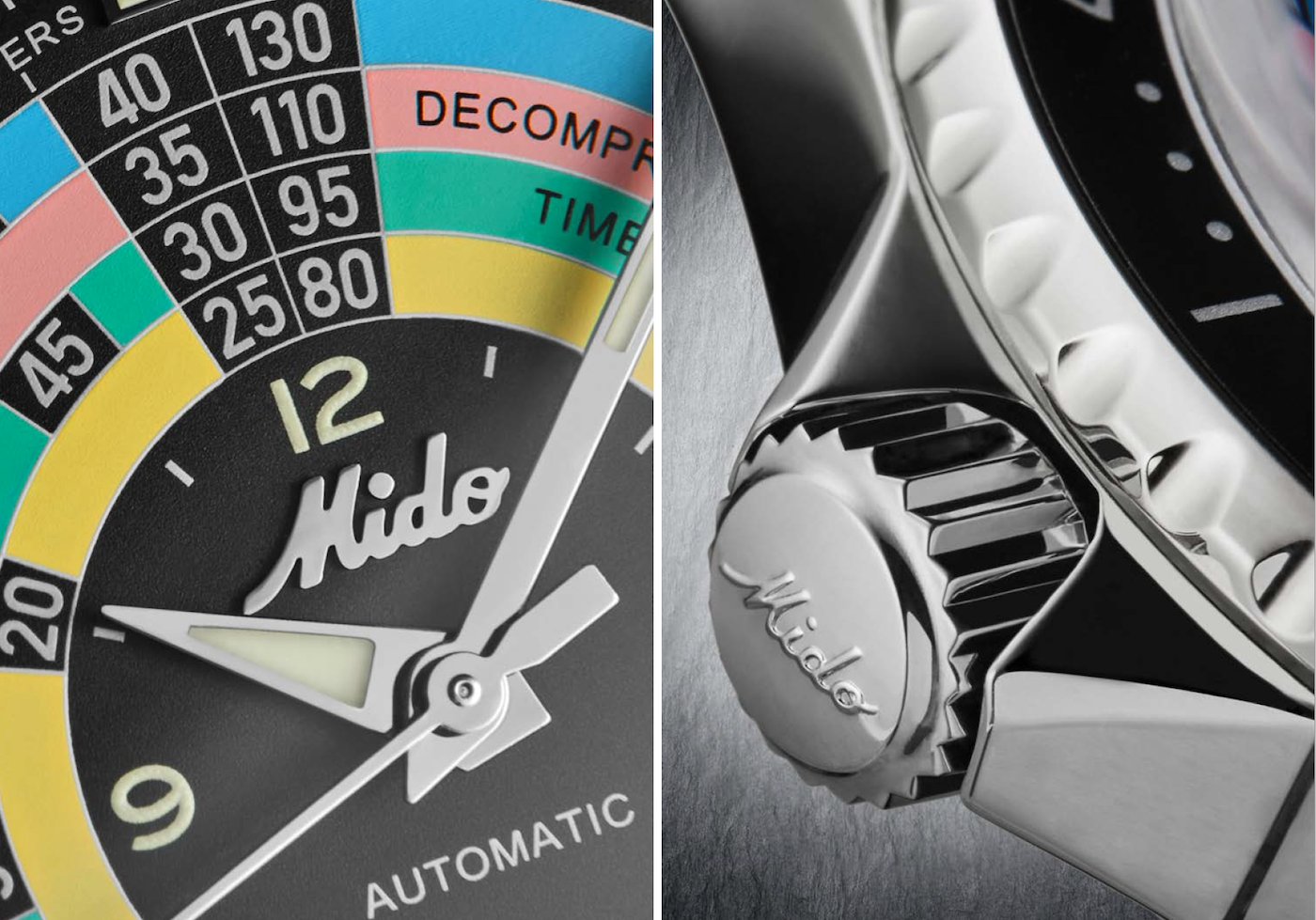 The vintage wave continues to roll on, influencing more and more creations, such as the Ocean Star Decompression Timer for Mido. Does the future of Swiss watchmaking rest first and foremost on its past?
Even though we've been around for a century, Mido has never been a brand built on vintage. We have simply always offered timeless designs and continue to explore our key collections, all of which have a long history: the Multifort line dates back to 1934, for example. Admittedly, in recent years we've had more requests for vintage, so we've brought out more pieces that suit this taste. In general, we have one strongly vintage piece every year. Last year, it was the Ocean Star Tribute; this year it's the Ocean Star Decompression Timer. Our main novelties for 2020 are the Commander Gradient, the Multifort Mechanical Skeleton and three new Ocean Star timepieces.
A new version of the Ocean Star features a GMT function. The time zones are engraved on the back of this timepiece, equipped with the Calibre 80, with a power reserve of up to 80 hours.
"There is no disruption at Mido, just a constant optimisation of what we do best: the traditional watch."
With the support of ETA, you manage to produce several high-performing movements, including the Calibre 80 COSC with silicon balance spring...
The most important theme for all our developments is sustainability. This is our state of mind in all areas of R&D: we were the first brand in our niche to equip our models with a silicon balance spring. There is no disruption at Mido, just a constant optimisation of what we do best: the traditional watch.
The Commander Gradient, with its contemporary design and transparent smoked gradient dial, is equipped with the brand's technical highlight: the Calibre 80.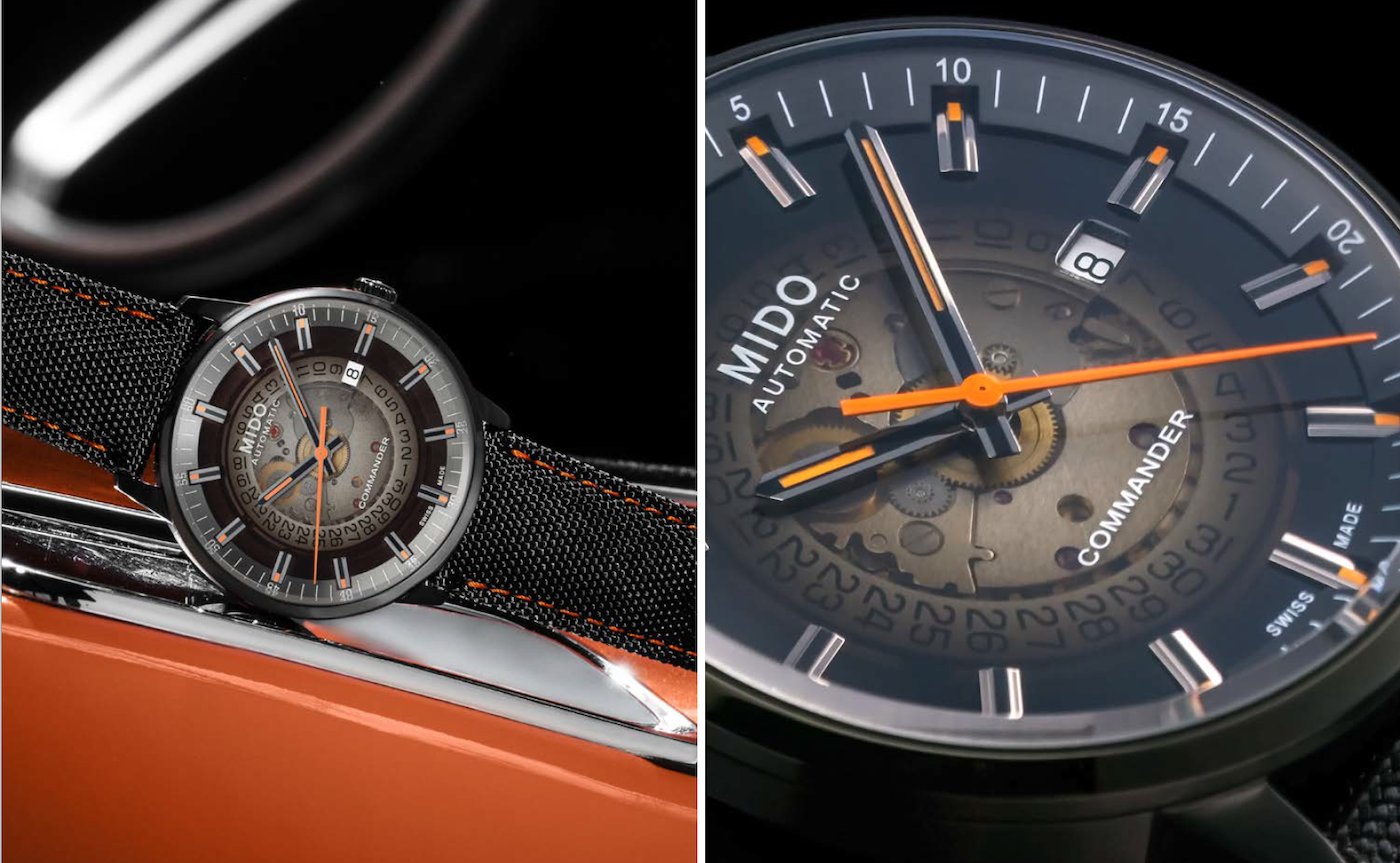 Will you miss the late Basel Fair when you present your new products?
Times have changed, and nowadays a customer who sees a new watch wants to be able to buy it immediately. This is the age of immediacy, which requires an ever shorter time between presentation and actual availability. The big difference compared to the era of the Basel Fair is that we can now show new launches that are immediately available, rather than timepieces that will come out over the course of the year. In addition, we are much more active locally with retailers and the press, with seasonal presentations.
The Ocean Star model comes in a chronograph version for the first time this year. Mido's automatic Calibre 60 is housed in a black DLC-treated stainless steel case. The screw-down case back reveals a polished starfish relief.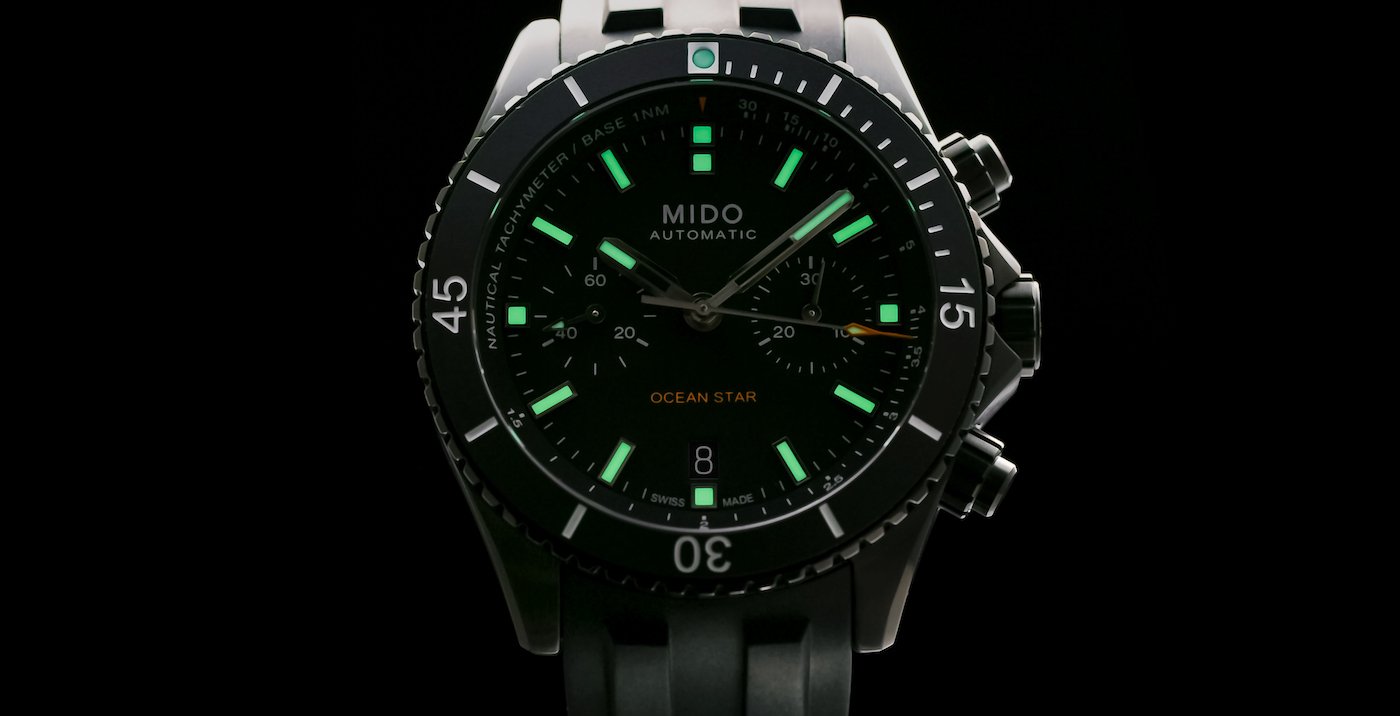 Sometimes it seems that the biggest challenge for the industry is to improve the supply chain: flexibility in deliveries, inventory management, after-sales service performance, etc.
Yes. And it's not just related to the current blockages caused by Covid-19. If I could reduce delivery times even further, I would! We are making progress, but a mechanical watch is a small, complex object that requires many components. If one component is late, everything is late... Again, there is no disruption, but constant adaptations in our procedures.
Our greatest effort at Mido, which is a volume brand, remains to help to win over new generations of watch lovers, not necessarily the wealthiest ones, to the beauty of the Swiss mechanical watch, by offering timeless designs at the best possible value. The main challenge of our industry is indeed to attract young people, not just wealthy collectors!
"Mido is a volume brand, helping to win over new generations, not necessarily the wealthiest ones, to the beauty of the Swiss mechanical watch."